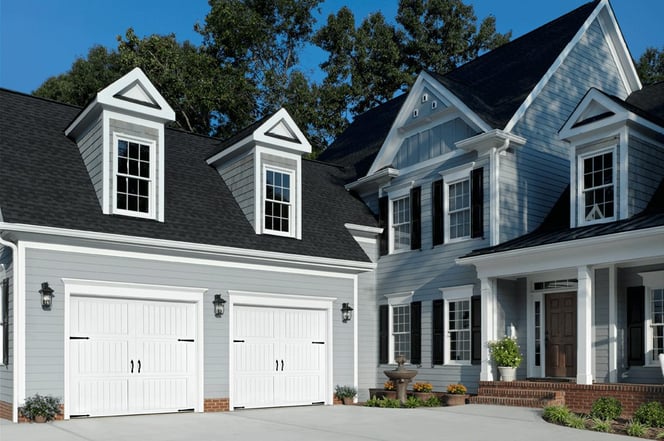 The right garage door can be the hero of a home's design, and its super power is curb appeal.
In homes with attached garages, garage doors are often prominent features that are among the first things homeowners, visitors and prospective buyers notice about a house. An ideal garage door should enhance a home's architecture and value, while also providing residents with secure, reliable access.
An investment in a quality garage door is one that commonly pays off. Garage doors typically rank at or near the top of home improvements that deliver the highest returns on investment; according to Remodeling Magazine's 2023 Cost vs. Value Report, new garage doors have an average cost recoup of nearly 103 percent at resale.
Whether you're planning to replace an old garage door or considering garage doors for a new build, following are six tips that will help maximize the garage door's — and home's — curb appeal.
Think About the Big Picture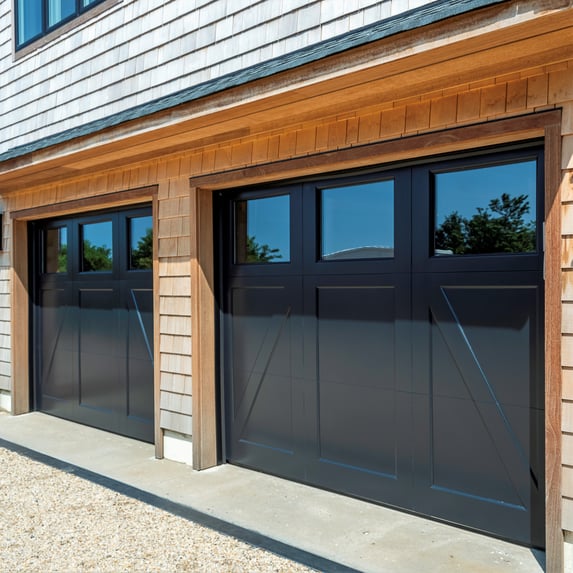 A garage door should complement a home's design through its style, materials and color.
The clean lines and bold frames of a panel-style garage door, for example, often suit modern homes, which likewise emphasize minimalism and openness. A traditional home design, such as Cape Cod or French Country, may benefit from a rustic garage door like the farmhouse style.
Choose Quality Materials and Construction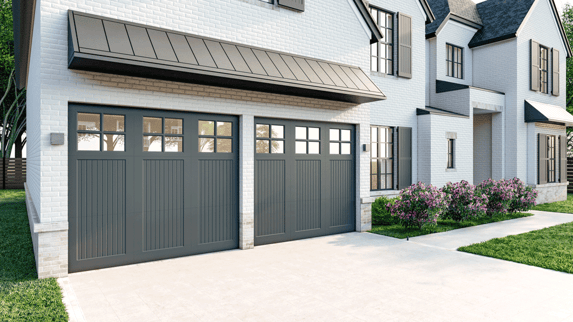 For a garage door that will function smoothly and retain its beauty for years to come, look beyond its aesthetics.
Many mass-market garage doors are built with inferior materials and construction methods that leave them vulnerable to damage from the elements, prone to premature breakdowns and offer minimal energy efficiency. A well-built garage door should possess an insulated core between exterior frames — such as those made from laminated veneer lumber — that are further reinforced for durability.
Embrace Bold Colors and Stain Finishes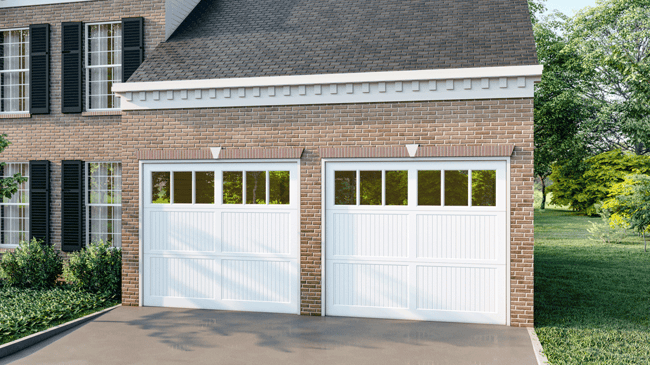 As the largest entry point on a home, it's difficult for a garage door to be subtle. Celebrate the garage door as a home design focal point with bold colors or rich stain finishes.
When choosing a garage door paint color, look to hues that reflect other home features, such as exterior shutters, trim, the front door or facade materials (such as the undertones of brick or stone); if the home is heavy on neutral tones, garage doors, front doors and shutters provide opportunities for bursts of eye-catching color. For garage doors with wood overlays on homes built with organic external materials like brick, stone and stucco, consider stain finishes that accentuate the wood's natural beauty and augment the home's inherent hues.
Take a Stylistic Swing with a Swing-Out Door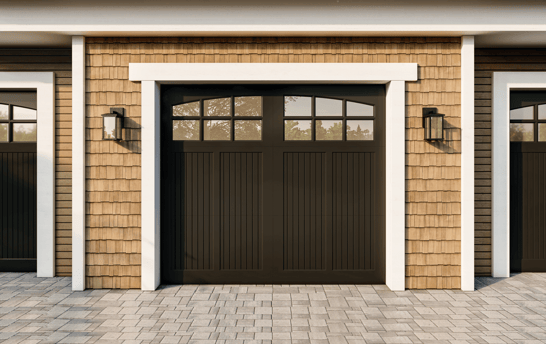 Garages are the natural progression of the carriage houses of the 18th and 19th centuries, when horse-drawn coaches and buggies were the dominant modes of transportation. The standard overhead garage door evolved from the carriage-house doors, which swung open and closed horizontally.
Swing-out garage doors have gained renewed popularity in recent years as architects, builders and homeowners seek authenticity for classically styled homes or distinctive design elements for contemporary homes. For those who desire the look of a traditional door with the convenience of overhead operability, a carriage collection door may be ideal.
Go Window Shopping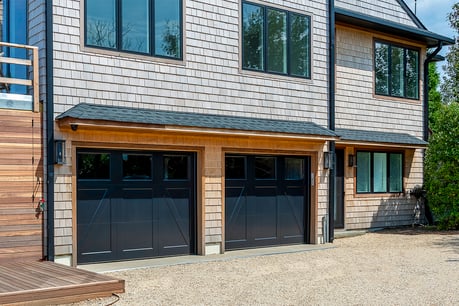 As more homeowners use their garages for more than parking their vehicles, and as trade professionals explore fresh ways to distinguish new homes, windows have become favored garage door accents.
Windowed garage doors can provide natural light for garage-based endeavors like home offices, workshops and game rooms; they can also be used to simply add visual interest. Garage door windows are available in a variety of glass types and design configurations, so the desired levels of privacy, insulation and personalization can be achieved.
Add a Finishing Touch with Decorative Hardware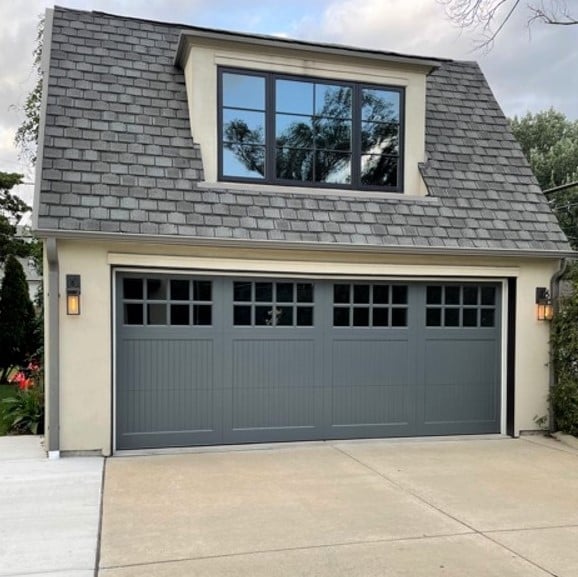 Speaking of personalization, custom garage doors offer ample possibilities to create truly unique doors. One customization facet is the availability of decorative hardware.
Components including pull handles, hinge fronts, latches, door knockers and clavos can add period-appropriate details to garage doors on historically styled homes. They can also be used to enhance the depth and elegance of contemporary designs.
About Timberlane: Garage Doors That Say, 'Welcome Home'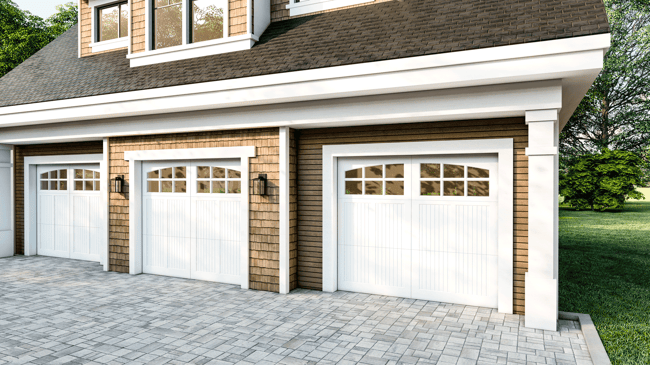 Timberlane crafts custom garage doors that are designed to match the creative visions of the architects, builders and homeowners with whom we collaborate.
Our knowledgeable team is ready to guide you through the custom garage door process and create a door that aligns with your home and individual tastes. Connect with Timberlane to request a quote or learn more about how a garage door can amplify your home's curb appeal.