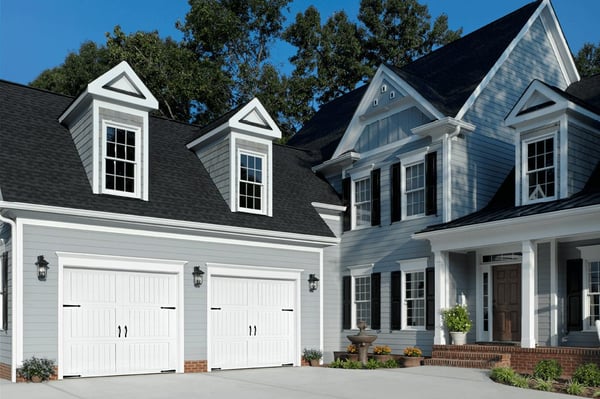 Modern garages and garage doors evolved from the carriage houses that became widespread through the 18th and 19th centuries, when horse-drawn buggies and coaches were relied on for personal transportation, cargo transit and mail delivery.
To accommodate the coaches and horse teams, carriage houses typically featured broad, barn-type doors that swung horizontally to open and close. While most contemporary garage doors are designed to open overhead with the assistance of garage-door openers, swing-out garage doors have experienced a renaissance in recent years, spurred in part by the modern farmhouse movement that blends elements of rustic and modern industrial styles.
Today, swing-out garage doors are a popular choice among architects, builders and homeowners who seek classic authenticity or a distinctive stylistic accent.
Swing Vote: The Benefits of Swing-Out Garage Doors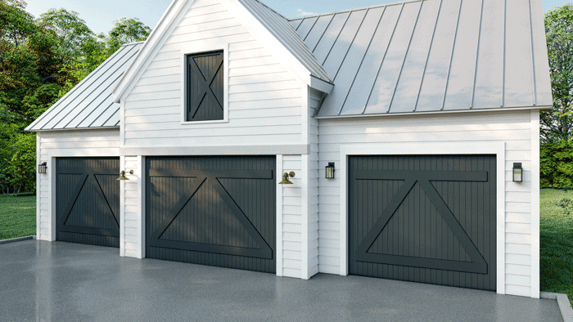 When well crafted from quality materials and installed with care, swinging garage doors offer several advantages over standard, roll-up, overhead doors.
No Maze of Metal Tracks
Swing-out garage doors hinge on the sides and don't require the extensive metal tracks associated with regular overhead doors. Swinging garage doors promote uncluttered garage interiors with additional space and less equipment to maintain.
Welcoming to Windows and Natural Light
Some overhead garage door styles oblige windows, but many mass-market garage doors are made of windowless panels and lack other personalization options. Swinging, carriage-style garage doors can be custom made with different window configurations or manufactured without windows for a traditional farmhouse look.
Ease of Use
Swing-out garage doors can be outfitted to open automatically, but even manual swinging doors are easy to open and close when properly installed. Unlike roll-up garage doors, swing-out doors won't get stuck if electrical issues occur or if a garage-door opener fails while the doors are opening or closing.
Low Maintenance
Because they lack the metal frameworks and other moving parts required by overhead doors, swinging garage doors generally require little maintenance to retain their smooth functionality. Even when connected to automatic openers, swing-out doors necessitate fewer connective components and are simple to switch to manual control if problems with auto openers occur.
Energy Efficiency and Durability
Elite swing-out garage doors feature insulative cores within laminated veneer lumber that is further layered by plywood reinforcements behind composite or premium wood overlays. These materials help enhance the energy efficiency of garages, and they supply durable weather resistance and security.
Unmatched Curb Appeal
Garage doors are among the first things people notice about homes, and new garage doors consistently provide one of the highest returns on investment among home improvement projects. But a custom-made, wood, swing-out door is more than just an operable ornament; it's an eye-catching conversation piece and the gateway to your home.
Swinging Garage Door Considerations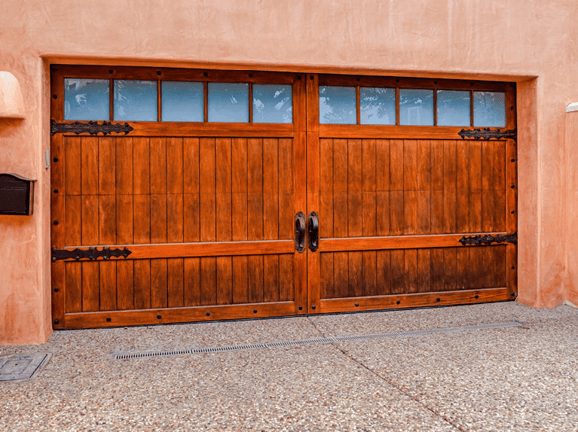 Although swing-out garage doors offer numerous merits, they're not ideal for every house.
Swinging garage doors require ample clearance to open outwardly. If you're considering a swing-out garage door for your home, it's important to measure both the garage opening and the space required for the door or doors to extend completely (swinging garage doors are available as single doors that hinge on one side or in pairs that hinge on the ends and open from the middle).
It's also crucial to ensure that your driveway is sufficiently level in the area covered by the door or doors. Swing-out garage doors should be able to close snugly and open fully without obstruction.
If you're partial to carriage doors or farmhouse doors but a swing-out garage door won't work for your home, those styles are also available in overhead options. Each door type has additional personalization choices for windows, wood overlays, milling alternatives, paint and stain colors, and more.
Timberlane: Premier Garage Doors for Luxury Homes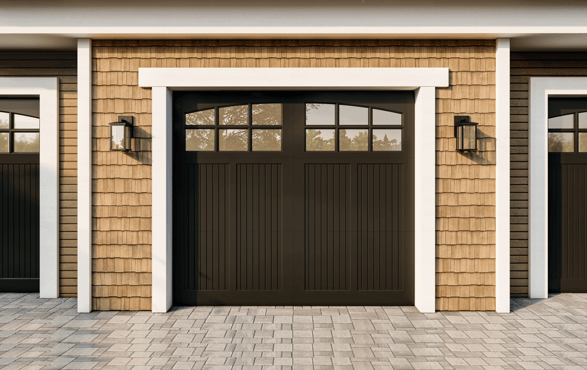 Timberlane has more than 25 years of experience crafting custom garage doors that furnish lasting beauty and enduring performance.
We understand the significance of a quality garage door to a home's curb appeal, and its importance to homeowners for whom the garage is often a primary home entrance. Our knowledgeable design team loves collaborating with trade professionals and homeowners to create garage doors that complement a home's unique design and reflect your personal tastes.
Connect with Timberlane today to learn more about garage door styles and customization, or to request a quote.