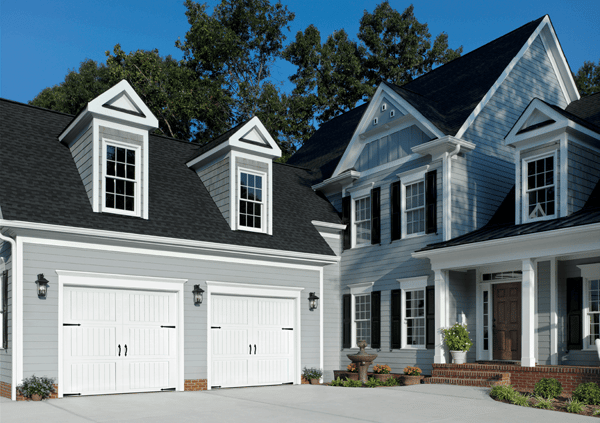 "The modern idea of a home has been well expressed as the place one goes from the garage," quipped the notorious attorney and politician George Wickersham in the early 1930s, amid the automobile's rise and the increasing prevalence of garages.
Nearly 100 years later, the garage remains a primary entry point for most homeowners, and the garage door is still a key element of a cohesive home design. Today, however, many homeowners use their garages for purposes beyond parking their cars; this has made insulation, security and strength considerations as important as stylistic factors in contemporary garage door construction.
Garage Doors in Home Architecture
A good garage door doesn't just match a home's architecture, as a recent Bob Vila article about garage door makeovers observes, it enhances the architecture.
The right garage door augments a home's visual harmony through its style, material and color. For example, consider how the rustic, paneled design and striking cross-sections of a farmhouse-style door complement the hipped roof, elegant symmetry and earthy exterior materials of a French Country-type house.
A garage door can also anchor a home's design or draw attention to the garage as an entry with a splash of color. Homes with largely monochromatic exteriors can find their visual identities through vibrant garage doors that pop and lend depth to their homes' architecture and surroundings.
For a more natural look, a door with wood overlays may be ideal. Overlays are available in several wood types and with varying finishes that can reflect other exterior materials and colors, and enrich a home's overall appearance.
Customizable additions such as windows and decorative hardware can further connect a garage door with a home's architecture. For instance, tinted or textured glass windows can be used in garage doors to align with similar windows used elsewhere in a home's design. Meanwhile, hardware including hinge fronts, latches and door knockers can echo a home's historic nature or classical style, or amplify other exterior design details.
Garage Door Design Trends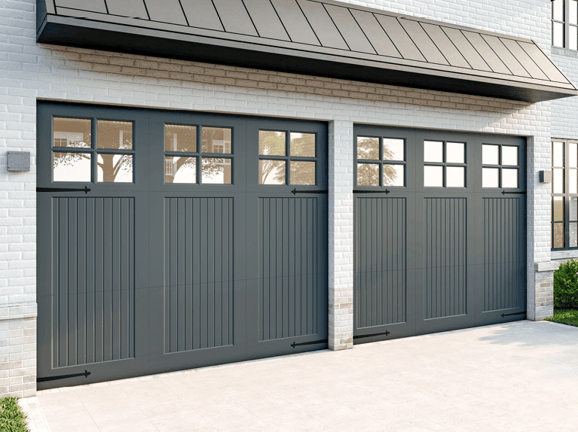 Garage door trends in recent years have been fueled in part by the pandemic, which had most people spending more time at home, and the subsequent shift of many to remote work.
These events led to an upswing in home improvement projects, a frequent target of which is the garage. Garages have widely been converted for additional storage, home offices, art studios, workshops, game rooms and other uses.
As garages are adapted for multiple purposes, or for uses aside from vehicular storage, garage doors with windows have become increasingly popular. Windows allow natural light into the garage, and they add aesthetic flair.
Architects, builders and homeowners have also embraced garage doors with bold colors. Garage doors have traditionally been painted or stained in neutral colors that either don't conflict with a home's dominant exterior material or color, or that match an accent color. Today, bold and dark colors that add richness and attract attention are favored.
Many trade professionals and homeowners are also turning to better-insulated garage doors that are custom made for their homes with wood as a core material. Mass-market garage doors manufactured with synthetic materials like fiberglass and vinyl are often poorly insulated and prone to premature wear.
Garage Doors and Curb Appeal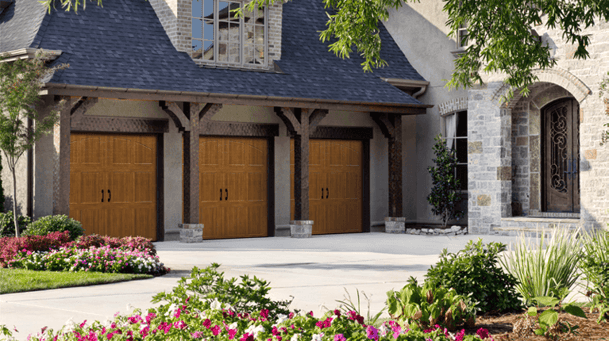 A well-made garage door adds more than panache and function to a home. It also delivers high-ROI curb appeal.
A recent Architectural Digest article about garage renovations that boost home value indicates that garage-focused upgrades typically generate returns on investment between 64 and 81 percent. The ROI is even higher for a garage door replacement.
New garage doors offer an average cost recovery of 93 percent, according to the latest Cost vs. Value Report by Remodeling magazine. That's the highest ROI among more than 20 popular home improvement projects analyzed by the trade publication.
Garage doors — good and bad — are highly visible to real estate agents and prospective homebuyers. A 2021 real estate survey that gauged the importance of curb appeal to potential homebuyers found that nearly half of homebuyers identified a shabby exterior as the biggest turnoff when viewing homes.
Homes with attractive, inviting curb appeal tend to sell faster and for higher rates. Real estate industry research suggests that homes with elevated curb appeal sell for more than 7 percent more than comparable homes with poorly maintained exteriors.
If you're looking for a place to begin with a custom home design or a high-value renovation project, why not start with what will most likely long serve as the home's main entry: the garage door.
Timberlane: Garage Doors to Fit Your Home and Lifestyle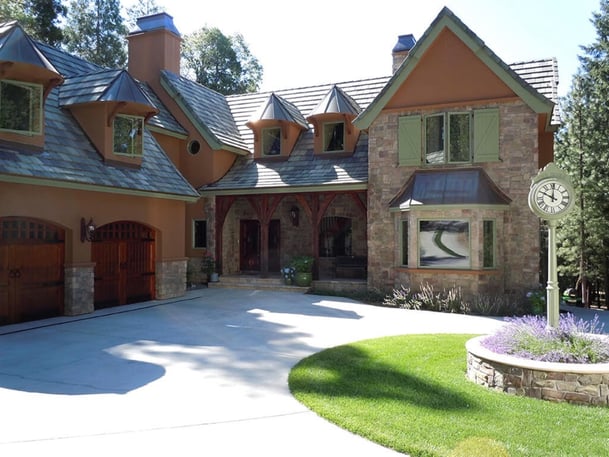 Timberlane makes elite, custom garage doors for the finest homes.
Whether your garage is used solely for parking or serves other applications, our knowledgeable design team can help you find the ideal style, material and color to suit your home's unique look and your individual desires. Our expert artisans craft each door to a home's specifications to ensure a precise fit and enduring performance.
Connect with Timberlane today to learn more or request a quote.