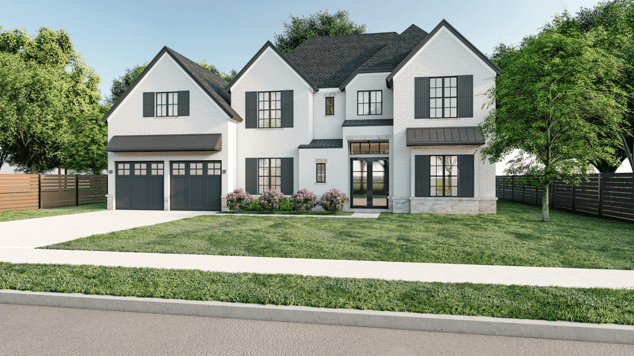 For many homeowners, garage doors are central to daily life.
As automobiles became commonplace throughout the 1940s and '50s, garages gained an eminent role in home architecture that they retain today. Nearly 70 percent of American homes have a garage or carport, and according to the National Association of Home Builders approximately 65 percent of new home builds feature two-car garages.
Garages often act as homeowners' primary entrances, and garage doors are among the first details many people notice about houses. Garages frequently serve additional duties such as workspaces, storage areas and home gyms. When garages are attached to houses and used as entries, they can also impact energy efficiency.
Despite their prominence in home design and homeowners' lifestyles, garage doors are often produced with inferior materials and construction methods that limit their lifespans and provide little insulation and energy retention.
Why Construction and Materials Matter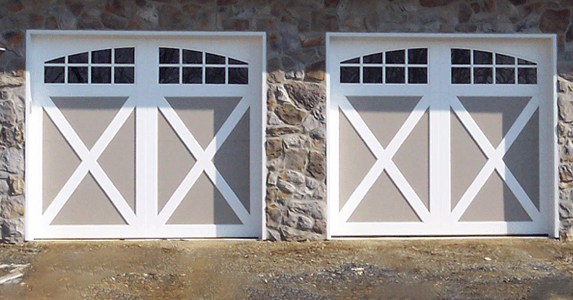 Garage doors come in many styles, but most are overhead doors built from sectional panels that are likewise available in varying configurations.
Garage doors may be crafted from several materials that extend differing levels of beauty, durability, performance and insulation. Steel and aluminum are among the most popular garage door materials because they're relatively cheap, and their outward-facing surfaces can be textured to resemble wood, imprinted with designs and painted in a spectrum of colors.
But metal garage doors are prone to dents, and steel doors can eventually suffer from corrosion. While some metal garage doors are filled with polyurethane foam or feature inserted Styrofoam planks to supply density and some insulation, many mass-produced steel and aluminum garage doors leave hollow interior spaces between metal sheets that are then capped with an inexpensive wood or composite material.
Fiberglass and vinyl are also popular materials for garage door panels, and they are typically attached to steel framing. Like metal garage doors, fiberglass and vinyl doors may include an inner layer of polyurethane or styrofoam. While fiberglass and vinyl are dent-resistant, they can crack and are susceptible to premature color fading with prolonged exposure to sunlight and the elements.
A quality garage door should contain an insulative core between outer layers that are further reinforced for sturdiness and interior climate retention. Discerning trade professionals and homeowners who want their garage doors to capture that elusive blend of longevity, energy efficiency and curb appeal often look to custom garage doors that feature wood.
Don't Knock Wood Garage Doors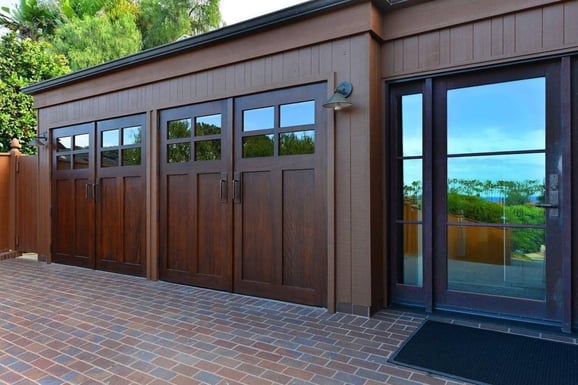 When thoughtfully constructed with superior timber that resists moisture and pests, wood garage doors offer notable benefits over their metal and plastic counterparts.
Wood garage doors present unrivaled curb appeal, but their versatility is sometimes underappreciated. The best wood garage doors utilize handcrafted wood overlays that are backed by reinforced panels, which contain interior insulation.
There are multiple wood overlay options that span diverse hues and degrees of grain richness. Many types of wood overlays can also accommodate paint or stain finishes.
Wood garage doors complement a broad range of home types, from traditional to modern. Wood lends itself to varied garage door styles, including classic panel doors, carriage doors, swing-out doors and doors with windows.
Custom wood garage doors also impart themselves to nearly limitless personalization options. Each garage door style has its own unique wood design and milling choices, and the doors may be further enhanced with decorative or functional hardware.
Expert Craftsmanship: The Timberlane Difference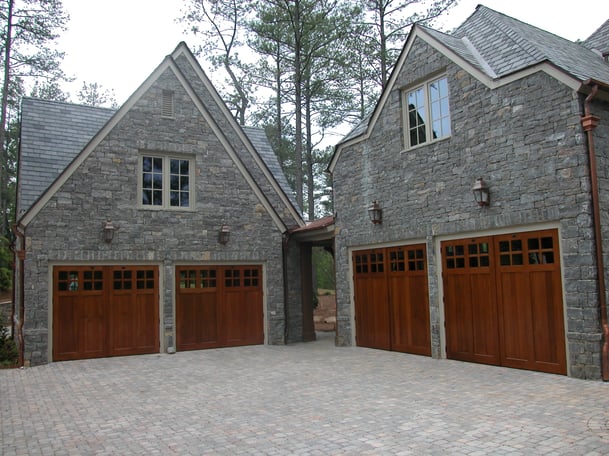 Timberlane has decades of experience handcrafting the finest garage doors for luxury homes.
Timberlane's wood garage doors employ polystyrene foam insulation cores with an R-9 thermal resistance value for exceptional energy retention. The insulation is housed within finger-jointed, laminated veneer lumber frames, which are then sealed between plywood reinforcements to augment the doors' structural integrity and energy efficiency.
The appropriate overlays are then placed by master artisans. Timberlane's overlays include composite wood, which has a uniform appearance and is especially receptive to paint; red grandis, a hardwood with relatively straight grains and a light tone that also accepts paint; Sapele mahogany, a deeper-toned, durable wood with smooth graining that is paintable and stainable; and Spanish cedar, a vibrant hardwood with even grains that is perfect with a clear finish or with stains that enrich its character.
Timberlane's knowledgeable team loves working with architects, builders and homeowners to create custom garage doors that reflect each home's unique style. Connect with Timberlane today to learn more about garage door types, materials and personalization possibilities.