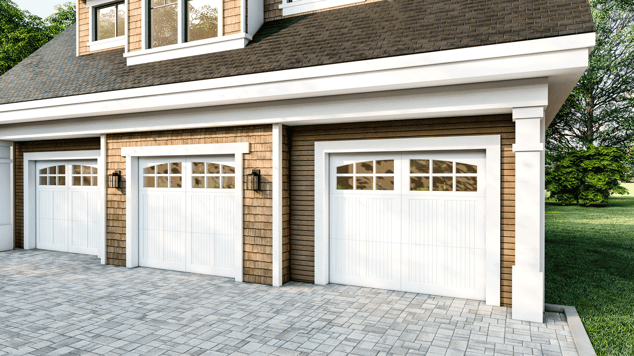 As more homeowners use their garages for purposes beyond parking their cars, interest in garage doors with windows has grown.
Garages have long served as backup storage spaces, provisional work areas and makeshift game rooms. But amid the pandemic and the shift to hybrid and remote work, a greater number of homeowners began spending more time in their garages, according to a 2022 report from the National Association of Realtors (NAR).
Garage Conversion Trends
As the NAR notes, many homeowners updated their garages to accommodate multiple uses, including parking at least one automobile. Others fully converted their garages, most popularly to home offices, gyms and art studios.
In fact, a recent survey reported by Builder magazine found that more than one-third of Americans no longer park a vehicle in their garages. Approximately 85 percent of the homeowners surveyed said they consider a usable, well-organized garage a point of pride.
New garage doors have been key components in these transformations, according to the NAR. One of the reasons homeowners desire new garage doors when they update their garage interiors is to allow more natural light into the remodeled spaces.
Windows have become particularly popular in garage doors for luxury homes, per the NAR. New garage doors provide one of the highest returns on investment among home improvement projects, and garage doors with windows offer substantial curb appeal. A well-built garage door can also enhance energy efficiency and security.
With more homeowners re-evaluating — and renovating — their garages, more are also taking fresh looks at garage-door styles beyond the traditional panel models. Windows can be included in several classic and contemporary door styles.
Garage Door Styles and Window Layouts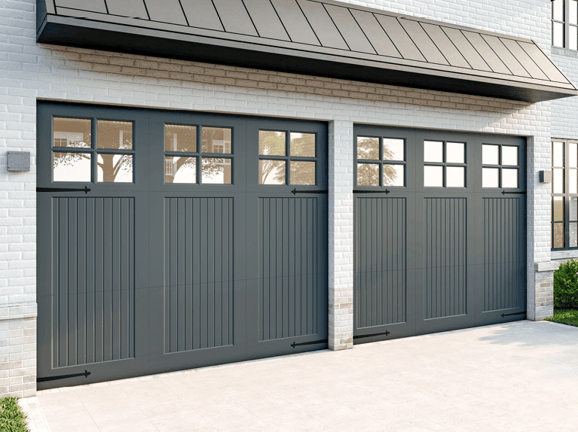 Different door types allow different window shapes and configurations. Following is a brief look at some windowed garage-door styles and their personalization options:
Classic Panel Doors
People often think of traditional garage doors as a series of opaque panels. But the classic panel door can also be crafted with high-grade, glass windows.
Panel doors may be built with square, rectangular or arch-top windows in multiple arrangements; the panels are likewise available in varying layouts. The glass is further customizable with diverse levels of transparency and insulation.
Carriage Doors
Today's carriage-style doors retain the authentic, swing-out appearance of old-fashioned barn doors, but in an overhead design. The addition of windows can impart a modern edge to carriage doors.
Carriage doors feature different panel designs and milling choices, including the traditional crossbuck style. As with classic panel doors, carriage doors lend themselves to various window types and arrangements, including series of radius-top windows.
Trifold Doors
Trifold doors have an elegant appearance that evokes vintage folding doors, but with the convenience of an overhead style. Like panel and carriage doors, trifold doors can be custom made with differing panel styles and configurations, including flat panels, vertical panels and herringbone patterns.
Trifold doors can be complemented with square- or arch-top windows in varying layouts. The glass can also be customized based on your style preferences, desired level of privacy or need for insulated windows.
Swing-Out Doors
For those who seek to free up space by removing overhead-garage-door tracks, swing-out doors may be an ideal solution. Swinging garage doors deliver easy use and distinctive style that can be personalized to suit any home design.
Swinging garage doors may be built in one section or two. Swing-out doors are popularly accessorized with windows along the doors' upper segments; as with the other door styles mentioned here, swinging doors can employ several window types and formats.
Windows of Opportunity: Timberlane Garage Doors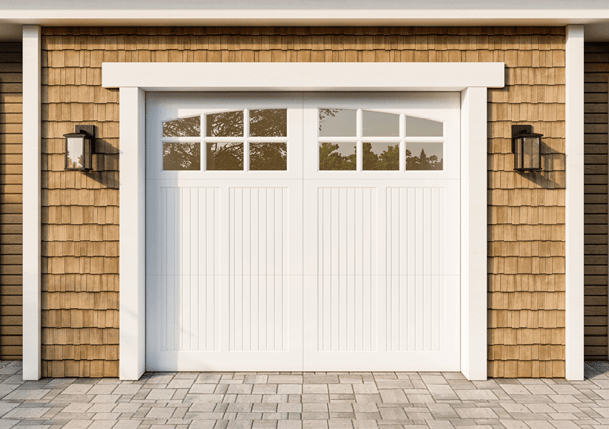 When you're ready to learn more about garage doors with windows or explore your custom garage door options, connect with Timberlane.
In addition to the styles discussed here, Timberlane offers nearly limitless design and milling combinations for its garage doors. With extensive paint and stain finishes also available — including custom color matching — we can find the perfect color for your door.
Our artisans have more than 25 years of experience crafting garage doors of enduring sophistication. And our knowledgeable design team loves collaborating with architects, builders and homeowners to create garage doors that meet our clients' demands and complete their homes.