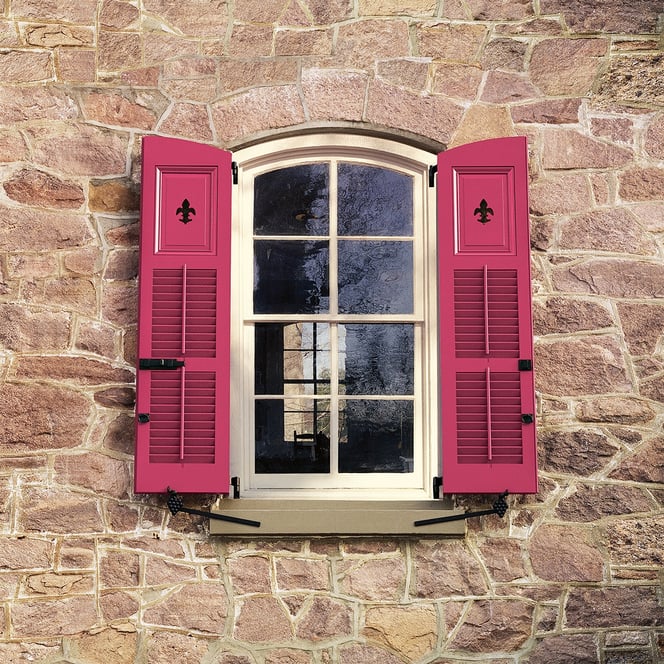 Louver shutters and panel shutters are among the oldest shutter styles, and they remain among the most popular thanks to their enduring sophistication and functional versatility.
These two extremely different shutter styles — operable versions of which have long been used in conjunction with one another — eventually prompted the creation of combination shutters. With customizable blends of paneled and louvered segments, combination shutters are attention-getters that can also be multifunctional.
Combination Shutters: Where Panels and Louvers Meet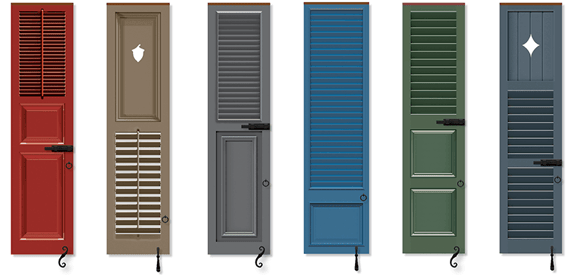 The concept of combination shutters is simple, but it allows for a multitude of personalization options to suit each home's architectural design and homeowners' tastes.
Combination shutters deploy a mix of paneled and louvered sections that can be arranged in varying configurations. The shutters can be decorative or operable, with the abilities to close over windows and adjust the louvers for light and breeze control.
The creator of combination shutters is unknown, but the use of both panel shutters and louver shutters on multistory homes became common throughout the 18th and 19th centuries. Panel shutters were often used on lower levels for privacy management while louver shutters adorned windows on upper floors for individual regulation of natural light and ventilation.
Modern panel shutters and louver shutters each feature distinct customization options. Combination shutters accommodate these choices within the same shutter for a truly unique look.
Panel Shutter Profiles and Personalization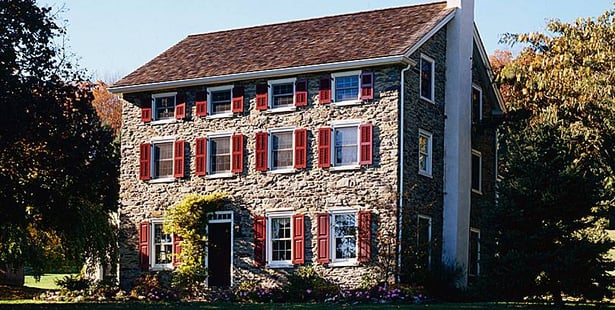 Panel shutters — and combination shutter panels — are available in three primary profiles: raised, recessed and flat.
However, each of these categories allows multiple edging and beveling options for the panels and their borders. The panels can further be sized differently and arranged in various configurations.
Another favored customizable element of panel shutters and individual shutter panels is the shutter cutout. Shutter cutouts sprang from the Arts & Crafts movement of the late 19th and early 20th centuries, and they remain in fashion today as a way to individualize and add character to shutters.
Louver Shutter Profiles and Personalization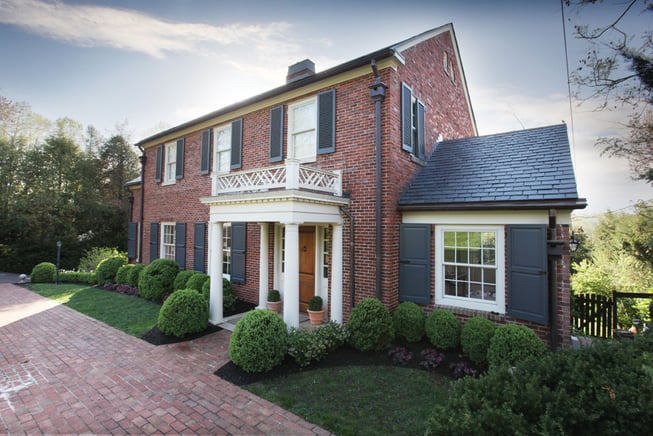 Louver shutters — and the louvered segments of combination shutters — have rows of horizontal blades that may be stationary or series of slats that can be raised and lowered via tilt-rods.
Fixed-louver shutters are ideal when the shutters are intended as decorative. Operable louvers are perfect for functional shutters where hands-on control of natural light and airflow is desired.
Louver shutters, and louvered shutter sections, are available with differing trim and cross-section choices. The slats may also be made in varying levels of width and thickness to achieve a range of looks, from classic and subtle to contemporary and bold.
Combining Panel and Louver Shutter Segments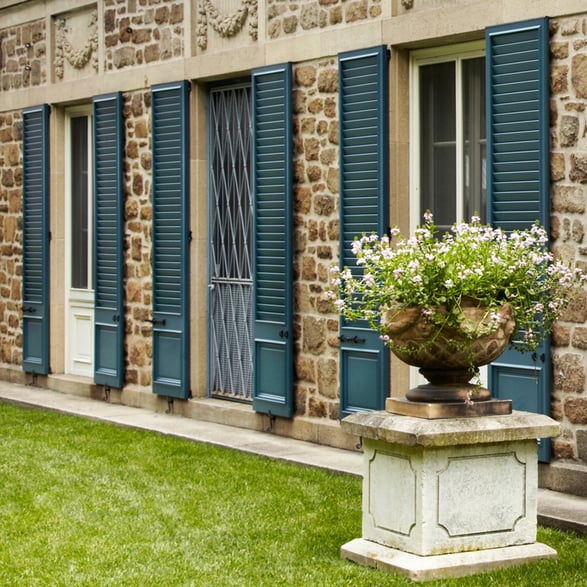 When it comes to combination shutters, there is no "right" way to merge the panel and louver sections; only what best enhances your home's design and appeals to your personal preferences.
If the shutters are operable and a fusion of seclusion and ventilation is craved, combination shutters with opaque lower halves and louvered upper portions might be a consummate fit. If the shutters are for arch-top windows, combination shutters with louvered lower segments and paneled radius tops can provide a beautiful complement.
Another captivating combination-shutter hybrid is the union of louvered bottom sections with cutout-adorned top panels. This look is especially fashionable on Cape Cod, Victorian and Craftsman type homes, as well as on indoor-outdoor spaces like poolhouses, bars, grilling stations and sunrooms.
Combination Shutters Materials and Hardware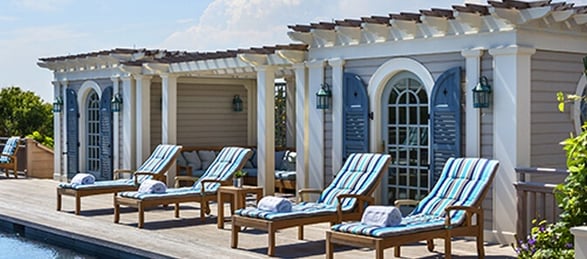 Additional considerations for merging panel and louver sections include materials and hardware.
Timberlane offers combination shutters in Endurian® PVC and premium wood. Endurian® is a durable and maintenance-free PVC that replicates the appearance and texture of natural wood; Timberlane's wood shutters are crafted from strong, moisture-resistant mahogany.
Either material may be used for ornamental and operable shutters, and both Endurian® and mahogany are receptive to standard and custom paint colors. Premium wood shutters may be preferred for an added touch of authenticity or when the natural tones of a stain finish are appropriate.
The beauty and performance of combination shutters can be further augmented by the optimal hardware. Louver tilt-rods, for example, come in different sizes and can enable the function of louvered shutter sections, or simply serve as accents on decorative shutters with fixed slats.
Shutter hinges are also available in varying styles and can be used with pintels to facilitate operability or as embellishments to ornamental shutters. Other components often used with combination shutters include shutter locks, pull rings and tiebacks, all of which have diverse stylistic options that can be used in the creation of one-of-a-kind combination shutters.
Timberlane: Superior Shutters for Distinguished Homes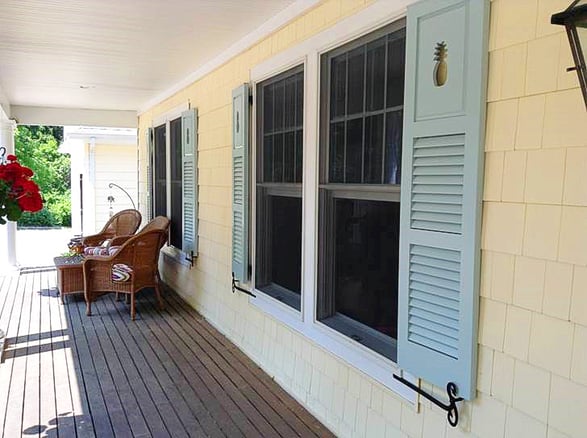 Timberlane is dedicated to making the world's finest shutters.
For nearly 30 years, our skilled artisans have handcrafted exceptional custom shutters for luxury homes and historic structures. Timberlane's knowledgeable design team loves working with homeowners and trade professionals alike, and we're here to support you through every step of the process, from shutter selection to window measurements to installation.
To learn more about shutter styles and personalization options, or to request a quote, call Timberlane at 800-250-2221 or connect with us online.