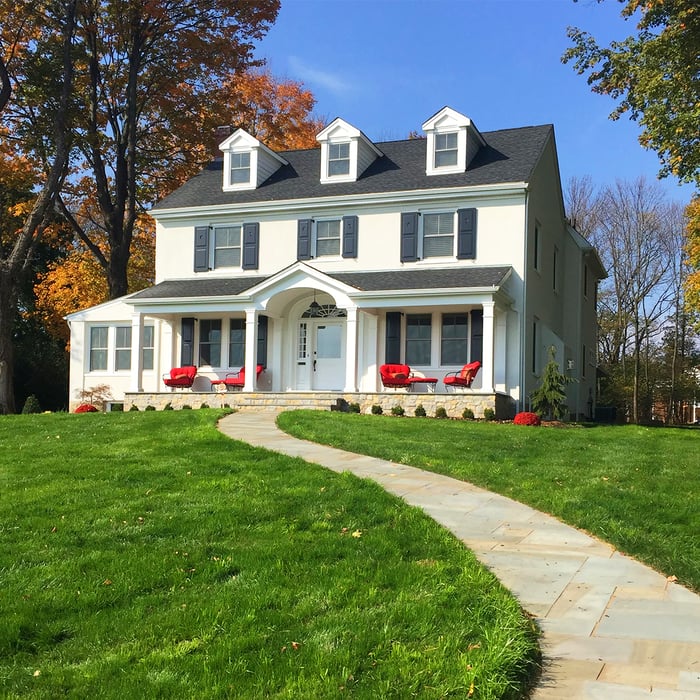 Exterior window shutters can do more than enhance your home's curb appeal and provide practical functions like light control, privacy and ventilation. They can also tell a story.
For more than a century, shutter cutouts have accentuated homes with shapes that reflect homes' surroundings, homeowners' occupations or occupants' personal tastes. Yet shutter cutouts are a relatively recent development in the greater history of window shutters.
Windows of Opportunity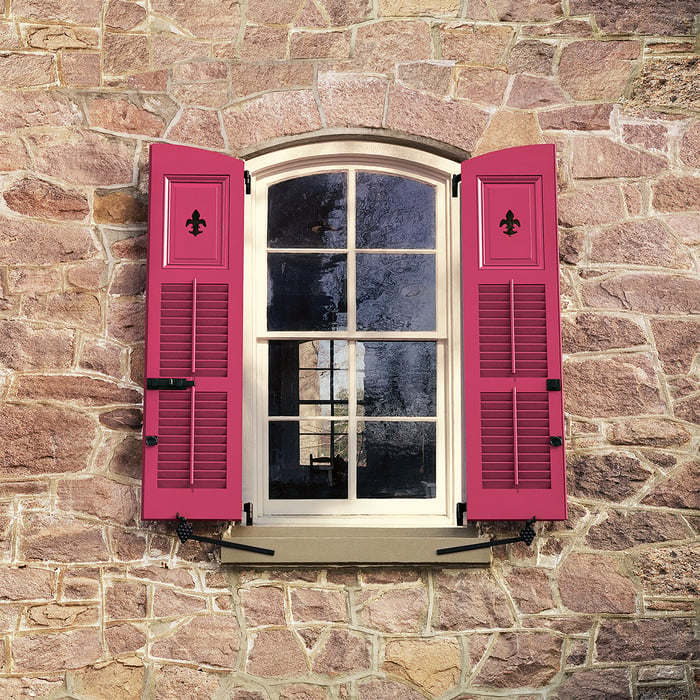 Window shutters are believed to have their roots in ancient Greece, where they were used internally to control light and ventilation, and keep out inclement weather and pests.
As glass windows became common throughout the 17th and 18th centuries, shutters moved from home interiors to exteriors and were thrust into the spotlight. Shutters were no longer merely functional, but served an aesthetic purpose as well.
Shutter styles and hardware were refined and standardized, and by the mid-1800s many shutters were factory-manufactured and sold in pairs. Homeowners began to favor shutters in bold colors that complemented or contrasted design features of their houses.
The Rise of Shutter Cutouts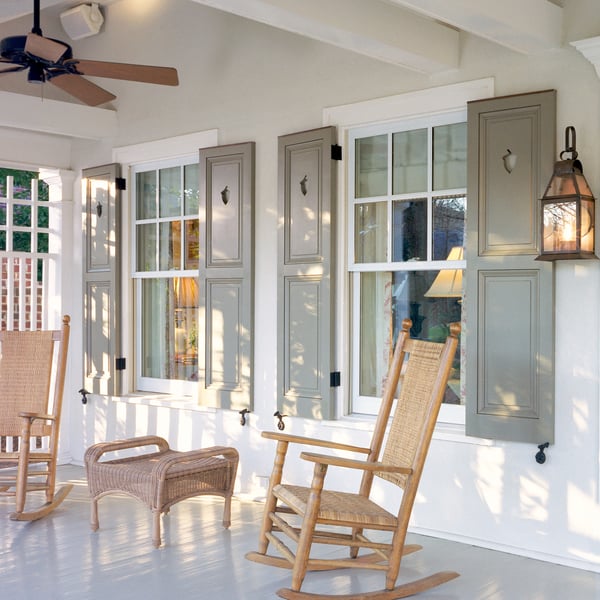 Exactly where the first shutter cutouts were created and who made them are not known, but the rise of shutter cutouts was fueled by the arts and crafts movement.
The arts and crafts movement began in Britain in the mid-1800s and thrived across Europe and the United States through the 1920s. It was characterized by traditional craftsmanship that incorporated folk, medieval and romantic artistic elements.
Architects, home builders, shutter manufacturers and homeowners began to embellish shutters with everything from acorns to hearts to whales. And the trend transcended shutters.
Cutout designs permeated homes from the late 1800s through the early 1900s. Cutouts appeared on fences, gates, porch railings and accent trim. Popular patterns included animals, trees and nautical symbols, as well as shapes like arrows, diamonds, fleur de lis and shamrocks.
Shutter Cutouts and Kit Houses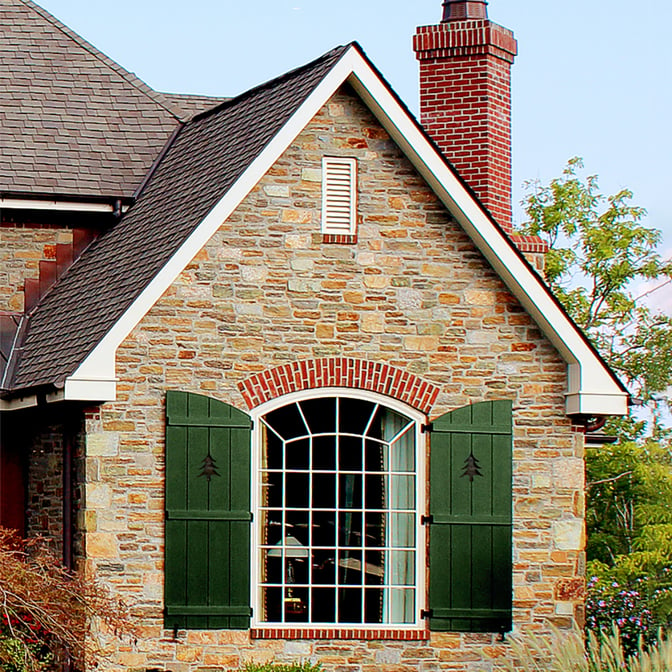 The popularity of shutter cutouts surged from the 1920s through the 1940s with the prevalence of kit-based homes sold by national retailers including Montgomery Ward and Sears, Roebuck and Co.
Kit houses were prefabricated homes sold via catalog. The homes were available in a limited number of styles, each with assorted customization options. One of these choices was a selection of shutter cutouts.
Many of these homes — and their original shutters — survive today. This is why some communities are rich with houses whose shutters are adorned with cutouts of candlesticks, clovers and crescent moons (three favorite styles from kit homes).
As glass windows became stronger and more affordable, the need for functional, protective shutters subsided. Exterior window shutters became largely decorative, and aesthetic flourishes like cutouts and ornamental hardware remained popular.
Modern Shutter Cutouts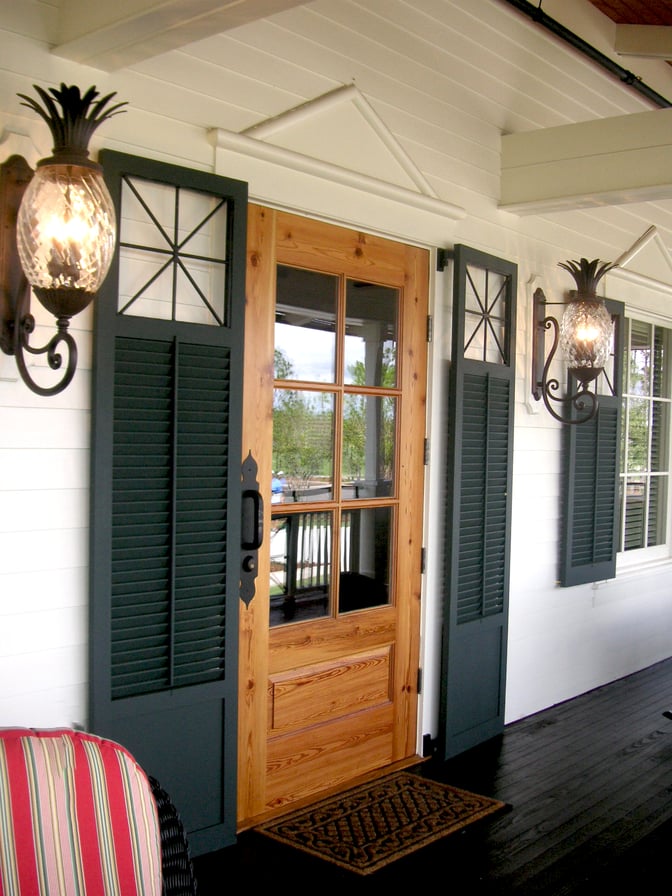 Contemporary shutter cutouts are particularly well suited to two enduring shutter styles: panel shutters and combination shutters.
Panel shutters are available in different forms, but feature raised or recessed planes that serve as something of a blank canvas for cutouts. Combination shutters feature a mix of panels and louvers; the operable louver slats allow sunlight and airflow management while the panels can be accessorized with cutouts.
Cutouts can communicate an affection for pets; reveal a profession or hobby; pay homage to local flora or fauna; or employ shapes to augment a home's architectural style. Modern shutter cutout options are nearly limitless and bound only by the story you desire to tell through their imagination-stirring shapes.
Exterior Shutters from Timberlane: A Cut(out) Above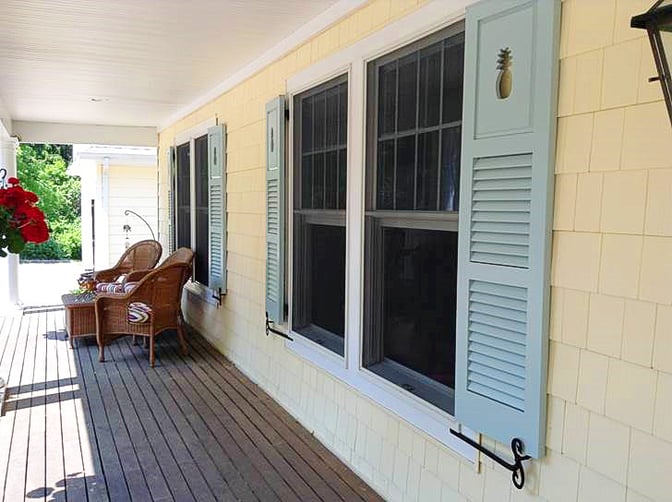 Timberlane makes elite, custom shutters in a variety of classic and contemporary styles.
We offer hundreds of cutout templates that architects, home builders and homeowners can use to personalize their shutters and add unique flair to their homes. We can also work with you to create a custom cutout based on your own design.
Connect with Timberlane today to learn more about shutter personalization options or to request a quote.