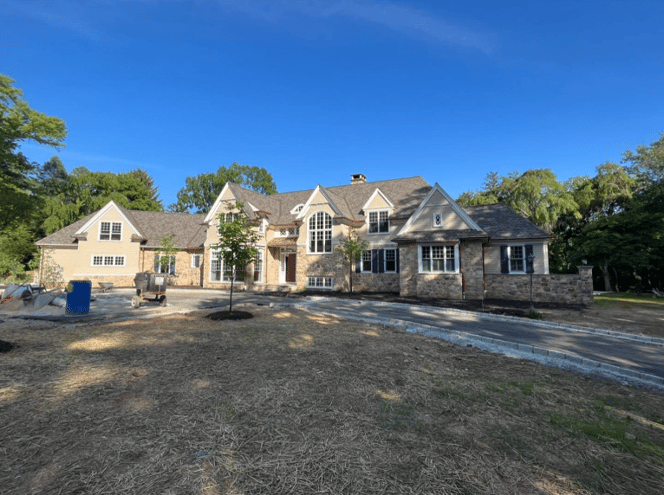 Exterior shutters and garage doors are among the first features people notice about a house, and they're crucial to a home's curb appeal.
Each year brings new ideas in home designs and sees evolutions in preferences related to stylistic elements, colors and materials. Following are four key design trends in new single-family homes and how they apply to exterior shutters and garage doors.
Natural Materials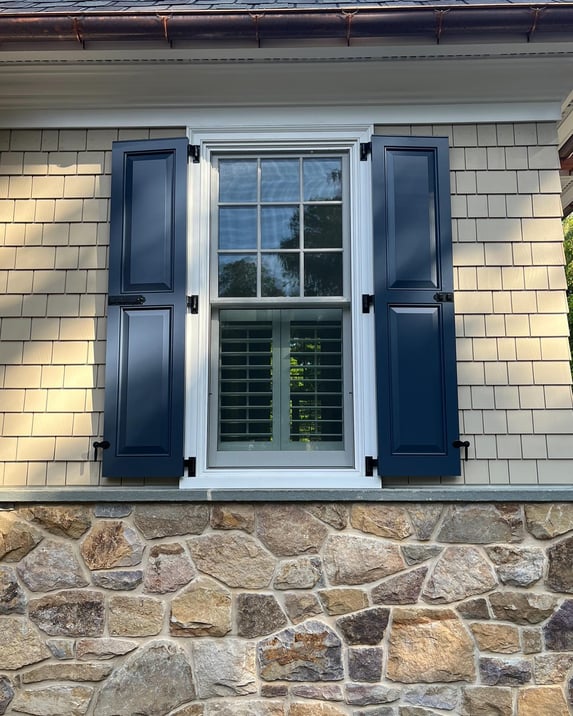 The popularity of natural materials in both home exteriors and interiors continues to rise.
As a recent Builder article about home design trends notes, a growing number of homeowners prefers the look of natural materials over synthetic materials. While earthy materials like brick, stone and stucco remain fashionable for home exteriors, wood is often favored for exterior shutters and garage-door overlays.
Wood complements both classic and contemporary architectural styles, and it possesses a unique elegance of its own. Premium woods such as mahogany offer inherent moisture resistance and durability, and wood can be stained to enrich its organic appearance or painted to provide a pop of color with natural texture.
When it comes to shutters, a strong and maintenance-free alternative to wood is Endurian®. Endurian is Timberlane's exclusive PVC, and it replicates the look and texture of wood so authentically that Endurian shutters have been used on historic buildings.
Bold Colors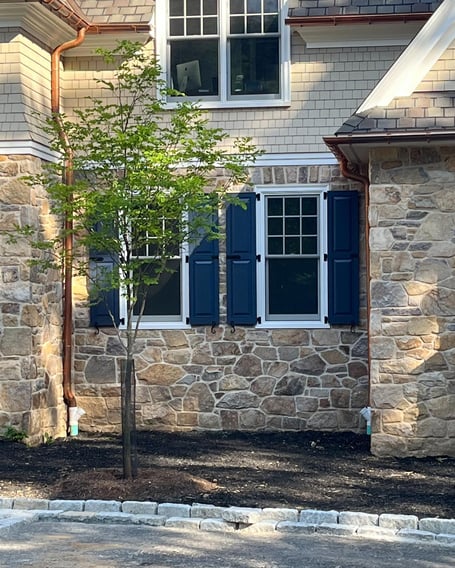 The utilization of natural materials has been trending progressively upward for years as trade professionals and homeowners recognize the benefits of traditional building methods and sustainable materials. But the shift from neutral tones to bright colors in home design occurred comparatively quickly.
Some design experts attribute this preferential change to the pandemic, which led to more people spending more time at home and thirsting for more vibrant settings. As the pandemic waned, architects, builders, interior designers and homeowners retained their adventurous color sensibilities.
Shutters, garage door and front door colors don't have to match each other, but they should enhance one another and the home's facade. Consideration of the home's primary exterior material is a good starting point when selecting shutter and door colors.
For example, add dramatic visual flair to a brown-toned brick or stone home with shutters of deep purple or velvety red; the garage door and front door may provide contrast and character in dark slate or midnight blue, or via a chocolatey stain finish. For a neutral exterior, such as off-white or pale yellow, turn to foresty greens, indigo-leaning blues and heavy grays.
Layered Colors and Textures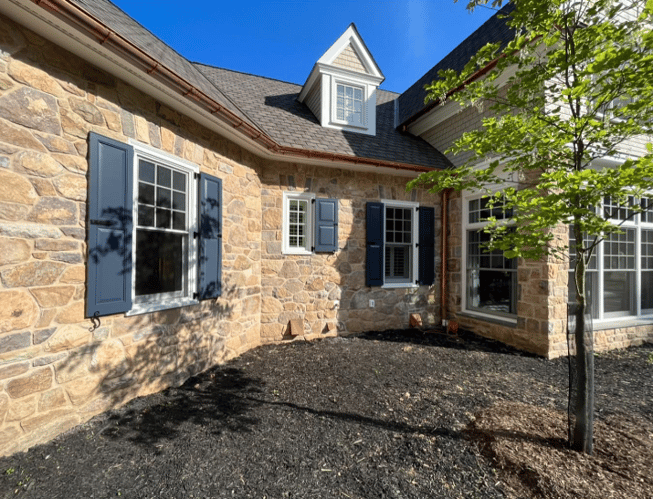 Many residential architects and builders are applying interior design elements to exteriors, as detailed by a recent Southern Living article about home exterior trends that boost curb appeal.
One of these approaches entails layering different colors and materials to create depth and visual interest. Home facades, for instance, may blend wood and stone to accentuate architectural details such as arches or dormers, or to provide distinction between multiple levels.
This idea extends to the colors, materials and styles for shutters and garage doors. Wood shutters and doors, for example, can add texture and character to a brick or sided home.
Similarly, shutters and doors with dark stain finishes or vivid paint colors can provide personality and definition to light-hued or neutral-toned exteriors. On the flip side, homes with dark-colored exteriors may benefit from lighter accent colors that add dimension and strengthen aesthetic identity.
Transitional Styles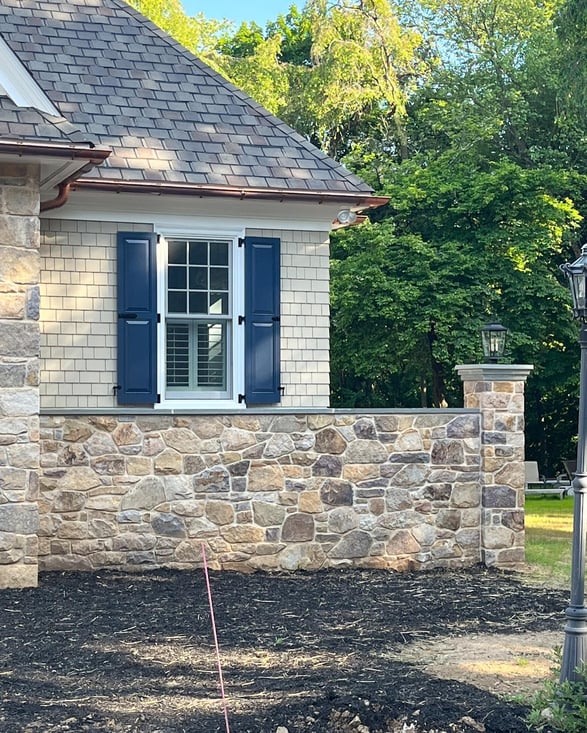 Transitional architecture is gaining momentum among architects and builders, and homeowners have likewise found much to love in the blend of traditional and modern facets.
The concepts of transitional design extend to exterior shutters and garage doors. Homes that incorporate classic and contemporary aspects can find balance in the right choice of shutters and garage doors. For example, board-and-batten shutters can help anchor the appearance of a home that merges modernist and farmhouse attributes with a rustic flourish; panel shutters may be ideal if the desired emphasis is on clean, contemporary lines.
A carriage-style garage door can impart classic charm to homes with natural exterior materials and components of time-honored home designs. A timeless paneled style may be better suited to homes that deploy boxier, contemporary forms intended to provide open interior spaces.
Custom shutters and garage doors come in several styles. And each style furnishes several personalization options to facilitate a perfect — and perfectly unique — fit for every home.
Timberlane: Exterior Shutters and Garage Doors that Say, 'Welcome Home'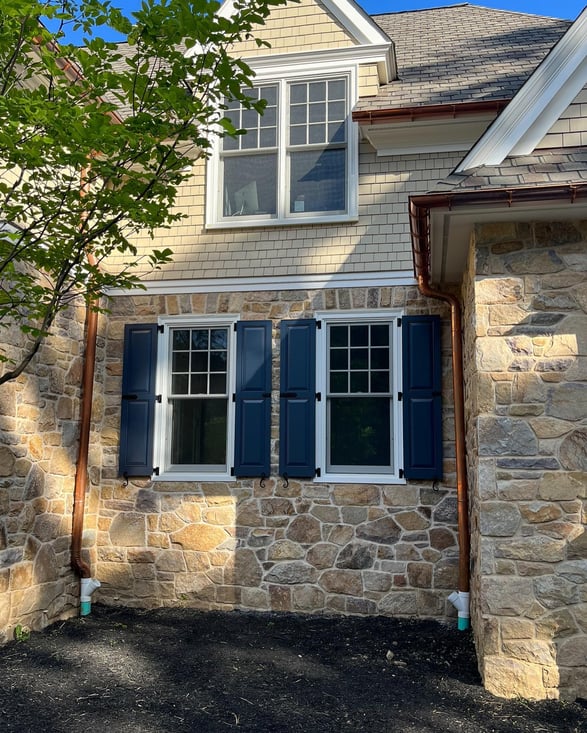 Timberlane is dedicated to making the finest custom shutters and garage doors.
Our knowledgeable design team has extensive experience working with trade professionals and homeowners alike. And our skilled artisans handcraft every product using superior materials that provide lasting beauty and performance.
To learn more about our shutters or garage doors, or to request a quote, connect with Timberlane today.
Photo and Installation Credit - Cornerstone Shutter Installation