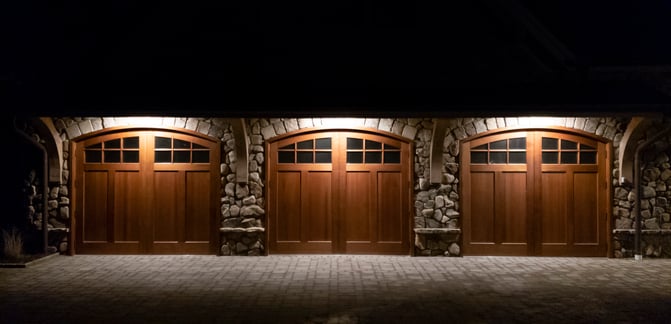 The curb appeal of many homes hinges on their garage doors, which tend to be street-facing and occupy substantial segments of homes' facades.
The right garage door can be a powerful way to enhance a home's exterior, reflect the designer's or occupants' personal styles and even augment home value. There are many garage door styles available, each with its own customization options.
But when considering the ideal garage door, many architects, builders and homeowners turn to a classic style that accommodates both traditional and contemporary homes: the carriage garage door. Following is an overview of the carriage style and a look at some of the benefits that make it a perfect aesthetic and functional fit for so many luxury homes.
A Brief History of the Carriage House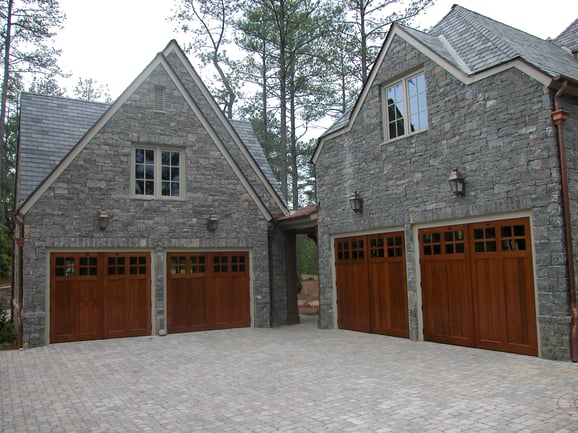 The story behind the unique design of carriage-style garage doors stems from their original use as a component of carriage houses. Also called coach houses or cart sheds, carriage houses were conventional home add-ons before the invention of automobiles.
As their name implies, carriage houses sheltered the horses and carriages that transported residents to and fro. At times, carriage houses even had second-story sections for households' coachmen or the caretakers responsible for maintaining the horses and gear.
Carriage houses date back to 18th-century England, when owning a horse-drawn carriage was a big deal. Only those who were wealthy could afford horse teams, carriages, personnel and their collective living spaces.
In the United States, carriage houses became more common beginning in the mid-1800s, as roads developed and the use of horse-drawn buggies expanded. Due to their animate and inanimate contents, carriage houses tended to be relatively large outbuildings (think a small barn or a detached garage).
Unlike barns and standalone garages, however, carriage houses were often designed to match the appearances of the primary homes to which they corresponded. But the main occupants of carriage houses — horses and coaches or wagons— demanded larger doors.
Carriage House-Style Doors and Garage Doors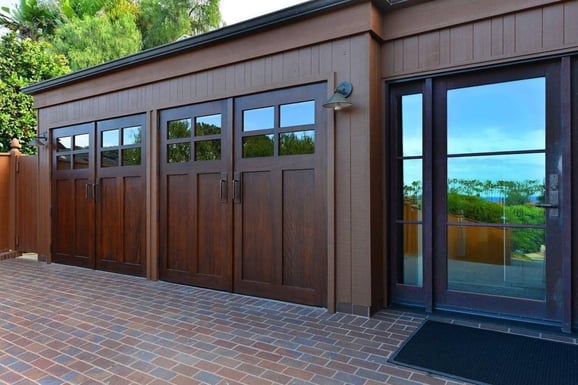 Early carriage house doors were often built in swing-out pairs. Each door was generally characterized by vertical wood panels held together by a wood frame with crossbuck planks.
Framing and cross-sectioning varied somewhat, and some carriage house doors featured windows. As automobiles replaced horses and carriages, the carriage house and carriage-style doors evolved into garages and garage doors.
The carriage house had an enduring impact on architectural style. Today, the carriage house remains a popular home type, especially for luxury homes designed to maximize space.
The carriage house style also remains prevalent in garage doors, although it has been adapted to modern needs. For example, most contemporary carriage-style garage doors retain a traditional look but are built to open overhead with standard garage-door openers.
The Appeal of Carriage-Style Garage Doors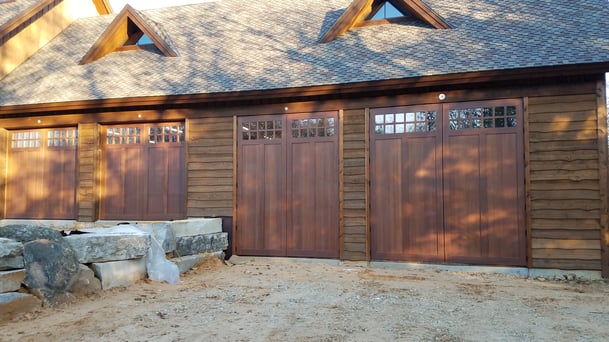 Carriage-style garage doors remain popular for several reasons, including:
Aesthetic Versatility
Carriage-type doors can complement a variety of home architecture styles. Their rustic roots lend carriage doors to Colonial, Federal and Victorian homes. But carriage doors also have elegant lines and pattern options that align beautifully with modern homes, and they can be painted or finished in a spectrum of colors or wood stains.
Panel Design Choices
In addition to the traditional crossbuck-covered panels, contemporary carriage garage doors are available with different panel options to suit a home's exterior. For instance, carriage-style garage doors can be made with flat, vertical or herringbone panels.
Window Options
Carriage-style garage doors can also be solid or crafted with windows to allow in some natural light when the doors are closed. Like the carriage paneling, windows are available in different forms and configurations.
Historic Accuracy
When historic precision is desired, carriage-style garage doors are often an exemplary choice. Elite carriage-style doors should be handcrafted to achieve an authentic look and feature durable construction with wood overlays that amplify their natural beauty.
Timberlane: Carriage-Style Garage Doors and Beyond
Timberlane is a leading manufacturer of superior, custom garage doors for luxury homes.
Our team of expert artisans and knowledgeable representatives has extensive experience helping trade professionals and homeowners select the optimal garage door style and options for their residences. Whether you're seeking an overhead, swing-out or trifold garage door, we're here to collaborate with you to capture your individual vision and your home's distinctive look.
Connect with Timberlane today to learn more about custom garage doors or request a quote.