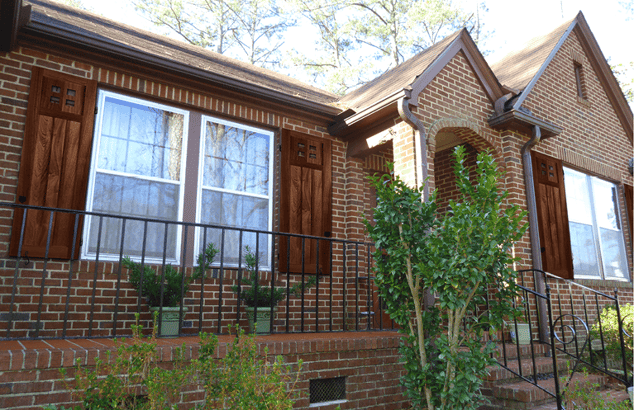 Mission-style window shutters are characterized by clean profiles that are typically accented with crisp geometric patterns or topped with cutout designs.
Mission shutters have their stylistic roots in the Arts & Crafts movement, and they are often made from durable wood or a material designed to replicate the appearance and texture of wood. The elegant lines and customizable versatility of Mission shutters make them suitable for several home architectural types, from Victorian to modern.
The Emergence of the Mission Style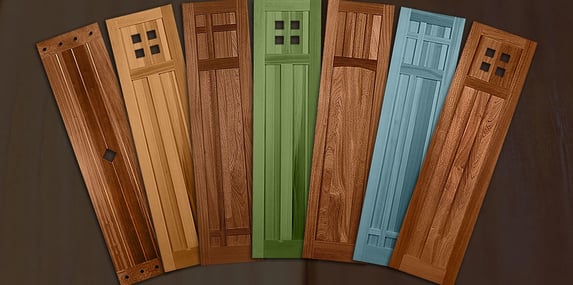 Like other Mission-style furnishings and home-design elements, Mission shutters sprang from the Arts & Crafts movement of the late 19th and early 20th centuries.
The Arts & Crafts movement was both nostalgic and progressive. It was a response to the ornamental excesses of the Victorian era and the mass production and synthetic materials that accompanied industrialization.
In looking forward, artists and architects of the Arts & Crafts movement borrowed cues from the past. Arts & Crafts architects, for example, believed a building's design should reflect its function, and they favored structural simplicity, traditional craftsmanship and natural materials.
The Mission style originated in furniture in the late 1800s. The term was popularized by New York-based furniture maker and retailer Joseph P. McHugh, who took the name from the Spanish missions of California; McHugh based a line of furnishings on wood seats found in San Francisco's Swedenborgian Church, although the style has little in common with the furniture and decor of the Spanish missions.
The Mission style, as popularized by McHugh, shared more with the growing Arts & Crafts movement. In fact, the Swedenborgian Church in San Francisco is one of the oldest surviving examples of Arts & Crafts architecture in the United States.
In architecture and home decor, the Arts & Crafts and Mission styles emphasize horizontal and vertical lines, and flat panels. Preferred materials for homes include brick, stone, stucco and wood, and furniture is typically wood with metallic hardware or adornments made of pure metals like copper or iron.
The Arts & Crafts Influence on Mission Shutters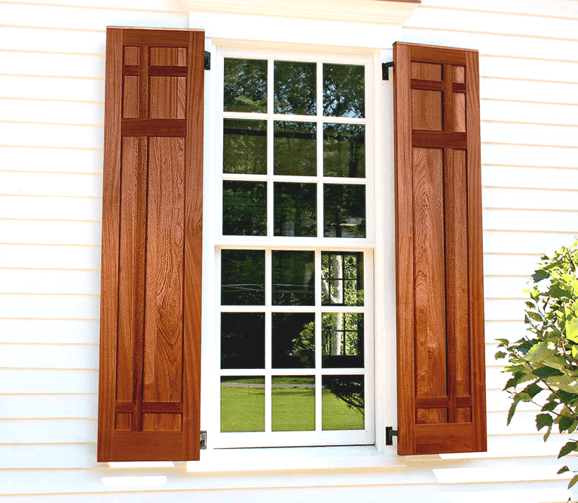 Shutters historically developed as a means to protect home interiors from adverse weather and pests, while also allowing light and ventilation control.
As glass windows became common in homes throughout the 1800s and stronger glass was developed in the 1900s, shutters often became a decorative consideration rather than a functional one. By the mid-1800s, many exterior shutters were factory made and retailed in pairs, and intended to bookend windows instead of close over them.
But the Arts & Crafts movement rebelled against industrialized design concepts and mass production. The Mission-style shutters that grew out of the Arts & Crafts movement were hand-made and featured personal expression in the form of inset panels, checkerboard patterns, geometric line formations and cutouts.
Many of these custom design facets became so popular that they're now standard options on manufactured Mission shutters. In particular, the demand for shutters with cutouts escalated during the 1920s-'40s as kit homes peaked in popularity. Ironically, many kit homes from that era adhered to Arts & Crafts stylistic elements and materials, though several of their components were prefabricated.
The Arts & Crafts and Mission styles would further influence aspects of Modernism, which is one reason Mission shutters lend themselves to many contemporary home designs that borrow their refined lines. The traditional Arts & Crafts homes and Mission shutter styles also remain desirable today.
Mission: Possibilities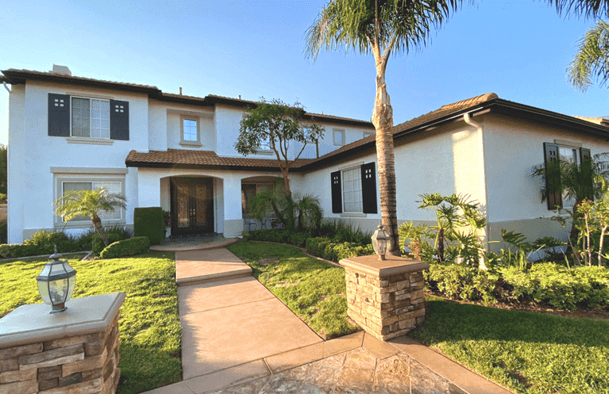 The personalization possibilities of modern Mission shutters are nearly endless.
Those seeking authenticity may choose wood shutters that are handcrafted from beautiful, long-lasting mahogany. Those who desire an even lower-maintenance material may opt for shutters made from Endurian®, a sturdy PVC that has the look and feel of natural wood.
Wood shutters can be stained in a variety of tones to augment their natural hues and grains, or painted to match a home's color scheme. Endurian® shutters may be painted in a wide range of standard colors, as well as in custom colors.
Mission shutters made from each material are available in several design profiles. They can also be enhanced with cutouts, including those based on custom art.
Mission shutters may be further complemented with aluminum or copper shutter capping, which adds a sophisticated embellishment and helps protect wood shutters from moisture. Additional hardware such as rabbeting can facilitate functional shutters.
Timberlane: Our Mission is Your Satisfaction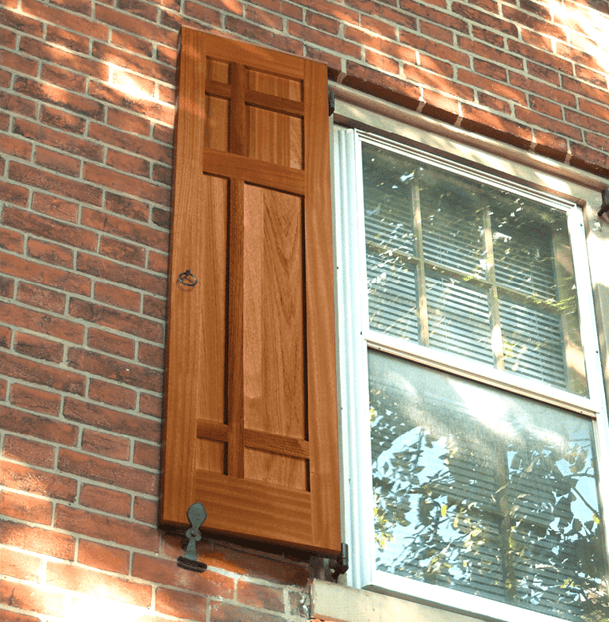 Whether your home calls for Mission shutters or another style, Timberlane is here to help you choose the ideal exterior shutters for your home.
Timberlane has more than 25 years of experience crafting the finest custom shutters. Our knowledgeable design team understands the nuances of shutter and home pairing, and our accomplished artisans handcraft every shutter to each project's unique specifications for a perfect fit.
Whether you're a homeowner or a trade professional, connect with Timberlane when you're ready to learn more about shutter styles and personalization choices, or to request a quote.