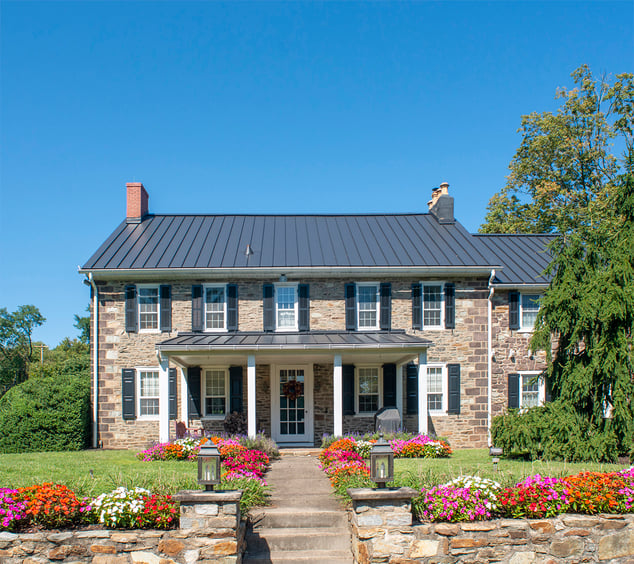 For Martha Stewart, curtains are not "a good thing."
During a lecture at last year's Antiques & Garden Show of Nashville, Stewart revealed that she has zero curtains in her nearly half-dozen homes, a declaration that surprised many of her home-decor followers. She quipped that her next book should be titled, "'A House With No Curtains'."
Shutters Among Stewart's Curtain Alternatives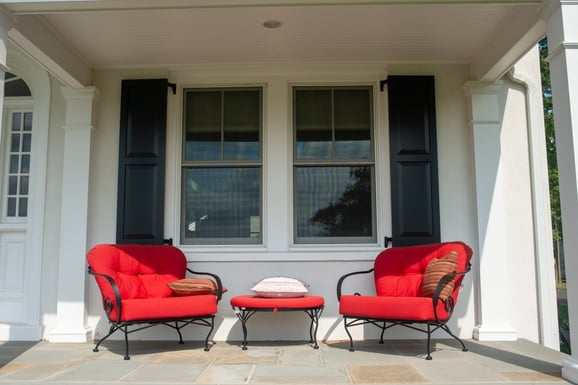 So what does Stewart prefer over curtains for decorative or functional window treatments?
Many windows in many of Stewart's many houses lack accompaniment altogether. Stewart is a proponent of natural light, and several of her homes' windows are bare and intended to allow daylight in and accommodate enjoyment of the surrounding views.
Some of Stewart's homes utilize interior blinds for light regulation and privacy. Others feature windows framed by exterior shutters, operable versions of which can also be used for light control, ventilation and privacy.
That said, Stewart does embrace a curtain cousin. According to a House Beautiful article about Stewart's Antiques & Garden Show presentation, the media mogul admitted that she often deploys window valances when they suit the home's architectural and interior design styles.
Valances became popular in the Renaissance era and remain so in classic home types including Victorian, French Country and Federal, which often have high, narrow, rectangular windows. Window valances were historically paired with curtains, but today they are often used in conjunction with blinds or as an interior accent to windows that have exterior shutters.
Exterior Shutter Benefits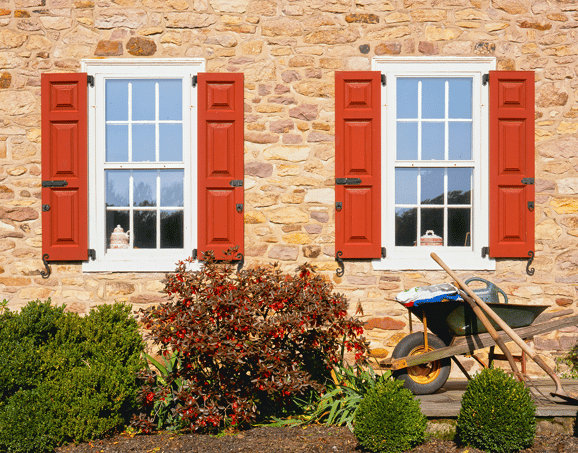 Like other types of window treatments, exterior shutters are available in several styles. Shutters may also be fixed in place as ornamental accents to windows or be operable to manage light, airflow and privacy, and to protect windows and home interiors from weather damage and temperature loss.
Functional Shutters and Energy Savings
In fact, one significant advantage of functional shutters is energy efficiency. The average American home loses approximately 30 percent of its annual heating energy through its windows, according to a U.S. Department of Energy report about energy efficient window coverings.
Compared with other window coverings, exterior shutters have proven the most effective at maintaining internal temperatures and preventing energy loss. One study about improving the thermal performance of traditional residential windows found that shutters offered the biggest reduction in heat loss by a sizable margin over other options including blinds and curtains.
While there's no denying the practical benefits of operable shutters, decorative shutters have value as well.
The Merits of Decorative Shutters
Although shutters developed for pragmatic reasons, including to shield home interiors from the elements and pests, they have remained important architectural elements of many popular luxury home styles. It's nearly impossible to imagine a Mediterranean-style home without louver shutters, even if those louvers are fixed in place; or to conjure an image of a Georgian home without the elegant simplicity of panel shutters bookending its windows.
Unless they were explicitly designed to be shutterless, homes without shutters often seem bare or unbalanced. Quality decorative shutters that properly align with a home's windows and design sensibilities furnish resonant curb appeal.
Adding new exterior shutters or replacing worn shutters can also be a good investment if you're considering selling your home. Window upgrades such as exterior shutters are often high-ROI ways to optimize a home's curb appeal.
Yes, even if Martha Stewart didn't say so explicitly, exterior shutters are a good thing.
About Timberlane: Elite Shutters with Character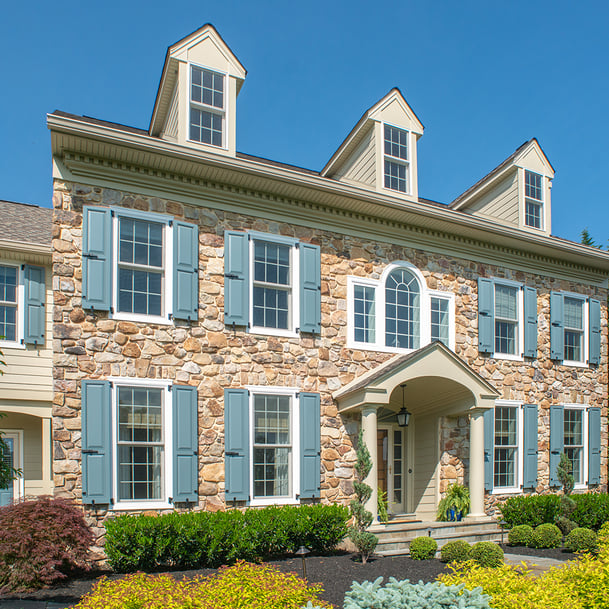 At Timberlane, we believe exterior shutters are a great thing. So great that we're dedicated to crafting the finest, custom shutters available.
Our friendly and knowledgeable team loves working with trade professionals and homeowners to find the ideal shutter styles, color choices and hardware options that suit their homes and reflect their personalities. We believe that shutters should be as strong as they are beautiful, and we create shutters in several durable materials including weather-resistant wood, our unique Endurian® PVC, and aluminum for when your home or commercial structure needs hurricane-rated protection.
To learn more about your shutter choices or request a quote, connect with Timberlane today.