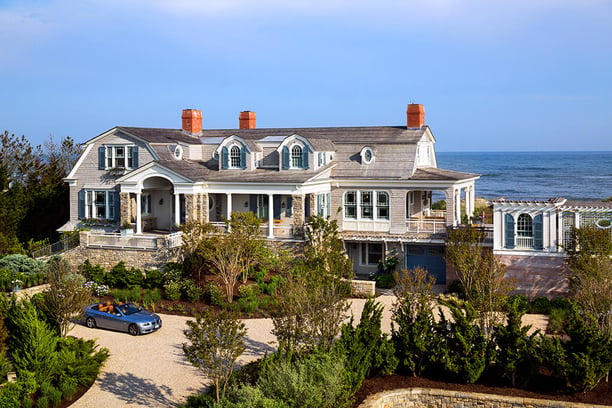 When natural light control and privacy management with decorative flair are desired, many home designers and homeowners turn to exterior window shutters and interior blinds.
But is one more advantageous than the other? And are shutters and blinds mutually exclusive?
Shutters and Blinds: Style and Function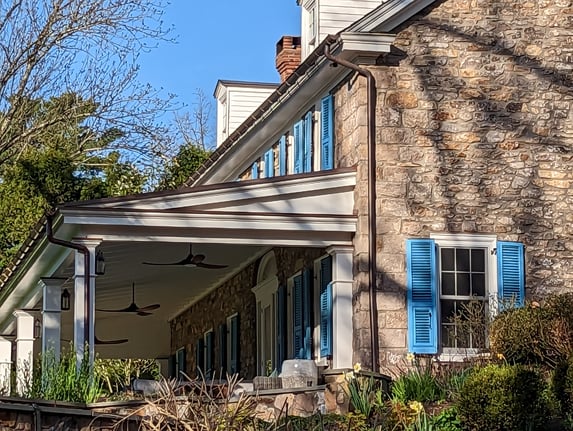 Exterior shutters and interior blinds are available in several styles, many of which share design similarities and utilitarian benefits. Consider, for example, the rows of horizontal blades on louver shutters and Venetian blinds, which can be opened at varying degrees to regulate light, airflow and privacy.
Essential Exterior Shutter Styles
Widely used shutter styles that are available in ornamental and functional versions include:
Panel shutters, which feature raised, recessed or flat panels with varying panel configuration and trim options.
Louver shutters, operable versions of which have parallel series of slats that can be opened and closed via tie-rods.
Board-and-batten shutters, a charming rustic style characterized by vertical boards and thinner "battens" that stretch horizontally near the tops and bottoms.
Mission shutters, which were inspired by the Arts & Crafts movement and display crisp lines and elegant geometric patterns.
Bermuda shutters, also known as Bahama shutters and hurricane shutters, which have horizontal rows of fixed blades, and open and close vertically over windows; Bermuda shutters made with hurricane-rated aluminum are optimal for coastal areas prone to tropical storms.
Popular Interior Blinds Styles
Interior blinds are likewise built for beauty and performance. Favored blinds styles include:
Venetian blinds, which have the familiar horizontal blades that can be rotated open or closed; the blinds as a whole may be raised or lowered.
Vertical blinds, which feature series of hanging vertical panels that can open and close similarly to curtains, or rotated in degrees for light management and privacy control.
Roman blinds, with their regal rows of horizontal fabric panels that may be raised or lowered over windows.
Roller blinds, which unfurl from a spool-like device mounted above windows and can be raised or lowered as preferred for natural light or solitude.
Shutter blinds, which are similar to louvered exterior shutters and are sometimes referred to as interior shutters or plantation shutters; they are typically mounted to the insides of windows and can open or close over the windows, and like louver shutters possess operable slats.
The best shutters are made with a durable, moisture-resistant wood like mahogany or a strong, maintenance-free PVC compound like Endurian®. Venetian blinds and shutter blinds are likewise most often manufactured from wood or plastic composites, while fabric is frequently employed for vertical, roller and Roman blinds.
Purposeful Beauty, Together or Apart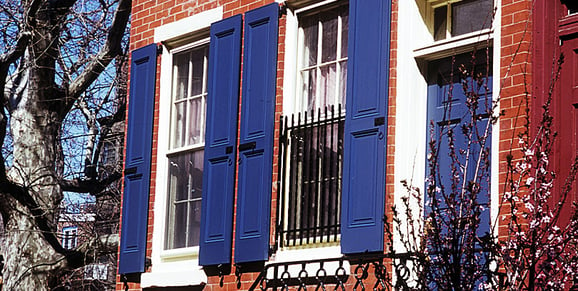 Shutters and blinds can — and often do — coexist harmoniously.
Layering Window Treatments
Interior blinds are especially desirable in conjunction with decorative shutters. The shutters complement the windows, enhance the home's architecture and elevate its curb appeal while the blinds augment the interior design and allow residents to manage natural light, seclusion and (when the windows are open) ventilation.
Blinds may also be used with operable shutters and other window treatments. Window treatment layering has grown in popularity among interior designers and homeowners in recent years as more people discover the benefits of blending multiple, functional window coverings.
From an aesthetic perspective, layered window treatments look stunning when thoughtfully matched. Boldly colored exterior shutters, for instance, may be counterbalanced by neutral-toned blinds that reflect an interior hue; the striking lines of louver shutters or board-and-batten shutters may be underscored with blinds in a uniform fabric, such as Roman blinds or roller blinds.
Shutters, Blinds and Energy Efficiency
Layered window treatments offer practical merits as well. In addition to the conveniences of light, airflow and privacy regulation, shutters and blinds can help maintain consistent interior temperatures and improve energy efficiency.
Windows are a major source of thermal loss and thermal gain. Among window treatments including blinds and curtains, shutters have proven the most effective at amplifying energy efficiency.
One study that focused on improving the thermal performance of windows found that properly fitting, functional exterior shutters provided an average 50-plus-percent reduction in energy loss compared with windows lacking coverings. Shutters augment the airtightness of windows, and they reduce heat loss and heat absorption through windows.
While shutters have the edge on blinds when it comes to energy efficiency, blinds can play a role in moderating energy consumption as well. A recent British study about the impacts of blinds and shutters on energy efficiency echoed earlier research about shutters' effectiveness, but also found that blinds could diminish energy loss by between 13 and 33 percent, depending on the type and material.
If there is an optimal choice between shutters and blinds, it's the one that best suits each home's design and homeowners' personal tastes. And sometimes the ideal choice is both shutters and blinds.
About Timberlane: Elite Custom Shutters for Distinctive Homes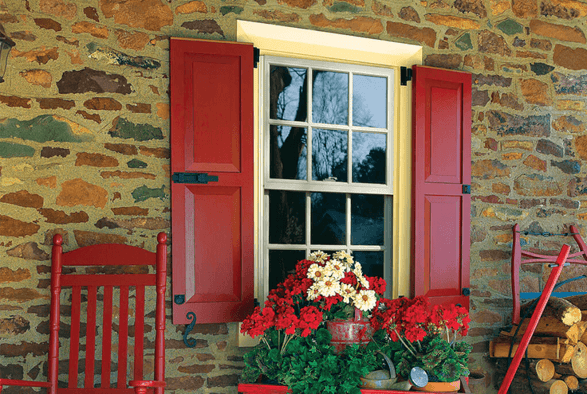 Timberlane has nearly three decades of experience manufacturing the finest exterior shutters for luxury homes and historic residences.
Timberlane's shutters are custom made from premium materials by skilled artisans, who craft each shutter according to a project's unique specifications. Our knowledgeable design team is ready to answer your questions and help you select the perfect shutters that will say "welcome home" for years to come.
Connect with Timberlane today to learn more or request a quote.