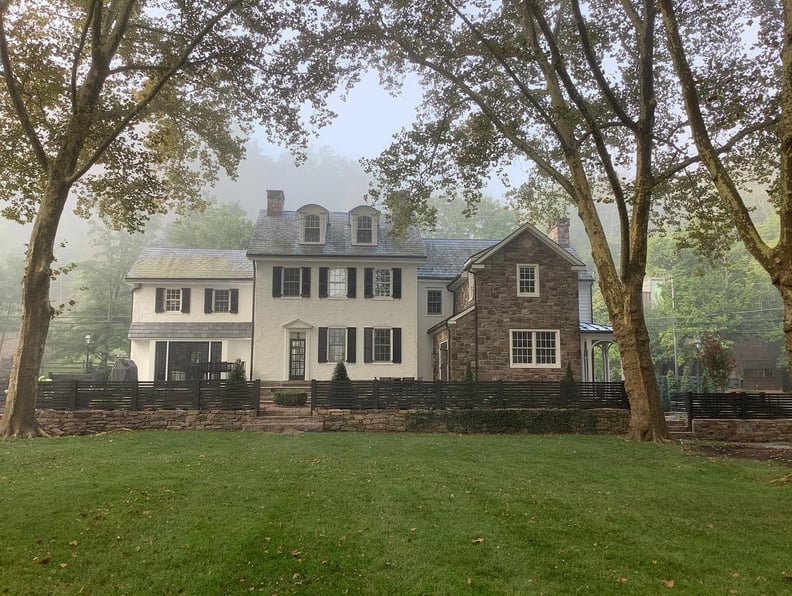 Exterior shutters are often a decorative element on modern homes. But to historic homes and other classic structures, shutters are more than an aesthetic accent.
Prior to weather-resistant glass, home insulation, and heating and cooling systems, shutters served practical purposes beyond enhancing a home's architectural style. Traditional shutters provided airflow regulation, light control, privacy and protection from the elements.
When adding or replacing exterior shutters on a historic home or a home that employs a time-honored architectural style such as Victorian, Colonial or Cape Cod, there are key factors that deserve attention. Foremost is that if the home is a designated historic structure or in consideration for historic status, it must have shutters that adhere to period-appropriate materials, hardware and operability as established by the designating organization.
Exterior Shutters and Functionality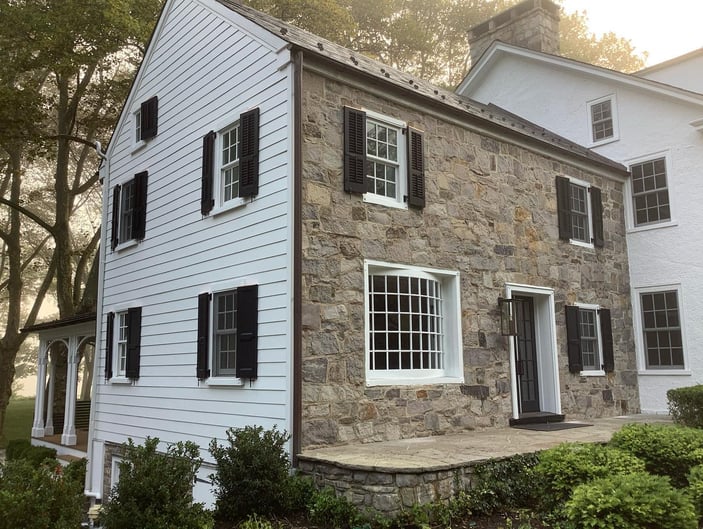 Even if exterior shutters are not meant for a historic home, but rather to complement a home with a classic style, functionality is a good place to start.
Modern shutters evolved from their historical counterparts, and many enduring styles are today available as operable shutters or as fixed, decorative shutters. If a homeowner desires representative historic value for their home, functional shutters may be ideal.
And operable shutters based on historic designs often provide modern benefits. For example, louver shutters — shutters with a series of thin, horizontal slats that can be raised or lowered — can improve airflow, control light and help regulate a home's temperature.
A report about energy efficiency in historic homes from the International Association of Certified Home Inspectors notes that homes constructed prior to 1940 have lower energy consumption needs for heating and cooling than homes built since. The same report observes that the presence of functional exterior shutters is a crucial contributor to energy efficiency.
It's essential to note that in regards to a designated historic structure, operable exterior shutters will likely be a requirement.
Historic Exterior Shutter Styles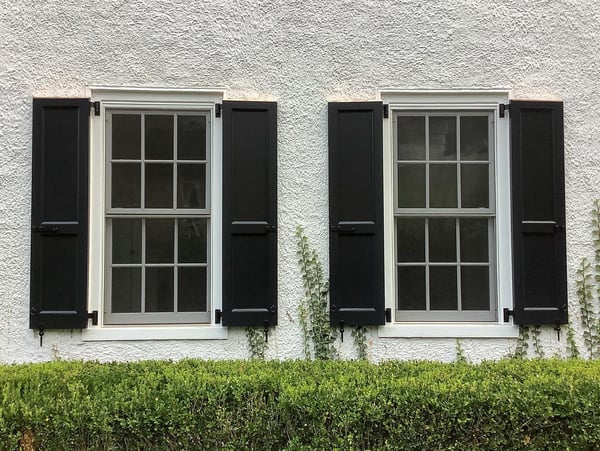 The most popular exterior shutters today are based on traditional designs that have withstood the test of time thanks to their form and function.
Board and batten shutters, for instance, were brought to the American colonies from Europe and broadly used on farm homes and barns. Today, they are a favored accompaniment to French country-style and Italianate homes, as well as other rustic home designs.
The aforementioned louver shutters, meanwhile, remain widely employed on Colonial, Federal, Greek Revival, Mediterranean and Victorian homes. Their classic lines and functional options also lend louver shutters to many modern home styles.
For more information about matching exterior shutters with architectural styles, check out Timberlane's House & Shutter Pairing Guide.
Historic Exterior Shutter Materials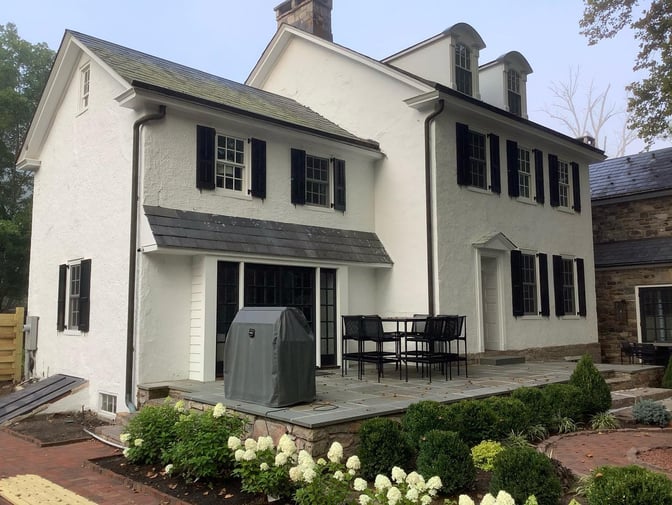 It's important to choose the right material for exterior shutters on any home, but material is crucial when it comes to historic or vintage homes.
There are many modern shutter materials, such as PVC and composites, that are durable and easy to maintain; many are even designed to look and feel as if they're made of wood. Then there is aluminum, which is often used for contemporary Bermuda shutters — or hurricane shutters — thanks to its lightweight strength.
But as is the case with functionality, traditional materials are the way to go if historic accuracy is vital, and in the case of shutters this typically means wood. Mahogany is the gold standard for high-quality wood shutters.
Mahogany is resistant to moisture and rot, and it's a cooperative material that can handle diverse stain and finishing treatments to augment a home's color scheme. It also lends itself to historic hardware options that enable operability.
Historic Exterior Shutter Hardware Options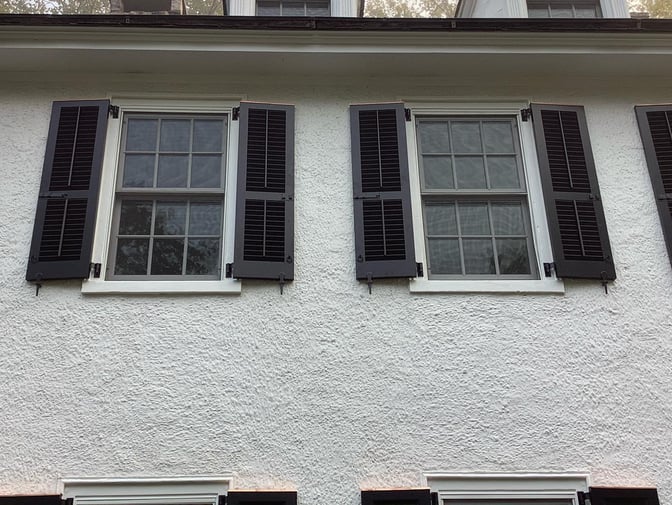 Capturing historic authenticity with exterior shutters requires looking beyond style and material to the shutters' corresponding hardware.
There are several traditional hardware elements that may supplement classic shutters. Some are functional while others add historic decorative elements.
Hinges and pintels, for example, may be used to mount shutters and allow them to open and close over windows while providing an aesthetic flourish. Shutters may further have decorative pull rings and tiebacks that add function and splashy design touches.
Shutter capping, a long, thin strip of metal affixed to shutter tops, has long been used on wood shutters. Capping protects the exposed top portion of the shutters from accumulating moisture and offers visual appeal.
Create Living History with Timberlane Exterior Shutters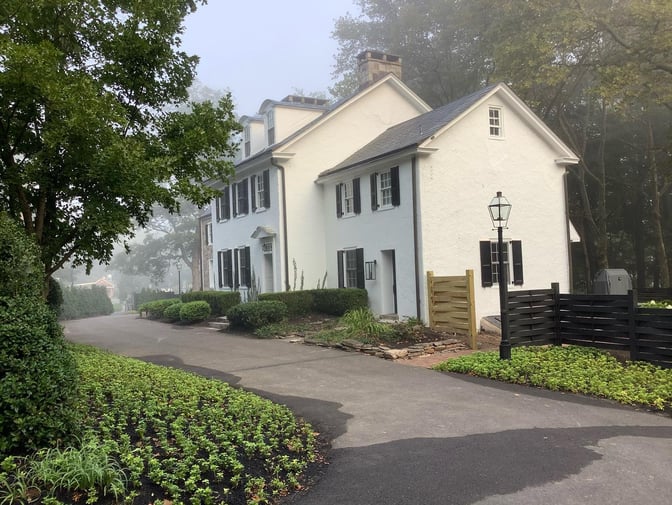 Timberlane has extensive experience creating exterior shutters for historic homes.
Our knowledgeable team is intimately familiar with choosing materials, styles, colors and hardware to match the historical authenticity of a home's exterior. We can create custom-made solutions for any historic house, ensuring that its exterior shutters genuinely accentuate its traditional architectural style.
If you're an architect, builder or homeowner looking for a historically accurate upgrade to a traditional home's exterior shutters, connect with Timberlane today.
Photo and Installation Credit - Cornerstone Shutter Installation