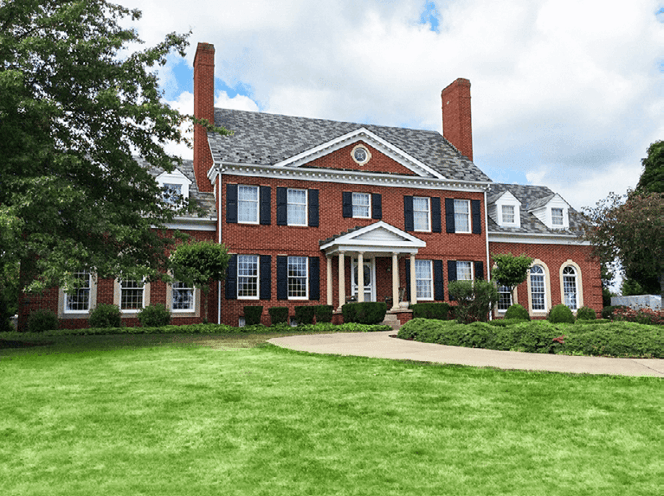 Brick remains one of the most popular home exterior materials, due in part to its stylistic versatility.
Brick is available in varying types and diverse colors that suit a range of traditional and modern home designs. The distinctive coloration and undertones of different bricks also provide flexibility when considering accent hues like the colors of window shutters.
While there's no "right" or "best" shutter color for brick homes, there are factors that affect how the tones of each can facilitate the home's overall aesthetic balance and achieve the desired level of sophisticated subtlety or eye-catching flair.
A Brief History of Brick Homes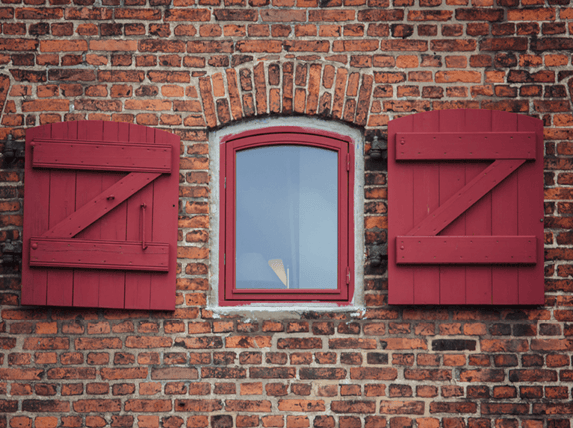 The earliest bricks used for shelters date to between 7,500-7,200 B.C. and were found at various sites throughout the Middle East and South Asia.
Similar to contemporary bricks, these primeval blocks were made of dried clay. These early bricks were composed of an earth-based mud mixture that was shaped into slabs then baked in the sun until it hardened.
The revolutionary practice of kiln-firing bricks, which augmented their consistency and strength, was popularized by the ancient Greeks and Romans. Though Augustus Caesar, the founder of the Roman Empire, would later sneer to the historian Suetonius, "I found Rome a city of bricks and left it a city of marble."
Bricks, however, had the last laugh. They continue to reign in residential construction.
The Benefits of Brick Homes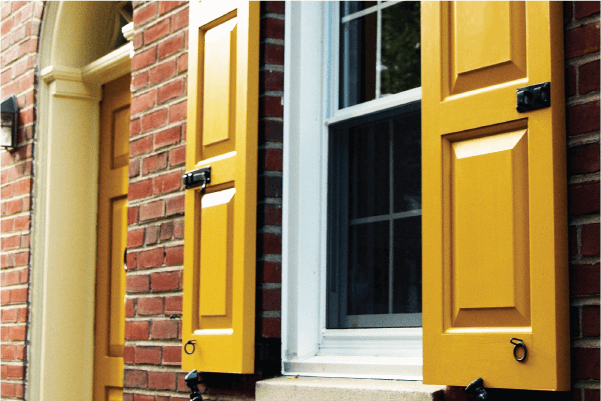 Today, most bricks used in homebuilding are created through an extrusion process in which low-moisture clay is deposited in molds, allowed to set and dry, then fragmented into blocks that are fire hardened.
Brick is a favored exterior material in residential building for several reasons in addition to its inherent beauty and adaptability:
Durability: Although brick is no longer often used as a structural material for homes, it's still an excellent external material because it's sturdy and low maintenance, and it withstands weather extremes better than other siding materials like aluminum, vinyl and wood.
Moisture resistance: Brick isn't waterproof, but it is resistant to moisture absorption and retention, and like other forms of masonry brick can be sealed to further protect it against water damage.
Energy efficiency: Brick's structural density and makeup help prevent thermal loss and thermal gain, which aids in interior temperature regulation; the energy efficiency of a brick home can be enhanced by functional exterior shutters.
Sustainability: The clay used for brick is abundant and naturally recurring, which makes brick one of the most environmentally friendly home exterior materials; brick can also be reused and recycled.
Brick may be more costly than many other home exterior materials, but brick homes also have unparalleled curb appeal. Brick homes regularly demonstrate higher resale values than comparably sized homes of other materials.
Brick Colors and Shutter Colors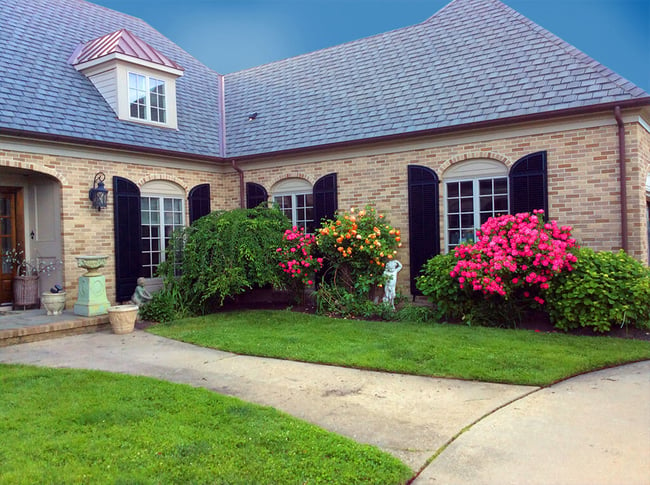 Among the reasons for brick's enduring demand are its broad color palette and unique undertones.
Brick colors run the gamut from black to white, with shades of red, orange, brown and gray. Brick can veer from earthy to bright, and display undertones that span from burgundy to charcoal to moss to rust.
When considering shutter colors for a brick home, look to the bricks themselves. Note variations in the dominant colors of the bricks, for example a mix of red and orange.
Assess the secondary colors and undertones. Is the brick patterning a blend of light and dark hues, or is it largely uniform? What colors are the undertones, and how perceptible are they amid the brick?
The color of a home's shutters may draw from the brick, but it shouldn't be too close to the primary brick color or the shutters risk fading into the background. Black shutters are a classic pairing with brick homes because they often complement the secondary colors or undertones of brick homes.
Dark, earth-toned shutters can lend elegance to homes of pale or peachy brick, especially if the brick has undertones of foresty green or chocolatey brown. Deep blues or slate grays may also align with light-colored brick.
For darker brick, like the definitive rich red, look to differentiating dark colors or light earth tones. Emerald green shutters can visually anchor dark red brick, while tan can create a softer sense of cohesion.
Again, there's no single ideal shutter color for brick homes. Ultimately, the right color shutter is the one that contributes to a home's architectural harmony and makes you happy.
Shutter Color Resources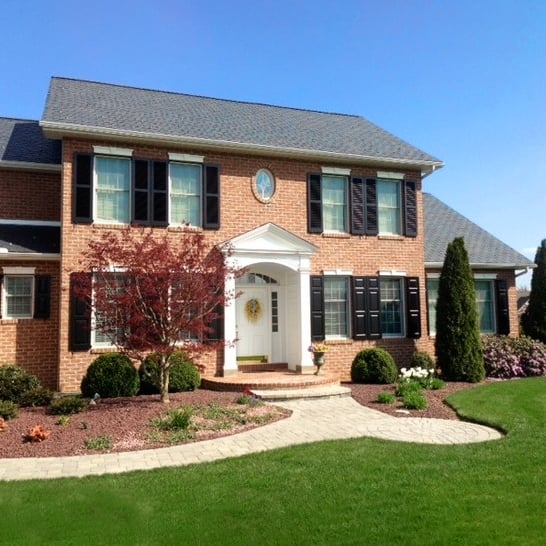 For additional information about pairing shutter colors with different home exterior materials and colors, see Shutter Colors & Your Home. This illustrated guide features shutter color considerations for several widely used homebuilding materials and popular external colors.
To see how some favorite shutter colors look on fashionable exterior colors, check out Timberlane's Shutter Color Pairing Chart. This graphic shows a side-by-side comparison of multiple home and shutter color combinations.
For an overview of standard shutter colors, visit Timberlane's Shutter Color Chart. This table highlights 24 premium paint options for Timberlane's handcrafted exterior shutters.
For a hue that's not on standard color charts, see Timberlane's Custom Color Matching Guide. This pictorial reference details Timberlane's custom color matching process for exterior shutters.
About Timberlane Shutters: Peerless Beauty and Performance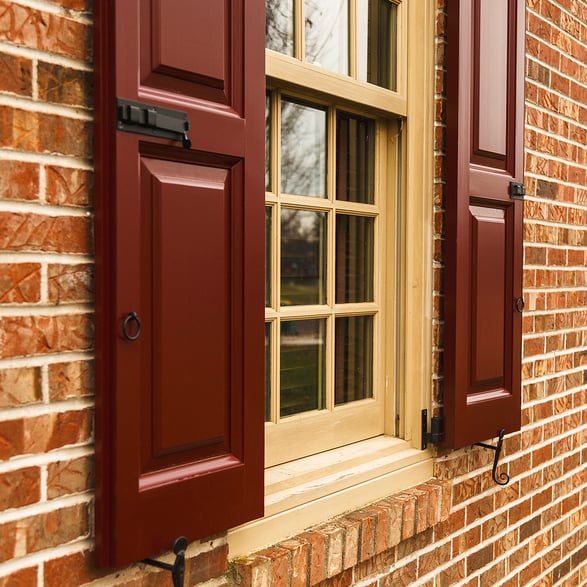 Timberlane has decades of experience handcrafting the finest shutters for luxury homes and historic structures.
Our knowledgeable design consultants love working with homeowners and trade professionals to create the consummate shutters for each project. We're here to help you through every step of the custom shutters journey, from style and material selection to choosing the perfect color.
Connect with Timberlane today to learn more about shutter options or to request a quote.