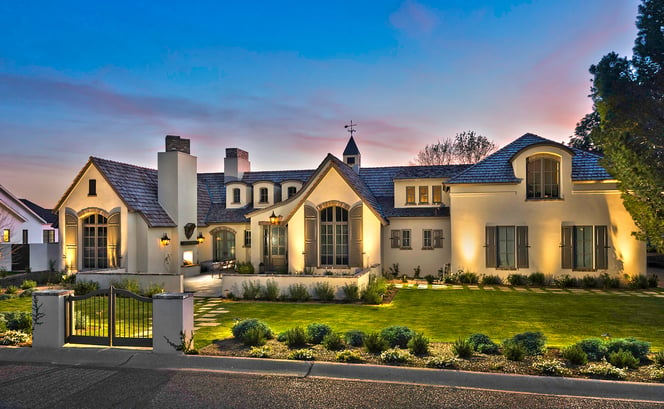 Radius windows have been architectural staples for centuries and have graced nearly every imaginable building type, from ancient castles and churches to contemporary office buildings and luxury homes.
Window shutters have a similarly extensive history, and arched shutters have long been used as functional and decorative complements to radius windows. But due to sizing variances in radius-top windows, it can be challenging to find off-the-shelf arched shutters that fit properly.
While ornamental radius-top shutters allow some flexibility, a precise fit is essential for operable arched shutters that are intended to close over radius windows and facilitate light management, airflow regulation and privacy control. Following are considerations for pairing exterior shutters with radius windows and how custom arched shutters can provide a perfect solution.
Radius Windows vs. Palladian Windows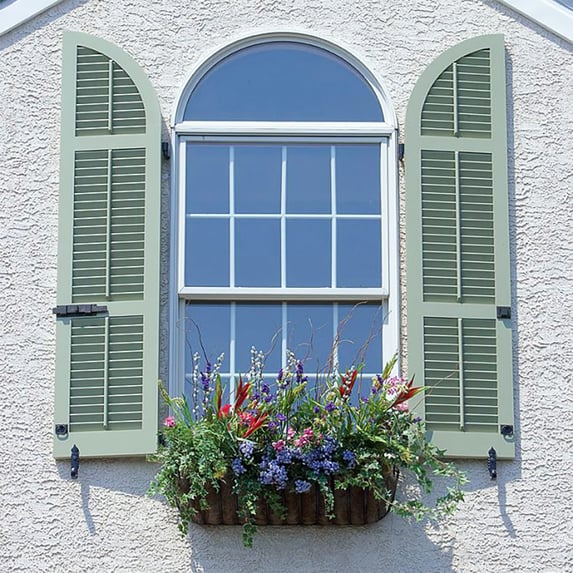 First, it's important to distinguish radius windows from Palladian windows, another popular window style that shares some characteristics.
The terms radius windows and arch windows are often used interchangeably and refer to individual windows that have straight bases and sides but domed tops. Like exterior shutters, radius windows may be decorative or operable; functional radius windows often have stationary, bowed tops above lower window segments that open and close like their standard, rectangular counterparts.
A Palladian window actually consists of three adjacent windows. The centerpiece is a radius-top window that's flanked by two shorter and narrower flat-top windows; the Palladian window is named for the 16th-century Italian architect Andrea Palladio, who popularized the triptych-like windows.
Radius Windows and Residential Architecture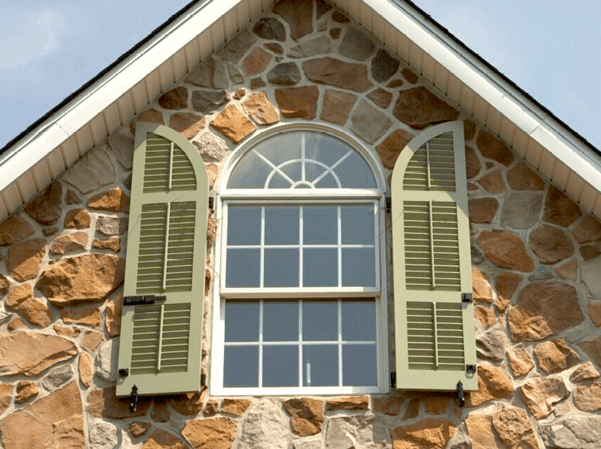 Arch windows are hallmarks of several residential architecture styles favored as the basis for luxury homes.
Radius windows are inherent features of many classic, European-inspired home designs including French Country, Italianate, Mediterranean and Spanish Colonial. Arch-top windows are also popular in more recent revivals of traditional styles such as Gothic, Romanesque and Victorian.
But radius windows aren't just for time-honored home styles. Many contemporary architects deploy arched windows to visually soften the clean, hard lines that are representative of modern home designs.
Exterior Shutters and Radius Windows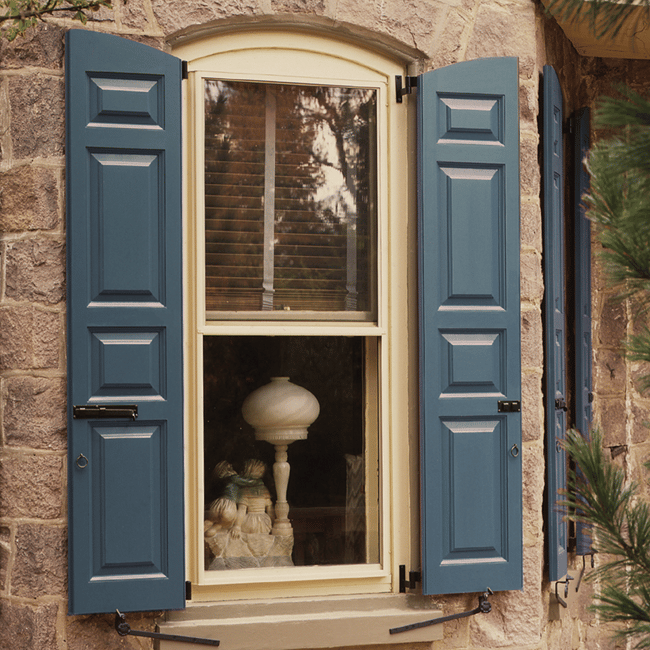 Arch-top shutters of differing styles are closely linked with radius windows on distinct home types.
For example, arched board-and-batten shutters are a trait of French Country homes, which generally utilize radius windows on the lower levels. Arch-top louver shutters are common accompaniments to radius windows on the upper floors of Mediterranean and Spanish Colonial homes, where functional versions provide room-by-room ventilation and light control.
Other shutter styles that are adaptable in both rectangular and radius-top formats include panel shutters and combination shutters. Panel shutters are available with raised, recessed or flat panels, and they're ideal as ornamental accents to radius windows or as functional shutters that can seal over the windows for light management and temperature regulation.
Combination shutters blend the louver and panel styles in customizable variations. For instance, one fashionable look for combination shutters and radius windows is shutters with louvered lower segments and paneled upper portions; the domed top segments may be further accented with shutter cutouts.
Exterior shutters are frequently partnered with radius windows, but they're less commonly used with Palladian windows due to the sizing and placement of Palladian windows. That said, some opt for shutters for the side windows of Palladian arrangements and employ an interior window treatment for the dominant, radius-top window.
The Benefits of Custom Arch-Top Shutters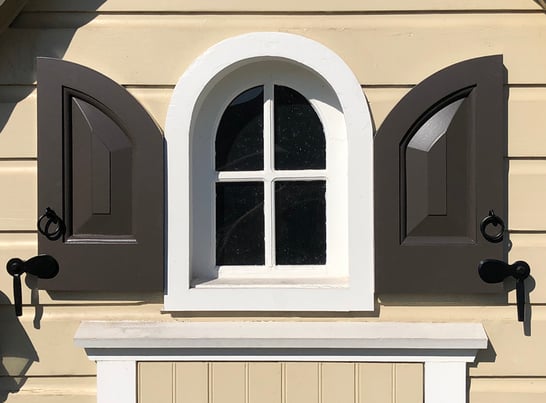 Even when shutters are intended as aesthetic embellishments, they should give the appearance that they could close over their corresponding windows and fit snugly within their window frames. A sound fit is crucial if the shutters are functional.
Yet radius windows pose particular difficulties in measuring for shutters and finding shutters that fit correctly. Some radius windows are custom-sized, and standard sizes often have discrepancies that can make ill-fitting decorative shutters appear unbalanced or impair the performance of operable shutters.
Optimal arch-top shutters require skilled craftsmanship and are handmade to accurately mirror their respective windows. Custom radius-top shutters also accommodate diverse personalization options, from materials to designs to colors to hardware.
When radius windows call for functional shutters that can withstand daily use and weather extremes, a no-maintenance material like Endurian® may be desirable. If the radius windows are on a historic structure, a period-appropriate material like premium wood may be preferred.
Timberlane offers a spectrum of standard paint colors and stain finishes, as well as the ability for custom color matching. We also have an extensive hardware catalog that enables the creation of unique and idyllic shutters down to the finest detail.
About Timberlane: Exceptional Shutters for Extraordinary Homes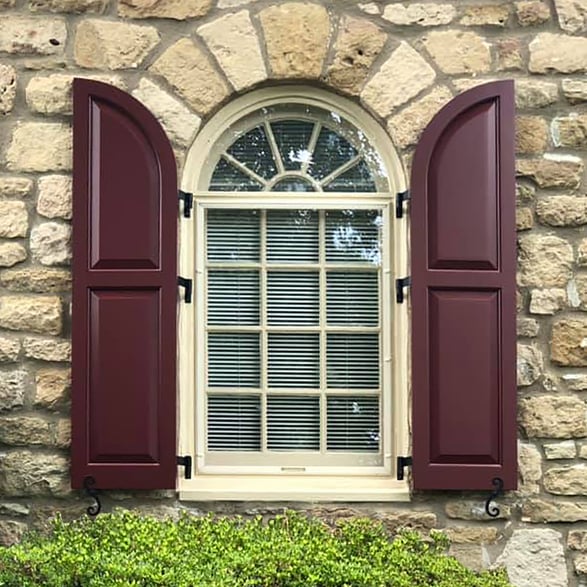 Timberlane is dedicated to making the world's greatest exterior shutters.
Our highly skilled artisans have decades of experience handcrafting shutters that provide enduring curb appeal. Our knowledgeable design team loves collaborating with homeowners and trade professionals, and we're here to guide you through every step of the custom shutters experience.
If you're ready to learn more about custom shutters or request a quote, connect with Timberlane today.