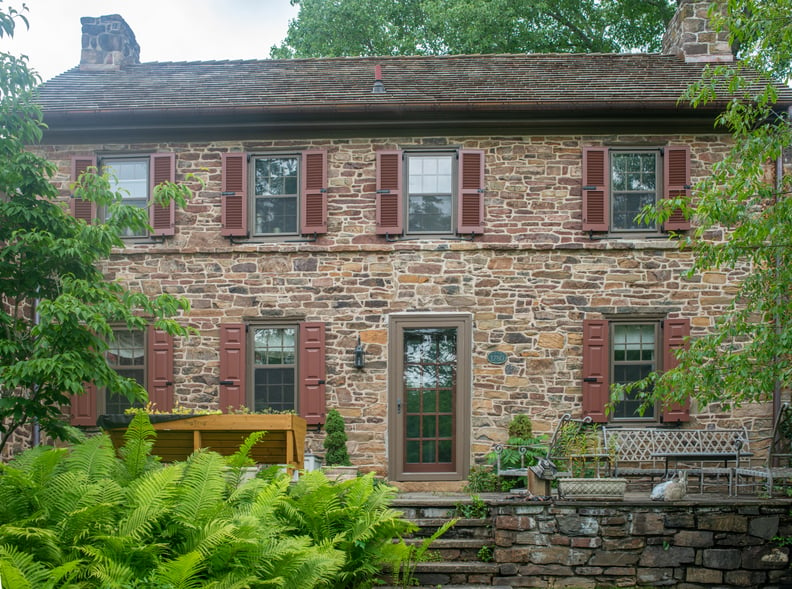 PVC is the most widely used material for exterior shutters today, thanks to its durability and relative low cost compared with wood and metal shutters.
But not all forms of PVC and its synthetic cousins offer equal strength, appearance options and longevity. Low-grade PVC and composite materials are prone to damage from the elements or from day–to-day wear if the shutters are operable.
Differences Between PVC, Vinyl and Composite Shutters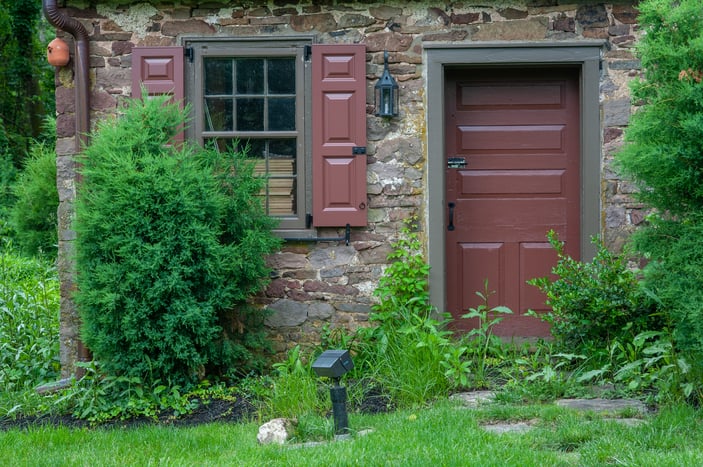 PVC, vinyl and composite are terms commonly applied to synthetic shutters, or shutters that aren't 100-percent wood or aluminum. These terms sometimes — though not always — refer to roughly the same material, so differentiating them can be difficult.
PVC and Vinyl Shutters
PVC stands for polyvinyl chloride, and PVC and vinyl are often used interchangeably in reference to plastic-based shutters.
PVC's popularity in architectural elements and home-building products stems in part from its versatility. But its durability — or lack thereof — in exterior shutters and other home products relates to the volume and type of plasticizers it contains.
Composite Shutters
Composite shutters often denote shutters made from wood pulp or wood fibers that are embedded into resin and shaped.
Some PVC-like shutters are also branded as composite shutters. These composites are often made of moldable, proprietary, plastic mixtures that are pressed into shapes and hardened.
PVC and Composite Variances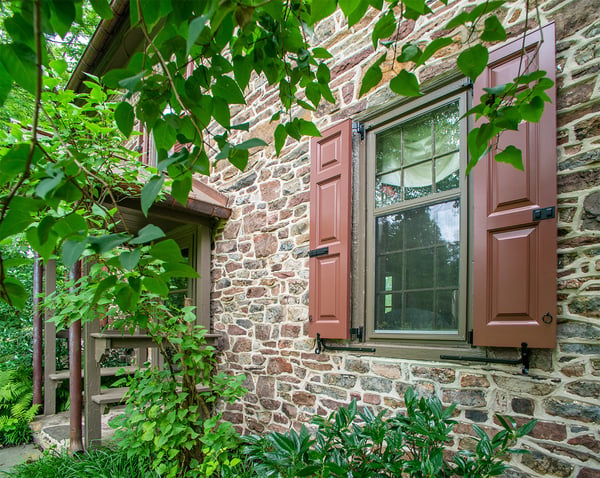 These subtle differences, particularly among vinyl materials, are why PVC shutters differ so greatly in quality by formula and manufacturer.
Mass-produced PVC shutters, for example, are often thin and hollow. They aren't able to withstand multiple seasons of inclement weather and temperature changes.
Cheap shutters certainly provide a quick and temporary aesthetic fix. Poorly made PVC and composite shutters can also fade, crack, chip and otherwise show premature signs of wear with limited exposure to sun, precipitation and extremely hot or cold temperatures.
In addition, low-grade PVC and composite shutters are generally intended for decorative purposes. They often lack the functionality that some homeowners desire, and they may have limited personalization options.
Endurian®: PVC's Potential Unlocked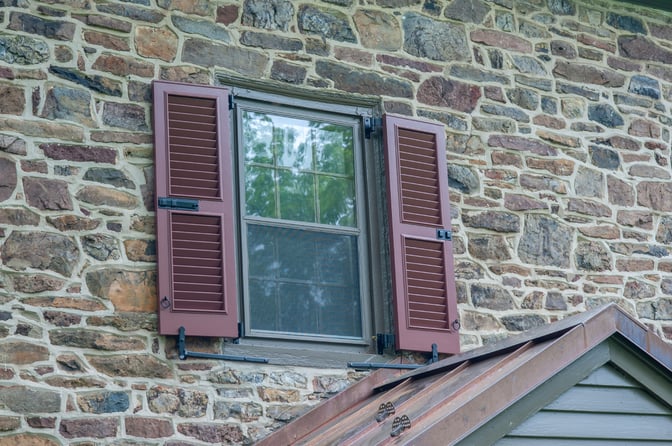 Premium PVC shutters should look, feel and perform like natural wood shutters.
Timberlane's Endurian® shutters, for instance, simulate the appearance and texture of authentic wood. They're even milled using the same process as Timberlane's elite wood shutters to ensure a traditional look and surface quality.
Unlike some wood shutters, however, Endurian will not expand or contract with moisture and temperature fluctuations. Although lightweight compared with many wood shutters, Endurian is also dense and resistant to abrasions, punctures and warping.
In fact, Endurian shutters are crafted with a similar density to wood shutters. This allows the shutters to be used across multiple styles, including operable models like louver shutters or panel shutters.
Endurian shutters also offer the same customization options as Timberlane's wood shutters. These include a spectrum of standard color choices as well as custom color matching.
Maintaining PVC Exterior Shutters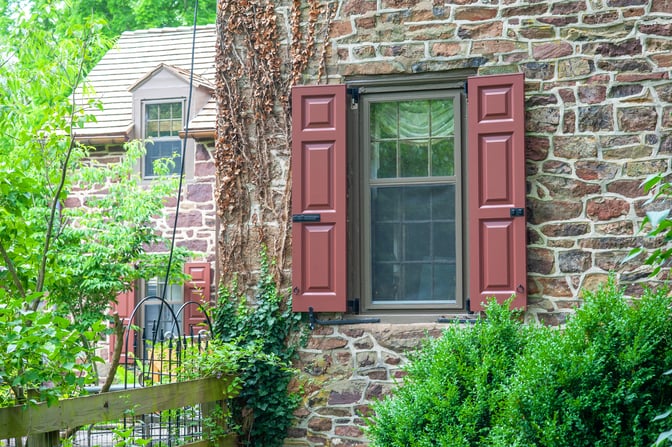 Superior shutters should be long-lasting and low-maintenance, and their manufacturers should stand behind their sturdiness. Timberlane's Endurian shutters are backed by a 10-year warranty against material and workmanship defects.
That said, all exterior shutters require a little TLC.
Homeowners should visually inspect their shutters for debris or damage at least once every year. Brush away cobwebs, dust, leaves and other litter.
Ensure any corresponding hardware is intact. Check connecting components such as hinges and pintles, and additional functional articles like tilt rods or rabbeting and beading.
Shutters that routinely receive direct sunlight or face the brunt of wind and moisture may further benefit from occasional touch-up paint. With minimal upkeep, the best PVC shutters should provide your home with enhanced curb appeal for years to come.
About Timberlane: Custom Shutters with Personality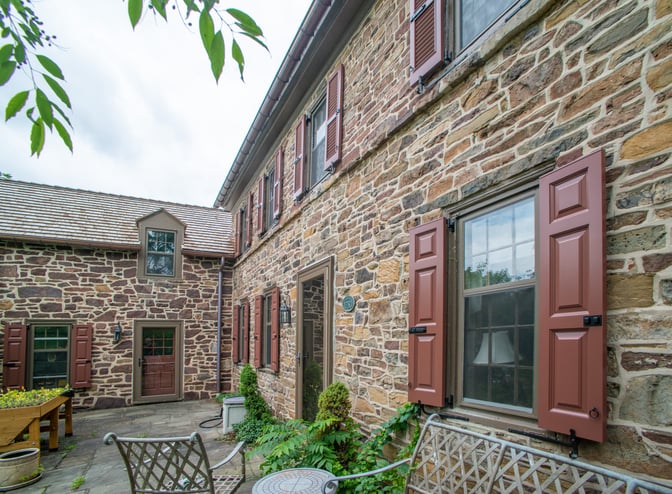 Timberlane creates custom-made exterior shutters that accentuate a home's individual character and complement homeowners' unique styles.
Our experienced team understands the challenges of shutter-home pairings and the nuances of shutter sizing. We love working with architects, builders and homeowners to design the perfect personalized shutters that will say "welcome home" for many years to come.
Connect with Timberlane today to request a quote or learn more about custom exterior shutters and shutter options.