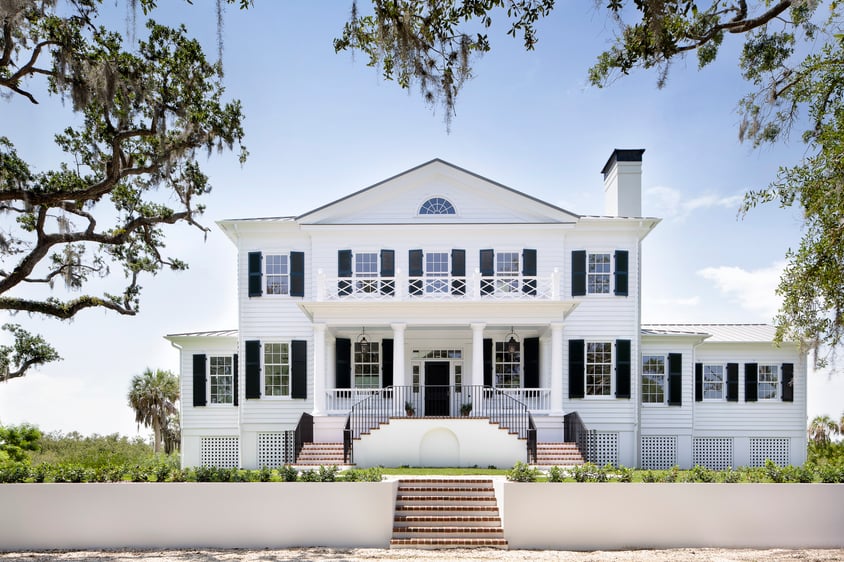 The pandemic and rising inflation have dampened some areas of the economy, but it's no secret that the construction industry is booming. That trend has carried over to home remodeling, especially as many markets have seen soaring home prices and limited available properties.
Even as the U.S. economy shrunk by 3.5 percent in 2020, home improvement spending ballooned by 3%, according to a Harvard University study. American homeowners spent a staggering $420 billion in that year alone to modify both the interior and exterior of their living spaces — and the trend hasn't slowed down. Bloomberg predicts that remodeling expenses will peak at $430 billion in 2022.
As more Americans invest in home renovation, it's often with an eye toward boosting home value, extending the home's longevity and enhancing curb appeal through low-maintenance improvements. Exterior shutters are a perfect example of this trend, and new exterior shutters offer enduring beauty — if you choose the right ones.
Factors That Affect Exterior Shutter Durability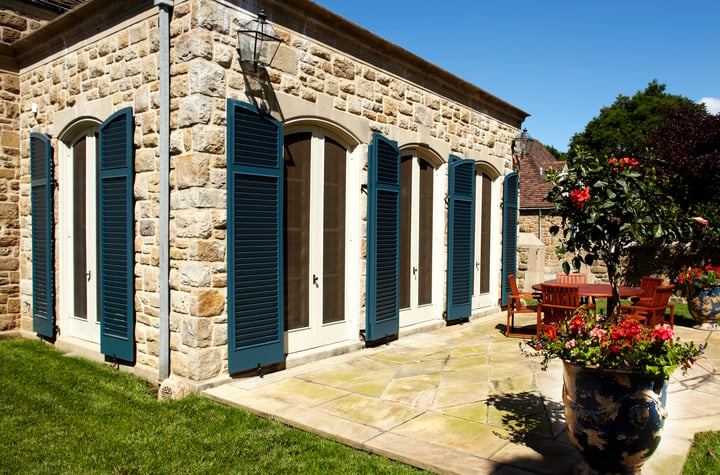 Exterior Shutter Materials
The shutter material makes a big difference in how exterior shutters stand up to sunlight and weather extremes.
For instance, unfinished wood shutters made from inferior lumber will quickly fade, peel and even rot. Wood made of quality lumber, such as mahogany, and treated with an appropriate finish can provide lasting beauty with little need for attention.
There are also PVC materials that mimic the classic look of wood but resist fading and damage. Beware that these materials vary in durability; Timberlane's exclusive Endurian® line, for example, consists of gorgeous shutters with a natural appearance and texture that are designed for both strength and beauty.
Exterior Shutter Finishes
Those who opt for wood can do so knowing they can also enjoy attractive, low-maintenance exterior shutters by selecting a good finish.
Finishes are often factory-applied in a chosen color; these finishes provide moisture and UV protection. Stains can also be added to wood shutters that accentuate the beauty of the wood's grain while also protecting the shutters from moisture and sunlight.
Exterior Shutter Options
Custom exterior shutters for luxury homes are available with an array of low-maintenance options, depending on the shutter style and functionality requirements.
For instance, capping can prevent water damage to shutters and their joints over time. Tilt rods and their corresponding mouse holes allow operability for some exterior shutters, but they should be made of quality materials that aren't susceptible to rust or rot.
Tips for Choosing Low-Maintenance Exterior Shutters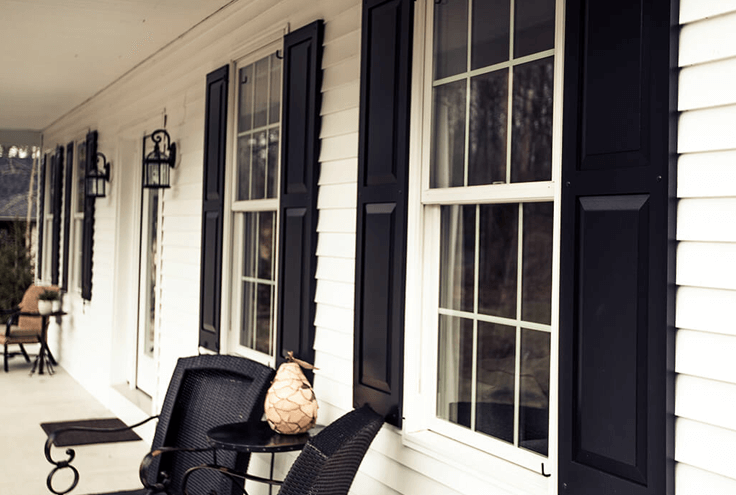 Materials, finishes and options are crucial considerations for low-maintenance exterior shutters, but don't lose sight of the big picture:
Keep Aesthetics and Functionality in Mind
Low-maintenance is desirable, but it's just one facet in selecting exterior shutters. Though many exterior shutters are functional, all are designed to amplify a home's style.
Assess whether the shutters must offer operability for sunlight control, airflow regulation or window protection. Then evaluate how the shutters that suit those needs align with your home's architecture. The latter point is especially important, as exterior home projects like shutters, when done well, tend to offer a high return on investment.
Use Technology to Review Customizable Shutter Options
Don't let yourself feel overwhelmed by the process and choices. Yes, there are numerous low-maintenance exterior shutters in seemingly countless classic and modern styles and colors.
There are also tools to help zero in on the best exterior shutters for your home's style and functional needs. Timberlane, for instance, offers a home and shutter pairing guide that depicts how certain exterior shutter styles provide a match for certain types of homes based on architectural elements.
Timberlane also offers a shutter visualizer. This interactive resource allows you to upload photos of your own home and see how certain shutter configurations will appear.
Remember that You Get What You Pay For
Cheap shutters, whether wood, PVC or another composite material, often have short lifespans. Even some custom shutters are made of flimsy materials prone to premature fading and cracking.
Exterior shutters should be equally appealing and durable, and easy to care for by default. As noted above, selecting exterior shutters ought to be an engaging, creative venture, but maintaining or replacing shutters every few years is not a process most people want to repeat.
Timberlane: High-Quality, Low-Maintenance Exterior Shutters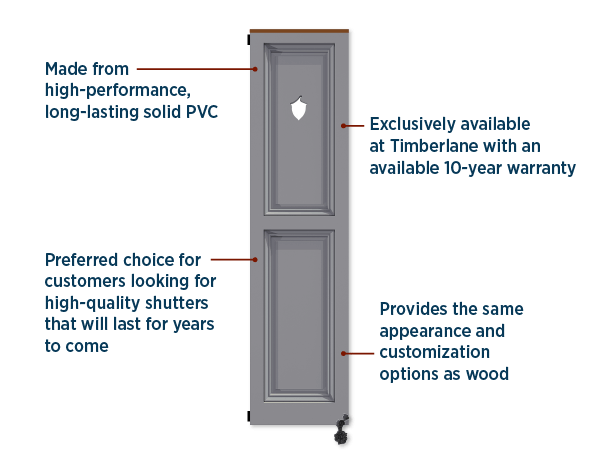 At Timberlane, we're dedicated to making the world's finest custom exterior shutters. And we understand that choosing the right exterior shutters for your luxury home deserves research and care.
Timberlane offers a spectrum of custom exterior shutters to suit each home's distinctive style. Our team has extensive experience collaborating with architects, builders and homeowners to find the right shutters based on a home's aesthetics, operability needs and geographic weather considerations.
Connect with us today to request a quote or learn more about exterior shutter options.