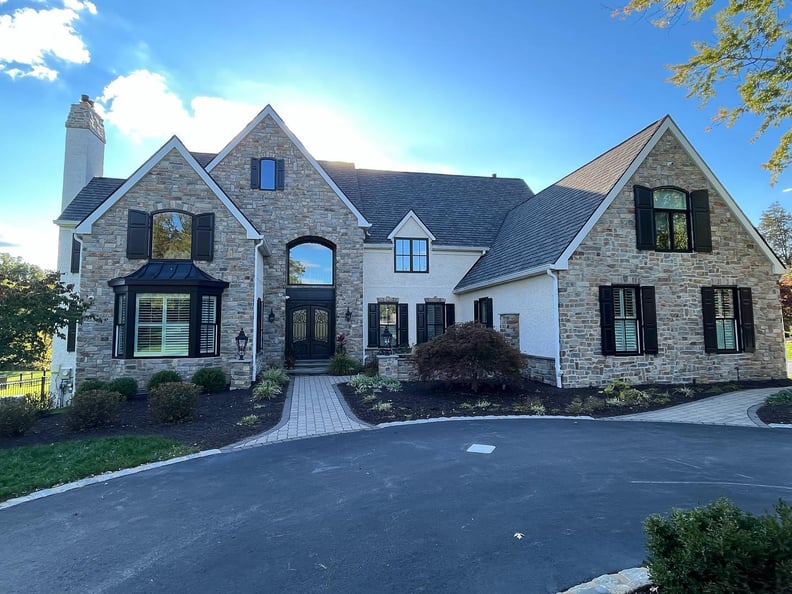 Exterior shutters were originally created with pure functionality in mind. Controlling sunlight and airflow, and keeping out precipitation and pests were top priorities.
As home construction materials and methods have improved, the utility of shutters has become less important in many cases, and exterior shutters have trended toward decorative. But this doesn't mean that shutters are dated or should be reserved for traditional home styles.
In fact, exterior shutters have evolved significantly with home designs. New styles, materials and hardware have led to a spectrum of shutter options for modern structures and enhanced classic shutter options for traditional home designs.
Exterior Shutters: Attaining New Form and Function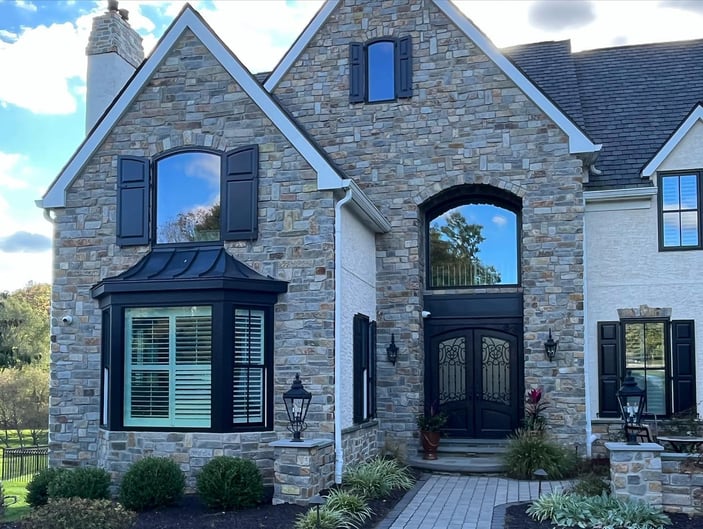 Early home shutters were designed with purpose. They offered a layer of protection and insulation to homes, and they guarded fragile glass with the development of windows.
Today, superior construction and materials have reduced the defensive burden of exterior shutters. Modern windows are made with durable glass that can withstand harsh weather, and some double-paned styles are filled with argon to improve insulation.
While these changes may have made shutters feel less necessary from a practical standpoint, exterior shutters still adorn an array of contemporary homes. Many homes simply look bare or void of aesthetic personality without exterior shutters.
And operable shutters have gained renewed attention from architects and homebuilders seeking ways to enhance the curb appeal of homes while increasing energy efficiency. The designs, materials and hardware used for modern shutters makes them even more effective at light management, temperature control and airflow regulation than their historic counterparts.
Creative architects, builders and homeowners are also using exterior shutters in exciting new ways with fabulous results. From sliding, barn-door-style shutters to flap-top window shutters to wall-length shutters, exterior shutters have proven a perfect match for both modern and traditional homes.
Exterior Shutter Design Considerations for Modern Homes
Exterior shutters can be an effective way to increase both the utility and look of a luxury home's exterior. If you're working with a modern home design, though, there are a few questions to ask yourself as you pair shutters with your contemporary living space:
Do you desire operable shutters?
Think about whether you need operable shutters and what functions you want them to serve. For example, if your home is in a coastal region, hurricane-rated Bermuda shutters can provide protection and beauty. If light and temperature control are important, louver shutters may be a good choice.
Do the shutters accentuate the architecture?
Your shutters should complement your home's architecture. However, many modern builds utilize lines and curvature in ways dramatically different from classic home styles. Your shutters may need customization to align with unusual home features, such as to follow an angled roofline or cover arc-top windows.
Do the shutters match other exterior accents?
Consider whether your shutters will match the style and color of your home's front door, garage door, trim and other external accents. Timberlane's shutter visualizer tool can provide an idea of how shutters will look on your home in real-time.
How do similar home styles employ exterior shutters?
The answer to this question shouldn't steer you to "keep up with the Joneses" or emulate what others have done. But comparing how other modern homes utilize shutters can highlight things you like, things you don't and spur ideas for shutter use, style choices and color preferences.
What shutter material best suits your home?
From aluminum to PVC to wood, shutters are available in an array of materials that can be further customized with colorful finishes or stains. A durable PVC like Endurian® is versatile enough for a range of home styles, while wood may be optimal for homes with natural exteriors like stone.
Timberlane: Custom Shutters that Fit Your Style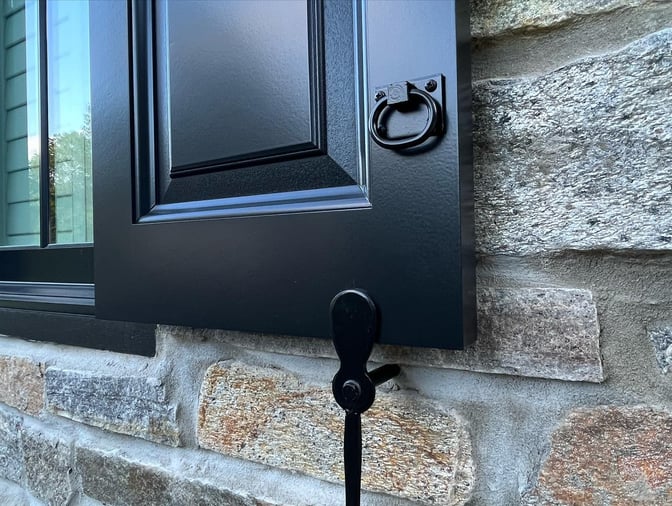 Timberlane is a leading maker of premium, custom-crafted exterior shutters.
Our experienced team understands the nuances of shutter selection for varying home types, and we love working with architects, builders and homeowners to find the right shutters for each home. We're here to guide you through the process as you consider factors like functionality, style, materials and sizing.
Connect with us today to request a quote or learn more about enhancing your home's curb appeal with new exterior shutters.
Photo and Installation Credit - Cornerstone Shutter Installation