Over the past 25 years, Nelson de León has built an impressive design portfolio, turning to Timberlane for the finishing touches to his high-end custom homes.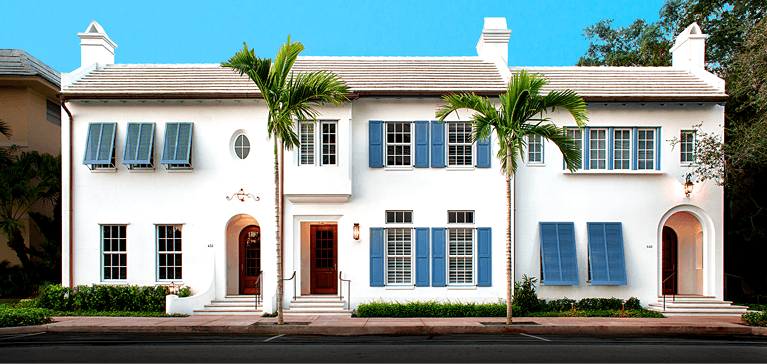 As he sits in his office in Coral Gables, Fla., reflecting on his evolution as an architect and the growth of his design firm over the past few decades, Nelson de León looks down at his desk. It's fitting, he thinks, to see Timberlane shutter specs for an ongoing project staring back at him.
Coincidentally, both Timberlane and de León's Locus Architecture have been in business since 1995.
"There must be a connection there," de León chuckles.
Throughout his time designing luxury custom homes in South Florida, de León, a licensed architect for 30 years, has championed the quality and versatility of Timberlane exterior shutters. Chances are, if you're passing through the Miami metropolitan area and spot functional shutters with authentic hardware affixed to a facade, de León had something to do with it.
For example, he recently completed a stunning, 8,200-square-foot, Island Colonial Contemporary-style estate for a family in Coral Gables, whose custom blue Endurian® PVC shutters measured 10 feet in height. In 2014, de León chose a combination of panel shutters and Bermuda shutters for the Valencia Townhomes, a collection of two- and three-story units, each with their own style. He has sourced Timberlane shutters for countless other, smaller projects over the years, as well.
"I'm a fan," he says. "The product, to me, is unbeatable because you have the ability to pick true proportioned styles from various time periods that [Timberlane] has already put all the thought into, and then you have options with the panels, so there are all the design benefits. And then, there must be like 100 or 200 cutout options that you can apply to the shutters. So from a design point of view, it simplifies my work because [Timberlane] has already done all the historical research on what the panel sizing should be and what the rails should be and all that.
"So for me, it just comes down to picking a style that works with what I'm doing. And then, we pick all the components so that it looks like a real functioning shutter. We pick the hinge, we pick the tieback, we do those things, so that when you see the shutter, it's separated from the wall, and the shadow line is correct, and it gives you an authentic experience."
That "experience" is an investment, and many of de León's clients don't come into a project expecting their shutters to be a big point of emphasis. For de León, however, sourcing historically-accurate shutters crafted from a low-maintenance material that can withstand a harsh coastal climate is of utmost importance. Timberlane's custom Endurian shutters check all the boxes on his list of priorities.
So, when it comes time for his clients to place their shutter order, de León becomes a bit of a salesman — and a bit of a history teacher.
"There's a conversation I have with the client, every time I spec [Timberlane shutters,] because they're always surprised [by the investment]," he says. "So it's always kind of an education of the client to understand the reason for it. The clients appreciate when you're trying to do a certain style and you're trying to create something that maybe is not replicating history, but it's giving a nod to history, and it's got to have a certain proportion and a certain profile [for the shutters]. So I think once they understand that, then they get on board."
Sketching Out a Blueprint for Success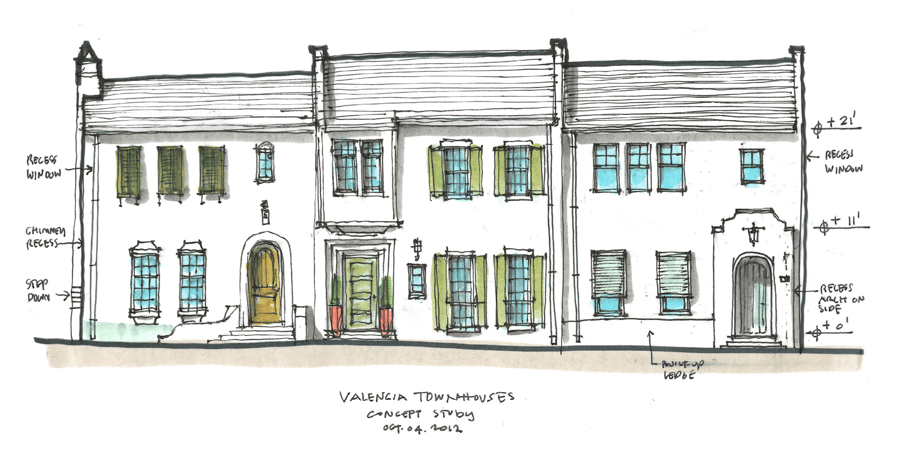 An original elevation drawing of the Valencia Townhomes in Coral Gables, Fla., by Nelson de Leon of Locus Architecture. Nelson's sketch features Bermuda and panel style exterior shutters.
With his years of experience, impressive portfolio and positive word of mouth in the community, de León doesn't have to work very hard to earn his clients' trust. He's at a point in his career where work comes to him, not the other way around. He can be selective about his projects and take on challenges that align with his passions. He can afford to travel the world collecting inspiration and expanding his artistic horizons.
He's come a long way from the little kid playing with a sketch pad. Despite having no architects or builders in his family — "the closest thing was my cousin, who hung wallpaper," he says — de León pretty much always knew that design was his destiny.
"From a young age, probably 11 or 12, I just got it in my head that I was going to be an architect and never let go of that idea," he says. "As a kid, I would sketch and do things that probably would be pretty comical to look at today, but I stuck through it, and when I came out of high school, I went straight into architecture. I really loved it, but I realized how little I actually knew about what I was getting into."
After founding Locus Architecture with a partner in the mid-'90s, de León didn't exactly start small. He jumped straight into the deep end of high-end design. The firm's first project was a vacation home in the Philippines, a design so intricate that it required de León to personally locate every last piece of wood that went into the build.
Over the next decade, Locus grew almost too fast for de León's liking, and diversified too much, to the point where he decided to hit the reset button and get back to what he loved the most.
"We tried to take on too many different things," he says. "We worked at the airport. We worked with school boards. We had corporate clients. We had single family homes. We had remodelings. The residential end was kind of pushed toward the back a little bit, just because of that. So in 2006, I bought my business partner out and I refocused the company toward what I love doing, which was high-end residential. Once I refocused myself and the company, we then started to work on the type of projects that I liked and kind of got away from."
Now, de Leon's residential services are in high demand, and he's grateful for the chance to make his mark on some of South Florida's most upscale communities.
"I've been fortunate that I'm in a position now where a lot of clients seek me out and I get to design, which is really probably my favorite part of the whole process," he says. "What I tell my clients is, all the value that they get from me is going to come in at the concept or design end, because from a technical point of view, anyone who is an architect or who has been in the profession can technically draw a house. People don't come to me for that. They come to me because they want a design that reflects something that's more unique about them and their lifestyle, and for me, that's really where the fun is.
"I get the opportunity to work very closely with the client and develop that home that they're going to be happy coming home to every day and loving."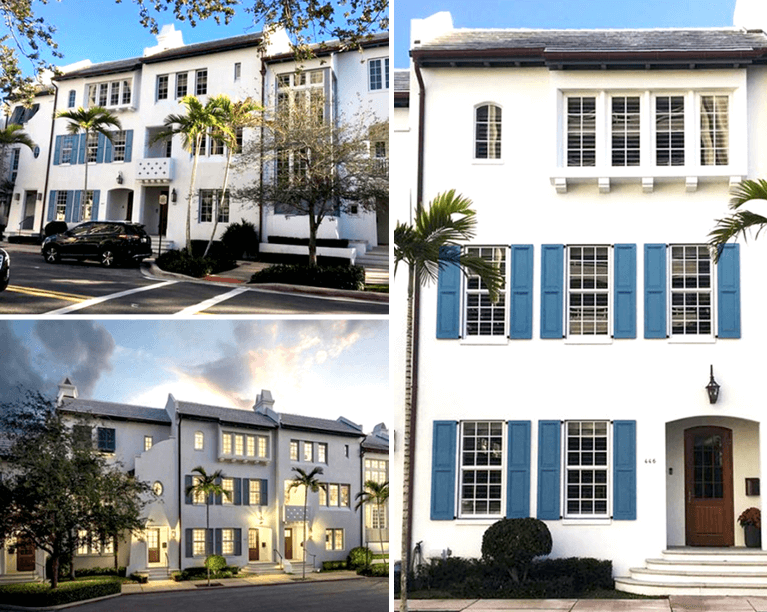 Shutter Satisfaction
Many of Locus Architecture's residential projects require shutters, and since stumbling upon Timberlane at the start of his career, de León hasn't had to shop around. He holds his shutters to as high a standard as he holds himself, and whether he's restoring an older Colonial or Spanish Revival-style home or building a new Coastal Contemporary estate, he knows where to go for the perfect finishing touch.
"Part of that is research, and part of it is luck," he says. "When we started seriously looking at shutters 15, 20 years ago, there was probably a lot less information online than there is now. But after traveling through Charleston and Savannah and places like that and looking at shutters, and then looking at the Timberlane product, I was so happy with the results that there was no need to research any further and go with somebody else. We were getting good support from staff, and we still are.
"Right now, I have shop drawings here on my desk from Timberlane that clearly show all the panel sizes, the shutter sizes, the cross section...and that is, to me, kind of an invaluable service. We draw it and then we have the Timberlane team put the shop drawing together, and we can verify it and make sure it's the way we want. So when we're done with the review, we know we're getting exactly what we want. And when it gets to the site, it's exactly what we expect. So there's no surprises."
Coral Gables is an area steeped in history, so de León regularly takes on restoration projects. By utilizing Timberlane's Endurian material, which is milled to mirror the timeless appeal of wood, he can give his clients a highly durable shutter with a historically-accurate look.
"The historical department here is in line with the Endurian product," he says, "so whereas maybe 10 years ago, when we worked on one of these homes, the shutters had to be replaced in wood, now we can replace the shutters in Endurian and then not have to worry about it anymore."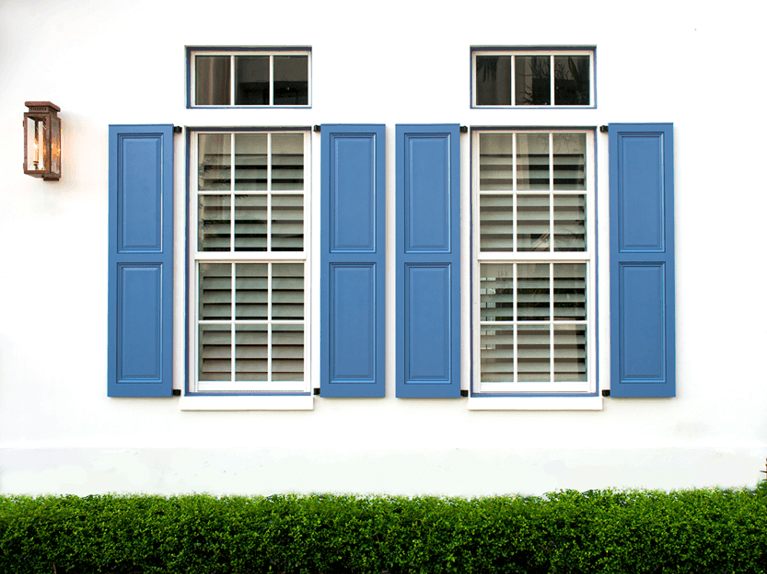 By combining innovation with traditional design values, and staying true to himself, de León has kept Locus Architecture relevant for a quarter-century and counting. He's weathered plenty of changes, both in his business and his industry as a whole, without sacrificing his ideals.
He'll have to continue to evolve over the next 25 years, but there are some standards — like the quality of the shutters he recommends to his clients — that he'll never be willing to lower.
"I hate looking at a house that has a thin little shutter they bought at [a big box store,] and it's just nailed to the wall, or it's screwed in place to the wall, and it looks like exactly what it is: a piece of plastic that's been bolted to the wall," de León says. "There's a lot of those. I understand that not every project and budget may need a Timberlane shutter, but the projects I work with, I wouldn't allow my client to staple a fake louver onto the wall. I've got to go with a real Timberlane shutter and go through that process, or not have any shutters at all, because to me, the negative impact of not using a shutter that looks like a shutter is just a waste of time."