From the location of the lot to the color of the shutters, everything about this family's South Florida custom home fell perfectly into place.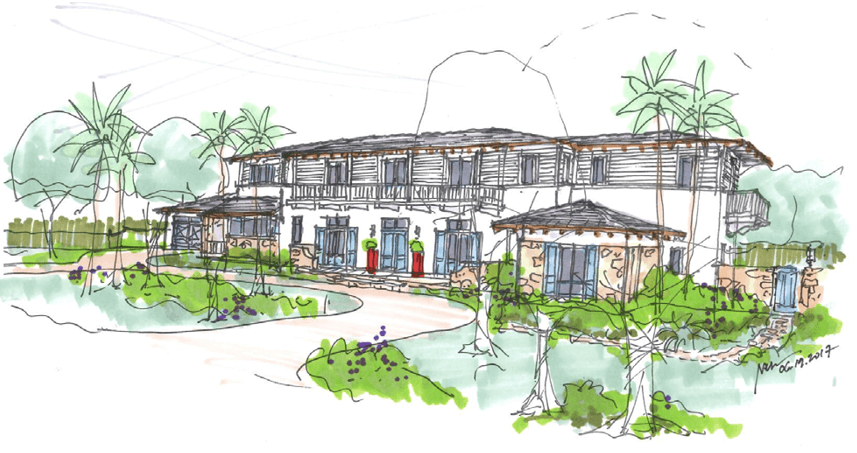 An elevation drawing of the Delgado home, by Nelson de León of Locus Architecture
Antonio Delgado and his wife, Rachel, had a clear vision for the home they wanted to build for their blended family. They worked with renowned South Florida architect Nelson de León to develop the design, and de Leon sketched out every little detail of the Island Colonial Contemporary-style estate — all the way down to the bright blue, 10-foot-tall shutters flanking the matching front door.
There was only one problem. The Delgados didn't know where their dream home was going to go.
"We just couldn't find the right lot," says Antonio, a father of four who runs a property management firm based in Hialeah, Fla. "We were kind of stuck. I was on Zillow all the time, looking around."
Finally, one day, Antonio came across a spot in Coral Gables that piqued his interest. The spacious corner lot was in foreclosure and had been red-tagged by the city for numerous violations. Overgrown trees and brush covered all 26,000 square feet of the land, and the house in the middle was ready to collapse.
Antonio thought he saw promise in the unsightly mess. And then, he caught a glimpse of the street sign on the back edge of the property. San Esteban Avenue.
"That's what sealed the deal for me," he says. "Esteban was my father's name. And I told my wife, 'We've got to buy this lot. This is the lot! This is the lot!'"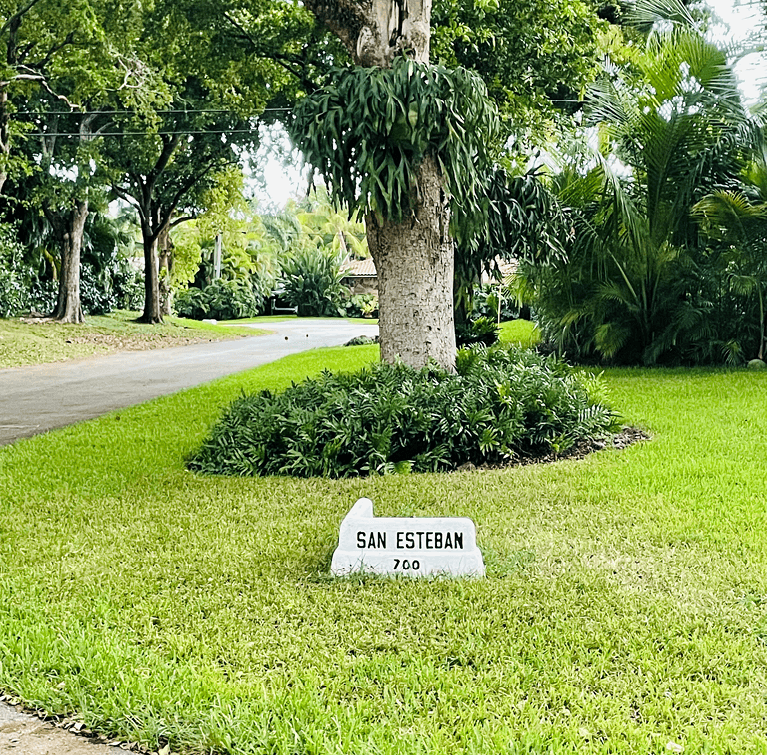 A Father's Legacy
When Esteban Delgado passed away in 2011, Antonio lost his dad, his best friend and his professional mentor.
Esteban, a Cuban immigrant, had worked his way up from humble beginnings to become a highly-respected real estate developer and influential member of the community around Miami. In 1977, he started European Investment Management Corporation, which grew from a small, local Hialeah company into a thriving, regional business that he ultimately passed on to his beloved son.
Antonio took over EIMC after Esteban's death and was determined to follow in his father's footsteps, whether he was buying, leasing and managing apartment complexes or constructing his own family's forever home.
"It was very hard for me to lose my father," Antonio says. "He's always been instrumental in my life. Everything I have ever done, he taught me to do it. He was always there behind me, telling me, 'You can do it.' He still is in me, so anything I do, I always think about him first."
From the moment he decided to purchase the lot, throughout two grueling years of home construction, Antonio believes his dad was watching over the entire project — and he would be proud.
"I did it the way he would have done it," Antonio says.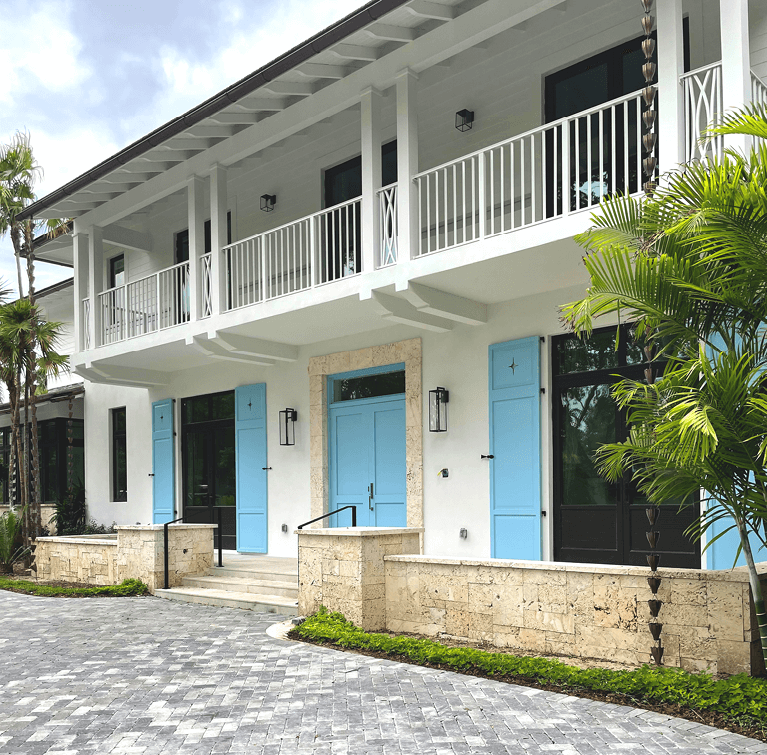 Extraordinary Details
With a guardian angel on their shoulders, the Delgados began designing the home of their dreams in 2017. They had some very specific items on the wish list they shared with Nelson, the architect, whose floor plan featured 6 bedrooms and 8 bathrooms, and interior designer Vivian Mata.
They wanted a modern interior that was tailored to their active lifestyle. In lieu of a large master bedroom with a sitting area, they wanted to devote more space to common rooms where their kids could play and their guests could gather. They wanted a special shark tooth pattern for their marble flooring on the first floor, and a simple, black steel railing on the stairs. They wanted a wine wall (by Studio Becker) and a SIW folding wall that opened from the family and dining rooms into the pool area. In the master bathroom, they wanted a shower with an enclosed tub, like the one at actress Jessica Alba's house (as seen in "Architectural Digest").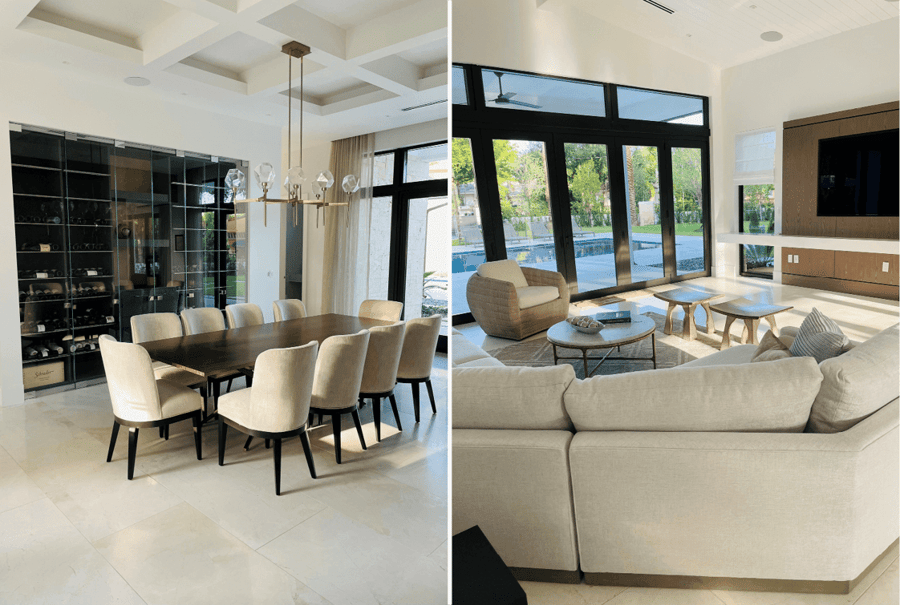 On the exterior, the Delgados wanted blue shutters, as seen in the South of France.
"We were in Provence like three years ago, and my wife looked at all the homes with blue shutters, and she fell in love," Antonio says. "They typically have that baby blue all over the place in Provence; it's just a thing with the architecture of that area. She was adamant about using that kind of blue."
When it came to sourcing the shutters, Nelson was equally adamant. His firm, Locus Architecture Inc., had worked with Timberlane shutters on other projects throughout the area, and de Leon was a firm believer in Timberlane's exclusive Endurian® PVC shutter material as the ideal fit for the South Florida climate.
"The Endurian is the only thing I spec here, because of our harsh climate," Nelson says. "We have a lot of humidity, and [Endurian] kind of eliminates the whole concern for maintenance and potential warping and termite infestation, which we have quite a lot of down here. So it's a natural product for us to use, and the shutter profiles are all available in that material, so it's easy to spec."
When ordering their custom panel shutters, the Delgados went through several color samples before they finally found their perfect match. They decided on Sherwin Williams' Porch Ceiling (SW 9063), creating a bold contrast with their home's wood and plaster exterior, which is beautifully accented with authentic Florida Keystone.
They couldn't be happier with the result.
"The whole house is white, with the shutters that pop," Antonio says. "That's what we wanted. The windows are brown. They're like a dark brown, and we didn't want any color until you saw the shutters and the front door, and bam! When you pull up, you're like, 'Whoa. That looks different.' So the shutters and the door are the centerpiece, with that pop of color, and everything else is the rough stone and all white, like a canvas. The shutters are like the detail on the canvas.
"Nelson kept telling me, 'It's not going to all tie in until you put the shutters on. It's not going to all tie in until you put the shutters on. The house is great, but wait until you put the shutters on.' And he was right. When we put the shutters on, it all tied in."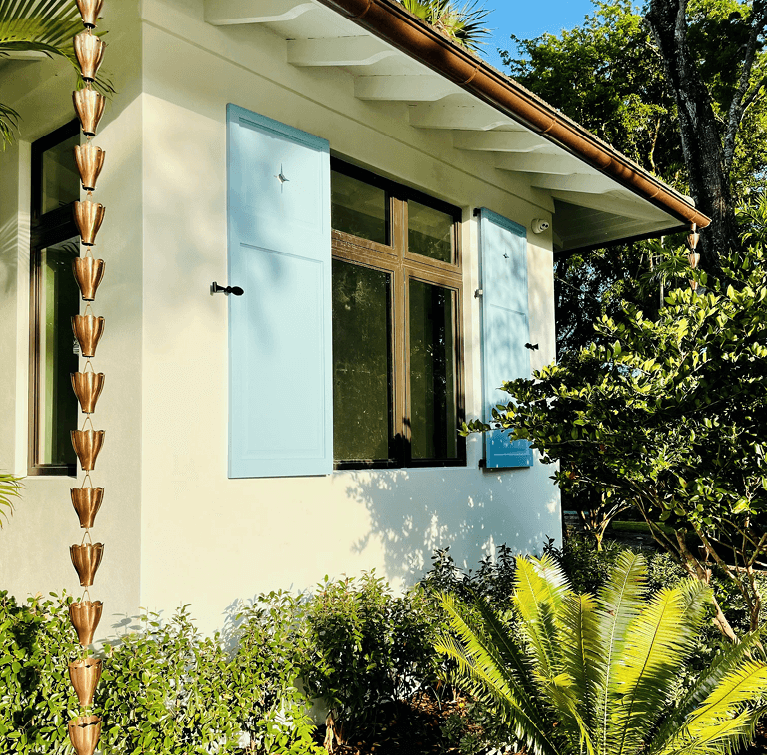 At first, though, these extraordinary shutters weren't exactly what the Delgados had envisioned. The couple was caught off guard when the shipment arrived, and all four pairs of shutters had a star-shaped cutout design milled into the top panels.
"I forgot completely that there was a cutout," Antonio says with a laugh. "So my wife and the designer are opening the boxes, and they start putting the shutters out, and my wife is like, 'What is that thing?' She called my architect and he said, 'I wanted that. That is the key to that shutter.'"
Nelson explains: "The design, I thought, was a natural fit for this application, because the shutters already are so unique to our area, at 10 feet tall. I thought that a little extra detail — a simple cutout, not something that would draw too much attention to itself, but a simple cutout to just add a little piece of detail to it — would be a benefit. I went through [Timberlane's] catalog of options and picked that one, mainly because it's a little more vertical. It's a cutout that's taller than it is wide, so I thought it would reinforce the vertical aesthetic of the shutter and the doors. So it was just a matter of finding a cutout that I thought would complement the entire scheme, and personally, I thought this one worked pretty well.
"Sometimes, you'll hear a client say, 'Hey, this looks unusual to me. This looks weird. Why did you do that?' Sometimes, it's just a matter of having them experience it, and after a while they go, 'You know what? Now I understand why you have the cutout there. It's actually a nice little detail.'"
Indeed, the 30-year pro knew exactly what he was doing for his clients. After about a week of warming up to their home's uniquely-adorned exterior, the Delgados came to regard Nelson's cutout as a pleasant surprise.
"We were out there, bringing stuff in our house," Antonio says, "and this young couple comes up and they're like, 'You know, we've been walking past this house and watching it from the beginning, and it's just spectacular! Those shutters with the thing you put up top...that is just spectacular!' And I'm just standing there, grinning."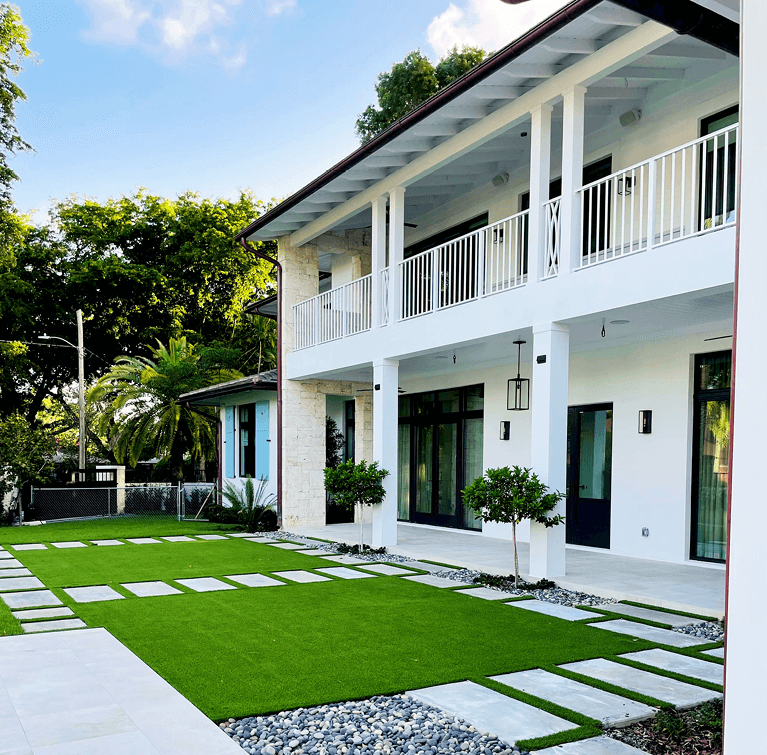 "One of My Proudest Moments"
Delgado has plenty to smile about these days. After several stressful years of waiting for his family's new home to take shape, he can finally step back and admire a vision brought to life.
The house looks stunning. The spot where it's built? Completely spot-on.
"It's a beautiful lot," Delgado says. "I mean, just the way that it is, everybody who has come there, my close friends, say that it feels like a resort. It feels like you're in a resort, and that's what we wanted. We wanted to feel like we were in a resort at home. So on a weekend, if we don't want to do anything, we want to just barbecue and hang out by the pool, it feels like you're somewhere else — like you're not in Miami; you're somewhere tropical. That's the feel we were going for."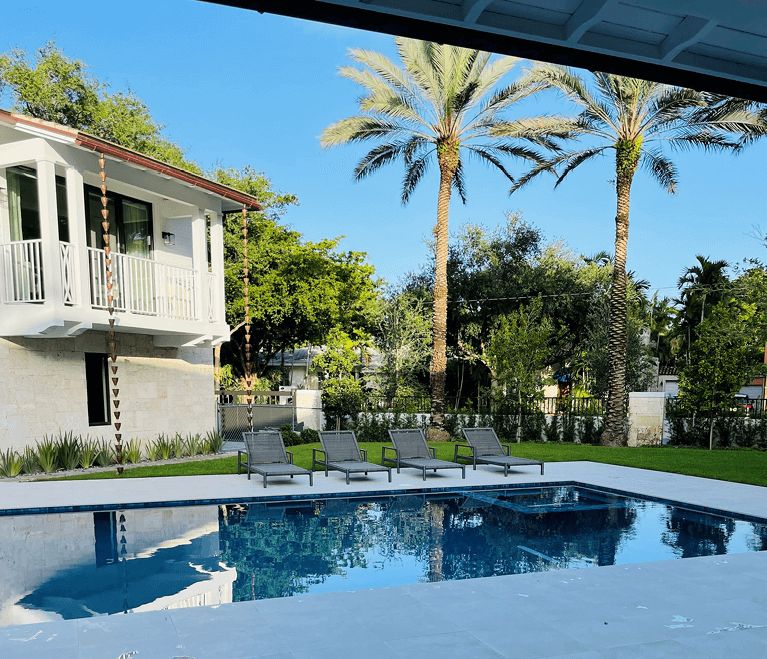 As he moves his family onto the property and reflects on the entire process, Antonio can't help but think of his father. The gorgeous custom home around the corner from San Esteban Avenue is most definitely a monument to Esteban Delgado, but Antonio has taken even greater steps to honor his dad's memory.
He has spearheaded an effort to get an actual street in Hialeah dedicated to Esteban in the fall of 2021.
"He developed a lot of this town, which is the town I work in, and it was very important that I do this for him, because he wouldn't have done it for himself," Antonio says. "That wasn't him. He was very low key. So I got this done for him, and we're going to dedicate the street to him in September, and I think it's going to be one of my proudest moments.
"My dad and I had a special relationship, and when your parents are gone, they live through you. If they've done a good job of really teaching you the way to be as a human being, or a businessperson, or anything, then you are going to be good at it, because they are living through you. That is how you live forever — through your children."
Do you have a Timberlane home that shines?
Show it off in one of our Customer Spotlight stories! Send an e-mail with your name, address, and a few photos, and you could be featured on our website and social media platforms!