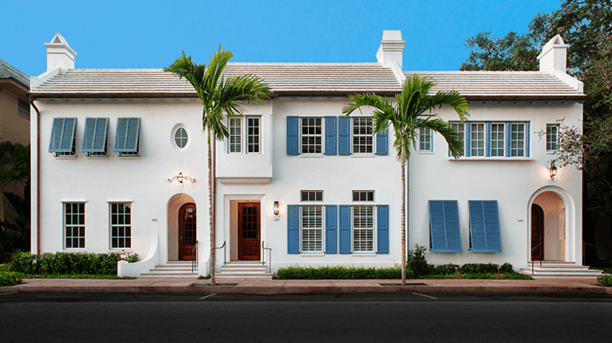 As tropical storms including hurricanes increase in frequency and intensity, hurricane shutters have become a crucial consideration for homeowners and construction trade professionals in coastal states.
Most hurricane shutters — or storm shutters — are designed with little regard for aesthetics. They are intended only to cover and protect windows, and often have limited color and style options.
The ideal hurricane shutters should safeguard your home while enhancing its curb appeal instead of clashing with its architecture and color scheme. And the best hurricane shutters provide merits beyond the ability to withstand intense storms.
Forecasts for the 2023 Hurricane Season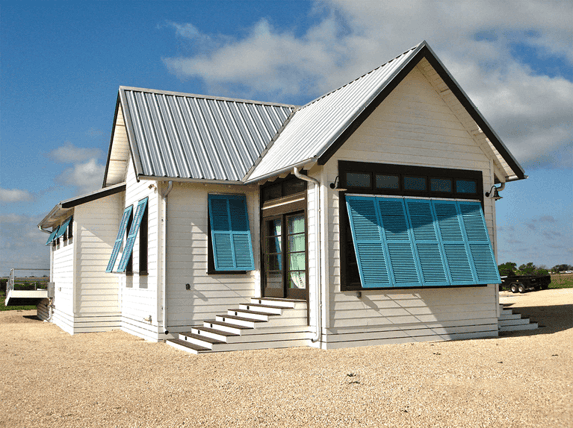 The 2023 Atlantic hurricane season spans from June 1 to Nov. 30, with expected peak activity between August and October.
Tropical meteorology experts predict a slightly below-average hurricane season for 2023 in terms of storm volume. The Colorado State University (CSU) Tropical Weather & Climate Research department, which for decades has been a leading source for tropical storm tracking and study, forecasts six hurricanes for 2023, with two being "major" (or having sustained wind speeds of at least 111 mph).
The intensity of those storms, as well as where they may strike, depends heavily on the development of an El Niño in advance of the early summer. An El Niño is a weather system that originates with warm ocean-surface temperatures in the Pacific; the rise in temperatures causes an increase in vertical wind shear, which ultimately lowers the risk for tropical storms in the Atlantic.
It should be noted that many impactful hurricanes have made landfall in El Niño years. In fact, 2022's El Niño helped break a six-year run of above-average hurricane activity, with only two classified hurricanes; but one of those was Hurricane Ian.
Hurricane Ian became the costliest hurricane in Florida history, contributing to more than 150 deaths and more than $112 billion in total damages. Ian also accounted for the second-largest disaster insurance loss on record, with approximately $65 billion in insured damages.
The CSU team estimates a 44-percent chance that a hurricane will reach the U.S. coastline, and a 49-percent chance that a major hurricane will pass through the Caribbean. Of a U.S. hurricane strike, the CSU team projects a 28-percent chance for a Gulf Coast landfall and a 22-percent chance for an Atlantic-side hit.
Do Any States Require Hurricane Shutters?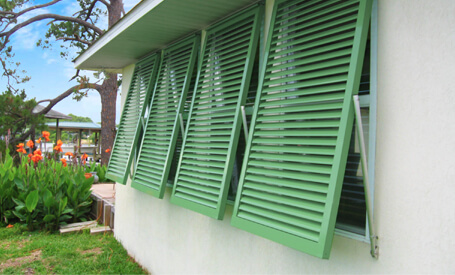 While no states currently mandate hurricane shutters per se, most coastal states have building code requirements that apply to hurricane-related safety measures. These regulations often span from structural integrity to windows to add-on structures.
The Insurance Institute for Business & Home Safety (IBHS) monitors building code administration and enforcement in the 18 Gulf and Atlantic coast states most at risk for hurricanes. Its most recent "Rating the States: Hurricane Coast" report indicates that only 10 coastal states have uniform, statewide, hurricane-centric codes and enforcement standards for residential structures:
Connecticut
Florida
Louisiana
Maryland
Massachusetts
North Carolina
New Jersey
Rhode Island
South Carolina
Virginia
Other coastal states have localized codes or regulations regarding hurricane protections, as do some homeowners associations in coastal areas. Insurance companies may alternately stipulate measures like storm windows and hurricane shutters for homes in regions prone to tropical storms or offer discounts for such protective measures.
Hurricane Shutters that Shield in Style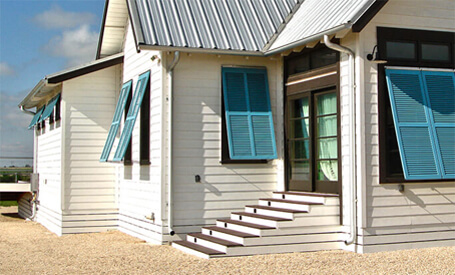 Effective hurricane shutters must achieve two critical goals:
Protect windows and interiors against sustained hurricane-force winds (which begin at 74 mph and can top 130 mph)
Be easy to use and quick to deploy
But prioritizing durability and simplicity doesn't have to mean neglecting style. Timberlane's Resilience shutters, for example, blend hurricane-rated strength and straightforward function with sophistication and ample opportunities for personalization.
These Bermuda-style shutters (which are also known as Bahama shutters) are handcrafted from hurricane-rated aluminum, which is both tough and lightweight. A standard aluminum is also available for those who desire the fashionable look and functionality of Bermuda shutters but don't face the threat of tropical storms.
Bermuda shutters are distinctive from many other popular operable shutter styles in that they raise and lower vertically over windows instead of swinging open and closed horizontally. Bermuda shutters feature rows of fixed, downward-angled blades, or louvers, which promote water runoff and defend windows and interiors when closed.
Additional Hurricane Shutter Benefits and Customization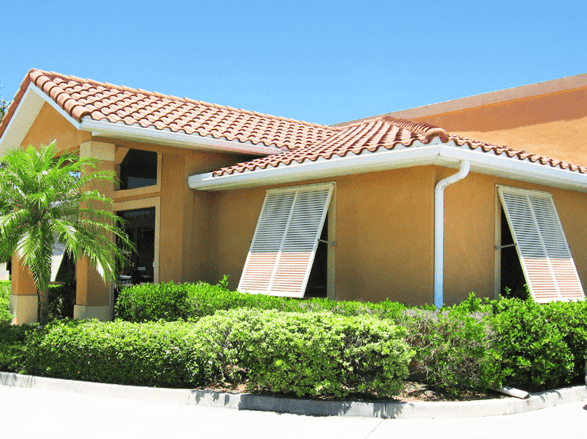 Hurricane-rated Bermuda shutters not only look great while shielding your home, they afford several practical conveniences as well.
Functional Bermuda shutters can be raised and lowered at degrees for privacy, interior light control or outdoor shade. The shutters can also be closed over open windows to let fresh air in while limiting sun exposure.
Aluminum Bermuda shutters also accommodate a breadth of personalization options. The shutters can be made with varying louver widths and framing choices to complement the lines of a home's architecture.
The shutters can be painted from a standard color palette or in a custom color. Paint is further available in smooth and powdercoat finishes.
Hurricane shutters can also be a high-ROI addition. Hurricane-proofing improvements like hurricane shutters provide substantial benefit-to-cost ratios and can increase a home's resale value.
Timberlane Shutters: Weather the Storm with Finesse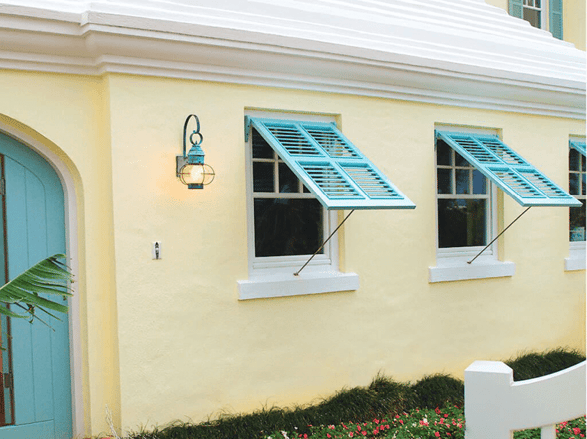 Timberlane has more than 25 years of experience making the finest custom shutters for homes, historic structures and commercial buildings.
Our hurricane shutters are handmade to provide long-lasting performance and elegance. Timberlane's accomplished artisans are supported by a knowledgeable team who loves collaborating with homeowners and trade professionals to select the perfect shutters for their needs.
To learn more about shutter styles and materials or to request a quote, connect with Timberlane today.