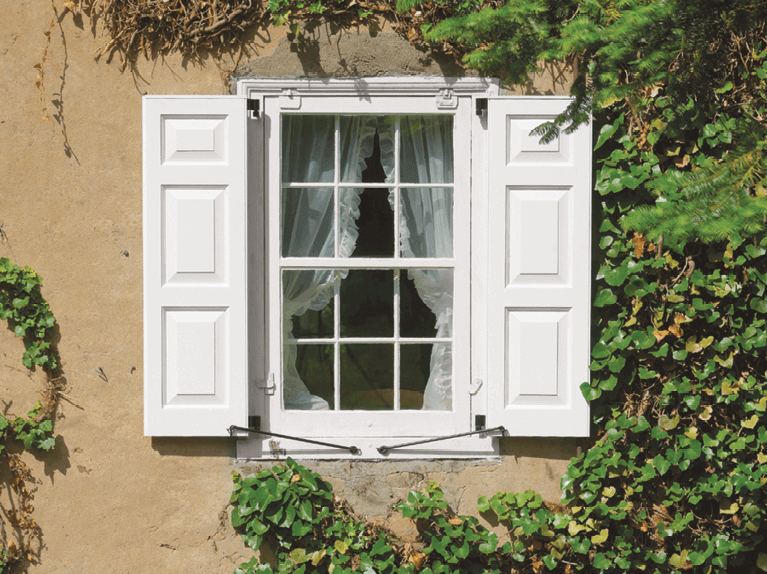 A house with a stucco facade is a blank canvas for a designer — or design-conscious homeowner — offering seemingly limitless possibilities for a stunning finished look.
Stucco isn't just a highly durable, low-maintenance building material; it's extremely versatile and can be used in conjunction with a wide variety of architectural styles. Its relative simplicity helps draw attention to a home's other intriguing details, such as the windows, front door, railings, and exterior shutters.
Adding shutters is a wonderful way to boost the curb appeal of a stucco home, but there are so many design possibilities that it begs the question: Which shutter style is right for your home? Here are seven ideas to help spark your imagination.
Panel Shutters
You can't go wrong keeping it straightforward with panel shutters. However, just because you select a classic shutter style doesn't mean your home will lack flair. Just look at these examples:
1. Arch Top Panel Shutters for Maximum "Wow" Factor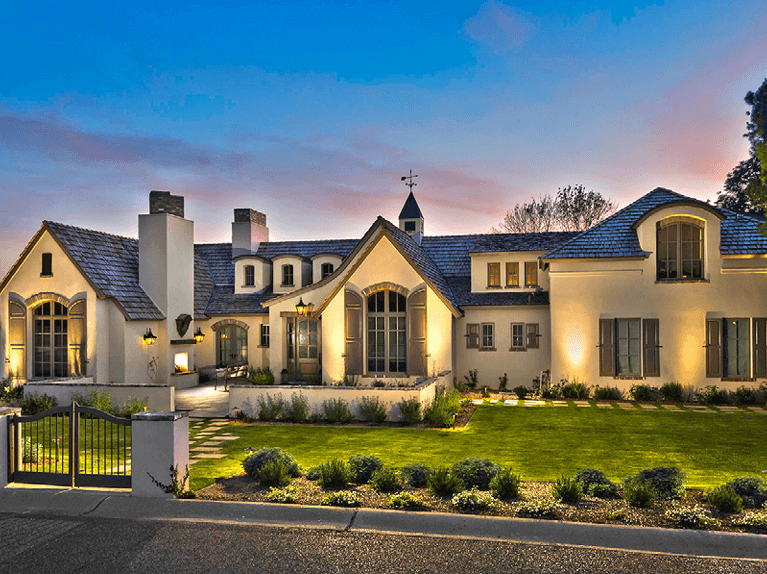 This contemporary home really takes our breath away with its gorgeous windows and shutters, particularly the two grand arched windows with corresponding arch top panel shutters. The home's muted color palette and soft uplighting allows the beauty of the shutters to shine.
If you look closely, you'll notice there are several shutter variations on this house. On the right side of the house, the two bottom windows have traditional panel shutters with a 50-50 configuration, while the second-floor window has operable louvered shutters with arch tops. In the middle section of the house, small inset windows are perfectly paired with one-panel shutters. The multi-paned arched windows feature custom flat panel shutters with radius tops that really grab the attention.
The shutters look so perfect that it's hard to imagine this home without them!
2. Premium Wood Panels for Authentic Charm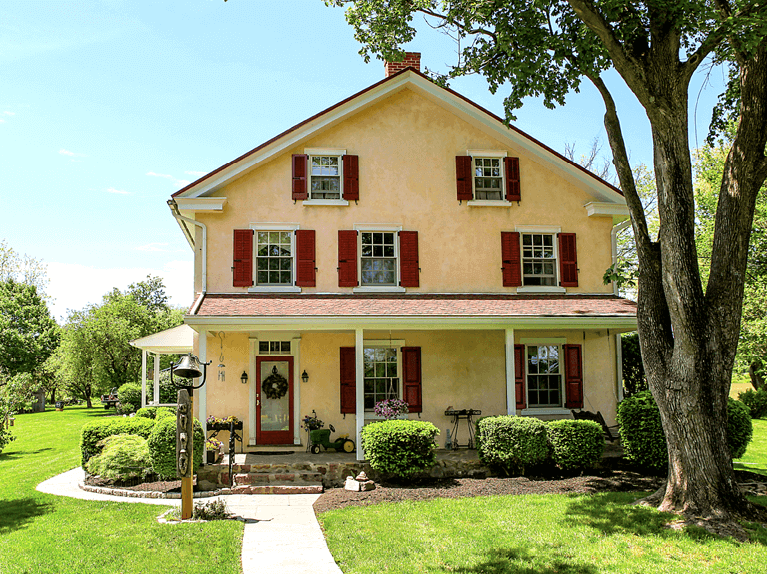 There's a lot to love about this home, if you appreciate classic design and farmhouse charm. The choice to go with premium wood for the shutters adds an air of authenticity to the home's historic look. Paired with white trim on the windows and door, the red wood shutters bring the entire look together, and the dinner bell and windchimes are just icing on the cake!
3. Panel Shutters with Cutouts for a Pop of Personality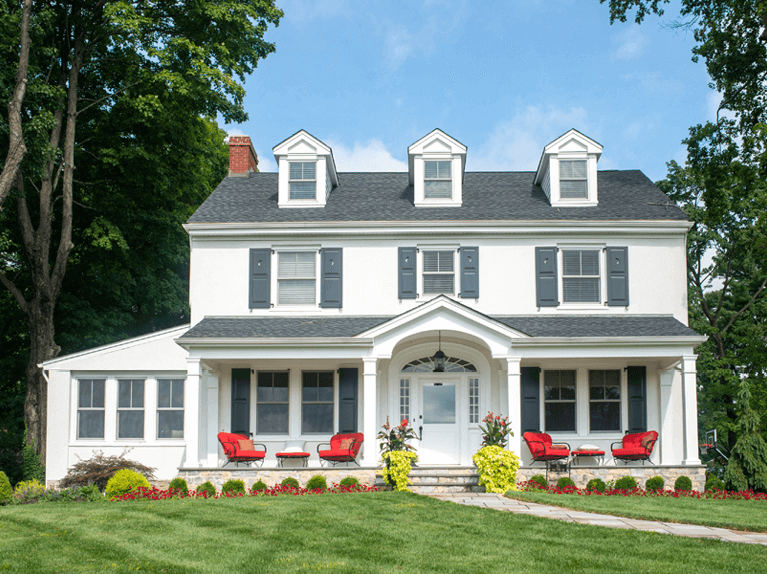 Amazing how small splashes of color and a little bit of creativity can bring a home's exterior to life! This homeowner took a crisp white stucco facade and added blue panel shutters with adorable custom cutouts and functional shutter hardware, preserving the home's classic charm while adding a touch of flair. Choosing a cherry red for the porch furniture and planting colorful flowers along the front was a perfect finishing touch!
The home's overall composition is very straightforward and beautifully symmetrical, but those accents help make it a lot more fun.
Louvered Shutters
Some people love stucco for its durability. Others love it for its versatility. If you fall into the latter group, you'll probably also appreciate operable louver shutters. Louver shutters can help to filter light and facilitate airflow through a window, but even if they're just used for decoration, their light and breezy look pairs perfectly with a wide variety of home styles.
4. Seafoam Green Louvered Shutters and Sandy Stucco for a Striking Mediterranean Look
Seafoam green louver shutters and sandy stucco are classic pillars of Mediterranean design. On this home, the matching green balcony and window trim, contrasted with the beautiful red-tiled roof, really bring the entire look together.
Many of the examples we've listed are instances of homeowners breaking convention, but this home shows the beautiful results of playing by the rules. Leaning on traditions can be really helpful when looking for home design inspiration.
5. Create a Storybook Look with Louvered Shutters and White Stucco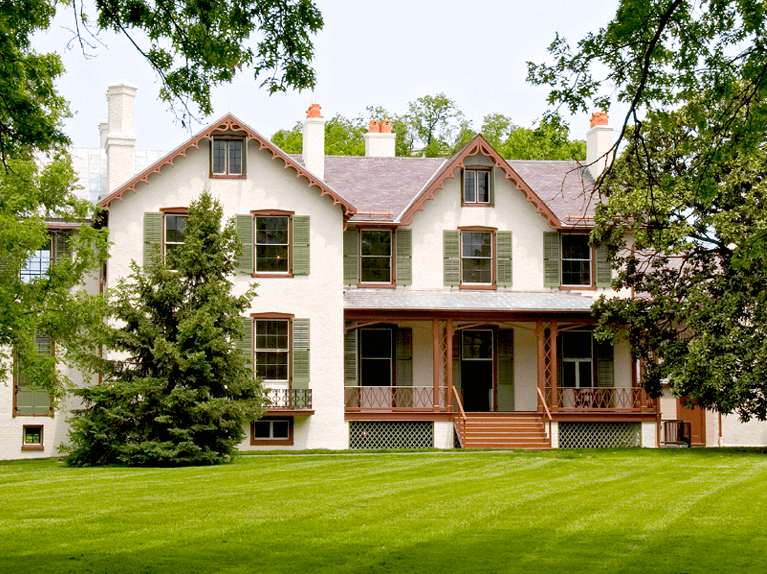 The roof trim, latticework, and intricate porch all pop on this white stucco house. The subtle green louvered shutters fit right into this design, which looks like it was plucked straight from a children's storybook.
The choice to go green with the shutters rather than match the trim and porch was a great move. It helps the house blend with surrounding vegetation, further elevating the fairytale feel.
Bermuda/Hurricane Shutters
While commonly associated with tropical climates where homes need protection from hurricanes, Bermuda shutters look great on homes everywhere — and as you'll see, they pair perfectly with stucco siding.
6. Creamy Bermuda Shutters and Light Taupe Stucco for a Modern Beach Home Look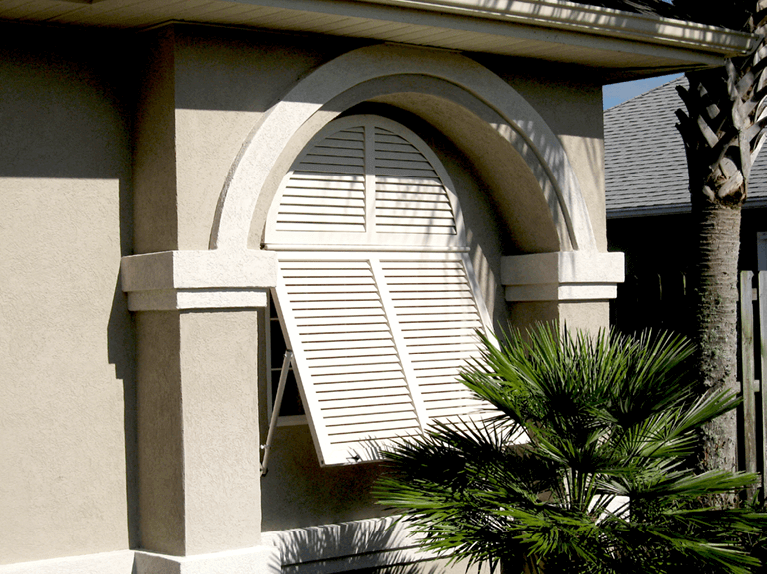 This beach home looks slick with its understated color choices and subdued design. The decision to stick with cream-colored Bermuda shutters was a terrific way to make these functional shutters feel like a high-level design choice, rather than simply a matter of practicality.
The choice to extend the shutters with the radius top also helps make these hurricane shutters seamlessly blend in and feel like part of the home, proving that Bermuda shutters can be both functional and stylish.
7. Make a Statement with Black Hurricane Shutters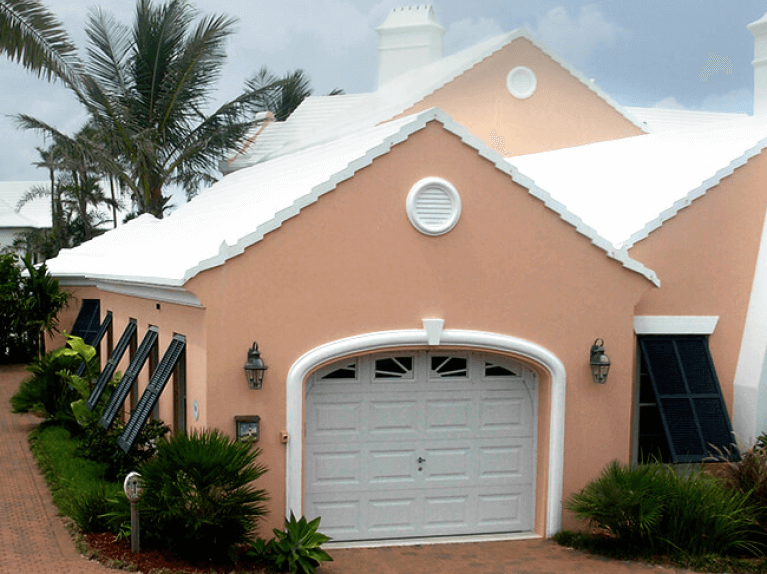 We always love when people go bold with black shutters. This stunning little home is packed to the brim with interesting design choices. There's the arched garage door, the iron light fixtures, the jagged-edged white roof, the beachy vegetation — in fact, there's so much visual intrigue that you almost miss the black shutters at first glance!
These homeowners managed to make a bunch of bold choices work together seamlessly, proving that with enough imagination, black shutters can be the perfect addition to any style of home.
Choosing the Perfect Shutters for Your Stucco Home
The homeowners highlighted above all used their exterior shutters to elevate the curb appeal of their stucco facade and bring their home's look together. Finding the right shutter for your home is about choosing the style, colors, and finish that work best for your home and your unique design preferences.
At the end of the day, you want to go with shutters that match your style goals and give you the exterior you've always wanted.