Contemplating whether or not to add black shutters to your home? It's a bold color choice, but many houses look amazing with black shutters. It's all about pairing the right shutters with the right home and having an eye for what works.
These homes show seven different styles of exterior black shutters. In each example, you can see how the choice to go with black paint really elevates the whole look.
1. Closed Board and Batten Shutters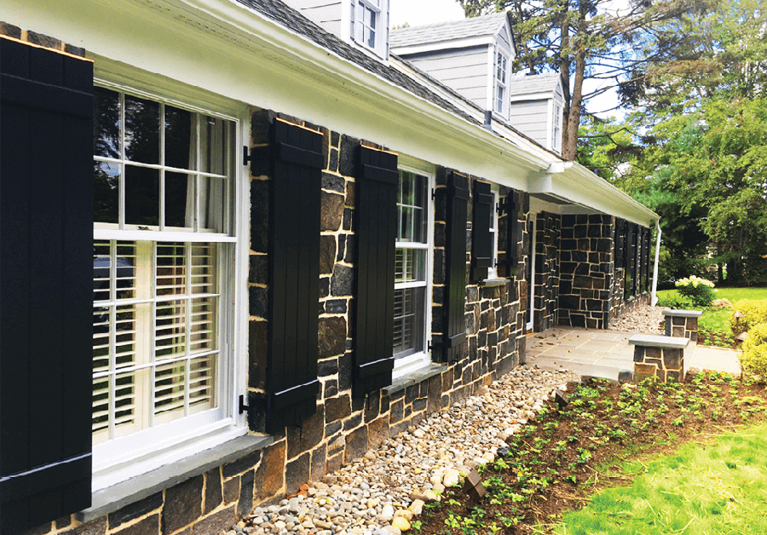 Board and batten shutters are a popular choice for cottage-inspired homes because they're such a warm and recognizable style. Most people tend to stick with white or pastel shutters with cottage style homes. However, black board and batten shutters look lovely against natural stone and brick.
These closed black board and batten shutters add contrast and intrigue while still honoring the cozy conventions of a cottage style home.
2. Black Fixed Louvered Shutters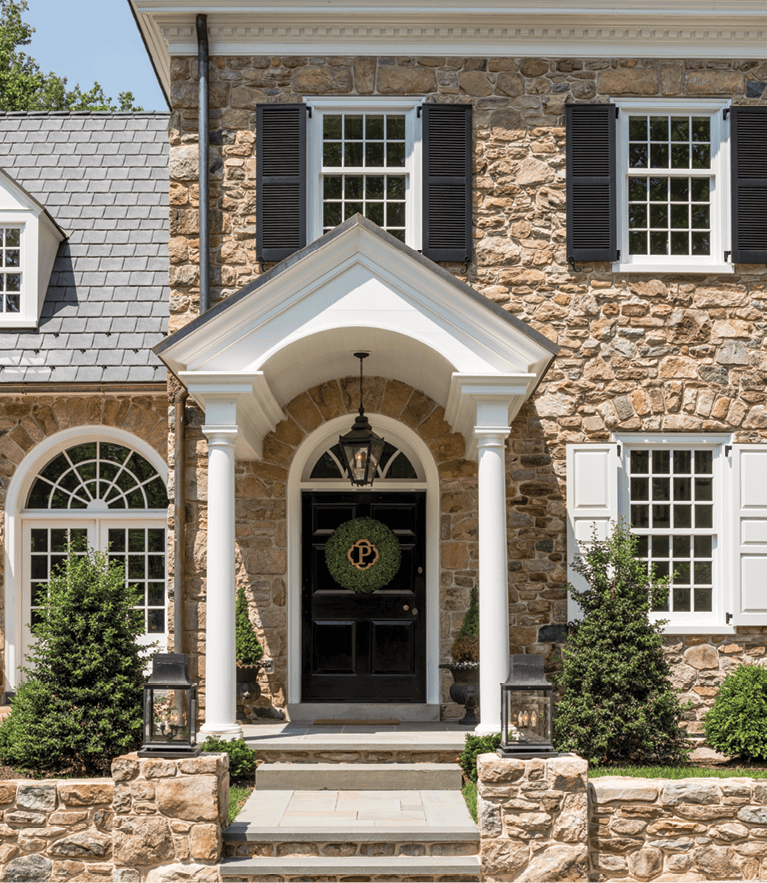 Louver style shutters were originally created for added ventilation and privacy. Today, the historical and nostalgic aesthetic is what wins customers over. Whether they're operational or fixed, black louvered shutters are a terrific way to modernize a classic look.
This house really nails the colonial theme with the louvered shutters on the top and the white paneled shutters on the bottom. By mixing the two colors and types, they've managed to tastefully add visual excitement to a historically-styled home.
3. Black Raised Panel Shutters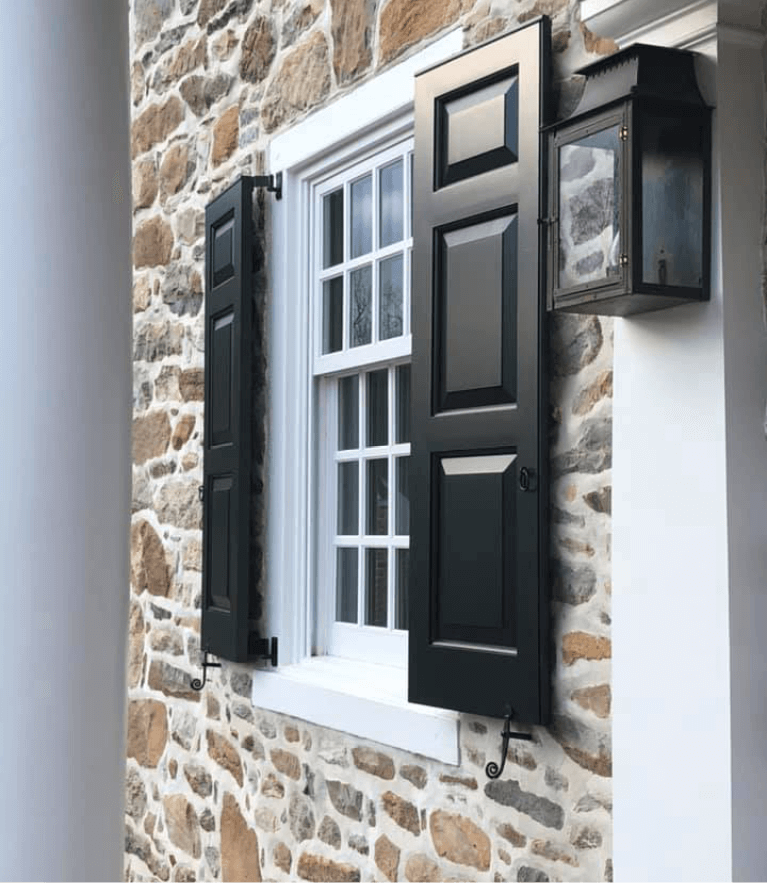 Panel shutters are a classic look that can help elevate colonial and craftsman style homes. These black raised panel shutters are stunning with their unique three-paneled configuration and bold black hardware.
The black brings a regal elegance to the paneled shutter making it a perfect option for people who want to add sophistication to their homes.
4. Black Bermuda Shutters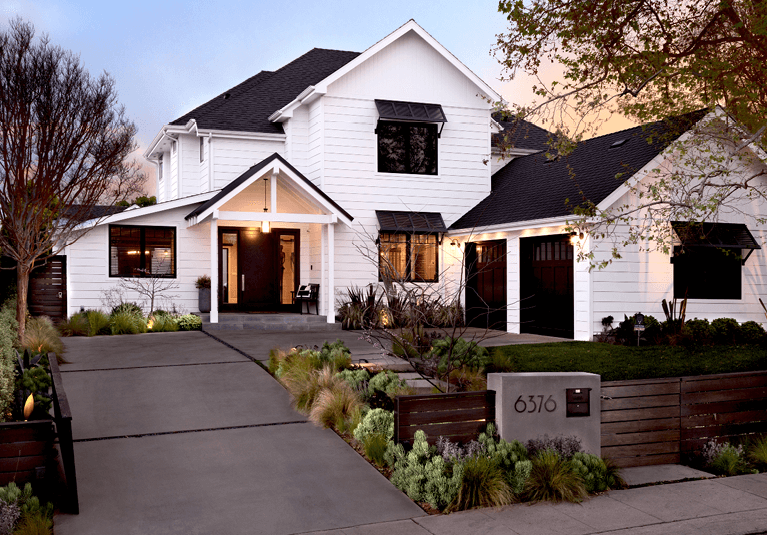 Bermuda shutters, also known as bahama shutters, are a staple for beach homes and homeowners looking to add some summertime style to their home. Since this style tends to align with more tropical motifs, you'll usually find them in creams and shades of blue. However, this home proves that there are always reasons to break the rules.
The black bermuda shutters help bring the playful contrast and stylishness of this home to life. It also shows how amazing bermudas can look in black. This home also proves that with the right color, bermuda shutters can look great on homes outside the beach house aesthetic.
5. Black Arch Top Shutters
This gorgeous home has a number of windows and shutters. From the white panel shutters on the first floor to the black shutters on the second – there's something exciting everywhere you look.
The arched window in the center is a perfect example of how gorgeous radius top shutters look in black. The black arch top shutter was a terrific choice to contrast the white frame and bring the focus in on that dreamy arched window.
6. Combination Shutters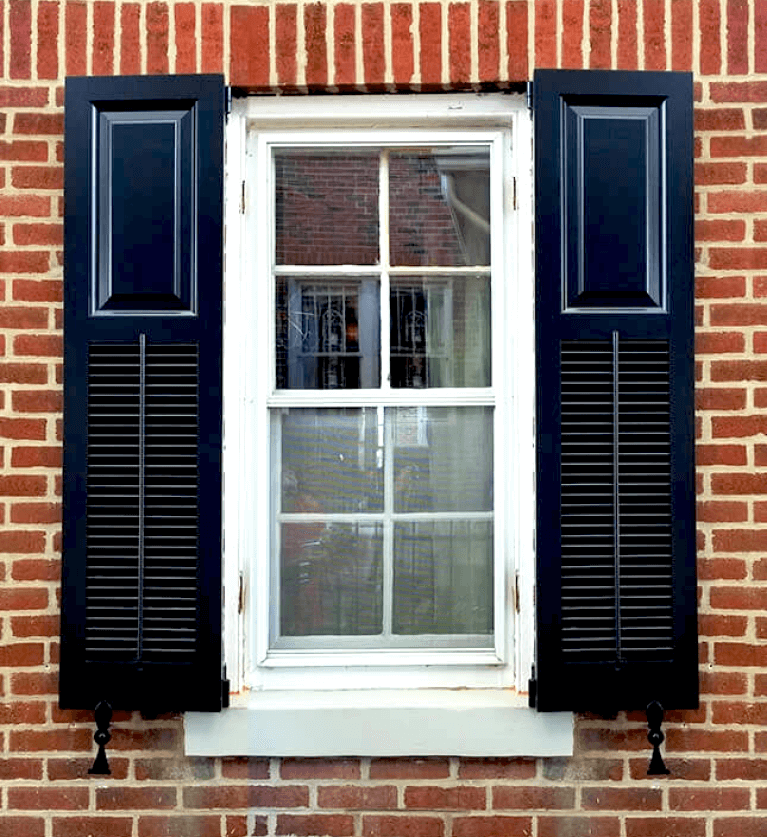 How fun are these black combination shutters? Paired with the red brick and white framed windows, these part louver, part panel shutters make a dramatic impression. The bold, black shutter tiebacks really amp up this industrial-inspired home.
There are countless combinations to choose from, but this example makes it clear that black combination shutters look just as striking as the other colors.
7. Black Shutters with Custom Designs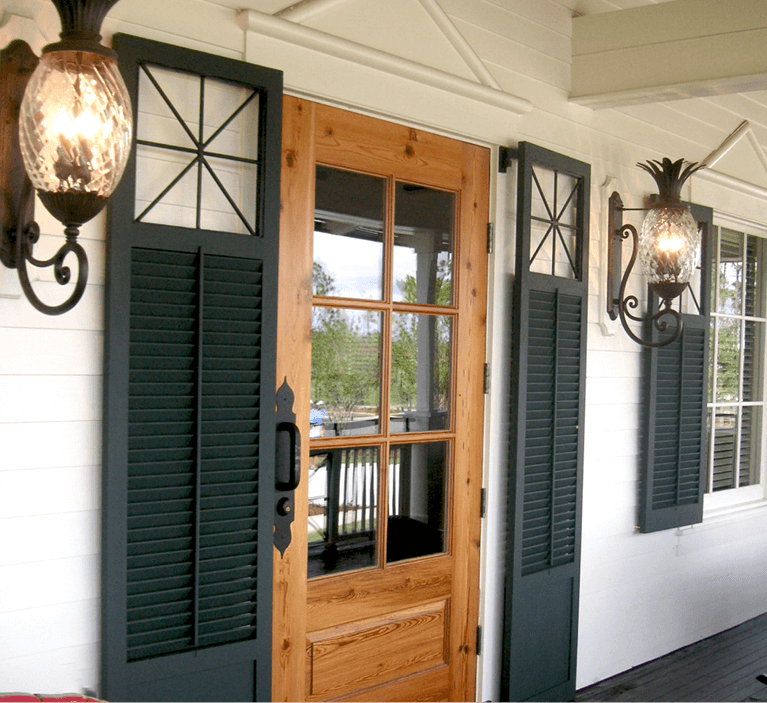 A farmhouse-style home with black shutters? That sounds like a hard look to pull off, but these shutters show that anything can look amazing with enough creativity. The custom design at the top of these louvered shutters helps bring this look to fruition.
Custom designs and configurations are a terrific way to make any shutter look unique. Pairing a custom design with a unique shutter color (like black) is a surefire way to wow visitors, neighbors, and passersby.
How to Choose the Best Black Shutters for Your Home
These seven examples make it clear that black shutters can be a gorgeous addition to any home. Choosing the color is just the beginning. There are several style options to choose from, including:
Panel
Louver
Bermuda
Board and Batten
Mission
Combination
Then, there are materials, finishes, hardware, custom cutouts, and more. Ultimately, you will want to go with a configuration that suits your style goals.