Are you trying to decide whether a wood or steel garage door is right for your home? There are many considerations when picking a garage door, like color, design, and style. However, the decision surrounding your garage door's material is one of the most important.
The material determines your door's look, durability, ongoing maintenance, and more. Two of the most common garage door materials are steel and wood. In a head-to-head comparison between wood vs. steel garage doors, which comes out on top?
Let's look at both of these garage door materials to help you figure out which is best for your garage:
Wood Garage Doors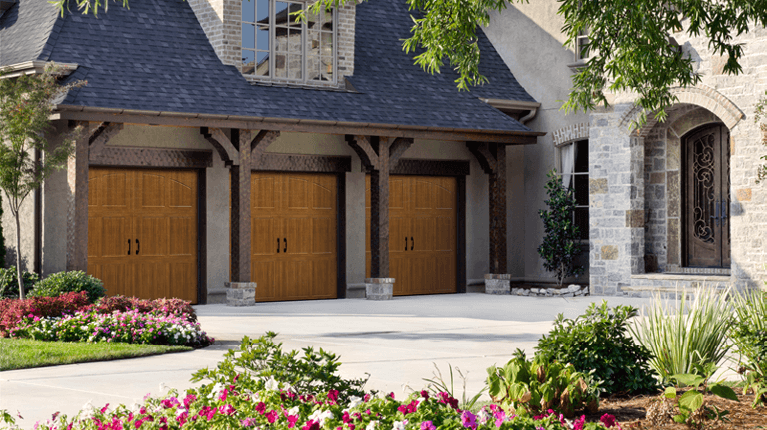 Wooden garage doors provide a classic, luxurious look and feel that most homeowners love. They're a clear frontrunner when it comes to aesthetic and customization options. Plus, they're an eco-friendly option for the eco-conscious homeowner.
Wooden garage doors don't easily dent, they add instant curb appeal, and provide added energy efficiency to your garage. They are generally sturdy, heavy, and stable, making them a durable choice for many.
Wooden garage doors are generally custom-made as well. They often require a bit of ongoing maintenance, like sanding and staining every few years. They're also prone to water damage, but it's usually pretty easy to repair a damaged panel on a wooden garage door.
Wooden garage doors:
Add a classic, elegant appearance for instant curb appeal
Don't easily dent
Increase energy-efficiency
Are sturdy, heavy, and durable
Use the highest-quality wood species
Are available in several popular styles
How do wooden garage doors compare to steel garage doors? Let's take a look at steel garage doors in depth.
Steel Garage Doors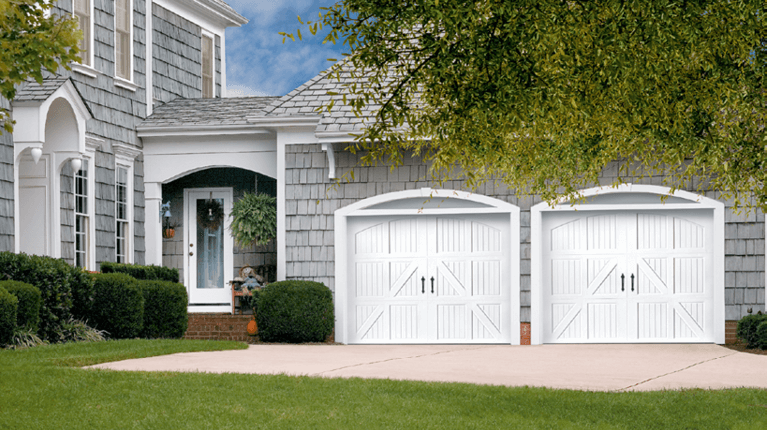 Steel doors are much-loved by homeowners looking for minimal maintenance and easy upkeep. They stand up well in many climates, including humid ones. Generally, pure steel doors are cheaper than wooden doors, too.
Steel doors are easy to install and lightweight. They don't quite match the beauty of natural wood, but they can imitate the look of wood, which homeowners enjoy. Steel doors can rust, dent, or ding over time, but that's generally found with lower-quality, cheaper doors.
Due to their lower maintenance and upkeep, steel garage doors tend to have longer lifespans and provide greater durability and stability than wooden doors, but don't provide an upscale look.
All in all, steel garage doors:
Are low maintenance and offer easy upkeep
Fare well in many climates
Are lightweight and easy-to-install
Are durable and long-lasting
Provide great stability
What if you want the durability and longevity of steel but the luxurious beauty of a wooden garage door?
The Best of Both Worlds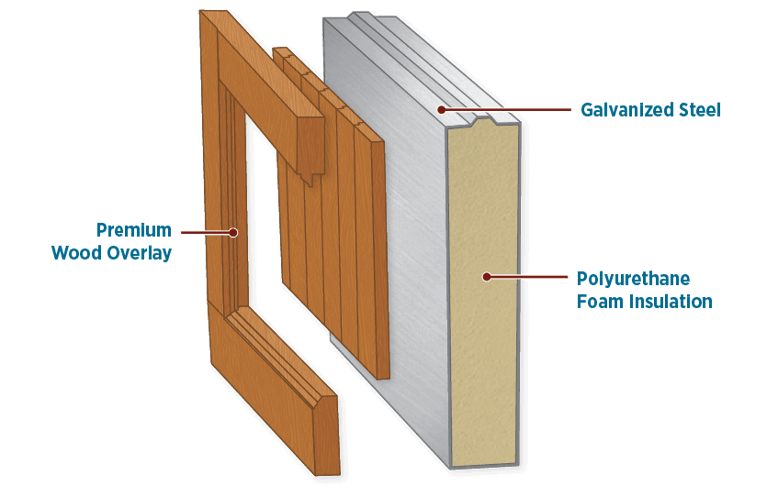 You can have the best of both worlds with Fusion garage doors. They combine the charming and unmatchable beauty of wood with the added stability of an insulated steel base.
They're built with a wooden overlay and a steel core, providing homeowners with the best aspects of both materials. Fusion doors are preferred by homeowners who want the traditional beauty and curb appeal that comes with natural wood garage doors, but who also appreciate the structure and stability that steel offers.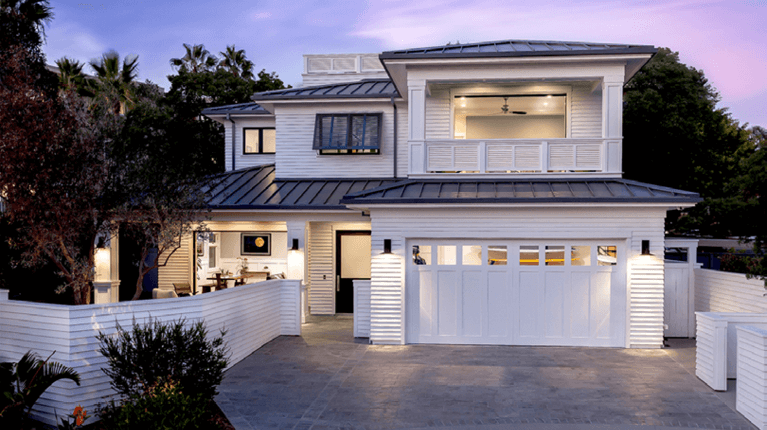 Timberlane's steel core garage doors with wooden overlays:
Are a classic, elegant appearance for instant curb appeal
Don't easily dent
Are sturdy and durable
Work well in many climates
Provide great stability
Allow for complete customization capabilities
Use the highest-quality wood species
Are available in several popular styles
Clearly, you can truly get the best of both worlds with Timberlane's Fusion garage doors. The stability of the steel core paired with the beauty of the wooden overlay is a hard combination to beat.
The right garage door for your home is a matter of personal preference. If you're all about durability, then a pure steel garage door might be the perfect choice for you. You might also be a purist who wants a wood garage door.