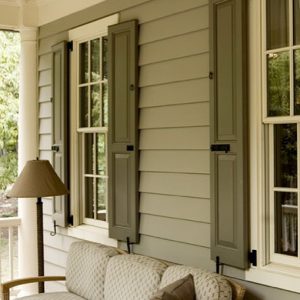 Exterior shutters over the course of history were not only aesthetically pleasing but provided a necessary function with their many uses. They were used as a source of protection, privacy and ventilation, not just decoration.
For centuries, window shutters were such an important characteristic. Whether they were panels or louvers, they played a significant role in the functionality and appeal of the home. Before the light bulb, house shutters allowed the ideal amount of sunlight into one's abode. Before air conditioning, they provided the ventilation that passed through. Before shades and blinds, shutters in the closed position were the only way homeowners could have privacy from the outside world.
More than Wooden Rectangles
There is so much more to an exterior window shutter than it being a "wooden rectangle." The functionality and the roles that they play are still relevant to what they were centuries ago. They are installed with proper functional hardware to protect the windows which are much more advanced now, they allow the homeowner's to bring nature into their home, they reduce the reliance on energy, and they are still used for shade and ventilation... so we ask you to open the windows, turn off the AC, and enjoy those light natural breezes that are dying to be let inside your home.