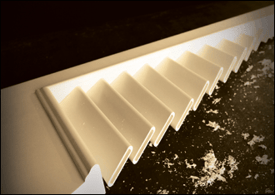 At Timberlane, we're all about producing the highest-quality exterior shutters with a wide array of customization options. With four available shutter materials to choose from, each are designed to fit our customer's unique needs and budgets. For those looking for something more traditional, our Premium Wood Shutters are the go-to option for a long-lasting, authentic wood shutter. If your requirements call for keeping budget in mind, our Fundamentals Shutters are the perfect option for you. When your appetite craves a high quality, maintenance-free option that will last for many years, our Endurian Shutters are exactly what you're looking for!
Why is Endurian an ideal shutter material?
If you're on the market to add captivating curb appeal or a touch of personalization to your home's exterior, shutters are the perfect addition! Whether you're asking yourself what material is best, how much upkeep will there be or how long they will last, our Endurian Shutters are the all-encompassing answer. Endurian Shutters are the ideal shutter material for those who are looking for a hassle-free, long-lasting solution. We have perfected the process of constructing this shutter material out of solid PVC, which not only resembles traditional wood shutters, but has the same customization options as well.
A maintenance-free shutter with no hassles of upkeep for years to come... It's the best of both worlds!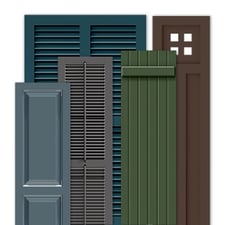 What makes our PVC shutters different?
To keep it simple, PVC is an extremely super-strong material used in many forms of construction. By crafting our PVC shutters the same way wood is milled, the customization options are endless!
Super-strong, customizable AND maintenance-free... What could be better?
What options are available for Endurian Shutters?
Similar to Premium Wood, Endurian Shutters are available in many styles including Panel, Louver, Board & Batten and Mission. Beginning your personalization journey by choosing from different configurations, color, cutout and more is exactly the same!
Looking to Learn More About Endurian?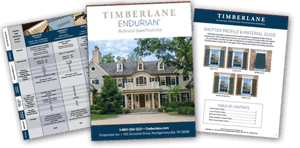 If you are interested in learning more about our Endurian Shutters, take time to explore some of our available resources. Dive into our Product Comparison Chart, Shutter Profile & Material Guide or get technical with our Endurian Specifications Guide.