Timberlane Takes On the Windy City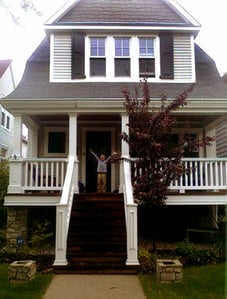 You've heard it from us over and over again, Timberlane hand crafts custom shutters. But what that means to our customers is truly as impactful as it means to us. For our customers they know that the shutters they get are the ones they worked closely with us, together, to design, size, and create to match the end result needed, whether that is a large commercial project, or single family home. Timberlane is a part of every step, from our Design Consultants to our Craftsmen. It's also amazing when we hear back; when a customer sends us an update on their home or their project, and the difference we've helped them create in their homes. It's like catching up with old friends! Just recently I received an email from Barbara Corton, who told me that it was 7 or 8 years ago when she was updating her home in Chicago. That right there presented some challenges, as despite all the city has to offer, it also has a heck of a winter. Choosing not just shutters, but the right shutters for the weather, was key. Barbara found and selected Timberlane after doing her research.

"It was wonderful to know I had a great product and something that no one else had. It gave this Dutch Colonial a completely different look and just the detail it needed." ~Barbara Corton

After adding a new front porch, she put the home on the market, and with the greatly improved curb appeal, was able to sell the home within two days, choosing from eight offers, seven of which were over her asking price. And this was BEFORE the market got better! With this success she became inspired to really take on design projects, and now offers design services for others in the area.