Shutters and Tropical Living Go Hand in Hand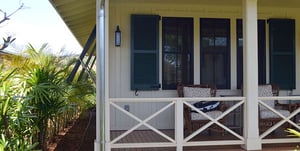 The very name, Bermuda Shutters, conjures up images of island living, with sunshine and water everywhere. The Bermuda Shutter, or as it is sometimes called, the Bahama Shutter, takes it name directly from those islands, as the style originated as a functional asset. The style, hinged from the top and covering the entire window with a single wide shutter, provides shade protection when used as an awning, while still allowing ventilation, letting the island breezes come in, but protecting from the direct glare of the sun.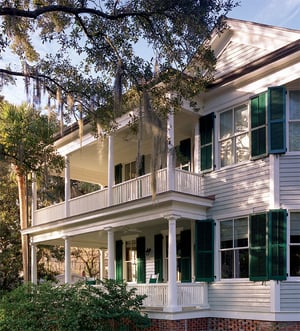 But Bermuda shutters aren't the only style used in the tropics, or on the water front in other areas. You've heard the phrase 'Batten down the hatches', right? Well, our Board and Batten shutters help do just that! Louvered shutters are popular for their own ability to add ventilation and shade, and protection from the elements. Fixed louvered shutters offer a consistent ventilation while protecting from the elements.
When installed properly, the fixed louvers direct any rainfall away from the window when they are closed. They also provide for privacy and ventilation, limiting the direct sunlight during the height of the day. Operable louvers work the same way, but have the additional benefit of allowing you to adjust the openings to increase or decrease the light and ventilation throughout the day, to best suit your needs.
Shutters as Protection in Storms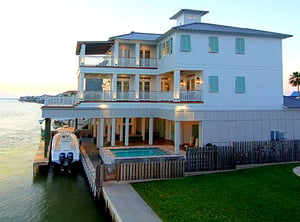 Waterfront living is enticing and alluring, but there are also the inherent dangers that nature often sends our way. This is another reason these homes have Timberlane Shutters on their windows. Today's windows are far more durable and protective than they have been, but even so, when nature packs a punch, operable exterior shutters give an added level of protection against the storm. We recently got a call from a customer of ours who had come to us for Bermuda Shutters from our Endurian line:
We could not be any more thankful to hear that our customers are safe, but also that our shutters have weathered even the toughest of storms. Our Endurian line has proven to be the best choice for those with homes on the water."I recently replaced one of my shutters that was destroyed by Sandy. We are very happy with our Endurian Shutters and you should know that they weathered the storm beautifully. We are 200 feet from the ocean at "Ground Zero," where Sandy hit in Ocean County, NJ. Were it not for substantial debris from a neighboring house that was completely destroyed hitting one shutter, all would have come through none the worse for wear. Thanks for a great product."