Wooden shutters are universally prized for their refined look and classic appeal, but make no mistake: They're not all created equal.
When it comes to high-performance shutters that are built to last, wood is never "just wood."
The specific wood species that's used to craft your exterior shutters really does matter, and we're here to help you navigate a marketplace full of options and decide which wood shutters will offer maximum beauty, durability and overall value for years to come.
Before we identify the best wood for exterior shutters, let's take a trip back in time and examine how wood shutters have evolved in their centuries of existence.
The History of Wooden Shutters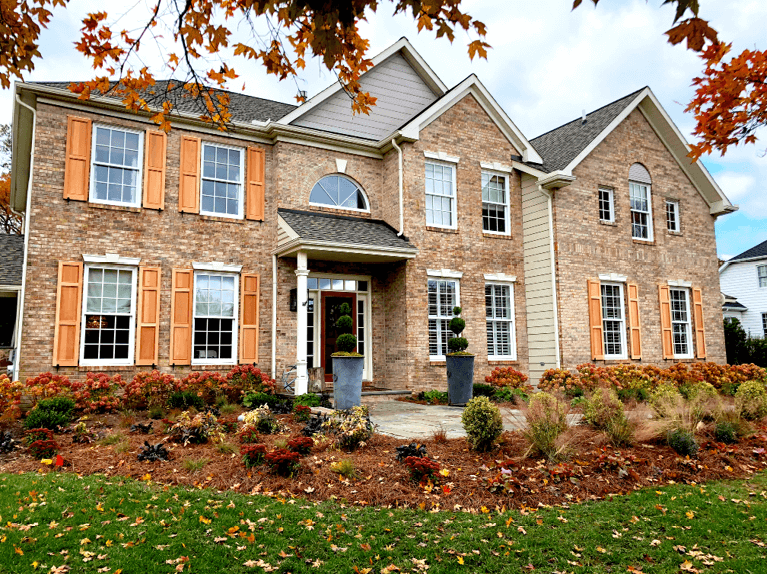 Exterior shutters actually predate glass window panes; they were originally used to cover windows, keeping inclement weather and pests out of buildings while allowing residents to control the flow of air and light through their living space.
The earliest shutters were chiseled out of marble by craftsmen in Ancient Greece. As the world's population increased, so did the demand for a more readily available and easily workable shutter material. Shutters made from simple wooden boards quickly became the norm.
In the 18th century, shutters began to shift from an essential home staple to a decorative luxury; however, the popularity of traditional wooden shutters never waned. The number of shutter styles and customization options expanded as technological advances allowed for wooden shutters to be mass-produced.
The wood sourced by early shutter manufacturers came from lush, abundant forests that no longer exist today. While different species of wood have endured, they have changed along with the world around them. We'll delve deeper into that subject in the following section.
The Different Types of Wooden Shutters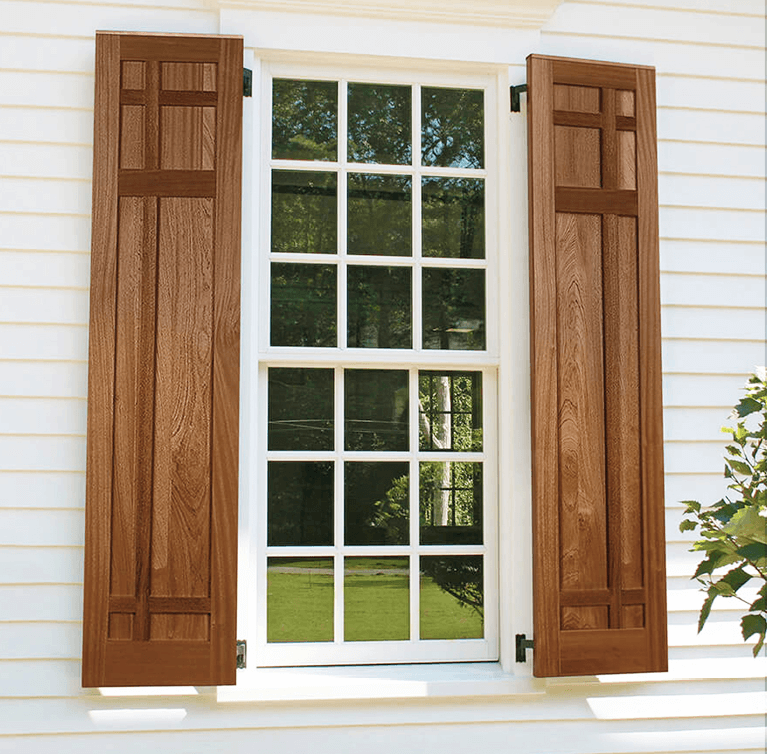 Although wooden shutters have more or less looked the same since Colonial times, the wood they're made from has gone through quite an evolution. Here's a breakdown of some of the more common species of wood that have been used to make exterior shutters, listed in order of highest to lowest quality.
Nemesu Mahogany Shutters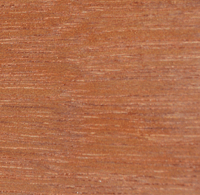 When it comes to wood that's well-suited for exterior applications, Nemesu Mahogany might just be the gold standard. In fact, its superior stability and durability make it a top choice for yacht builders, who need a high-performance material that stands up to moisture infiltration — and looks magnificent doing it.
Nemesu Mahogany checks all the right boxes, whether you're crafting ships or shutters. It's a sturdy hardwood with an interlocked grain and rich, warm color that ranges from dark brown to reddish brown, even acquiring a lovely silvery patina over time. Nemesu Mahogany machines easily and finishes beautifully with either stain or paint, allowing shutter artisans to craft a limitless array of customized designs.
Shutters made with Nemesu Mahogany premium wood will resist rotting, warping, and termites, and can be expected to last up to 40-50 years with proper maintenance. Timberlane sources our exclusive Nemesu Mahogany from the very stable Southeast Asian lumber market, enabling us to streamline our processes and quickly deliver the finest exterior shutters in the world directly to our customers.
Cedar Shutters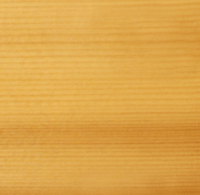 Cedar is a lightweight, versatile and aesthetically pleasing softwood species that varies in color depending on the type. Western Red Cedar, a common shutter material, has a pinkish-red appearance.
Cedar has historically been an excellent material for building exterior shutters due to its exceptional rot and weather resistance. But in recent years, as all the older-growth cedar trees were cut down and consumed, the wood's performance gradually began to decline. The cedar that's being milled for shutters now is less mature, and therefore, it's lacking in vital oils and tannins that help preserve and protect wood from decay.
Cedar has served shutter aficionados well in the past. But if you're looking for the best-performing, longest-lasting wood shutters being built today, it definitely pays to upgrade to a premium wood option.
Redwood Shutters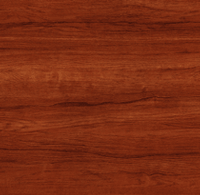 Redwood — named for its reddish color — is a soft and lightweight wood that is also very durable and easily workable.
Before cedar rose to prominence, redwood was a popular choice for crafting quality exterior shutters. However, once the number of older, larger redwood trees started to wane, redwood that was grown to fill the void was harvested too quickly. This new-growth redwood didn't have time to develop the natural oils and tannins that enable older trees to fight decay and rot. Naturally, immature wood won't perform as well, or for as long, in exterior applications as mature wood.
Additionally, once redwood was identified as an endangered wood species and redwood forests were set aside and preserved, this wood became harder to come by. Shutter manufacturers were forced to find a more readily-available wood species in order to satisfy customer demand.
Pine Shutters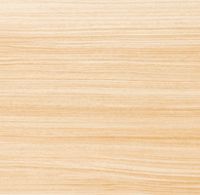 Pine is a soft, lightweight and lighter-colored wood that responds well to a wide variety of finishes. In addition to its design versatility, pine is also inexpensive, making it a common choice for furniture and flooring on the inside of houses and exterior shutters on the outside.
Like cedar and redwood, pine was once considered an exceptional exterior building material. But as all the older, sturdier pine trees were cut down and more immature pine started making its way through the mills, the wood's overall durability dropped over time. Thus, while pine shutters made 100 years ago might have performed quite well, today's pine shutters are not known for their longevity.
Pine has a propensity to absorb water and expand and contract along with temperature fluctuations, so pine shutters are prone to cracking, warping and degrading with prolonged exposure to elements. They're susceptible to termites and rot, and even with regular maintenance, they will most likely need to be replaced within 5-10 years.
What About Composite Wood?
Now that we've debunked the most common misconception about wood shutters — that all wood species are the same — let's take on another myth: Composite wood shutters are a better long-term option than natural wood shutters.
Quite the contrary! If you choose a high-quality wood like Nemesu Mahogany, you can expect your genuine wood shutters to outlast and outperform the synthetic alternatives every time.
Composite wood shutters are made from a mixture of wood residuals and resin that's heated and pressurized into what's commonly known as MDF (Medium Density Fiberboard). When exposed to the elements, this mixture decays over time, leaving air pockets in the board that can cause flaking. MDF is also known to sag and bow in moist climates. So while composite wood shutters might offer a 15- to 20-year lifespan, that "natural wood look" you liked about them probably won't last very long. On top of that, composite wood is not as easy to machine as natural wood, which limits the design flexibility of synthetic shutters.
How To Choose Wooden Exterior Shutters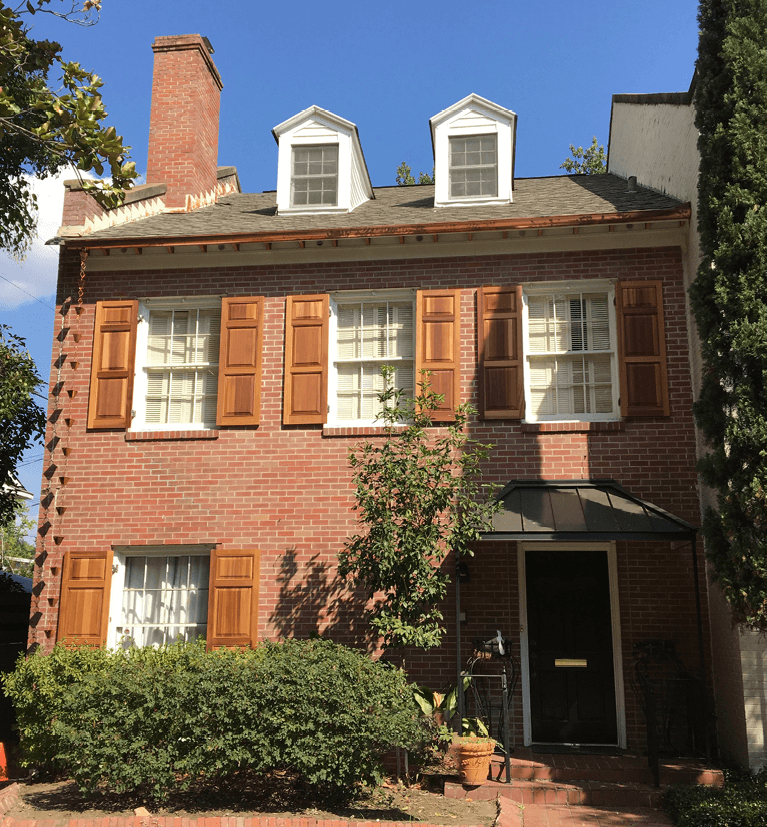 When investing in your home's curb appeal, why settle for anything less than the finest materials? Real wood shutters have a timeless beauty that will never go out of style. If you want that beauty to endure for as long as possible, it pays to adorn your exterior with handcrafted shutters made from a sturdy, resilient wood species that has been tested under the toughest conditions.
There's a good reason why Nemesu Mahogany is the top wood choice for yacht builders and millworkers all over the world, and it's the same reason we've chosen it as our exclusive wooden shutter material. In performance, longevity and aesthetic appeal, Nemesu Mahogany quite simply outshines the other options.
Explore our website to learn more about Timberlane's premium wood shutters and the limitless customization possibilities they offer for homeowners looking to take their exterior look to the next level.