Timberlane is all about customization down to the last detail, making your home exterior reflect YOU. One of our favorite ways to personalize your shutters is through our cut-out designs. If you're considering #ShutterCuts to add another dimension of curb appeal, you'll probably want to know the meaning behind your cutout design! Luckily, we're launching an enlightening series on the symbolism behind our #ShutterCuts. This month, in honor of St. Patrick's Day, we'll focus on our classic shamrock designs. Want a shamrock cutout on your shutter? Read on...
Symbolism of Shamrocks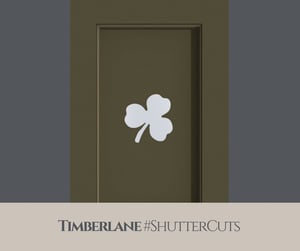 Everyone knows that the four-leaf clover represents good luck, but few people know that each leaf of the clover has its own meaning! The first three leaves represent faith, hope, and love. The occasional fourth one? Naturally, it symbolizes luck, due to its rarity. Timberlane has several shamrock designs, and we're always happy to accommodate custom #Shuttercuts – just ask!
Check back for more on The Symbolism of #Shuttercuts as we continue to explore the symbolism that may be hanging on your very windows!
Update: The second installment is in! Head over to The Symbolism of #Shuttercuts: Nautical Cutouts to read more.