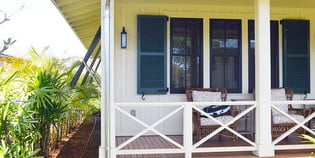 Exterior shutters are one of the most time tested energy saving window treatments. Before glass for windows, people relied on functional exterior shutters to protect their homes from the elements. Not only did the shutters provide noise control and privacy, but they also helped to regulate the temperature of a home. If sized properly and with the correct hardware, shutters can help lower both cooling and heating bills.
Keep Your Cool
Operable louvered shutters are very effective at reducing solar heat gain during the summer months. The louvers in the shutter allow ocean breezes to flow into the home while the body of the shutters blocks most of the hot sunlight while still allowing for some sunlight to illuminate the room.
Inside coastal cities along the gulf and Atlantic Ocean, exterior shutters can be closed while the window itself is open, still allowing for a cooling breeze to pass through the room.
Heat Your Home
Panel or Board and Batten style shutters, if installed tightly against the outer window trim, will provide an effective seal between the window pane and the shutter when closed. This will reduce the amount of harsh winter winds making their way into your home.
Need more information? Give our Sales and Design consultants a call at 800-250-2221.