After finally purchasing the historic home he'd had his eye on for years, a previous Timberlane customer returned for another "houseful of shutters." The results have been turning heads around town.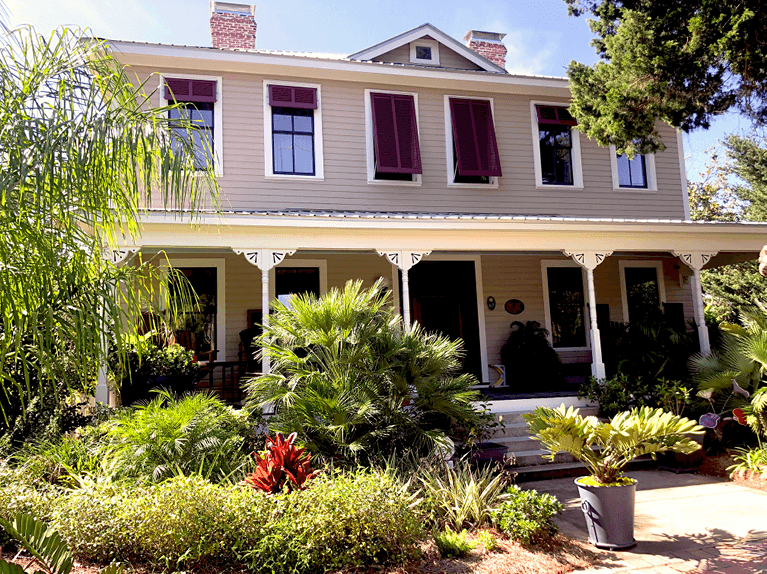 Randy Fike is a matter-of-fact kind of guy who knows what he wants — and exactly how to get it. To illustrate: When he was house hunting in Apalachicola, Fla., a few years back, Randy marched up the porch steps of an old 19th-century Foursquare he fancied. He met the owner at the front door and immediately presented an offer.
"I said, 'I'll buy this house from you and give you what you want for it,'" he recalls. "And then, I moved into it."
Just like that, Randy's story came full circle.
He and his late wife, Judy Caldwell, had been eyeing up this same house more than a decade earlier, when they moved south from Cleveland with dreams of living near the beach. Randy and Judy ultimately decided to settle at the actual beach, about 20 miles outside town, where they lived for 11 years. But when Judy passed away, Randy felt drawn back toward Apalachicola's historic South Side and the 4,176-square-foot, 116-year-old house that had been the couple's first choice.
While the local Historic Society lists his house as Victorian, Randy says it's more of an American Foursquare style, with a center hall flanked by identical wings on both the first and second floors. First built in 1860 for the Wakefields, a prominent Apalachicola family, the original house burned down and had to be rebuilt in 1905.
"What you'll see about a lot of these old houses is that sometimes they've stayed in the same family, and this one, from the time it was built until it was rebuilt, it was in the same family," Randy says. "So it had a nice tradition. It's close to town, just a couple blocks away, and then the bones...it's just such a solid house. I mean, they don't make houses like this anymore.
"It has 4 ½ huge bathrooms, a great big kitchen, a formal dining area, and the house hasn't settled an inch since 1905. There's no separations in the molding. It's as sturdy as when it was built."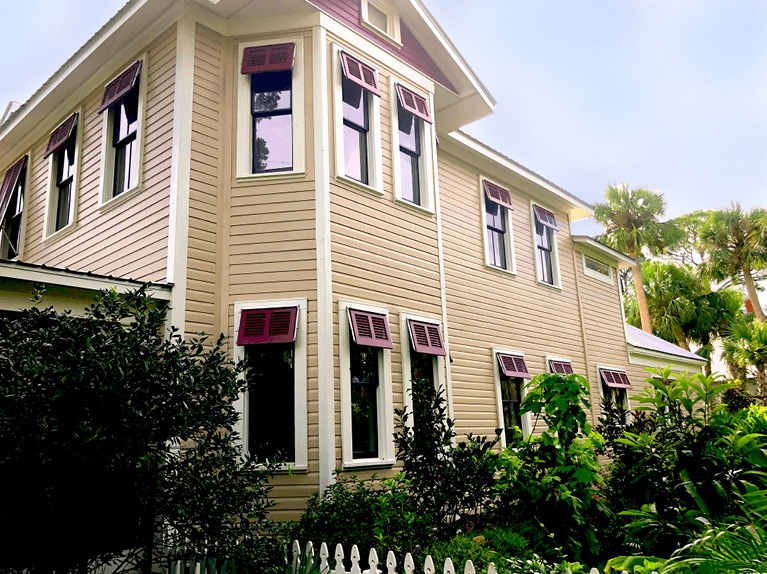 Honoring History, Adding Personality
Randy was barely settled into his new/old home when he started bringing his unique design vision to life. While the historic nature of the house precluded him from making any significant structural changes without official approval, Randy fully intended for the property to reflect his personal style.
True to form, he had some very specific ideas for the exterior, and he knew right away who could help make it happen.
Randy had purchased what he calls "a houseful of shutters" from Timberlane for his and Judy's beach home. Where else would he go for 33 windows' worth of custom Bermuda shutters and cafe-style bifold shutters to dress up his leg of Apalachicola's historic tour route?
"I like working shutters. I don't like the fake shutters that just attach to the wall," Randy says. "So I went online and looked for real shutters. [Timberlane's] owner, in his videos, you can tell this is not just a business. He has a passion for shutters. And the fact that the shutters are real wood and they have some oomph to them, they're not the aluminum and they're not the plastic and they're not the cheap wood, they're real wood, and they're workable shutters...I like the fact that you guys actually do shutters right for old houses.
"Around here, shutter manufacturers are a dime a dozen, but they're not shutters I would put on an old house."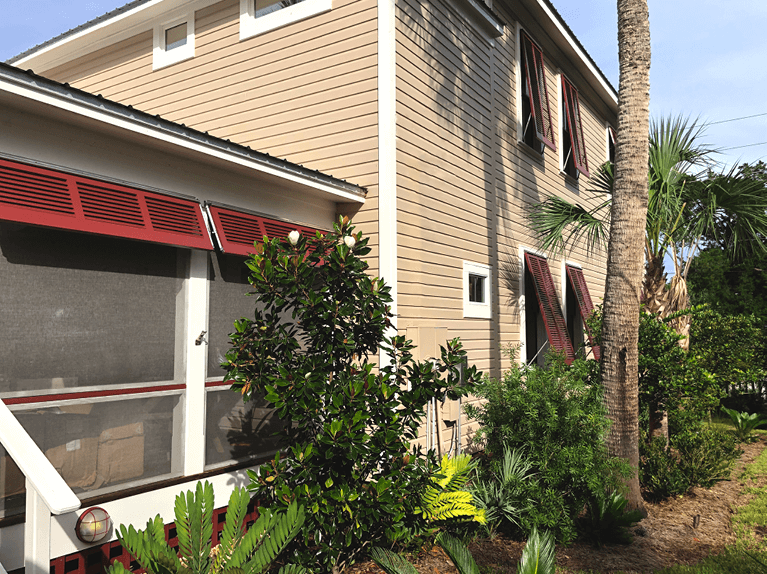 Randy came to Timberlane with a few out-of-the-box ideas. He liked the style of Bermuda shutters, but didn't want full window coverage all around his house.
"The thing about Bermuda shutters is that they're really nice, but they can make your house awfully dark," he says. "So I put the full Bermuda shutters over the windows that get the afternoon heat so that it actually blocks out the entire heat. The other ones, I wanted to dress up the window but still add some practicality, so I did them small. They block some of the heat coming from the midday sun coming right into the window, but then from the inside, it only covers up a quarter of your view. You can still see out the window and look at the landscaping."
Randy put a great deal of TLC into his yard, both the plantings and the pavings. The house sat on a big patch of dirt when he bought the house. It's now surrounded by a beautiful assortment of trees and shrubs overlooking a lovely brick walkway.
He made sure his front porch was up to par, adorning those four windows with louvered cafe-style shutters that fold open across the bottom half of the pane, and close conveniently off to the side.
"I didn't want that straight Colonial shutter, so I broke them up so they're a little more interesting than a straight shutter," Randy says.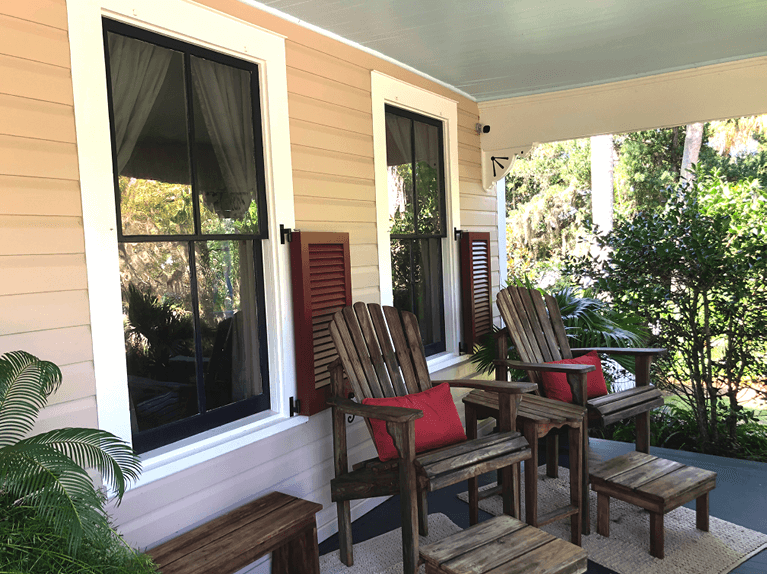 Loving The Look
With his own green thumb and elbow grease — and Timberlane's help — Randy achieved the look he envisioned for his home. Now, the house is getting looked at by all the tourists who flock to Apalachicola, hoping to take a trip back in time.
"I get a lot of compliments," he says. "I get compliments on the yard and I get compliments on the shutters. People come from all over the county and bring their kids, so a lot of people go through the historic district looking at the homes. I'll be out in my yard and they'll stop by to have a conversation."
No one has marched up and offered to buy the house, though, which is just fine by Randy. The home itself might not be settled, but he is, and he has plans to continue improving the property.
"These old houses have to be a passion because they're never done," he says.
At the same time, he can't help but take pleasure in how far the project has come.
"The jewelry on the outside of the house is the landscaping and the shutters," he says. "And houses just look more, I would say, 'finished' with shutters. Also, it allows you to take a house that would be a fairly boring color and a fairly boring look if it didn't have some pops of color, and it allows you to put pops of color on the house without getting so Victorian. I'm not big on Victorian architecture with like the 97 colors and the whimsical stuff, but I like a little pop of color. So the shutters allow color on the house and just make the house look more finished."
Asked what his late wife, Judy, would think if she saw the house today, Randy's response is, of course, quite matter-of-fact: "She would love it."
Do you have a Timberlane home that shines?
Show it off in one of our Customer Spotlight stories! Send an e-mail with your name, address, and a few photos, and you could be featured on our website and social media platforms!