Looking for some inspiration to spruce up your home's exterior? Maybe you know you want rustic looking shutters, but you aren't sure what type or style you want. If so, you've come to the right place.
10 Rustic Exterior Shutters to Inspire You
Choosing the perfect exterior shutters can be overwhelming because, like most home projects, they will last for years to come, and you want to make sure that they are the right choice. With a little inspiration and some best practice recommendations, you'll be on your way to finding the perfect rustic look for your home. Here are 10 of our favorite rustic window shutter examples to get you inspired!
1. Amplify Cottage-Inspired Charm with Board & Batten Shutters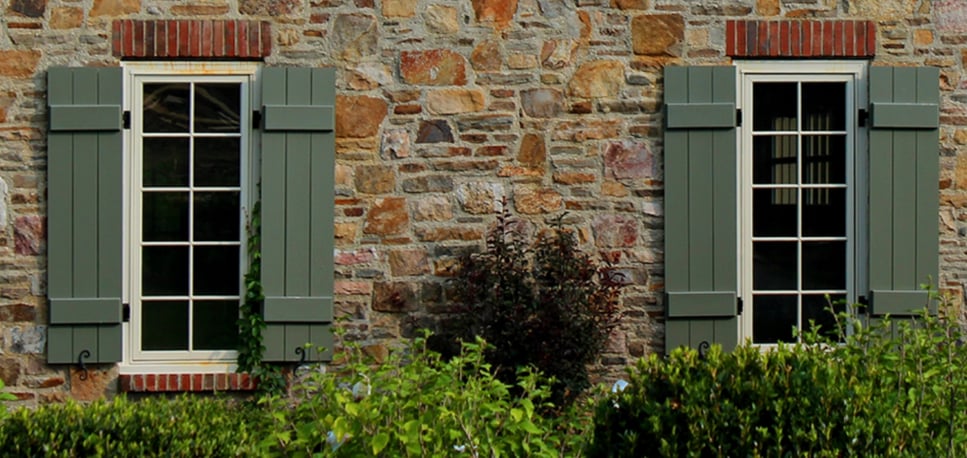 These earth-toned, open, board & batten shutters are breathtaking against the soft-hued natural stonework. They help bring the stone exterior's charm up a notch and complete the upscale cottage aesthetic with ease.
2. Red-on-Red to Make a Statement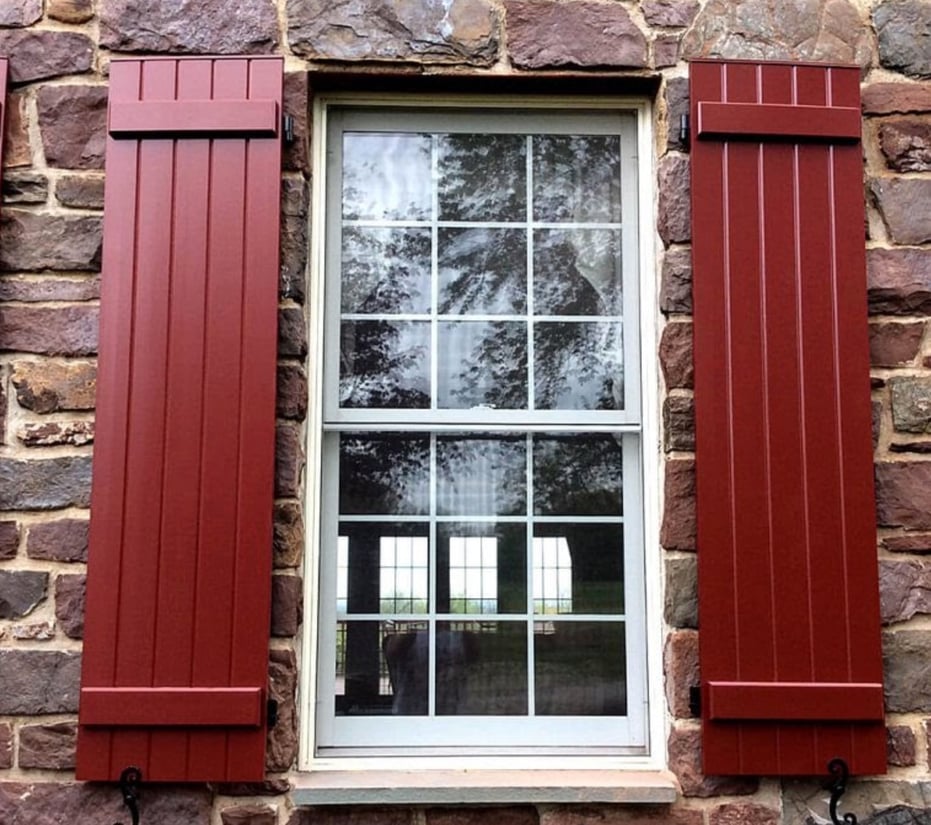 This home proves that there's no such thing as too much red. Red brick, red doors, and red board and batten shutters make it all pop. Note this home's impeccable contrast and steadfast focus on three classic colors: red, white, and black. The stark white window frames paired with the black shutter tiebacks on the rustic outdoor shutters really knock this look out of the park.
3. Wood and White Will Always Be a Winning Combination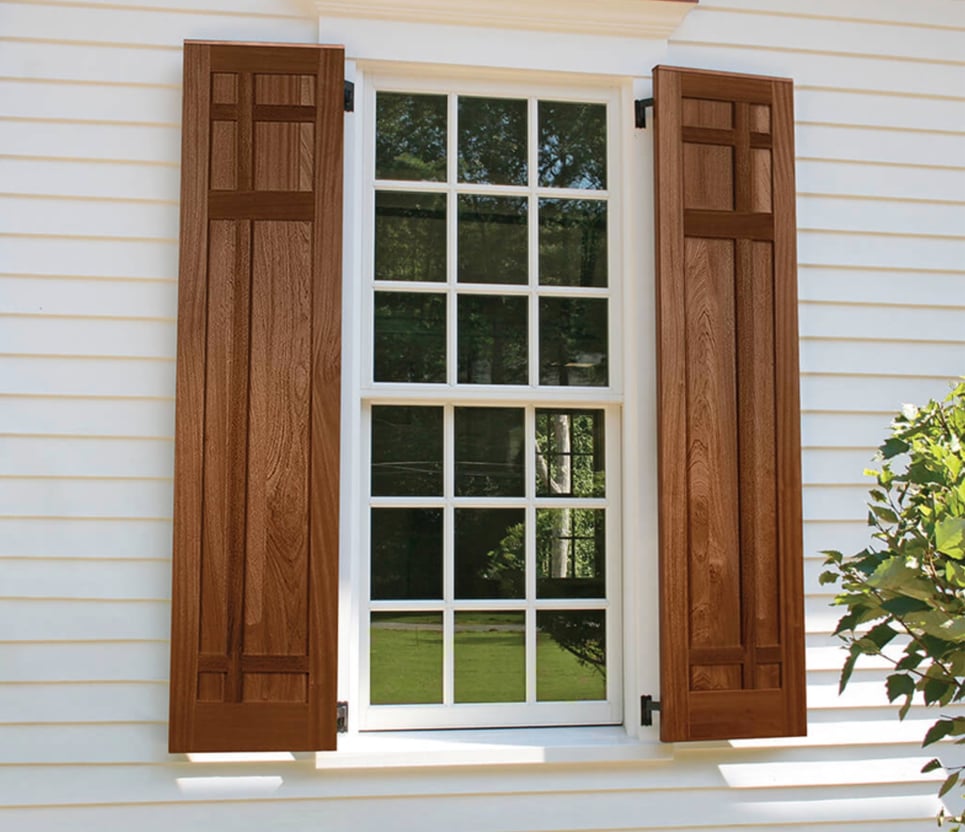 The dark-grained wood shutters against the cream white exterior is a captivating and classically charming look. However, just because these homeowners went with a timeless combination doesn't mean they held back their creativity.
Take a look at these geometric mission style shutters that add the perfect amount of rustic charm to this home. Small customizations are fantastic ways to take classic looks and modernize them.
4. Keep it Classic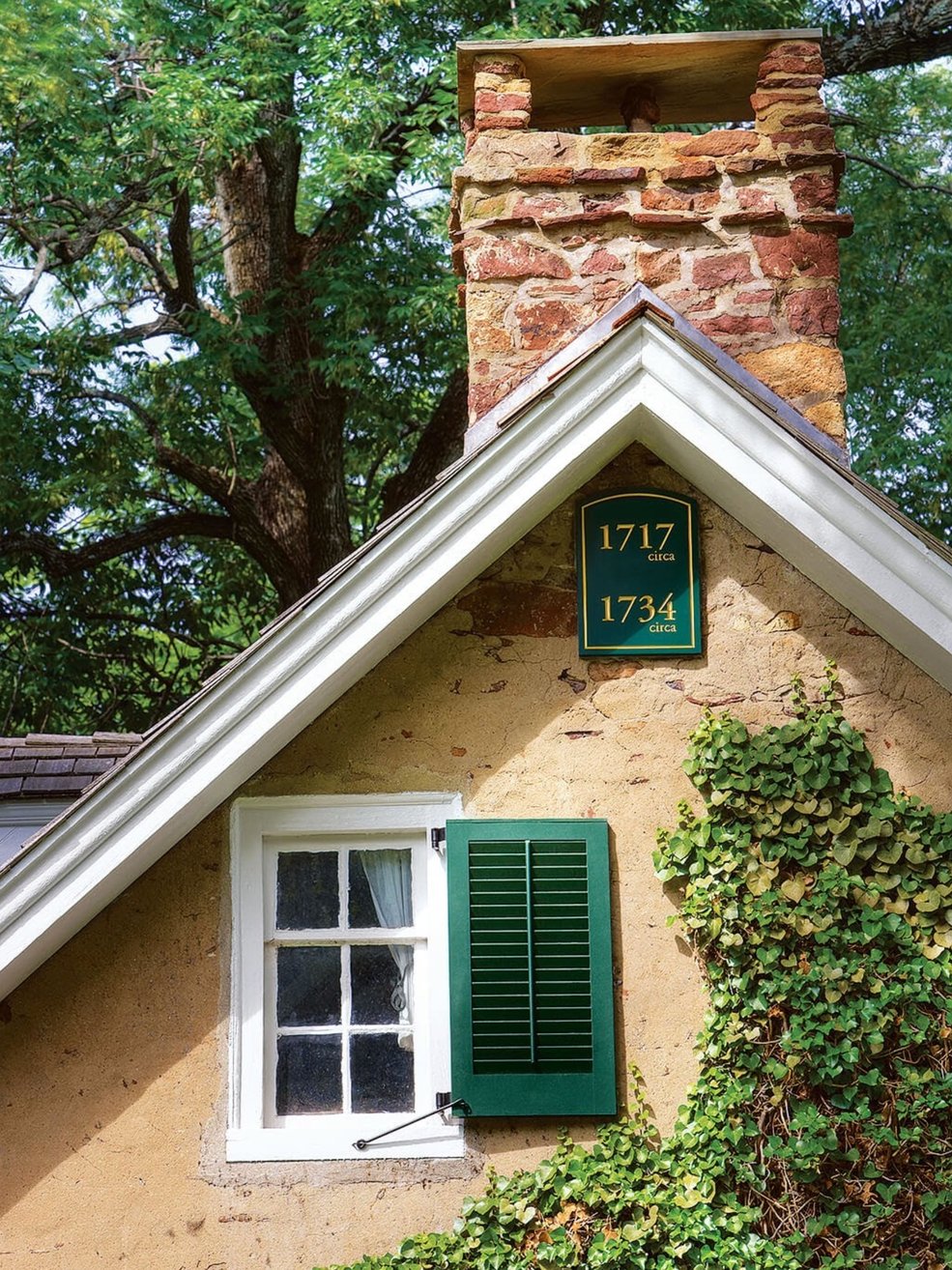 These beautiful emerald shutters prove that you don't need to modernize everything to get the perfect look. This cottage's charm lies in its historical features and design choices. A classic and functional louvered shutter adds an incredible amount of fairytale-like charm. The emerald green color looks stunning against the earth-toned home and pairs perfectly with the creeping vine.
5. Stark White Shutters and Classic Configurations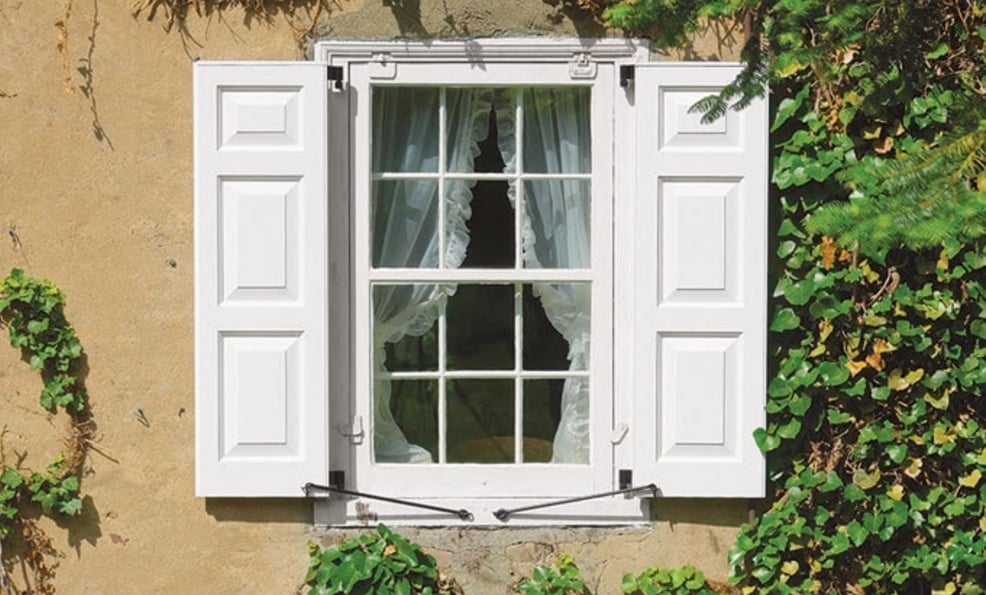 These shutters are from the same cottage above, and rather than sticking with the emerald green, they made a great choice to switch to a traditional white paneled shutter to match the delicate white curtains. By sticking with traditional choices, this cottage is perfectly cozy and historically accurate with unique accents of character.
6. Black Shutters for Serious Contrast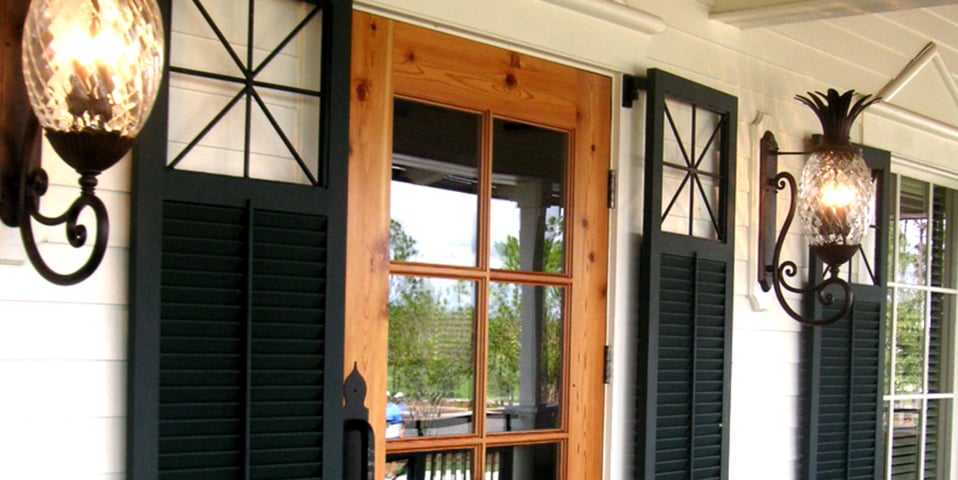 The contrast between black, white, and light wood here doesn't seem like it should work, but look at how amazing this neutral color combination is! The ornate lights pair perfectly with the louvered shutters, and the custom design at the top helps bring this modern farmhouse aesthetic together.
7. Mission Style Shutters and Brick Homes for the True Craftsman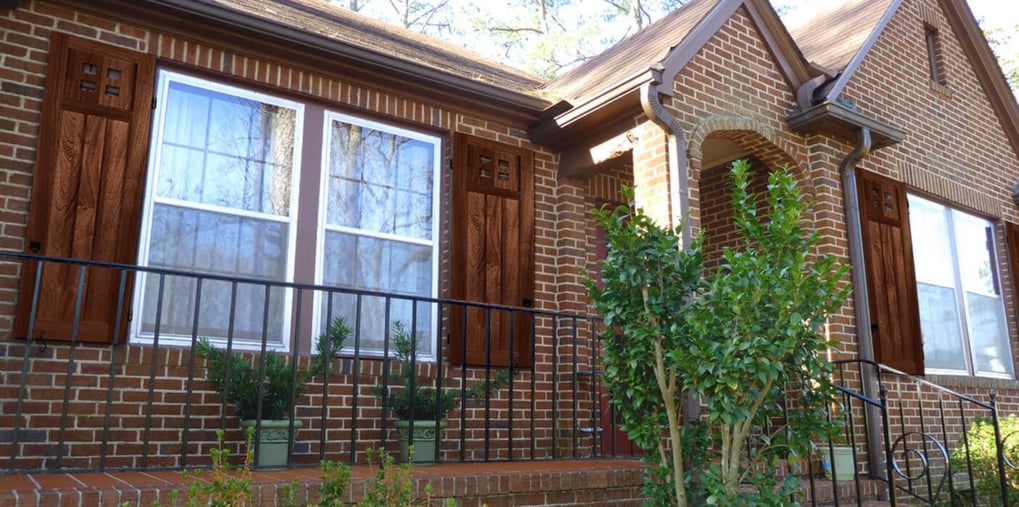 Mission style shutters are iconic. They're commonly referred to as craftsman style shutters, and it's easy to understand why. They're geometrically interesting and impeccably designed. When paired with brick homes like this one, they're truly classic. The clean-lined red bricks here are the perfect backdrop to showcase Mission-style shutters.
8. Stained Wood for a Natural Elegance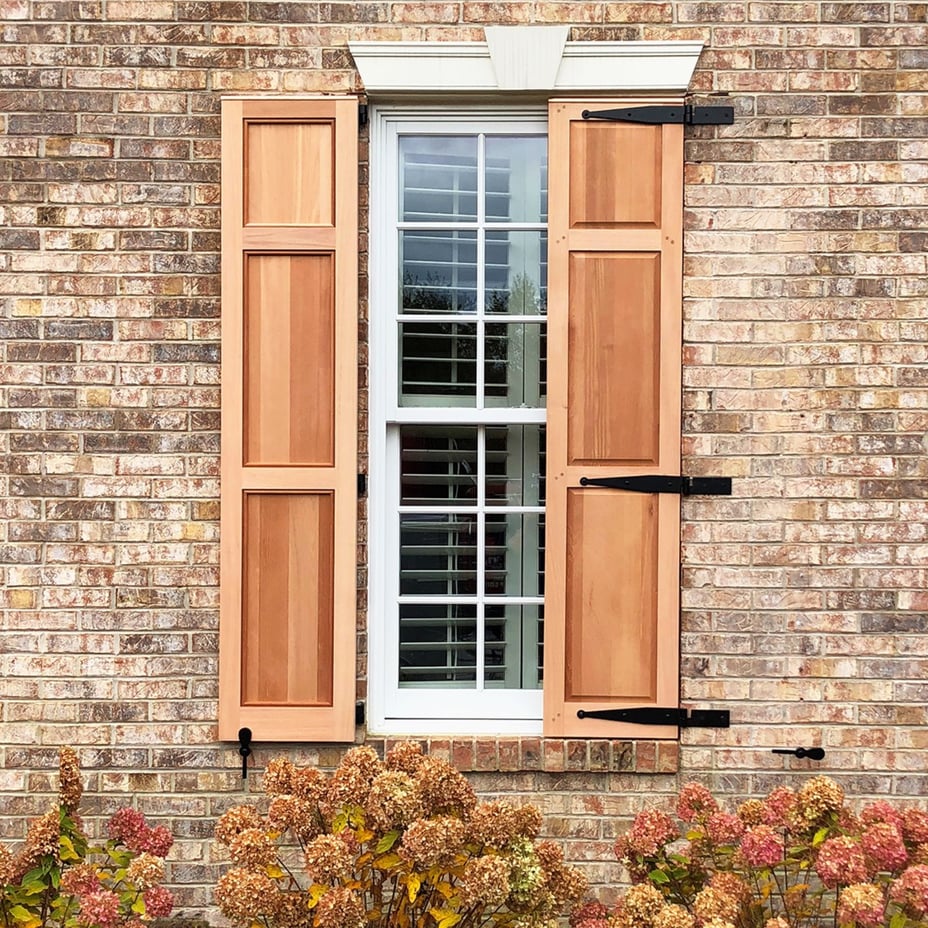 These stained wood shutters look perfect against the brick backdrop. Stained finishes are ideal for subtly bringing out the natural beauty of the wood. Stained wood shutters are an elegant way to enhance a home's appearance without drawing too much attention. These multi-paned, white windows remain the focus, and the rustic looking shutters do a terrific job at drawing your eyes to them.
9. Historical Touches to Make a Cottage Feel Extra Cozy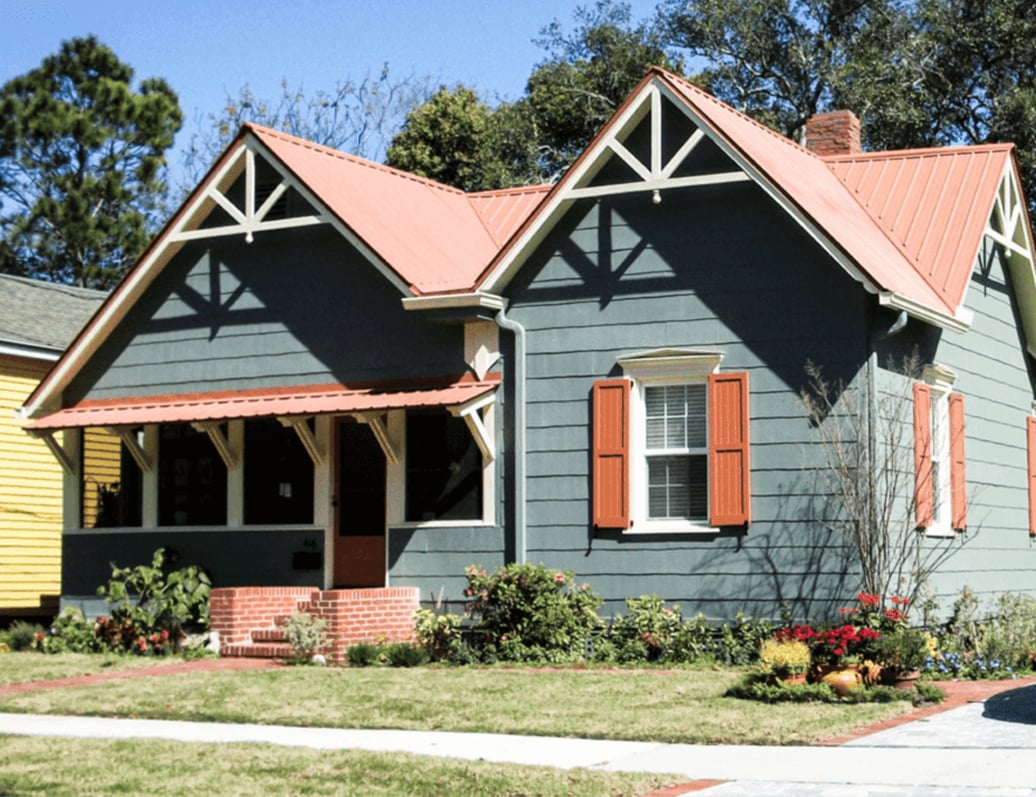 This blue cottage style house nails the complementary color scheme, with decorative gable trim, red brick steps, and a barn-like roof. The historic, framed board & batten shutters are clearly customized to fit this house. It looks like they were built as part of the home itself and not added on later. The choice to match the shutter color with the roof and brick was fantastic. By sticking to the color story, this blue cottage stays tastefully charming.
10. Enhance Your Custom Windows with Arch-Topped Shutters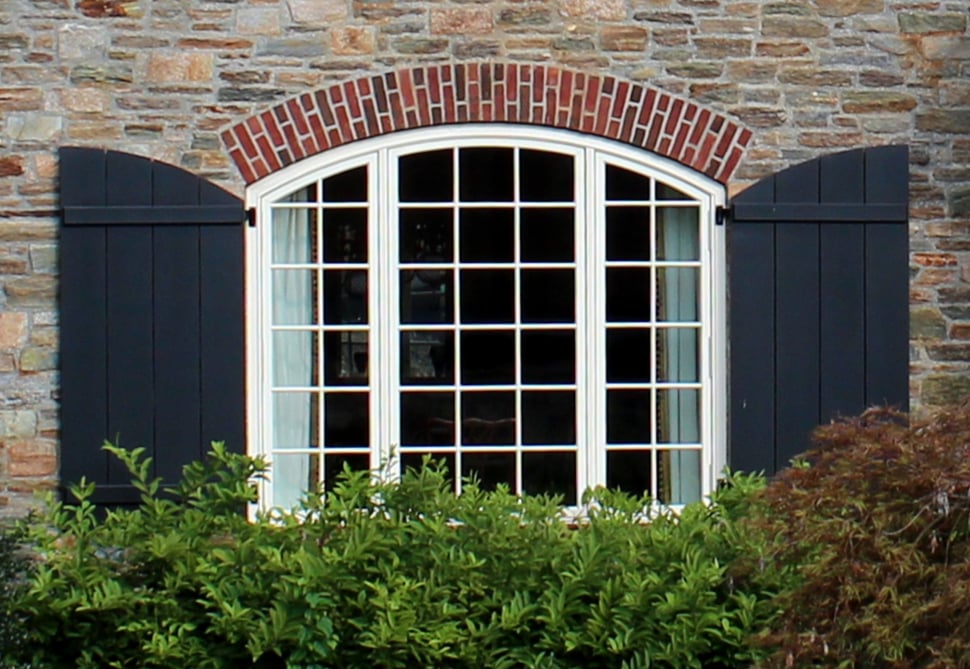 This window's curve is charming and traditional. These arched, board and batten shutters add the perfect whimsical and historical touch to this castle-like window.
The natural features, colors, material choices, and shapes work together seamlessly to bring this look to life, and these black shutters tie everything together.
How to Shop for the Best Rustic Shutters
With farmhouse and craftsman home styles rising in popularity around the country, rustic shutters can give new homebuyers exactly what they're looking for. The styles above are a great way to add character, charm, and curb appeal to your home, whether you're selling or settling down.