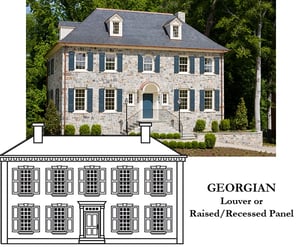 Not all exterior shutter styles and house styles pair perfectly but lucky for you, the experts at Timberlane can help you in the right design direction.
Named for England's King George, this style of home keeps it regal. Georgians are typically known for their five windows across, double chimneys and symmetry. This style was found along the Eastern seaboard, which was still very English inspired at the time.
Today, Georgians can be found both in the North and South, the latter of which typically includes brick enhanced doorways. Whether, it's louvered or Raised/Recessed Panel, the exterior of these homes definitely deserve the royal treatment.
Curious which shutters belong on the style of your home? Find your home style here.
And as always, if you're stuck on styles give our Sales and Design Consultants a call. 800-250-2221.