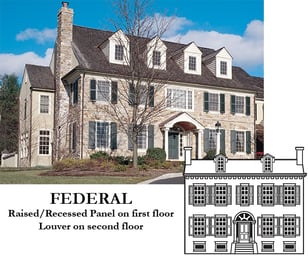 Traditionally, Federal style homes are square or rectangular and two or three stories high. Inspired by the great temples of ancient Greece and Rome, Americans began to build homes with Palladian windows, circular or elliptical windows.
Federal homes were thought to be more restrained and delicate in comparison to the Georgian style homes that preceded them. You can find this style all along the East Coast from Boston to Savannah.
Exterior shutters come in many styles, just like homes. Shutter styles commonly found on Federal homes are Raised or Recessed panels and louvers.
Click Here For More House Styles.
For more information, contact a Sales and Design consultant at 800-250-2221.