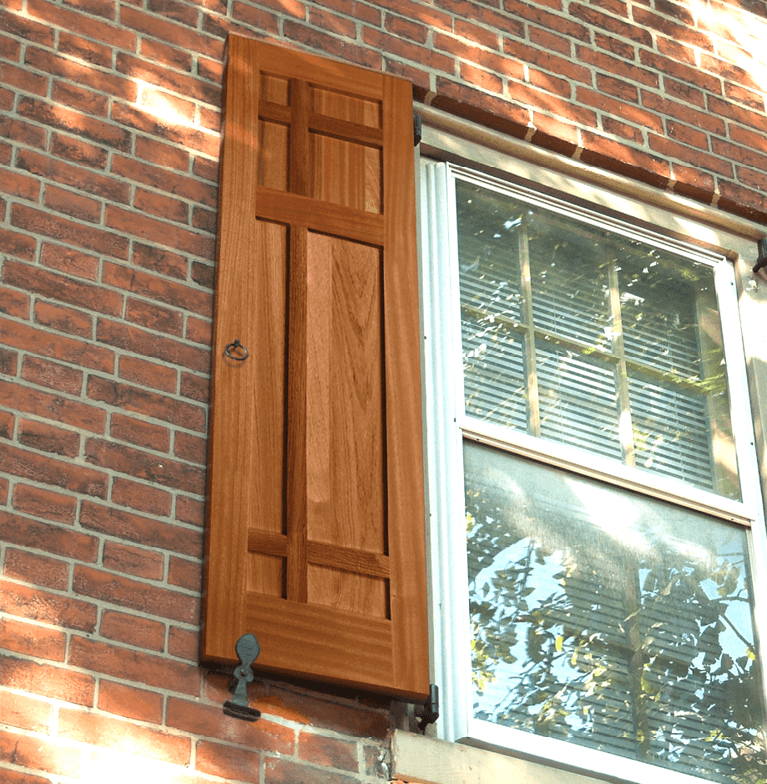 Craftsman style architecture began as a celebration of what humans can create with their hands, and it's no surprise that the cozy warmth and natural beauty of Craftsman style homes remains immensely popular today. No matter how much the world changes and technology evolves, things crafted with care and painstaking attention to detail will never go out of style.
Homeowners who embrace the Craftsman ideals care about authenticity. From the quality of the building materials to the functionality of the design, a Craftsman home is built around what is well-made and real — the stuff that really gives a house its heart.
That's why, when it comes to creating the perfect Craftsman look for a home, Mission style exterior shutters are a must.
While any type of custom-made exterior shutters can be a wonderful accent for a Craftsman home, depending on how modern or traditional you want to go, Mission style shutters have long been considered the perfect match for this earthy and uncomplicated architectural style. In fact, they're commonly referred to as "Craftsman shutters" because they reflect the Craftsman emphasis on simple, clean, geometric lines.
Come along as we delve into the history behind this pairing and take a look at what makes Mission style shutters so special.
The History Behind Craftsman Homes and Mission Style Shutters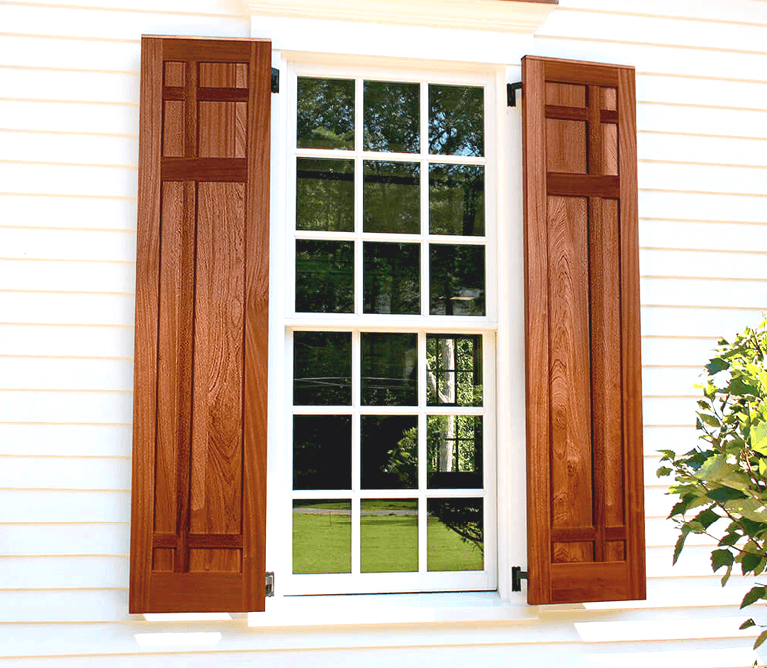 Inspired by the British Arts and Crafts Movement, which rebelled against the ideals of the Industrial Revolution, American architects began designing Craftsman style homes at the turn of the 20th century. Often referred to as "bungalows," Craftsman style homes were initially popular in California but soon started appearing all across the country, as Americans were increasingly turned off by the machination and mass-production they saw taking over society. The Arts and Crafts Movement was all about moving away from the ornate Victorian-era aesthetic and getting back to the basics — the actual craft — of craftsmanship.
English activist William Morris is considered the founder of the Arts and Crafts movement. In the U.S., designer Gustav Stickley published a magazine called "The Craftsman" that became a huge influence behind the movement's spread. American architects seized on the Arts and Crafts ideals, starting with Charles Sumner Greene and his brother, Henry Mather Greene, in the late 1800s and carrying through to Frank Lloyd Wright in the early 1900s. Wright's iconic designs are more commonly classified as "Prairie Style," but the Arts and Crafts movement was one of his chief inspirations.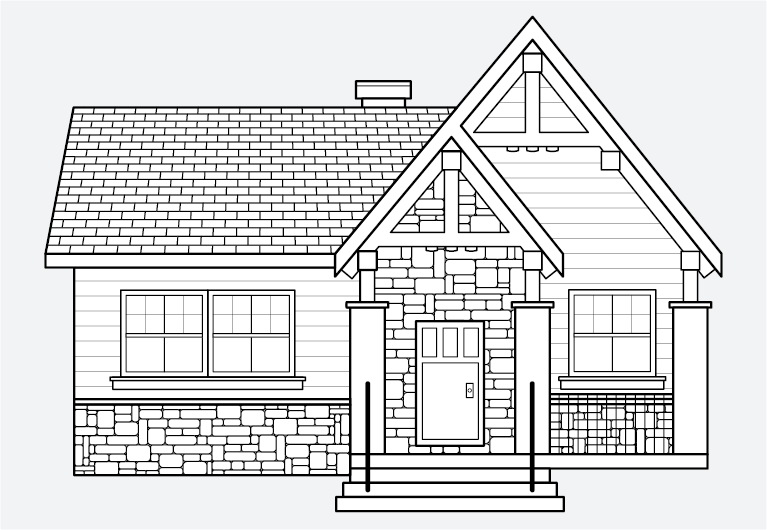 Craftsman style homes generally feature these characteristics:
Low-pitched roof with front-facing gables and deep, overhanging eaves
Horizontal layout
Heavy use of natural materials such as wood and stone
Exposed beams on exterior and interior
Spacious front porch with thick, tapered columns (a signature feature)
Earthy color scheme
Large picture windows, sometimes featuring stained glass
Because of its roots on the West Coast, home to Spanish missions during the colonial era (1769 to 1833), the Craftsman style came to be synonymous with Mission style design.
That's where Mission style shutters come in. With simple, clean, geometric lines, Mission Style shutters made from premium wood embody the Craftsman ideals. And because Craftsman homes are designed with both beauty and functionality in mind, there is perhaps no better finishing touch for these homes than functional custom shutters.
What Options Are Available For Mission Style Shutters?
While the Arts and Crafts aesthetic is known for its simplicity, Mission style shutters are anything but plain. Commonly crafted with premium wood or maintenance-free PVC, Mission style shutters can be finished in a wide spectrum of colors and come in a number of different styles, offering a homeowner ample opportunity to show some artistic flair.
Here's an example of four different Mission style shutter profiles, each channeling the Arts and Crafts vibe in its own unique way.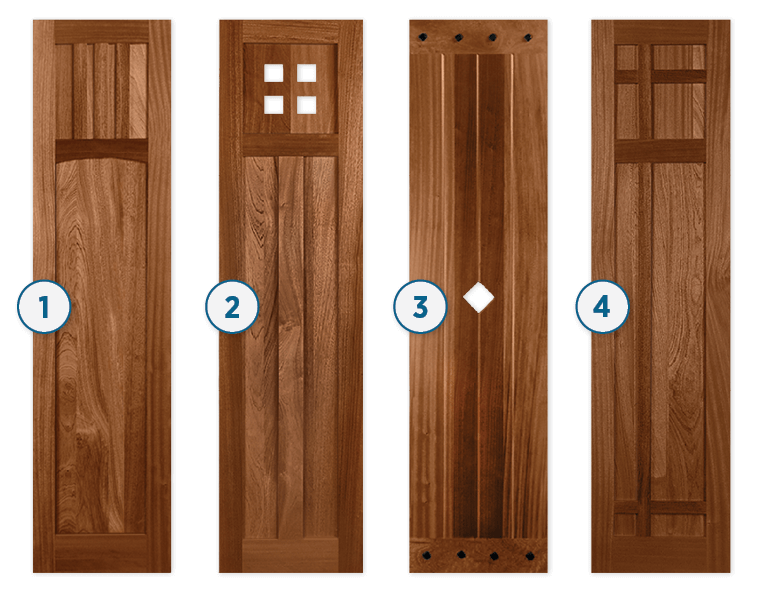 1: This symmetrical framed panel shutter features an upper panel field with three vertical spindles, supported by an arched mid-rail.
2: The defining feature of this shutter is the checkerboard design cut into the top field. That eye-catching detail is nicely balanced by the single vertical spindle running down the middle of the lower field.
3: A Mission style variation of the Board and Batten shutter, this option blends a rustic look with artistic detailing. Horizontal battens at the top and bottom edges of the shutter are adorned with clavos pins, or faux nail heads, and the body of the shutter is etched with a V-groove pattern with a diamond cutout in the center.
4: This framed panel shutter features appliques in the top and bottom fields that are arranged in a striking geometric pattern.
With their clean lines, their warm, natural wood finish and their stunning craftsmanship, all these shutter styles capture the spirit of the Arts & Crafts movement. Any well-made, functional wood shutters can complement a Craftsman home, but Mission style shutters are your best bet for a fully authentic look.
Creating The Quintessential Craftsman Exterior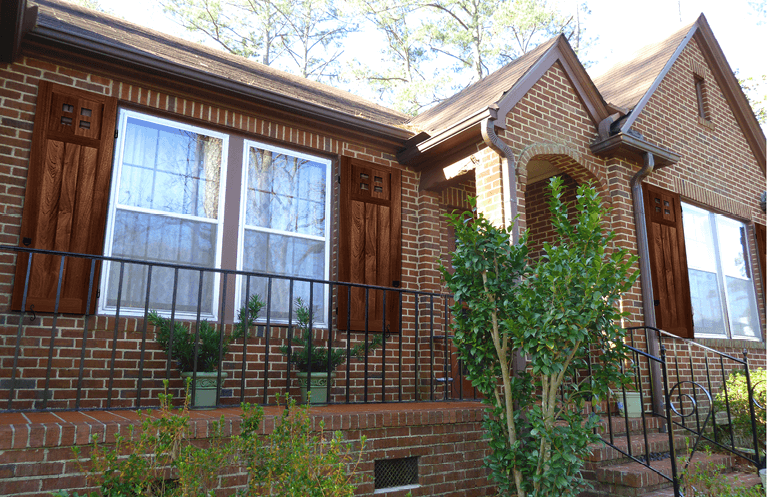 Whether or not you have a textbook Craftsman home, Mission style exterior shutters are a perfect way to achieve the simple, warm, natural look that's so popular in home design today. Mission style shutters have deep roots in traditional architecture but possess a timeless appeal that's just as impactful today as it was more than a century ago. In fact, the beautiful simplicity of Mission style shutters can add instant curb appeal to most any modern home, from a cottage to a Cape Cod.
To see how this shutter style can elevate the look of your home, explore our photo gallery.
Sources:
https://en.wikipedia.org/wiki/American_Craftsman
https://www.housebeautiful.com/design-inspiration/a25227127/craftsman-style-houses/
https://www.hgtv.com/design/decorating/design-101/arts-and-crafts-architecture