For over 25 years, Timberlane has set the standard for quality in exterior shutters. Today, our customers know that when they want high-quality, handcrafted, completely customized shutters, they come to us.
Did you know we also sell high-quality, handcrafted garage doors? If you're looking for custom garage doors (including mahogany garage doors), you've come to the right place.
Benefits of Mahogany Garage Doors
What makes our garage doors so unique? While we offer many material options to choose from, these six benefits are just a few of the top reasons many homeowners choose Timberlane mahogany garage doors.
1. Handcrafted and Custom-Made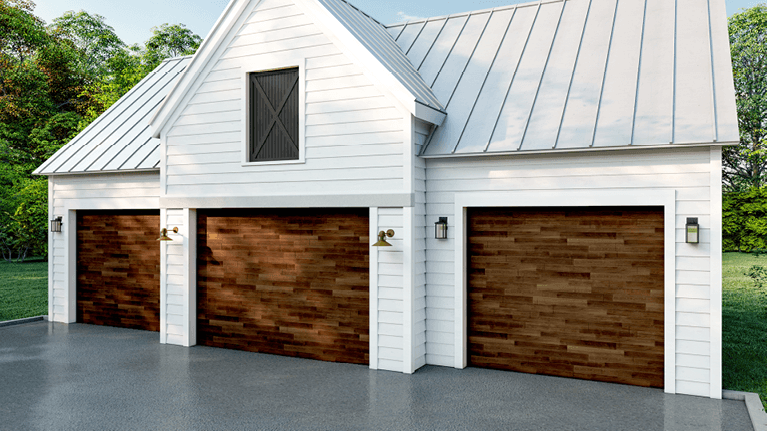 We take pride in the fact that we don't use stock sizes or configurations. All of our mahogany garage doors are handcrafted and custom-made. As a homeowner, this means you never have to worry about lousy craftsmanship. You also never have to worry about having the exact same garage door as your neighbor.
At Timberlane, our commitment to handcrafted, custom-made garage doors has made us the top choice for people who believe details and quality matter.
2. Highest Quality Wood Species and Materials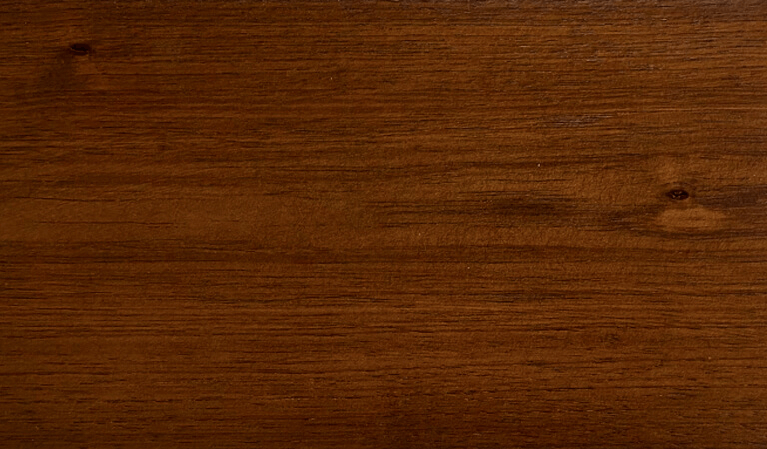 Our commitment to quality doesn't stop with our craftsmanship. It extends to our materials, too. We craft all of our garage doors from the highest quality woods. In fact, we have artisans on staff who hand-select all of the wood to make sure we meet our customers' expectations of excellence.
For our mahogany garage doors, we use a Sapele Mahogany. It's a luxurious and dramatic wood species whose grain looks beautiful, stained, or painted. It's one of the most water-resistant and strongest woods on the market, making it a highly sought-after species, and the only one we'll use for our Mahogany garage doors.
Aside from the wood, all the other materials we use have to pass our stringent quality testing as well. You will never have to worry about cheap materials because we only use top-notch materials from start to finish.
3. Uniquely Manufactured for Optimum Durability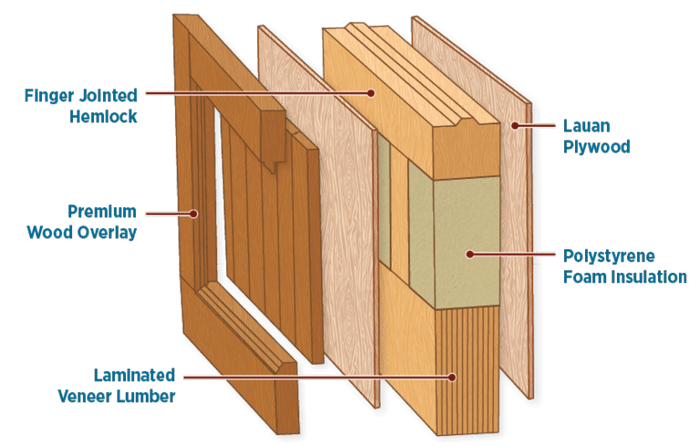 We build our doors with beauty in mind, but we also understand that garage doors need to be durable and they need to last. That's why we've created a manufacturing process that offers the best of both worlds. You don't have to sacrifice beauty or function.
For our all wood doors, we do this by building a strong core consisting of a laminated veneer lumber frame, finger-jointed hemlock, polystyrene foam insulation, and mahogany plywood. This core creates the durability that's needed for a long-lasting, sturdy garage door. Customers can choose a wood grain that fits their aesthetic preferences for the overlay.
4. Different Style Collections Available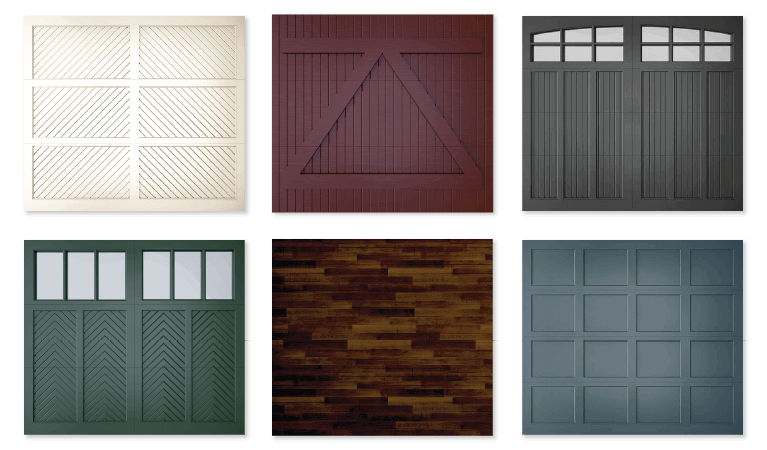 At Timberlane, we have five different style collections for our wooden garage doors. These four styles are:
Classic: A conventional style that emphasizes simplicity and elegance. It's a style that works well on nearly any home.
Carriage: A swing-style garage door that offers the authentic look of an old-fashioned carriage house that functions as an overhead garage door.
Trifold: A charming style inspired by the old-world style.
Farmhouse: An instantly recognizable style that adds a hint of rustic character to any home.
Contemporary: A modern design that is known for its clean lines, sophisticated vibes, and elevated look.
These style options are simply style choices you can start with, because as you'll see with the next benefit – you control every detail.
5. You Control Every Detail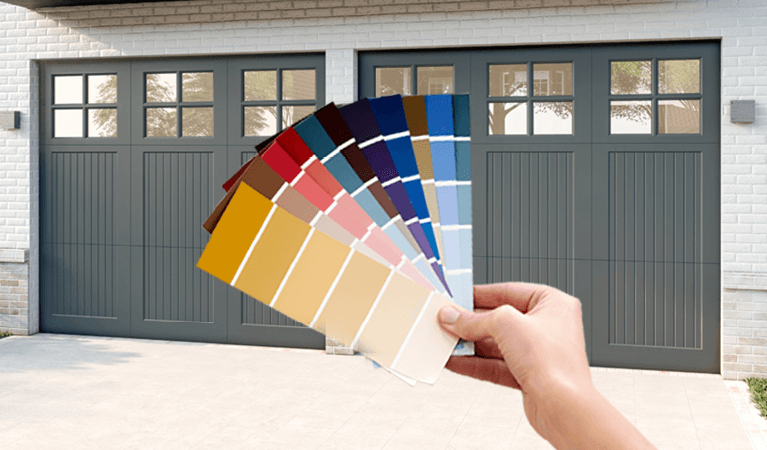 In addition to our five style options, all our garage doors come with endless customization options. From panel designs, overlay materials, finishes, colors, windows, hardware, and more – there's no shortage of details to customize your mahogany garage door.
For instance, you can choose between raised, vertical, horizontal, herringbone, flat, and chevron panels, and you get to decide how many panels you want and where they go. You can even have custom panels with totally unique designs – and that's just the panels.
If you want your garage door to have windows, you can decide their shape and whether they're insulated, textured, tinted, or more. There are countless other options and opportunities to customize the look of your garage door.
If you can dream it, we can make it happen.
6. Truly Customizable to Fit Your Home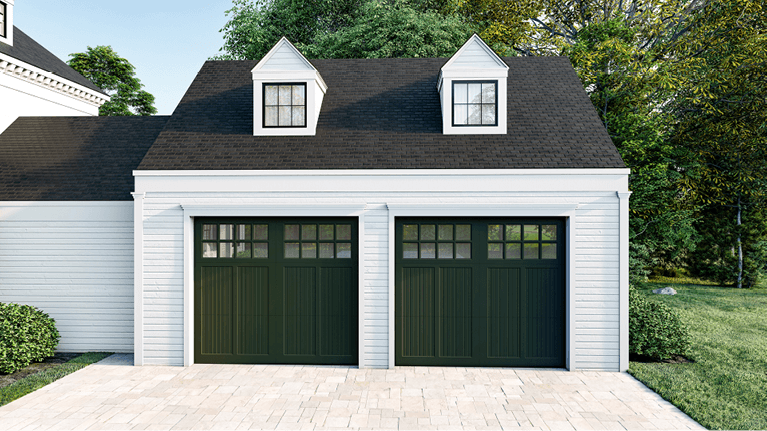 The customization and ability to control every detail are beneficial for many reasons. One of the most important is that you can find a garage door that fits your home's existing design. You spend a lot of money, time, and energy getting your home to look how you want it to look, and the garage door is an important component of your design.
Our customization options ensure that your garage door matches the rest of your home's exterior. We believe your garage doors and shutters should complement and elevate your home's design – not detract from it. Our customization capabilities make sure that happens.