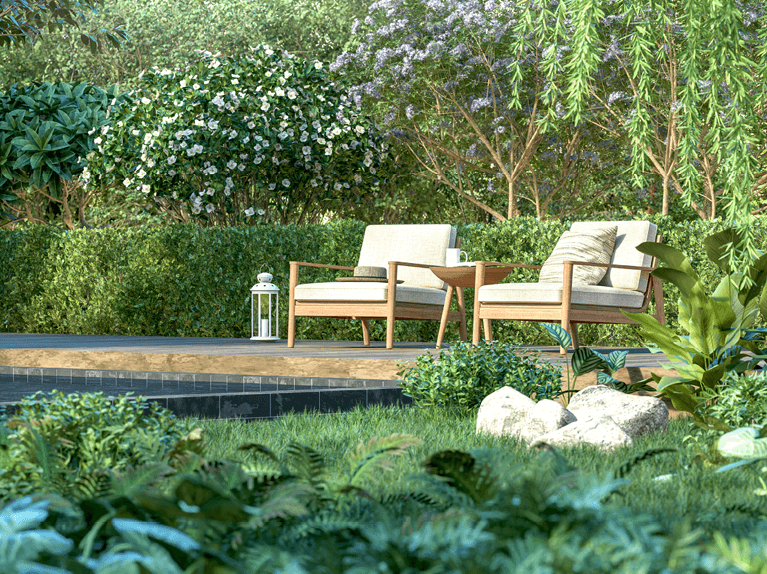 Outdoor living spaces have never been more en vogue. After a year spent social distancing, we have a renewed appreciation for nature, and we've come to embrace the fresh-air oasis as a vital component of our homes.
Quinn Hannum is in the perfect position to tackle this trend. As a seasoned landscape designer, she has created everything from lush backyards and rooftop gardens in New York City to luxury suburban properties. Her expertise in architectural planning and interior design allow her to create unique outdoor spaces that are both functional and beautiful, and can be enjoyed in any season throughout the year.
Here are Quinn's tips for designing a serene outdoor escape of your very own.
Step One is creating a sense of intimacy outdoors.
"It's human nature to relax when we feel like we're in our own private environment, and to tense up when we feel like we're on display," Quinn says. "So, whether you share a property line with another neighbor or have windows from another building peering at your rooftop garden in the city, the first thing to do is to identify the sightlines that need to be enclosed in order to create a sense of intimacy. I suggest evergreen options that will stay green all year round to fill in sight lines."
Some nice ways to make your space feel more private include:
Hedges
Cypress trees
Clumping bamboo (for container gardens only)
Fencing
Pergolas
"If you need inspiration for how to do this well, look no further than The Hamptons, which is famous for privacy hedges that create the perfect backdrop for a lush private oasis," Quinn says.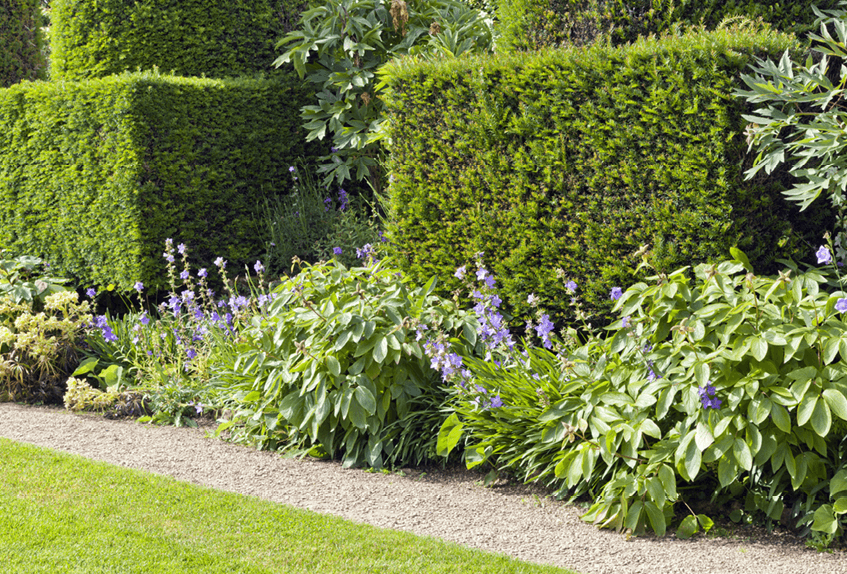 Look at your outdoor space as an extension of your interior living environment.
When Quinn takes on an exterior design project, her goal is to create an easy, effortless flow from the inside of the home to the outside.
"Think of your exterior space as a continuation of the interior, and pay close attention to the views that are framed by each window," she says. "Each window frame is an opportunity to create beautiful focal points outside to enhance your interior environment. They should be complementary, with sightlines that reinforce one another. Avoid abrupt departures in color concept and style and aim for continuity. Sometimes, I'll even use a painting or a pillow color inside as the inspiration for which colors to use outside. It creates a really beautiful effect."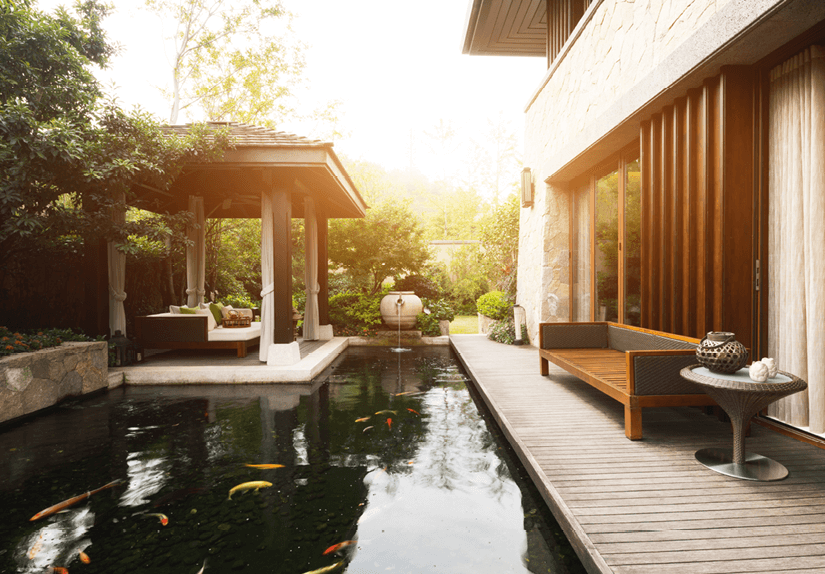 When it comes to paving materials, decks, seating and upholstery fabrics, lighter is usually better.
"Lighter colors reflect the light and don't absorb as much heat," Quinn explains. " If you're planning an entertainment area in full sun, go with lighter surfaces so they stay comfortable to sit and walk on during the summer. Darker surfaces get really hot in the sunlight and can even burn you. Keep this in mind while selecting deck finishes, paving materials, upholstery fabrics and furniture frames. The only place to go darker in your color scheme is in areas protected by shade, which don't get direct sunlight."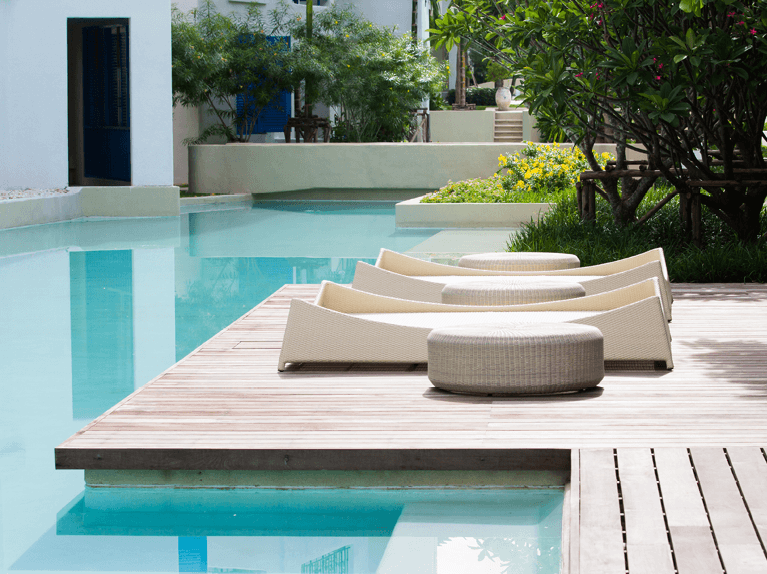 Consider how the space will function.
Do you love to entertain big groups of guests, or are you looking for a quiet, relaxing escape from the outside world? These kinds of practical considerations should inform your design.
"I ask my clients to think about the way they live, what activities they plan to do outside, and how many people they would like to entertain," Quinn says. "Whether that's 10 people, 100 people, or just themselves and a significant other, this will make a huge difference in the way that I plan their exterior space. It's helpful to make a program filled with your wish list, so that you can begin to allocate space throughout the property to accommodate those things."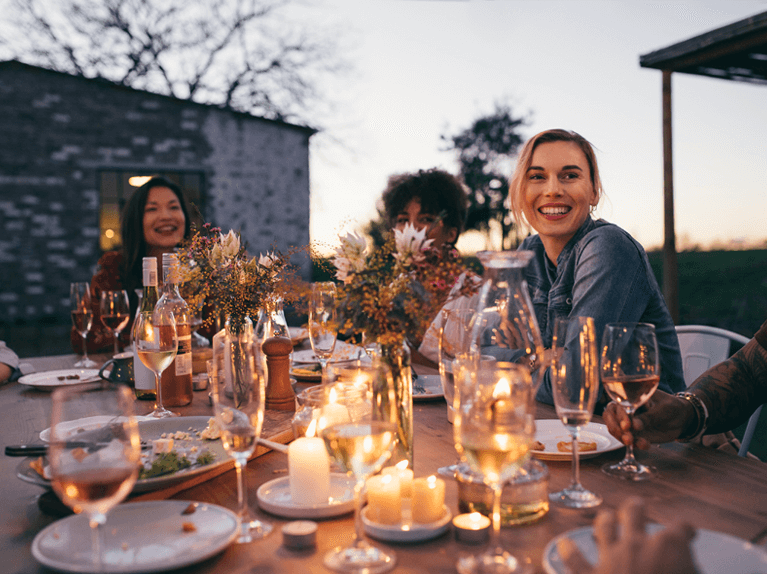 Plan it out beforehand.
Everything you place in your outdoor space should be scaled so that it relates properly to the objects surrounding it.
"Your exterior space should be balanced, and you can achieve that by getting a survey and actually planning out the layout with a designer," Quinn says. "This way you can create a floor plan that acts as the guide for the proper dimensions of every piece of furniture, every walkway, every planter, and so on. It will also tell you how many plants you need to purchase in order to properly fill the space out. If you don't plan it out, more often than not, furniture will not be the right scale, the property will not be well-defined, and the returns to the garden center will become many."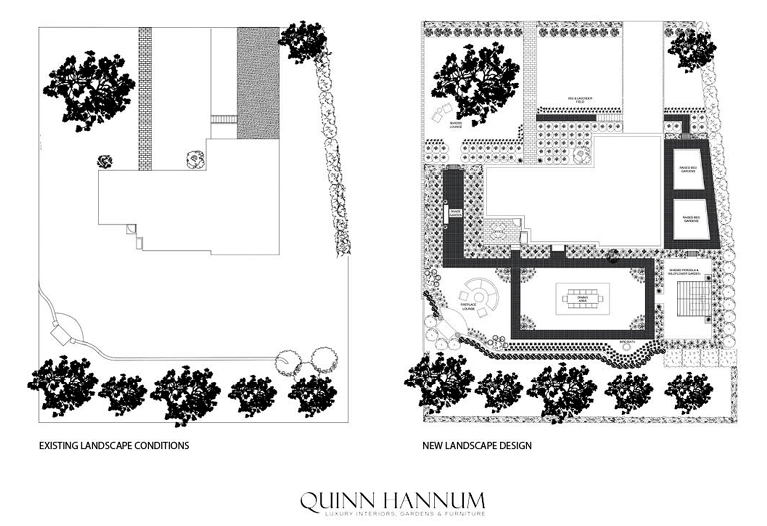 Create exterior "rooms" for a multi-dimensional experience.
Just as your home's interior has various rooms devoted to different activities, Quinn suggests diversifying your outdoor space. For example, one part of the space might serve as an exterior office, while another is set aside as a dining area, and yet another is a living room area with a fireplace. You might even include a lounge area that feels like a cozy bedroom.
"It's beautiful to experience a multi-dimensional outdoor space that reveals itself to you as you walk through it," Quinn says. "All of the world's most famous gardens do this by defining distinctive rooms with their own character. Two of my favorites are The Alhambra and The Alcazar Gardens in Spain. You can frame out rooms by using hedging, arbors, flowering bushes, paving materials, topiaries, and seating arrangements."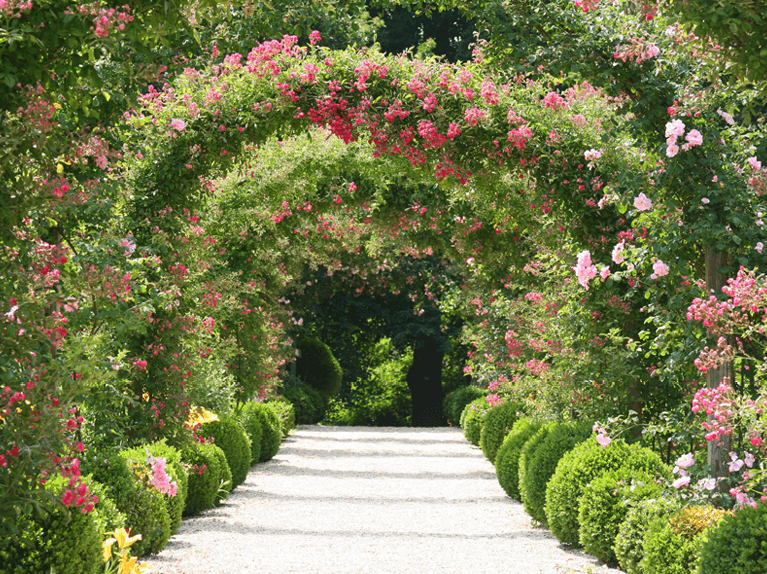 Play with textures.
"Balancing texture is one of the most impactful design tools that we have to play with. There are wet textures and dry textures and you need them both to create a truly beautiful space."
Examples of wet textures are:
Reflecting pools and other water elements
Shiny metal
High gloss wood finishes
Shiny plant leaves
Glass
Polished stone
Examples of dry textures include:
Mulch
Natural rock
Soil
Matte wood finishes
Leather stone finishes
Unpolished concrete
Matte upholstery fabrics
Matte metal finishes
"In order to ensure your scheme will be successful, I suggest gathering samples of your outdoor fabrics, wood finishes, hardscapes, and even grouping your plants together on a few wagons at the garden center to see how the selections compliment each other before purchasing," Quinn says. "Play with it, until it feels right."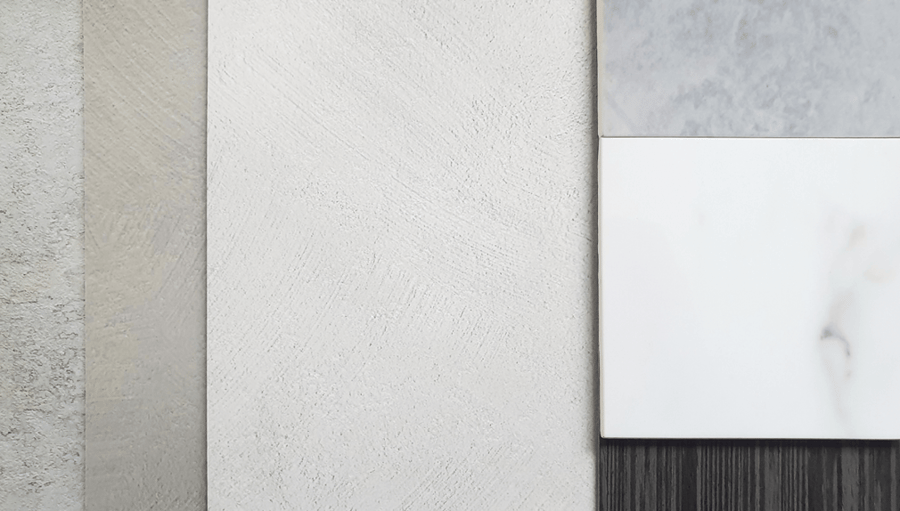 Consider the architectural style of your home, and let it influence the landscape design.
"Think about how you can complement the facade and style of your home with the colors of the foliage, blooms, hardscapes and furniture selections," Quinn says. "If you have a more contemporary home, limit your color palette to two colors and embrace other elements of design, like repetition, to create visual interest. If you have a more traditional home and want an English garden, curate a color palette that compliments your home's exterior beforehand, so it doesn't become overdone and chaotic."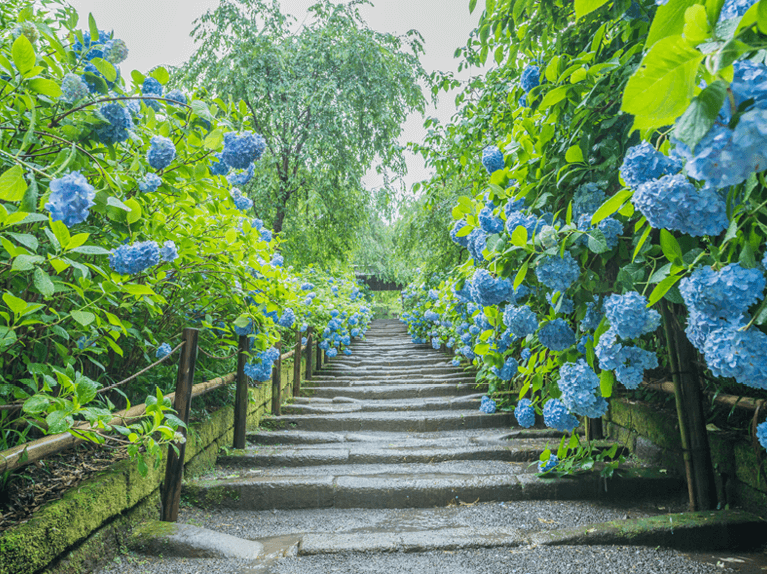 Account for a change in seasons.
Don't limit your enjoyment by designing a strictly fair-weather outdoor space. Take advantage of everything Mother Nature has to offer, whether it's spring, summer, winter or fall.
"Choose a plantscape that brings you something beautiful to look at throughout the year," Quinn says. "Research bloom cycles of different plants you're considering so that you can incorporate selections that begin blooming in the early spring, and even bloom into the colder months. When winter comes, evergreen plants become the show, so incorporate evergreens in various shapes, sizes, and colors to keep the outside alive and visually interesting."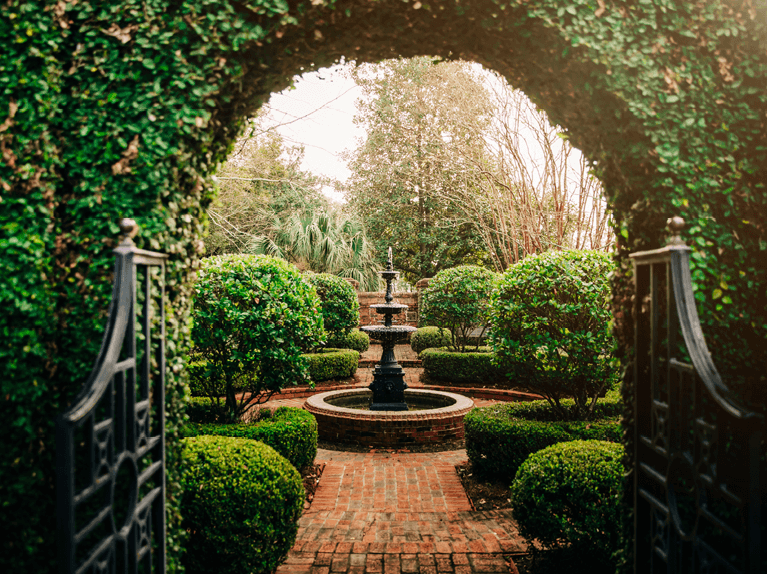 Light It!
"Architectural lighting has the power to transform a landscape or city garden into a magical place at night," Quinn says. "Use uplighting to highlight trees, taller shrubs, and the architectural details of your home, as well as down lighting to highlight paths and lower growing plants. If you like a more whimsical look, add light strings and candles for a touch of romance. I opt for 2700k-3000k LED options because the color temperature is warmer, and nicer on the eyes than cooler versions above 3000k. They also save so much energy which means lower electric bills, and they last longer than any other lighting option."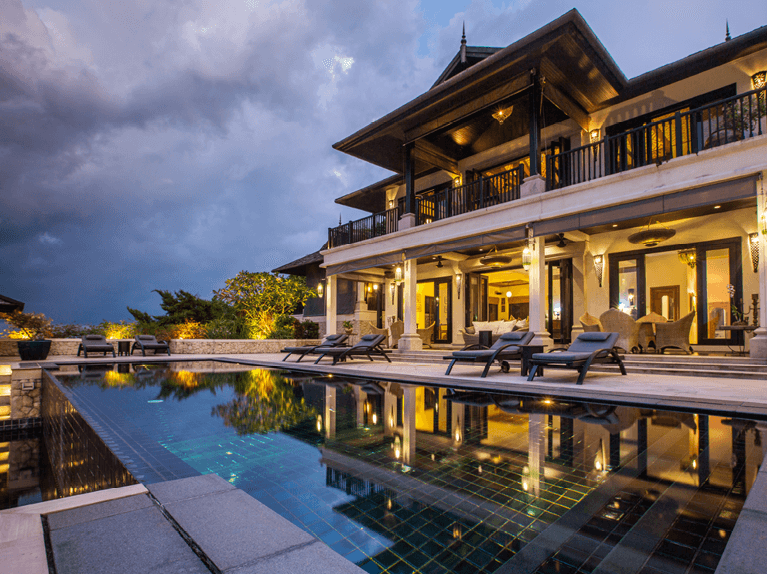 You don't have to sacrifice style for comfort.
This outdoor oasis might be a place to spend leisure time, but just because you're setting a more casual mood for a space doesn't mean you have to dress everything down.
"I think of furniture as functional sculpture. It should be comfortable and have style," Quinn says. "If you like the lines of a piece, go to the showroom and test it out to see if it's comfortable for you. If you're creating custom furniture for the outdoors, try out different cushion fills, touch the fabrics, go to the workshop to see the mockup, and experience the piece in person."
You can do a lot with a little bit of space.
The right design can transform a city rooftop into a beautiful, functional outdoor space that brings just as much joy as a sprawling suburban backyard or a countryside estate. For Quinn, smaller spaces are a golden opportunity to let creativity soar.
"It doesn't matter how many square feet you have outside," Quinn says. "If you're blessed to have a few, you should be enjoying it. Everything is a game of inches in my industry, and I can make miracles happen with 20 square feet."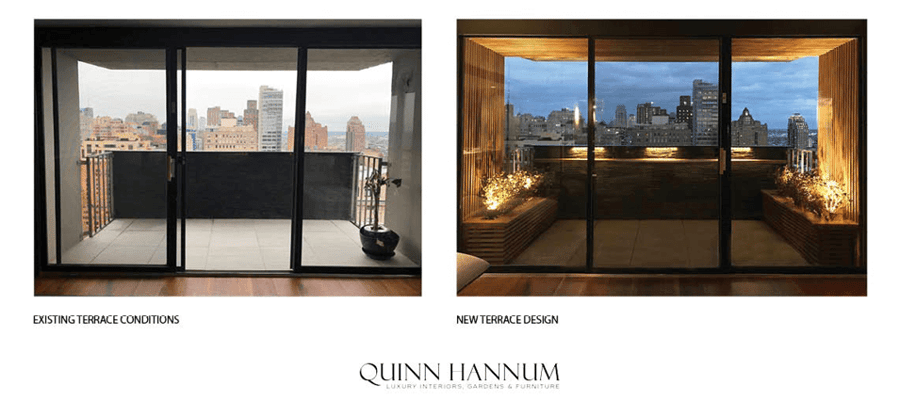 The Ideal Outdoor Living Space For Your Home
Luxury outdoor living spaces have been one of the hottest home design trends of the pandemic era, and we don't see them going out of style anytime soon.
Whether you're looking to expand your outdoor entertaining capabilities, or carve out a serene little garden spot for fresh air and reflection, design your space with purpose and a well-thought-out plan. A space that suits your personal style, caters to your unique lifestyle, and is built for year-round enjoyment can completely transform how you and your loved ones spend time at home.
If you loved Quinn's expert tips for outdoor spaces, keep checking our blog page as we share more of her design expertise, or visit her website at www.QuinnHannum.com.
About Quinn Hannum
After beginning her career in Europe, and later joining a World's Top 100 Architectural Firm in Manhattan where she designed exclusive residential and commercial development projects, Quinn Hannum launched her own interior architecture and design company, serving clientele in New York City and The Hamptons. Now, Quinn is bringing her international expertise and love of the finest materials and artisan craftsmanship to Philadelphia.
Quinn's thoughtful and intuitive design approach begins with defining well-planned architectural spaces and details that anticipate clients' needs and wants before they even know they have them. Her services expand to include luxurious lighting layouts, fine art curation, intimate landscapes for the city and suburbs, and custom furniture designs and built-ins, which feature precious techniques, such as chinoiserie lacquer art, marquetry inlay, specialty metal finishes and rare stone selections. To add a chic element of the unexpected, Quinn organizes shopping excursions to Paris with her clients, to visit ateliers and the famous Marché aux Puces, which is the destination for unfathomably beautiful artwork, lighting, antiques, furniture, fabrics and decorative relics with a story.
Quinn credits the success of her innovative and sophisticated style to her collaborations with the most highly respected artisans, ateliers and galleries throughout Europe and The United States, some of whom create pieces for luxury brands like Cartier, and the homes of A-list celebrities and international royalty. Together, Quinn and the artisans elaborate over the perfect finishes, proportions, accents, and comfort level of each piece they create, all of which are tailor-made to suit each client.
For inquiries, please visit www.QuinnHannum.com and follow on Facebook and Instagram. For client testimonials and other great video content, subscribe to Quinn's YouTube channel.