After more than 10 years of planning and research, a family's vision for their historically accurate forever home finally came to life, thanks to Nautilus Homes.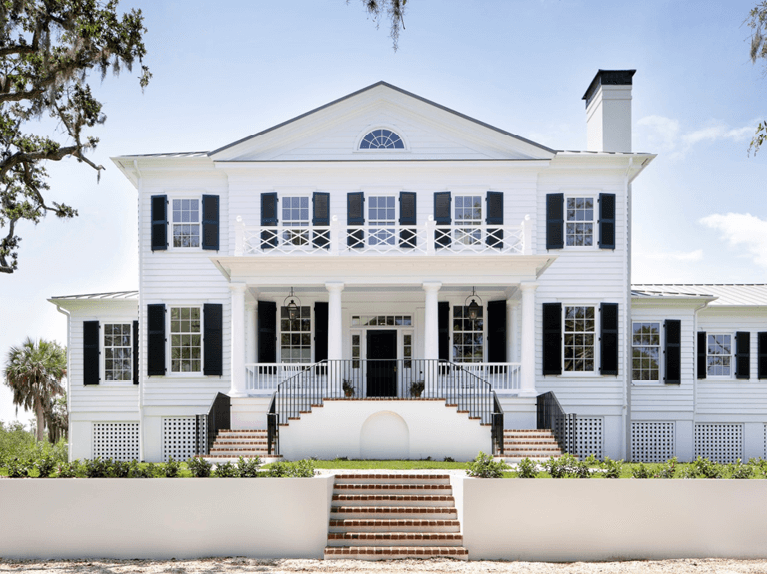 Photo Credits: Jessica Glynn Photo
This is not your typical "new home build" type of story. This is the story of a vision rooted deep in a bygone era, an idea that took more than 10 years of planning and research to bring to life. This is the story of Old Grove, a stunning 21st-century forever home that could easily pass for a historic landmark.
Old Grove started as an innovative concept in the minds of two special homeowners. They wanted an antebellum-style estate that blended authentic traditional details with the crisp feel of a brand new build.
"The design of it is very historic in nature, but we did want it to be really modern in a light and bright sort of sense — a very clean feeling for Florida," the homeowner says. "It almost feels, even though it's new, like it's always been here, and our family just has this part of the story to tell."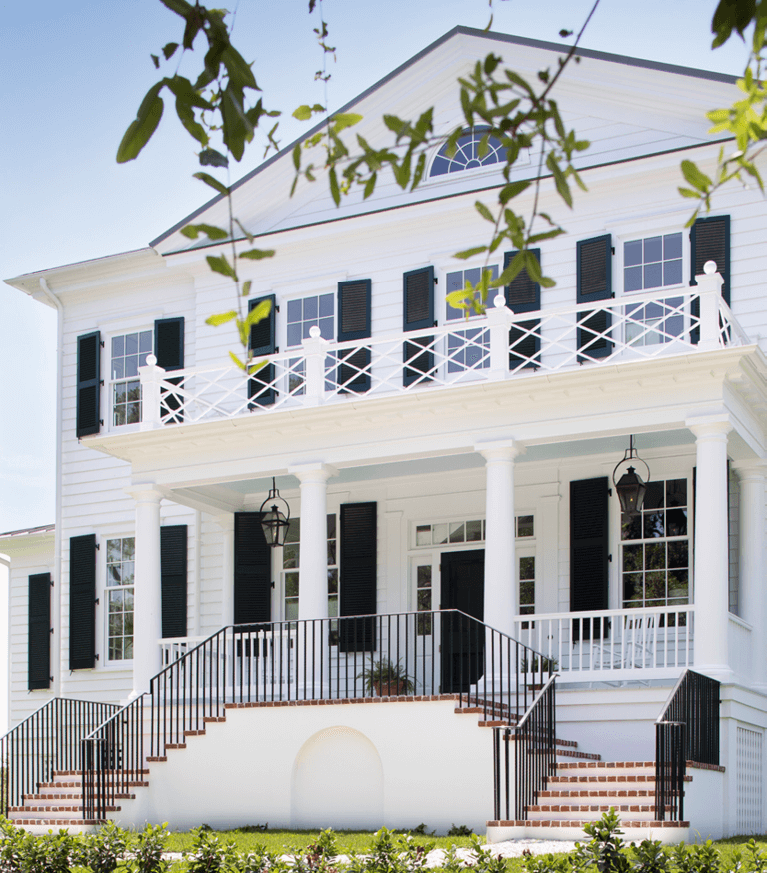 Up to this task was none other than Nautilus Homes, a premier custom luxury home builder based in Sarasota, FL. The deep passion that owner Ryan Perrone and his team have for developing exceptional residences, both locally and regionally, gave the homeowners confidence. Their concept was highly unusual for a Florida home, and their expectations were high, but Nautilus Homes offered the perfect mixture of skill, experience and creativity to tackle the challenge.
From Day One, Nautilus Homes showed an intense commitment to the project, making it clear that no small detail would be overlooked.
In order to capture the true essence of the homeowners' unique vision, the team traveled to iconic Drayton Hall in the South Carolina Lowcountry. Originally built in 1738, Drayton Hall is one of the longest-standing structures in North America and the oldest unrestored plantation in the US. There, the Nautilus Homes team gathered firsthand inspiration they could bring back to the Old Grove site, a seven-acre riverfront lot that had been part of the Gamble Sugar plantation back in the mid-1800s.
The family owned this property for 10 years prior to the build. When they were ready to move ahead with the project, they brought on award-winning designer William B. Litchfield to help ensure that every aspect of their dream home would reflect the land's rich history.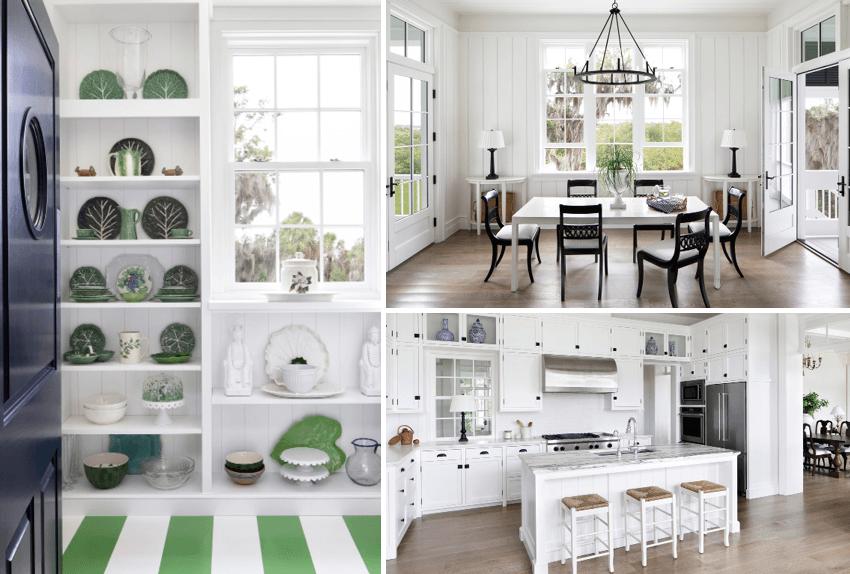 Together with Litchfield, the Nautilus Homes team worked hard to maintain historical accuracy at Old Grove while incorporating modern details that would be cherished by future generations. From the kitchen and pantry to the dining room and all around the exterior of the home, every detail was tailored to suit the homeowners' desired aesthetic.
Some of these details included:
Painted striped floors
Swinging diner door in the pantry
Rolling ladder in the laundry room
Antique hardware throughout
Gas lanterns

Brick floors
Reclaimed wood
Secret doors
Coffered ceilings
Custom cabinetry and millwork creating intricate spaces

Signature custom entry doors
Artisan Hardie siding
Loewen windows
In keeping with the builders' commitment to historical accuracy, custom exterior shutters were part of the Old Grove design from the very start. Shutters were a staple of the 18th-century architectural style that the builders were trying to capture, and to achieve that same look on their new build, Nautilus Homes chose wooden louver exterior shutters, finished in none other than Charleston Green.
"We used the wood shutters because we prefer to use authentic materials whenever possible," Nautilus Homes' Ryan Perrone says. "Timberlane shutters utilize the time-tested designs that have lasted centuries. Also, given that we knew we were going to paint them Charleston Green, which is nearly black, we knew that a natural product would perform better than a resin based product."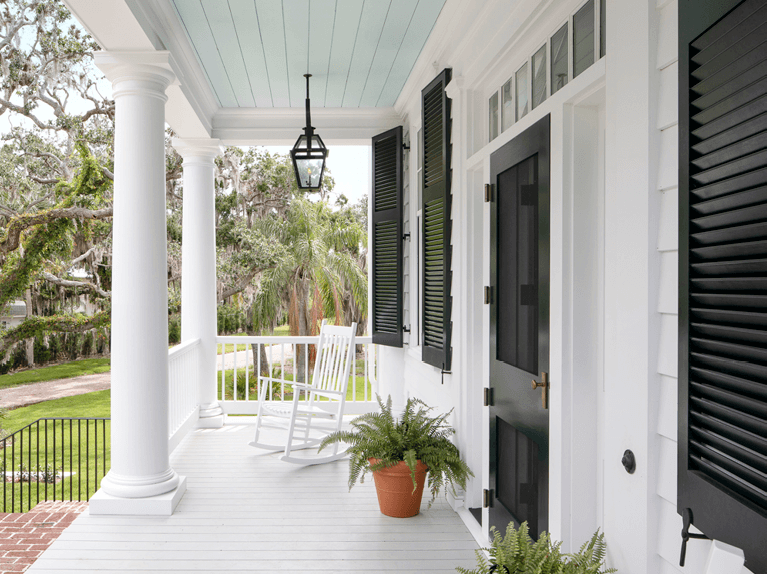 Old Grove wasn't just a hit with the homeowners. Nautilus Homes received a Grand Aurora in the Southeast Building Conference's Aurora Awards, which featured entrants from 12 states and the Eastern Caribbean.
One key takeaway from this incredible journey is that teamwork most certainly makes the dream work. Not only were all of the homeowners' expectations for their new home met in full, they emerged from the experience feeling like cherished members of the Nautilus Homes family.
With a willingness to go the extra mile for inspiration, diligence in doing their research, and painstaking attention to detail from start to finish, Nautilus Homes allowed the homeowners to actually live the dream they'd been developing in their minds for over a decade.
"Nautilus and Ryan were just incredible in their understanding of what we wanted," the homeowner says. "There were so many little details in this house, things that could have been glossed over or could have been done without the utmost care, and every one of them was attended to with a passion for the process. I think one of the things with Nautilus and with Ryan that always made us feel good and excited about the project was the knowledge and the very clear sense from him that it meant as much to him as it did to us."