It's become an established fact in the world of home improvement: New garage doors make good fiscal sense! Year in and year out, when experts rank the top renovation projects for return on investment, garage door replacements always appear at the top of the list.
Take a look at Remodeling Magazine's 2021 Cost vs. Value Report, for example. Sure enough, garage door replacement is #1 with an ROI of 93.8%.
So, if you're looking for a home improvement project that's sure to pay off, you can't go wrong with a lovely new custom garage door. But how much should you expect to spend on the upgrade?
The cost of a garage door depends on a few key factors: size, material, design and level of customization. Installation and hardware will also add to the final price tag of the project.
According to Home Advisor, garage doors typically cost between $757 and $1,563, including installation, but that estimate doesn't take into account premium-quality building materials and the vast array of options for customizing the design of the door. If you're looking for a door that's a cut above the standard models you'll find at a big box store, you've come to the right place!
Below is a breakdown of the different price ranges for garage doors, arranged from lowest to highest. In each category, we've listed all the amenities you can expect to get for that price. Please note that these price ranges are based on the cost of a single overhead garage door (up to 10 feet wide), and should be multiplied by two for a double door (10-18 feet wide).
Level 1: Up to $1,000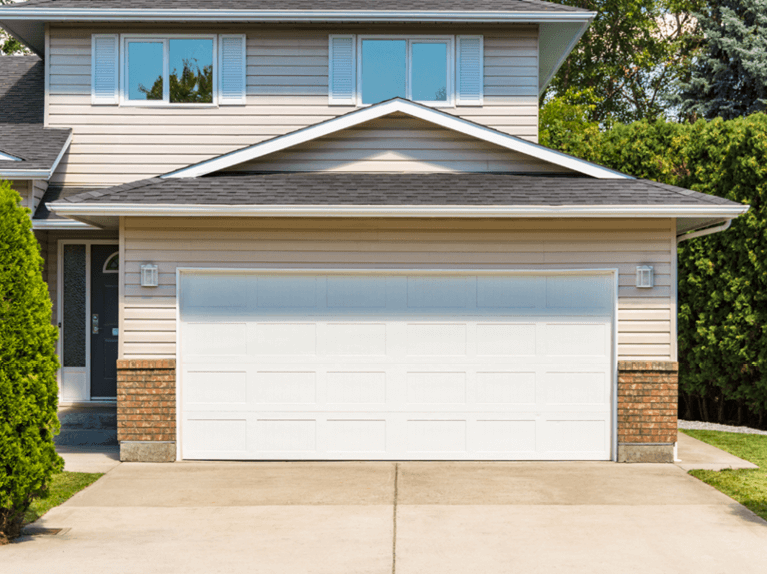 The most basic garage doors are single-sided doors made of pressed steel, with no insulation. These doors are available in a basic color palette and are often white with a faux wood grain machined into the steel.
Level 2: $1,000 to $3,000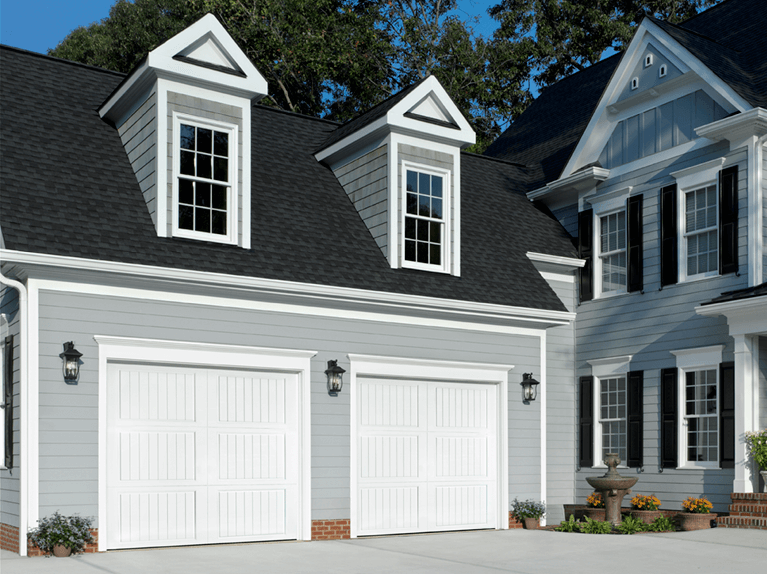 Similar to Level 1, these doors are overlaid with pressed steel, but they're constructed with three layers instead of one. The middle layer consists of foam insulation, giving the door a higher "R-value," which measures its thermal efficiency. Level 2 doors offer greater customization possibilities; they can be finished with a variety of colors or a natural wood look, and they can be upgraded to include windows in the top section.
Windows in a garage door can add anywhere from $500-$1,000 to the price of the door, depending on how elaborate the window design happens to be. A few basic, square window inserts would be considered a Level 2 option, whereas a more ornate configuration with arch-top windows or customized glass would fall under Level 3.
Level 3: $3,000-$5,000
These three-layer, insulated doors offer greater design flexibility. The overlay is often made from a synthetic wood material called MDF (Medium Density Fiberboard), which can be milled to look like old-fashioned carriage style, farmhouse or trifold doors with stiles, rails and panels. They also can be adorned with faux hardware to enhance that vintage look. These doors offer expanded options for window shape and configuration.
Level 4: $5,000 and Up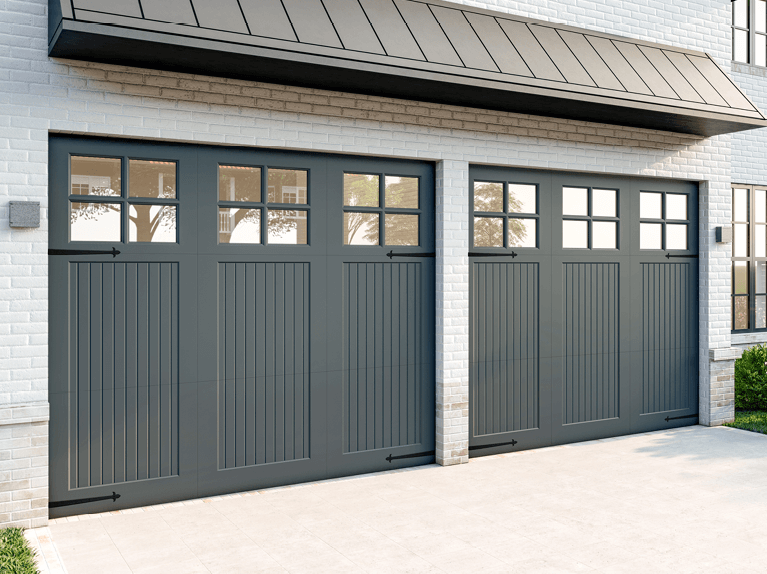 If you want the "total package" in terms of beauty, durability, longevity and a style that's personalized to suit your specific taste, these are the garage doors you're going to want to consider.
A typical Level 4 door might have a sturdy, insulated steel base and an overlay made from a premium material such as genuine Nemesu Mahogany hardwood or PVC, which offers the look of real wood but requires less maintenance. These doors are handcrafted by skilled artisans and can be designed pretty much any way you can imagine, whether you prefer a rustic look, a more contemporary style, or something completely unique. Sketch it, and it can be built!
Not only can these doors be finished in a vast spectrum of colors, but customization options expand even further when you choose a three-section door, rather than the standard four-section door. The larger top section in a three-section door allows for window detailing to really shine through and make a dramatic impact on your home's curb appeal.
Additionally, the price of a premium-quality, handcrafted custom garage door includes all installation hardware:
Tracks
Hinges and rollers
Cables and springs, specifically tailored to the weight of your garage door
Installation service will add about $1,200-$2,000 to the overall price of the project, depending on the size of the door. Garage door openers are sold separately, for an additional cost of $350-500.
How Much Should You Spend on a New Garage Door?
Adding a new garage door is a proven way to increase the value of your home. Even a relatively minor upgrade can pay significant dividends down the road, if and when you decide to sell the house.
However, if your long-term goal is to get maximum enjoyment out of the place where you live, a fully customized garage door with exceptional style and superior performance might be the way to go.
Weigh all the factors mentioned above as you begin your garage door journey. Then, browse through our website to get a closer look at the kind of exceptional style you can add to your home with a brand new, handcrafted garage door. We think you'll decide that design freedom, superior materials, attention to detail and an all-inclusive shopping experience are worth the investment!