Don't make a crucial mistake when ordering your shutters - measure right the very first time.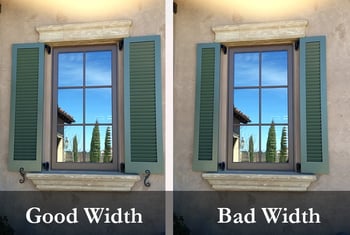 Recognizing that not all windows are created equal, it is best to measure the top of the window from left to right and the bottom of the window from left to right because accurate measurements are essential to the order process. When measuring window height, take one measurement on the left side, from top to bottom, and a second measurement on the right, also from top to bottom. If there is a variation in these two measurements, either width or height, use the smaller of the two dimensions in that pair.
Now that we have that out of the way, measure the width of the inside edge of the window's casement, as if the shutters would actually be closed. This measurement is called the pair width, or twice the measurement of one shutter.
Next, measure on the top left corner of the casement down to the bottom left corner. Repeat the process on the right side. These dimensions are commonly referred to as shutter height.
If at any time you need help, make sure you call a Sales and Design consultant at Timberlane to walk you through the process at 800-250-2221.