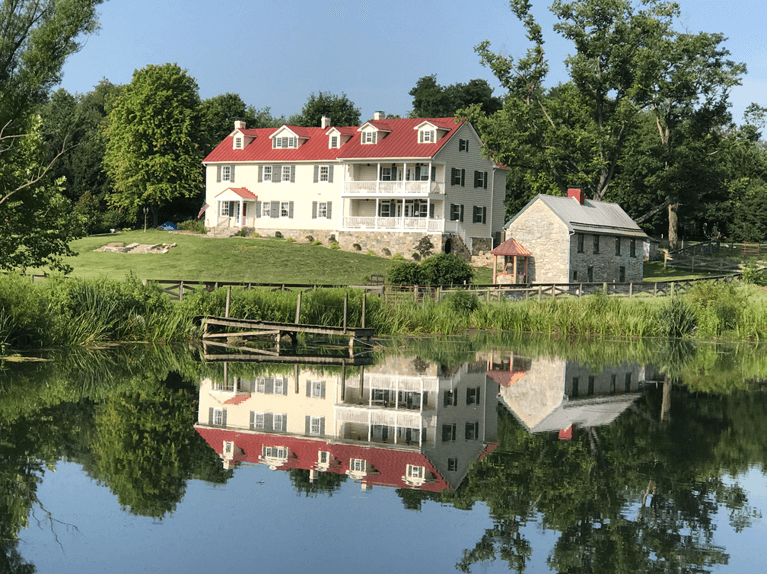 Throughout the past three years, as Jim Clement and his wife, Linda, worked on renovating their 18th century farmhouse in Fairplay, MD, they had an enthusiastic pen pal cheering them on from across the country.
It was one of the farm's former inhabitants, a history buff who had traced the lineage of the land all the way back to the Revolutionary War. After moving to the Southwest, the gentleman kept in close touch with Jim, staying abreast of all the improvements to the property.
In the summer of 2021, when the project was finally finished, Jim received a congratulatory email. It read:
The changes you both have made have been in the spirit of preservation, and tasteful adaptation of more recent features which have made the large home a living monument to the past, while allowing for a natural progression into the present.... Thanks so much for sending me the pictures. Were I to have retained the farm, I would have tried to accomplish that which you have lovingly done. I will always have a large place in my heart for your home, and I thank you both for adding so much to complete my memories.
"It almost put tears in my wife's and my eyes, because it was just a sweet thing to say," Jim says. "You worry sometimes. People say, 'You're ruining the house,' or 'They're doing stuff to the house that is really ruining the appearance.' I really looked to him as being kind of my weather gauge if I'm doing the right thing or not. We chatted through things, and he's just thrilled with how things are going here. So I guess we're doing the right thing."
Addition Meets Preservation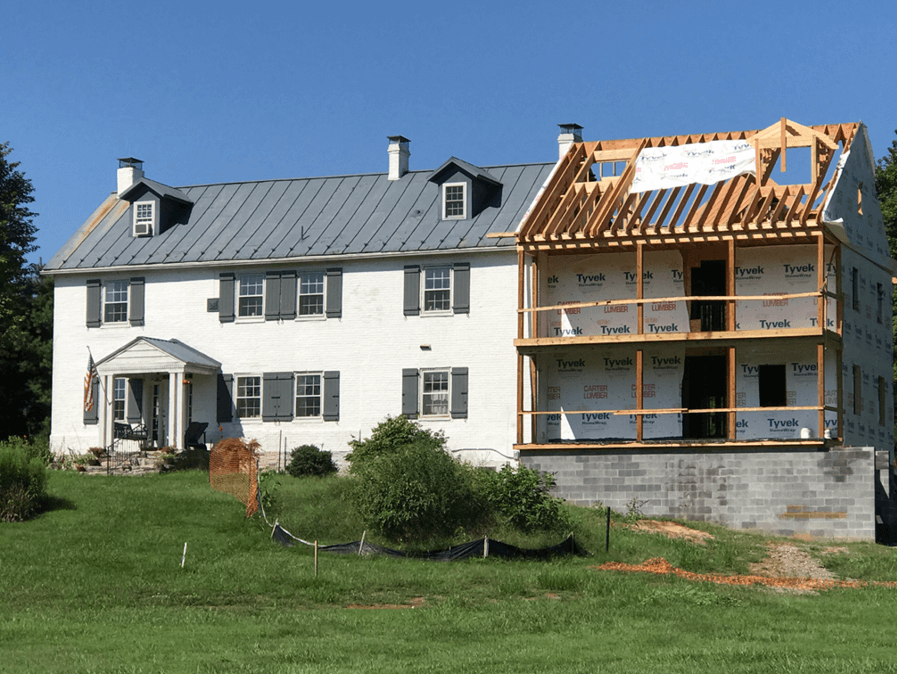 From the very start, Jim's goal for his home was to strike a perfect balance between old and new.
He wanted a "nice little sanctuary for retirement" that was big and modern enough for his entire family — three married daughters and their spouses, two grandsons and a granddaughter — to gather comfortably for years to come. He wanted to expand and improve the historic farmhouse he had identified as his "forever home," but he didn't want to lose track of the land's fascinating storyline.
Built in 1790, the farmhouse stands overlooking a peaceful fishing pond, on a 40-acre plot that's just a few miles from Antietam National Battlefield — and just far enough off the beaten path. As legend has it, the property was part of a 1,000-acre land grant in 1760 and was later given to the original owner, a wartime surveyor named "Mr. Chew," by George Washington himself.
The Clements bought the home in 2014. As far as they knew, the structure had not been added onto since 1890, a span of 124 years. They initially lived in the house on weekends, planning only minimal changes. But in 2018, when Jim officially retired from his 20-year role as founder and Executive Vice President of a small business, the couple sold their primary home in the suburbs and broke ground on an ambitious farmhouse addition. Their project would ultimately stretch the structure to 7,000 total square feet.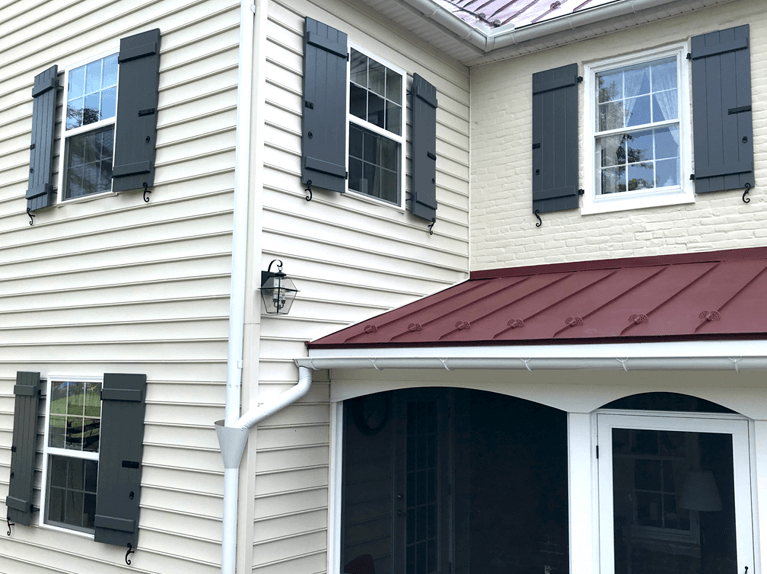 They designed a space that would both honor tradition and suit their 21st century lifestyle.
"The way the house was designed for the lifestyle of the past, you had a living room with a parlor and a huge dining room and a kitchen on the first floor," Jim says. "People nowadays demand a family space, a relaxation space, and we had no basement to put that in. So by putting the addition on the house, which we thought would tie in historically with the rest of the building, we put a family room on and a large master bedroom on the second floor with the ensuite bathroom and a sitting room. We made it, I think, a very desirable property for even 100 years from now. It has enough space for people. It's a large house with a lot of bedrooms, and for a large family, it would be an ideal place. So we were trying to preserve its historical aspect by making it relevant for future generations. That was kind of our thought.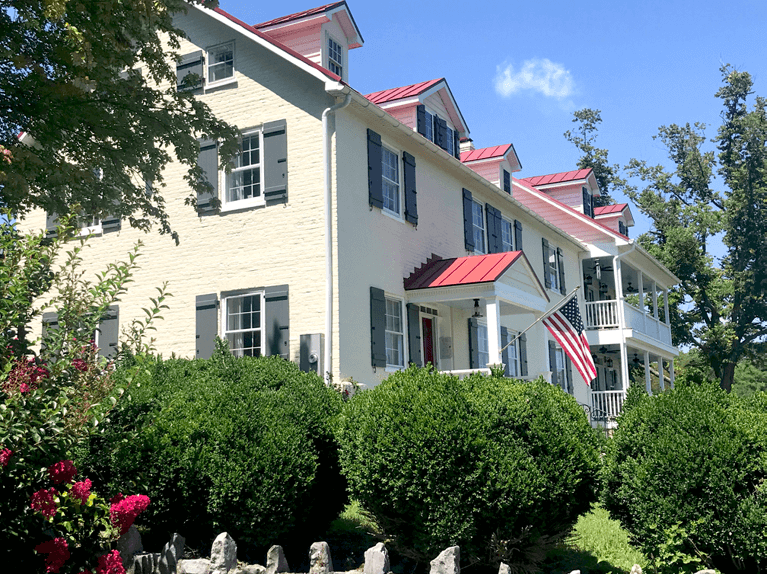 "We tried, inside and out, to have the addition appear so you would wonder what part of the house was the oldest."
On the home's exterior, Jim installed a new metal roof in Colonial Red and had the brick painted in a color he calls "Country Buttermilk." He added a double dormer and a two-story porch. He also replaced all the old shutters with board and batten style shutters with a slate gray finish. All 34 pairs were fitted with functional hardware, including tiebacks and pull rings, which Jim calls "shutter candy."
"The original shutters on the property were pine with louvers, maybe dating back to the 1950s, and they were just literally falling off," Jim says. "Some of them were propped up and held together, and some were missing, and it was just a mess. So the shutters became one of our priority items. They were one of the primary things we looked at. We liked the board and batten look because it seemed more authentic with the original construction of the house for this area.
"The new shutters are all around the house, the same type of shutters, and it makes it look like it's one intended structure, instead of a jumbled-up look. If you'll excuse the pun, the shutters really 'hang' things together."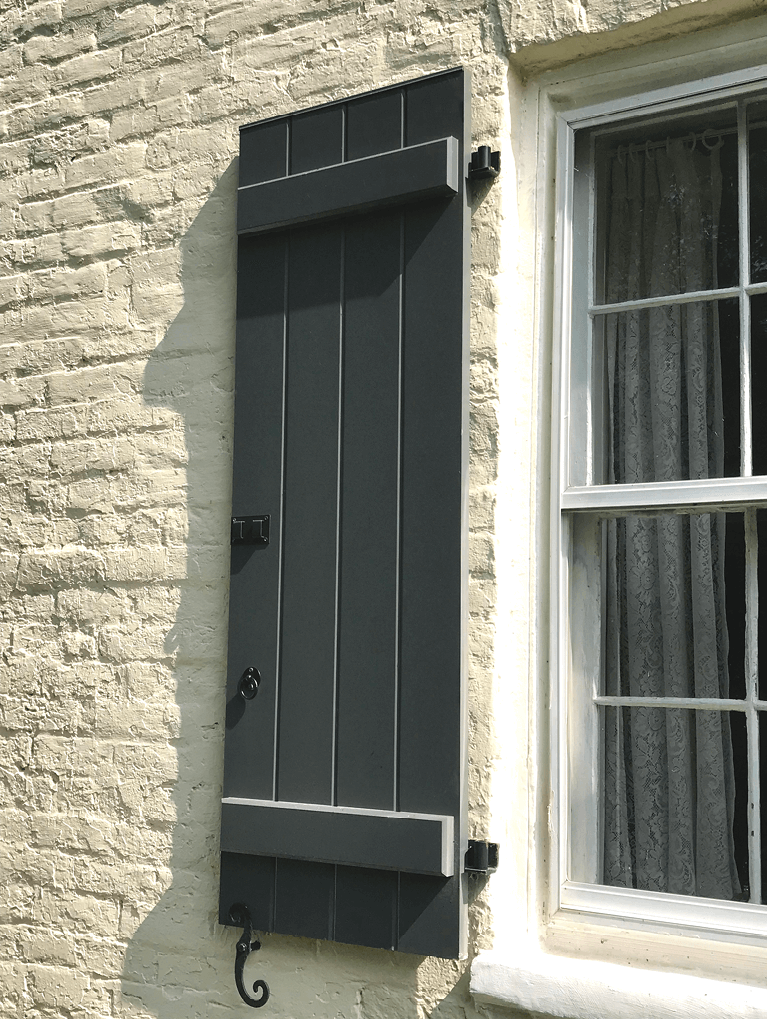 In keeping with the home's rustic feel and rich past, Jim added beautiful texture and detail around the foundation by repurposing stone recovered from the ruins of a 200-year-old building on the farm.
You can see the incredible difference in these "Before and After" photos.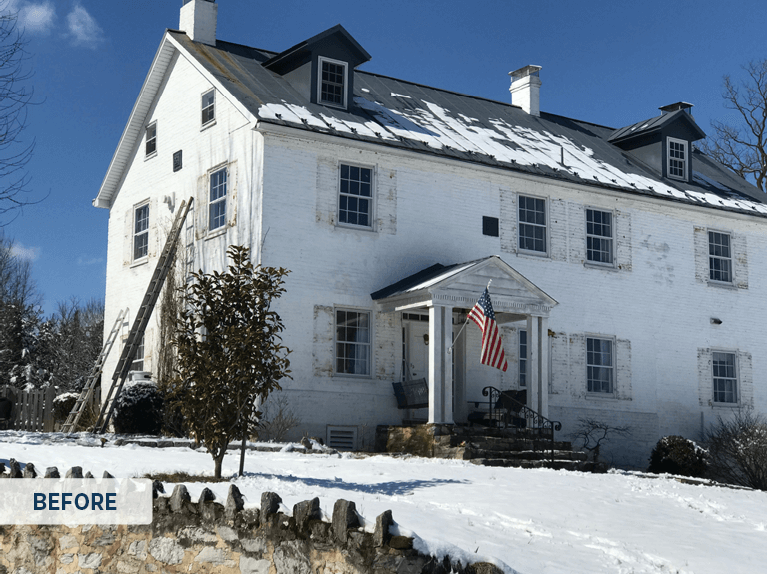 'A Classic Statement'
After three years, and a series of construction delays during the COVID-19 pandemic, Jim can finally take a step back and admire his creation. He can listen to the shouts and laughter of his grandkids as they run around the expansive property and enjoy every nook and cranny of the house.
Retirement is turning out just as he envisioned it.
"I get a sense of harmony," he says, describing his feelings when he looks at his home. "I get a sense that we have the classic porches, we have the classic dormers, we have a house that doesn't necessarily look in total balance because it reflects the 200 years it's been under construction. It doesn't look like it was laid out in 1990 or like it's never been modified. It bears the scars, and it bears all the history with it. It's not something made to look old; it is old. It has a classic statement to it. It has kind of almost a serenity to it, that it's lived through all this time. It's been modified and adapted to other purposes and uses. Families have come and gone over the years, and it's still here, and it's still being taken care of."
Jim's original vision for his home has been successfully brought to life. The feedback he and his wife have received from friends — and pen pals — is just icing on the cake.
"We actually had one person come in and look back and forth and ask, 'Which part of the house is older?'" Clement says. "And that's exactly what we want them to say."
Do you have a Timberlane home that shines?
Show it off in one of our Customer Spotlight stories! Send an e-mail with your name, address, and a few photos, and you could be featured on our website and social media platforms!