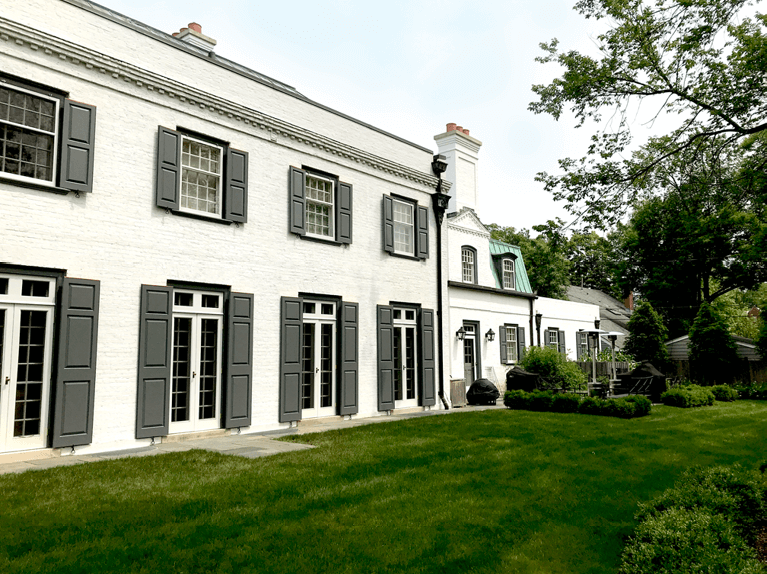 Since opening his own architectural firm back in 1996, Chip Hackley has developed a professional reputation that aligns perfectly with his personality. One of Hackley's long-time clients calls him "a stickler for integrity and detail," and Hackley wears that assessment like a badge of honor.
"I should have been born 100 years earlier," he says with a laugh, "because I can't get my head around the...air quotes... 'improvements' in regard to materials and technology."
Call him old-fashioned, but Hackley's deep passion for traditional architectural ideals is the foundation of his continued success. It's the lifeblood of his livelihood. It fuels and fulfills him as both an architect and a person.
At 56 years old, Hackley is celebrating the 25th anniversary of Hackley & Associates Architects, one of the most well-known and highly-esteemed architectural firms on Chicago's North Shore. He's enjoying his role in the community, as a kind of older-home expert who builds what he believes in and won't easily compromise on things like historical accuracy, quality craftsmanship, authentic materials — or even the details on a pair of exterior shutters.
"I'm known around here as someone who effectively works with old houses and someone who effectively builds new houses that fit in," Hackley says. "I like that. I like being there. I just love old buildings."
A Remarkable Restoration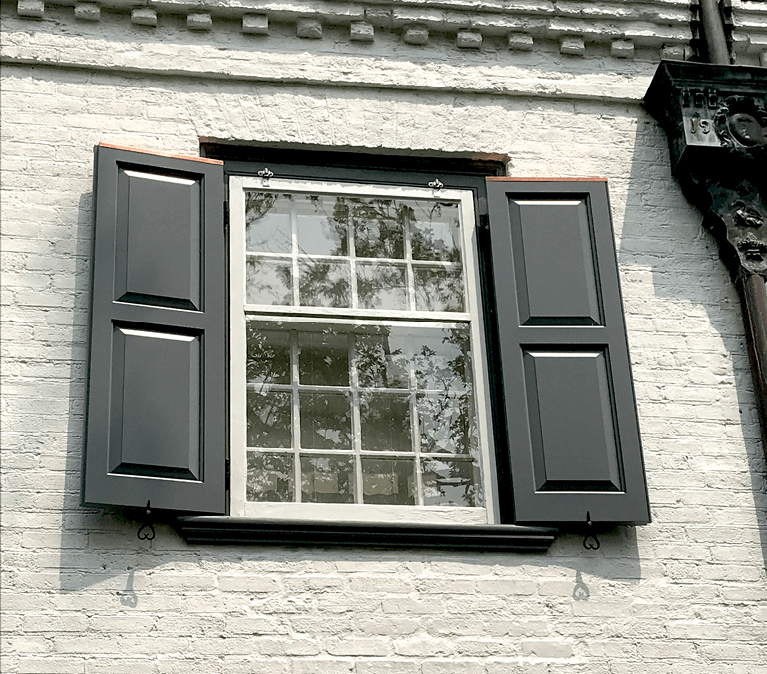 Hackley and his colleagues at the firm have worked on some truly magnificent old buildings over the last quarter-century. They were designing "new old homes" long before it was trendy, and they've undertaken a number of historic restoration projects that required painstaking research and extraordinary attention to detail.
A recent example: In 2013, Hackley & Associates was hired to restore a National Historic Landmark in Winnetka, IL, an affluent Chicago suburb. The 6,650-square-foot estate was designed by famed Midwestern architect David Adler and built in 1937 for Louis B. Kuppenheimer Jr., the scion of a men's clothing empire.
"That's one of a handful of houses in the state of Illinois that have easements on the interior, so we couldn't touch certain things," Hackley says. "We had to restore the silver leaf ceiling in the women's dressing closet. It's got five sets of doors in the primary suite where the entire back sides are mother of pearl — which is bizarre, but beautiful. We had a restoration specialist extracting stains from the marble walls of the bath. He was down there with Q-tips. It was unbelievable."
Indeed, "The Kuppenheimer House" was no ordinary renovation. Project Manager Ted Dunn was tasked with recreating Adler's original design with precise historical accuracy.
"The homeowners were very unique in that they wanted every detail to be exact — exactly the way David Adler wanted it in the 1930s," Dunn says. "People will go that direction, maybe 50-80% of the time, but to go 100% is pretty rare.
"We had to look at every element of the house and verify the existing conditions, verify the original material, make sure that everything was what we thought it was when he originally built it. So we kind of had to go back and discover the story of the house and make sure we weren't replicating something that was done in the 1950s or 60s, and so on. There was a lot of story discovery and history to kind of comb through and verify. So, the time it took to realize all that was something that [the homeowners] invested in, and it turned out beautifully."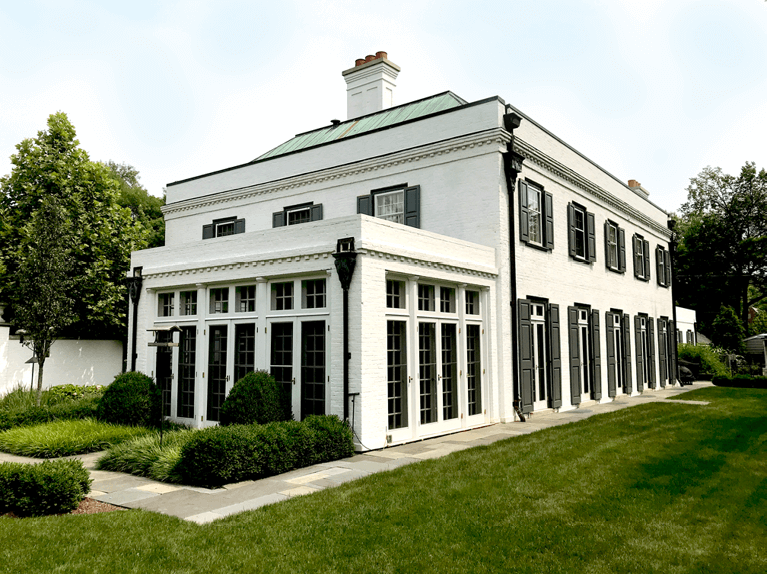 Dunn had to help rewrite one of those stories: the exterior shutters. Although the new owners found the home's original wooden shutters in the basement when they first bought the house, and had them re-hung on the brick exterior, those shutters failed after a few years and needed to be replaced.
To find the perfect match for the old shutters, Dunn turned to Timberlane. Soon, his team was able to install 29 pairs of newly-crafted, premium wood panel shutters that look just like they would have in Adler's day.
"The options that Timberlane provides and the customization that was there was what gave us the best turnout, or the best result, because we had to match original thicknesses and all the stiles and rails, and all those details came out exactly as we wanted," Dunn says.
This is precisely the type of project that Hackley & Associates has become known for in its 25 years in business, and Hackley and his team wouldn't have it any other way. Their mission is to carry the torch lit by Adler and Chicago's other architectural icons, and keep it burning into the 21st century.
"There are plenty of great architects that worked in this area," Dunn says. "We want to take notice of those architects, certainly, and we're not so much interested in putting our name on things, but we certainly want to, in whatever we do, make sure that we are creating that seamless design, so that you can't necessarily tell a difference from our work today to the work that was done 50 to 100 years ago."
"Life's Work"
Working with old buildings is in Chip Hackley's blood. He was born a bit of an architectural history buff. Growing up in an 1892 Queen Anne Victorian that his parents restored, he vividly recalls being 11 years old and climbing up to the fifth-story attic to inspect and admire the craftsmanship of the rafters.
"They were put together with a hatchet," he says. "It fascinated me."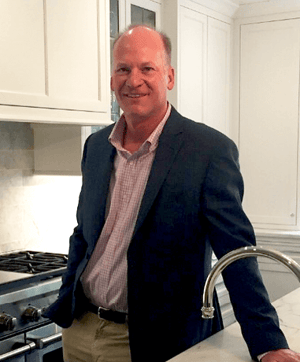 Hackley has always been interested in carpentry; he's done everything from building cabinets to summer work assisting with rough framing for houses. He developed a "love of the craft" and an intimate understanding of "how things go together" that shines through in everything he does today.
He doesn't consider himself a preservationist, per se. But he is committed to preserving what he calls "the classical character" of architecture and "the integrity of the vernacular" in the communities where he works.
Hackley's idols include the late A. Hays Town and Russell Versaci, a champion of the "New Old House" movement, and he strives to pass their shared values on to the next generation of architects. As a guest instructor at the University of Illinois and Miami University of Ohio, he preaches the importance of the design process in a world dominated by technology.
"The whole platform of education for architecture has shifted from drawing to computer generation, and I think it's a huge mistake," he says. "I insist with my students that they include pencil sketches in presentations. It's great that they can do these really cool, 3D, blow-you-away renderings, but they're missing the boat with process, and process is key, and I think that has been stripped out of the system.
"I still draw everything by hand in terms of design. I'm happiest when I've got graphite all over the bottom side of my hand and my sleeve and I'm showing somebody something where they really appreciate it for the thought that goes into it. That's what matters to me."
This is all part of that "stickler" persona, which Hackley fully embraces. His attention to detail is something to behold. He's been known to snap photos of functional hotel shutters while vacationing in Europe with his wife, because "that's just cool stuff." He's been known to argue with clients over the proper louver direction on an open pair of shutters, because "shutters have a pragmatism to them; they're not just ornamentation."
"I've worked really hard to tell people that, if you want me to just draw something up for you to get a permit quickly, you're coming to the wrong place. I'm not going to do that," Hackley says. "If you want someone to think through where your spoons are going in your kitchen, I'm your guy."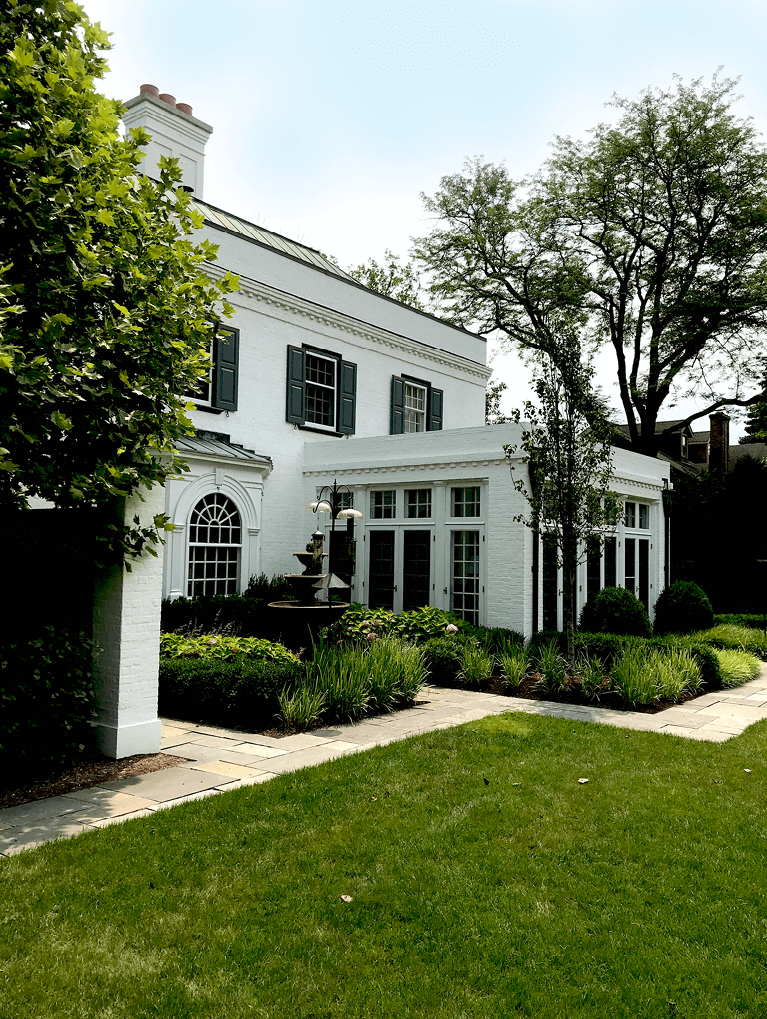 Looking ahead to the next 25 years, Hackley's goal is, quite simply, to stay the course. He's earned the right to be selective about his projects and to control his workload. He's managed to keep his firm small — Hackley & Associates currently has five employees — and continues to make a big impact on his community.
Hackley has carved out a bright future without having to sacrifice his old-fashioned ideals, and he feels incredibly blessed.
"I feel like I'm getting to the point where I can kind of just do what I want now, which is good, and I'm just going to kind of continue on that path," Hackley says. "I'm not interested in commercial. I'm not interested in big. My wife knows full well that a huge component of my compensation is the fact that for 25 years, I've never once felt like I've gone to work. Not to say that every day has been wonderful, but this is what makes me happy and comfortable, and I'm just going to keep working toward...I guess maintaining and appropriately altering these communities, one project at a time.
"I don't want to sound corny, but it's life's work."