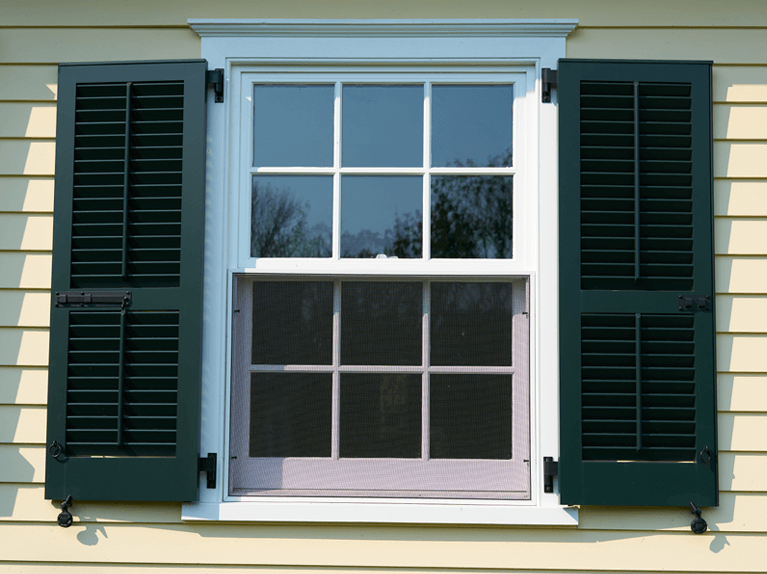 Go back a few centuries, before glass window panes became commonplace, and a homeowner's shutter education was pretty straightforward. You learned the hard way: Either your house had sturdy, functional shutters installed on all your windows, or wind, rain, wild animals, thieves and prying eyes had an open invitation to come inside.
It's been a while since exterior shutters were such a practical necessity. Now, they're a choice — a good one, if you ask us! — and with choices come questions. Does the type of shutters really matter? Why invest in the hinges and fancy hardware? Is there a difference between fixed mounted and functional shutters? Wait...what are fixed mounted and functional shutters, anyway?
Consider this post a kind of modern-day shutter education, a basic "Shutters 101" to read before beginning your home design journey. Come along as we discuss the two different types of shutters and separate the decorative from the real deal.
Shutter Fundamentals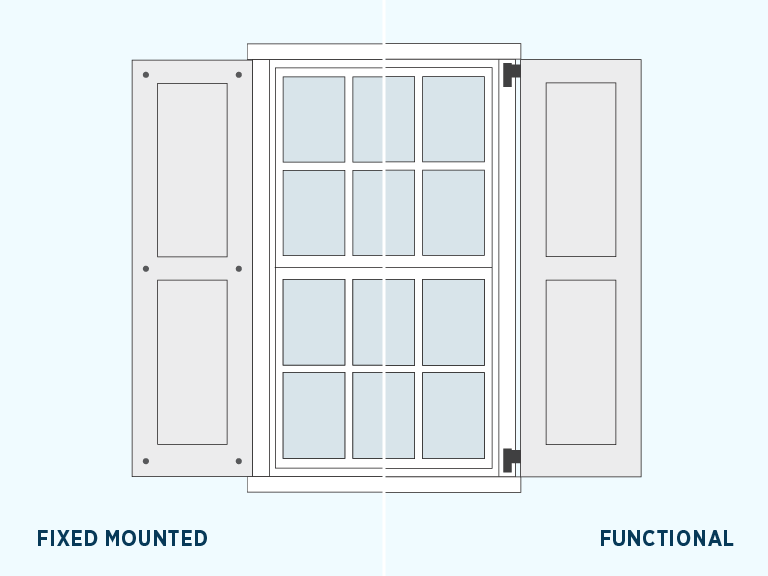 No longer required for privacy and security, exterior shutters remain a highly popular, effective and relatively simple way to enhance a home's exterior. Although shutters come in a wide variety of materials, styles, colors, and even shapes, they're commonly installed in one of two ways:
Fixed Mounted — These shutters are mounted flush to the home's facade, using brackets and screws. They remain fixed in that "open" position and do not move.
Functional — Functional shutters swing open and closed on hinges attached to the window casing with pintels.
We'll elaborate on the differences between these installation styles in the following sections, but first, the similarities: Both fixed mounted and functional shutters can be installed with shutter hardware, such as strap hinges, locks, pull rings and tiebacks, also known as "shutter dogs." This adds visual interest to a home's exterior and presents a historically accurate look, even if the shutters serve a purely decorative purpose.
In either type of shutter installation, proper shutter sizing is paramount. Again, even if you never intend to close your shutters, they should always look as if they could close and cover the window. A rule of thumb when measuring for shutters: Each shutter should measure half of the window in width, and the full length of the window in height.
More About Fixed Mounted Shutters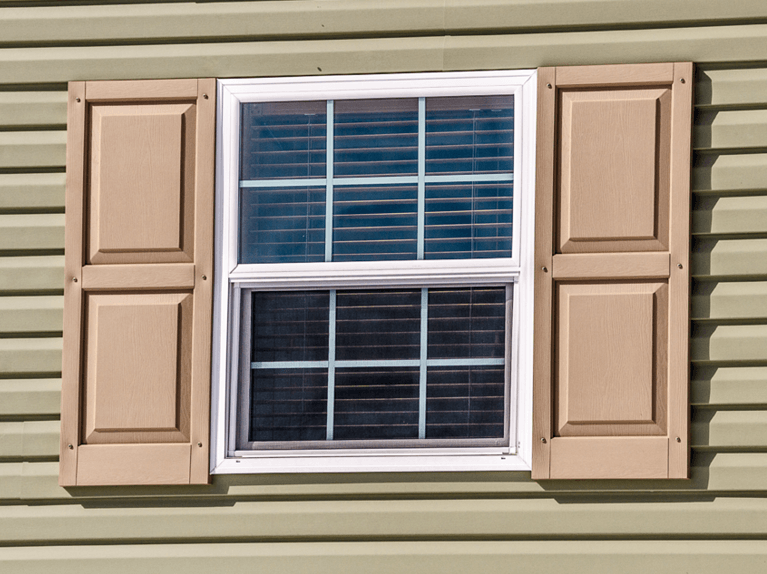 Because low-grade vinyl shutters can only be installed this way, you might immediately associate fixed mounted shutter installations with a dull, "fake" look.
The truth is, any shutters — whether they're made from composite wood, premium wood or high-quality PVC — can be pre-drilled with mounting holes for a fixed mounted installation. This is a more cost-effective and less labor-intensive option than fully functional shutters. Add some decorative hardware, and you'd never mistake these shutters for those tacky vinyl imitators. In other words, fixed mounted shutters are eye-catching in a good way.
Choosing functional shutters can take that incredible curb appeal to a whole other aesthetic level, but they're not always right for every home. In fact, some homes might be better suited to fixed mounted shutters. Certain types of exterior materials and window casings aren't conducive to fully functional hinges, so if you're interested in adding "real shutters," consult an expert who can guide you toward the ideal shutter solution for your specific project needs.
The Beauty (and Utility) of Functional Shutters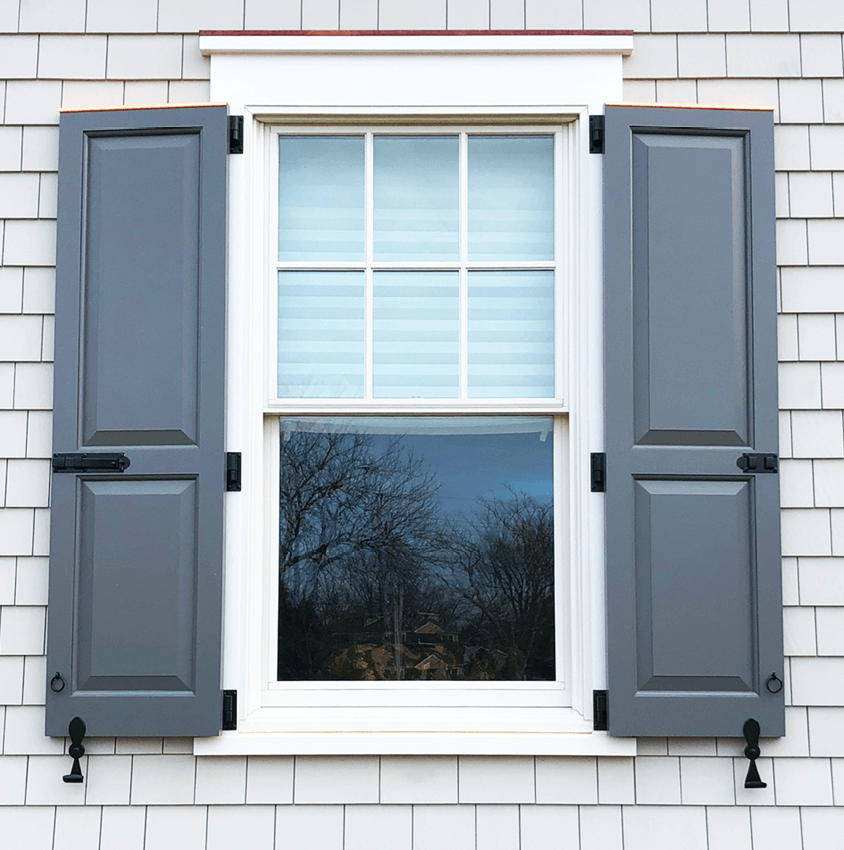 If you're a stickler for authenticity and passionate about details, functional shutters are an ideal exterior accent for your home. There's just no matching the depth, shadow lines and overall visual intrigue created by a fully functional, properly sized and professionally installed pair of shutters. Functional shutters really bring a facade to life.
Practically speaking, although it's not necessary to do in modern times, you can choose to open or close your functional shutters. Shutters today can serve the same purpose they did centuries ago — if they're sized and installed the right way. They can provide privacy, regulate the amount of light and heat entering the home, and control airflow in and out of windows.
From a design standpoint, functional shutters offer more than just historical accuracy. They're a pop of personality, an extra touch of character, and can liven up any style home from traditional to contemporary.
Of course, no functional shutters are complete without shutter hardware, which is sometimes referred to as the "jewelry" of the shutter. Whether you want to go all out with pull rings and locks, have a little bit of fun with shell-shaped "shutter dogs," or stick to a traditional "S" tieback, hardware is another authentic design detail that's sure to delight you, your family and everyone who lays eyes on your house.
How To Choose The Right Shutters For Your Home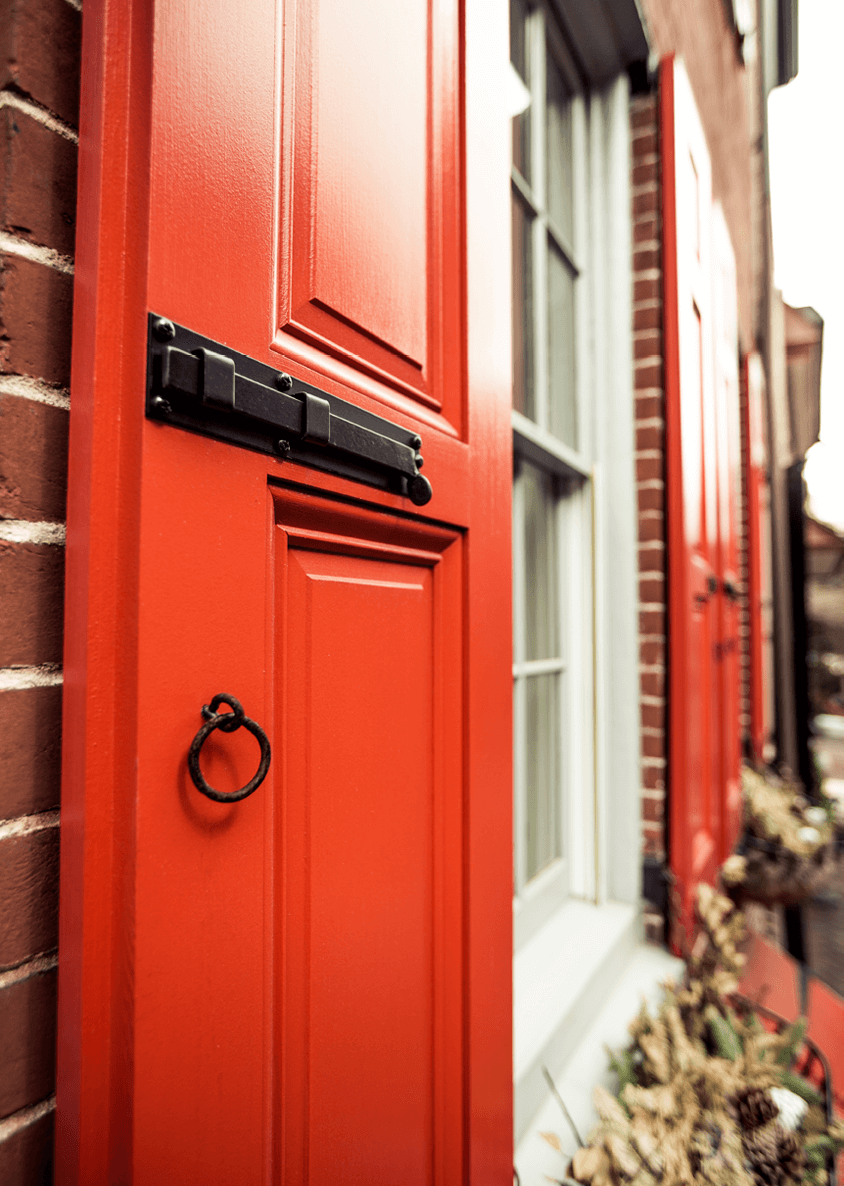 There's so much to love about designing your own custom shutters; you get to pick a material, a style, a color, a cutout, the "jewelry," and then watch it all come together in a whole new look for your home. The way you choose to install your shutters will have a significant impact on that finished look, so consider everything you learned in this post before taking the plunge on your shutter order.
Our design consultants have been helping homeowners build perfectly personalized shutters for more than 25 years. So, if you need help with any aspect of your shutter journey, from weighing the benefits of fixed mounted vs. functional shutters to actually having your shutters installed, schedule a call with the Timberlane team today.