Looking For Unfinished Shutters to Stain Yourself, or Factory Primed and Painted in Any of Our Standard Colors?
Or do You Have a Specific Color in Mind That You'd Like Us to Match?
There are three different ways that you can order your custom wood exterior shutters from Timberlane: fully painted and primed, primed only, and unfinished (raw).
Now we fully understand that you may think it would be easy for you or your contractor, even your house painter, to paint your shutters for you. But at Timberlane, we've been doing this a long time. We know there are nuances to this process.
We highly recommend that you allow us to paint and prime your shutters, as our artisans in our paint shop are the most talented in the industry. And they're used to painting shutters! They know how to prep the primer and the finish paint so they withstand the beating sun and the rain, they survive the flying grass clippings when your landscaping is being done. They ward off the host of insects. And most importantly, the paint and the process we follow doesn't dry out the wood, extending the life of the paint and the shutter!
Our painting process is truly state-of-the-art and unique because we blend old-world craftsmanship with cutting-edge technology. This means that our painting techniques are nearly impossible to replicate, as we opt for innovative overhead paint lines and curing ovens.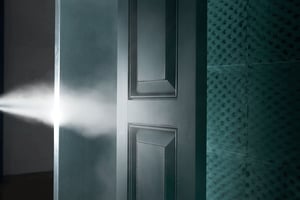 By utilizing the latest technologies, we have developed a way for the paint to stay true to its form for years to come, as it bonds with the different shutter materials. Temperature and humidity are also perfectly balanced to create a harmonious environment where the shutter's finish has the look and feel of a fine piece of furniture.
With 24 standard colors and the ability to custom match any color of your choice, Timberlane is fully prepared to give you exactly what you want and what your home deserves.