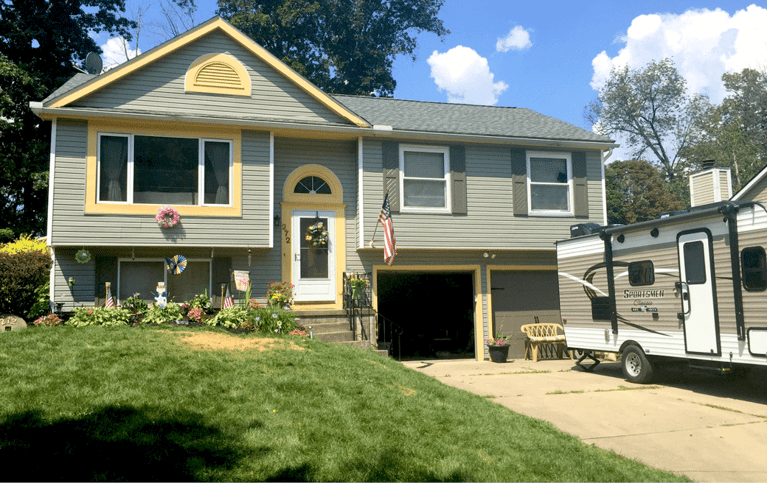 There's no denying it: Split-level homes are a curb appeal challenge.
Since their popularity exploded in the late 1960s — think: the exterior of "The Brady Bunch" house — these minimalist homes have gradually fallen off of home buyers' wish lists and become harder to sell. Split-level homes feature quirky layouts, often with three staggered floors separated by small staircases. They typically have large garage doors, no porches, hidden entryways, and distracting rooflines.
If you own one of these homes, you know how resistant their overall design is to change. However, you can give your split-level a big boost in curb appeal — and maybe even make it the best-looking house on the block — simply by adding exterior shutters. Let's take a look at your options for using shutters to spruce up a split-level home.
How to Add Curb Appeal with Shutters
One of the biggest issues with split-level homes, besides their dated 1950s aesthetic, is that they're relatively dull to look at. One of the biggest benefits of shutters is the visual interest they add to an exterior. Clearly, this is a match made in design heaven!
When you choose the correct color, style, and finishes, shutters can help elevate a home's curb appeal dramatically. So, while a split-level home might suffer from distracting rooflines or a hidden entryway, shutters create a stunning focal point that draws visitors' attention and makes a dramatic first impression.
Savvy homeowners can match the color of their shutters to their front door to help bring the home's entryway into focus. Shutters can also be matched with garage doors to bring the entire look together.
It's also possible to add tons of visual interest with daring color choices and bold color combinations. Split-level homes don't have to be boring with well-designed exterior shutters.
The Added Value of Shutters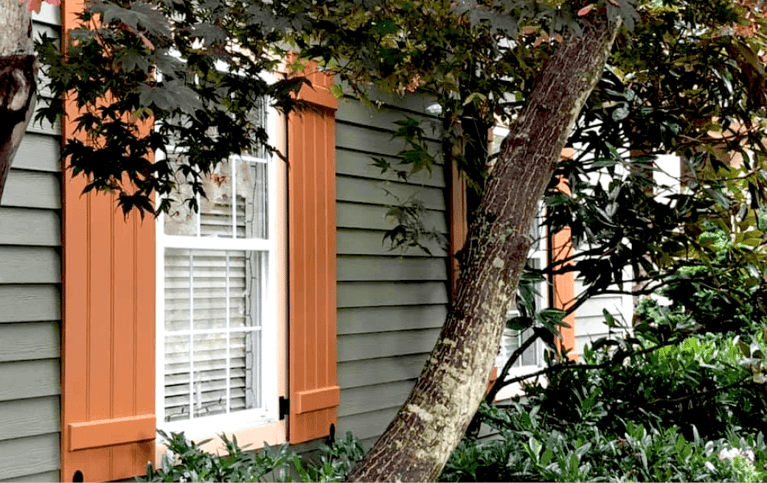 Exterior shutters help make a house look more like a home, and by adding significant curb appeal, they can increase a home's overall value. The higher the quality of shutter — for example, choosing mahogany shutters instead of vinyl or composite wood — the more the home's value increases.
By choosing functional exterior shutters with proper shutter hardware, a split-level homeowner can enjoy a few additional benefits, such as increased privacy and protection for their windows. Shutters can also help with light control, keeping bright sunshine out of rooms throughout the house.
By and large, the most substantial benefit shutters provide is their aesthetic appeal, but shutters aren't the only way to elevate the look of your split-level home.
Boosting the Curb Appeal for Your Split-Level Home
For a creative homeowner, split-level homes are like a blank canvas just waiting to be beautified. Here are some other quick tips for bringing your split-level home to life:
Use Plants to Your Advantage – Split-level homes can look oddly tall from the street. Try planting tall trees next to the house to help make it appear more balanced. You can also use cascading plants to soften the transitions between levels, making the exterior look less choppy and more appealing.
Add a Porch – Split-levels usually feature an overhanging living space above the front door, but creating a covered walkway and porch can work wonders for a split-level home's curb appeal.
Make the Windows Bigger – Open up the windows to modernize the space. Since split-level homes really hit their prime in the mid-20th century, they can often feel dated. By installing bigger windows and adding some shutters, you can immediately bring your split-level home into the modern era.
Focus on the Garage Door – The garage door is an opportunity to instantly add some curb appeal and resale value to your split-level home. Consider adding a contemporary garage door or a carriage-style garage door to really liven up the look of the home.
Change the color scheme – Sometimes, the easiest fix is the most effective. Swap out dated color combinations for something modern and fresh.
Any of the above updates are sure to transform an old-fashioned split-level home into something truly special. Once the neighbors see your house reborn with a few design changes and stunning new shutters, you might be the reason split-levels make a big comeback!
How to Choose Shutters for Your Split-Level Home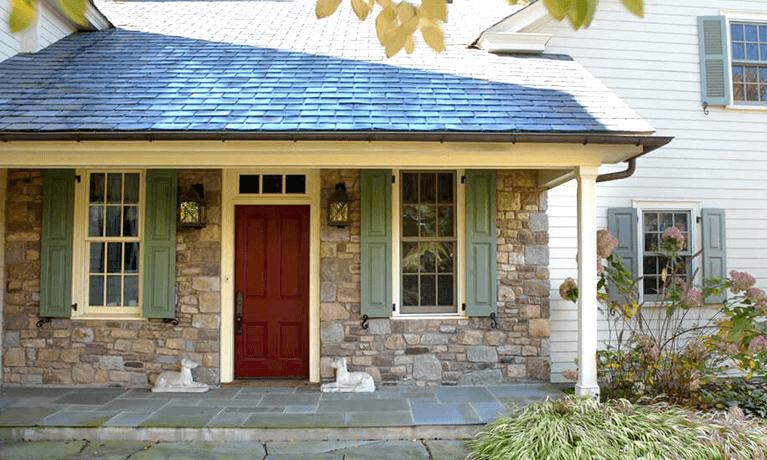 Exterior shutters are a simple, straightforward way to add curb appeal and increase the value of your split-level house. Deciding to get shutters is the easy part. Choosing the right ones for your home is where things get challenging.
You'll want to pick a shutter with a color and style that enhances your exterior and suits your personal style. Do you prefer panel shutters, louver shutters or board and batten? Should you design shutters with a custom color and match them with the front door or garage door?
You'll also want to consider all the available shutter materials and whether to add customized details like a cutout design or special shutter hardware.
The process might take a little bit of time, but there's no wrong answers. Whatever type of shutters you choose, we can't think of a better way to show your split-level home some love!