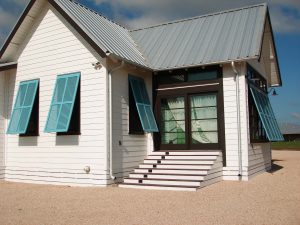 Exterior shutters and beach homes are a classic match. If you have ever wondered which shutter styles are the best for beach homes, you'll find that there are plenty of options. Whether they are Bermuda shutters, board & battens, or panel shutters with a fun nautical cutout design, beach homes just look better with shutters! They can add character and function all in one punch. And don't forget the boosted curb appeal that will set your house apart. But first, you'll need to choose a shutter style.
Introduction to Shutter Styles for Beach Homes
Bermuda Shutters
Bermuda shutters (sometimes called Bahama shutters) are a great choice for your beach house exterior. One of their most common applications for Bermuda shutters is coastal homes, including beach houses. Bermuda shutters function somewhat like a cross between an awning and a louver shutter (the shutters with slats for venting, covered below).
These unique-looking shutters are a great option for beach houses due to their high exposure to sunlight and wind. Basically, you get to have the best of both! By changing the degree of openness, Bermuda shutters allow you to adjust the amount of sunlight coming into the house.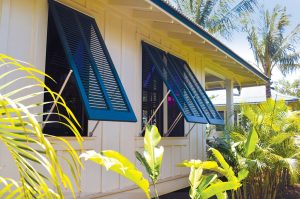 The breezes coming off the ocean are always welcomed into the home to some degree. Whether the shutters are open or fully closed, air flow is a constant. Due to their slats or louvers, Bermuda shutters let some breeze in even if they are fully closed. Naturally, when they are open, more airflow is free to blow through.

Bermuda shutters' style is known for giving homes an easy-going, tropical vibe. Their unique open-up design adds a different kind of architectural dimension to your home exterior. Some popular beach house styles that Bermuda shutters are installed on include cottages, ranch homes, Cape Cods and bungalows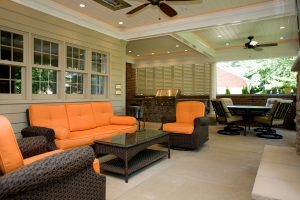 You may see Bermuda shutters mixed with other styles of shutters on a single house. Homeowners often decide that these shutters make sense on certain windows and elect to install louver or board and batten shutters on other windows.
Another interesting application for Bermuda shutters is to install them on porches, outdoor kitchens, gazebos, and other semi-outdoor spaces to create three-season rooms.
Louver Shutters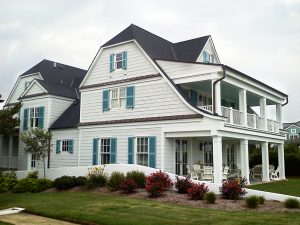 A classic French design, louver shutters are among the most prevalent shutters you will see throughout the US and the world.
These are another popular choice of shutters for beach houses. Similar to the Bermuda shutter, louver shutters include slats called louvers that allow some breeze and sunlight into the home. There are two basic types of louver shutters. Deciding which type of louver shutter you want will determine whether you can adjust the light and air flow.
Fixed louver shutters are built with louvers at a static angle. The slats are open a specific amount that cannot be changed. Hence, they are "fixed" louvers. The size and placement of louvers will affect the standard amount of light and breeze.
Larger louvers are set farther apart, with fewer and larger spaces. These let more light and air inside. The smaller louvers are generally placed closer together and break up the sun and breeze a bit more. The choice between the two is more often aesthetic than anything, which is also true of operable louver shutters.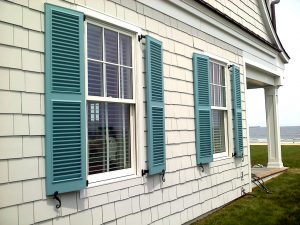 Operable louver shutters give you the ability to adjust the openness of your louvers. Many times we see these shutters used for beach homes due to their flexibility of use.
Being on the shore can create rapidly changing conditions. One moment, you may have them opened a bit to let some sunlight in, when all of a sudden a storm cloud rolls through. Simple fix! Just use the tilt rod to close the louvers and you can keep the rain from spilling inside.
Louver shutters of both kinds offer versatile style. Either type can look quaint or give off an air of refined elegance, depending on the shutter and house designs.
Louvers can be a great option when seeking exterior shutters for beach houses, and are especially popular with French cottage-style and Victorian homes, like those detailed beauties in Cape May! Homeowners also choose louver shutters as a complementary style on homes sporting two styles of shutters; more on that below.
Panel Shutters & Combination Shutters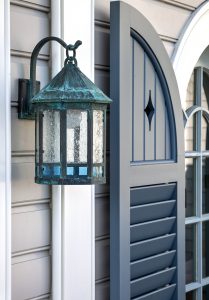 Perhaps the most widely recognized shutter style, panel shutters can dress beach houses quite nicely. They are very customizable, which gives homeowners the opportunity to get creative. Different panel profiles offer a variety of style options, and panel configurations (how many panels and how large each one is) allow for unique, tailor-made looks.
Panel shutters offer added protection due to their solid structure. They were originally created to protect against weather, critters, and burglars alike! Additionally, if you want to take a daytime nap, closing your panel shutters is probably the most effective way to get a room nice and dark for resting.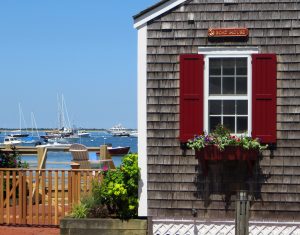 Panel shutters can be tailored to your style with tons of available custom options. Go for a classic look with 50/50-configured raised panels, or a combination shutter with both panel and louver sections!
Panels give you the opportunity to add even more of the beach house look to your shutters with a custom cutout (covered in the next section). With tons of panel profiles, configurations, and custom options, panel shutters can be made to match nearly any house style.
Board and Batten Shutters
Often seen on farmhouses and cottages, board and batten shutters are a quaint, charming style and have seen a tremendous comeback. Many beach houses now feature board and batten shutters. Their basic design is simple, usually 3-6 boards running lengthwise alongside each other with "battens" – essentially horizontal boards – that run widthwise across the vertical boards to join them together.
Options to customize board and batten shutters include the number and width of boards, placement of battens, open or closed style (whether there is open space between the boards), and adding cutout designs, Z-braces, or cross-brace battens.
Board and batten style may be the most popular choice for beach cottage exterior shutters, but they can work on a variety of architectural styles. The closed-board type have the same benefits as panel shutters for light blockage, but with a more laid-back feel. Board and battens are kind of the unpretentious, low-key, yet charming and homey option among the classic shutter options.
Mix and Match Styles
Among the styles mentioned, some combinations of styles on a single house are popular. The most common pairings include panel shutters (first floor) and louver shutters (second floor), Bermuda shutters and any second type, louver shutters and Bermuda shutters, combination shutters (louver/panel) and single-style panel or louver shutters.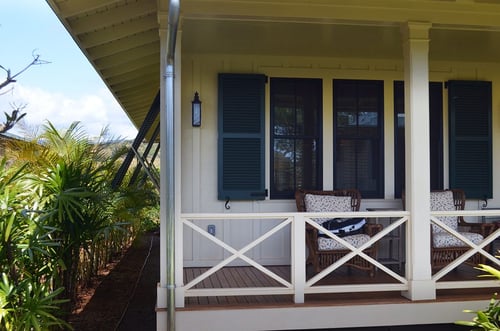 Customizing Your Beach House Shutters
There are lots of ways to make your shutters reflect your own style. Adding custom options allows you to truly put your own spin on the overall look! From colors to hardware to selecting the best material for your climate, design options are almost endless. Read on for a primer on different ways to style your custom-built shutters.
Cutout Designs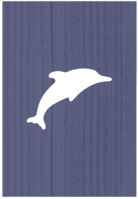 Adding an image, symbol, or shape to your shutters can be one of the most fun ways to customize your shutter look.Cutout designs can be cut completely through the shutter so it is see-through or can be cut into the shutter for a recessed design. One important note: this design option can only be featured on a panel section or closed board and batten shutter.

There are many nautical cutout designs that make perfect shutters for beach houses, but you can also specify a unique design to be custom-made for you! It's up to you whether you'd like to choose from a catalog of designs or send an image you want to have made into a cutout.

Shutter Color

Sometimes one of the toughest decisions is selecting your shutter color or finish. The best way to begin is to look at what colors are permanent fixtures of your exterior palette already. Note the color of siding, trim, and undertones of stone, brick, or roofing colors. Taking note of these surrounding hues will help to significantly narrow down your selection.
Many beach houses have a clean, simple color scheme. Naturally, blues ranging from navy to light turquoise are frequently favored when choosing the color for shutters on beach houses. Off-whites, greens and even reds are also common choices. Of course, more than anything, color selection will be based on that specific beach home's exterior.
Should you choose to install wood shutters, you can also elect to show the natural beauty of the wood grain with a stain, clear coat, or semi-transparent wash. Regardless of the finish you want, it is recommended that you have it professionally applied to preserve the shutter for maximum life expectancy. Finishes aren't just the finishing look, they are also a protective barrier that can have a considerable impact on shutter maintenance and durability.
For help with selecting colors, check out this previous post when we asked our Shutter Experts which shutter and home exterior colors are their favorite pairings, or this post for more details about exterior design color theory.
Shutter Hardware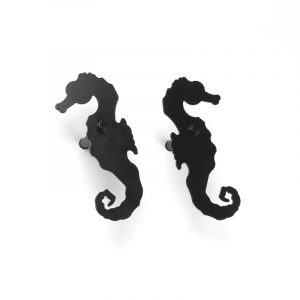 Truly the finishing touch that makes all the difference, shutter hardware can add a big pop of style and is essential to the installation of real, functioning shutters. These small metal pieces often come as an afterthought because so many shutters we see today are fixed-mounted vinyl, which are made to mimic real shutters and do not open and close.
If you want to use your shutters as described in the section above, you will need functional shutters with the appropriate hardware. This includes hinges that allow the shutter to swing open and closed. Bermuda shutters will require support arms to hold them open as well as special hardware that is specific to that shutter style.
Probably the most fun part of adding style with your shutter hardware is with tiebacks, also called shutterdogs. These come in many different styles. Many tiebacks are perfect for the nautical motif of beach homes. From seashells to seahorses to dolphins, you can add that extra touch of aquatic style with tiebacks. In addition, many classic tieback designs also look great on beach houses - it all depends on the style you're going for!
Shutter Materials
In today's market, there is a variety of shutter materials to choose from. Wood is the traditional choice for functional shutters. Wood shutters offer incredible design flexibility, and they have undergone significant advances in engineering that allow for a much heartier life expectancy - even in wet climates. The finishing and sealing process plays a large role, as does shutter capping – a fitted metal barrier that runs along the top of the shutter to keep rain from seeping into its joints. Wood is a great choice for traditionalists. It should, however, be cared for with seasonal maintenance.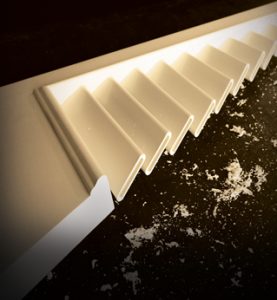 There are other shutter materials that give homeowners many worry-free years of beauty with even less concern for maintenance. The proprietary synthetic blend of PVC and other maintenance-free materials known as Endurian can be modified nearly as much as wood, but will never rot or be subject to termite damage. Additionally, many homeowners by the shore opt for fiberglass when ordering
Bermuda shutters, due to its lightweight yet durable construction.
Ultimately, both wood and man-made materials can last in wet seaside climates, but the synthetic materials may be preferred by those who use their beach houses only seasonally. This will avoid the extra effort of the yearly maintenance that wood shutters require. Additionally, synthetics tend to stand up to moisture without issue, whereas wood is more subject to that concern (particularly if not finished or cared for properly).
Why Shutters are Great on Beach Houses
Curb Appeal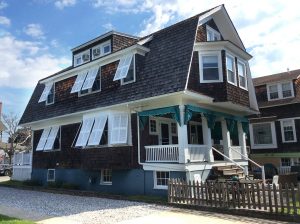 It's easy to see why quality exterior shutters make a great addition to beach houses. The boosted curb appeal can give you that extra excitement and sense of whimsy when you first arrive, getting you into the beach vacation mindset. Approaching a house that just resonates a "beach fun" attitude and style can really lift your spirits and start off your beach visit on the right foot.
Furthermore, who doesn't want their beach house to stand out from the rest of the block? Many beach home neighborhoods were built all in one short period of time. They often have similar designs and were built by the same contractors. You'll be able to easily distinguish your beach house from the others with a unique shutter design. No more accidentally passing the house after you've been gone for a while; with those extra details, you'll know immediately which one is yours.
While the effects of boosted curb appeal are great to enjoy simply as a homeowner returning to a beautiful home, they can also offer great ROI and help move a house off the market more quickly. As any real estate agent will tell you, a lot of prospective homebuyers will make an initial decision before they even walk into a house. So, if you want to increase your home value and give it that "WOW" effect that will make it easy to sell when and if the time comes, high-quality exterior shutters can truly contribute towards that goal.
Practical Benefits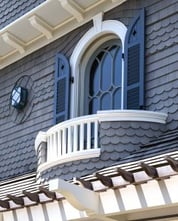 And of course, how can we forget all the practical benefits of real exterior shutters on beach houses? Adjustable sun and air flow, as well as protection from rain, can really come in handy when you can actually use your shutters. Additionally, closing your shutters to insulate the home can even improve energy efficiency! And if you spend most of the year away from your beach house, closing and locking shutters creates an added layer of protection. Whether you choose Bermuda, panel, louver or board and batten, each kind will give you practical benefits as well as added beauty.
Ready to Design Shutters for Your Beach House?
Getting exterior shutters for your beach house is fun and easy. If you'd like more information before you begin your shutter project, check out our resource pages or peruse the style blog and Tropical and Beach Homes Gallery for inspiration
If you're just full of ideas and want to get started, designing the perfect exterior shutters for your beach house is just a phone call away! You can talk with your own personal Shutter Expert to get the right style and fit for you. Or, if you know exactly what you want for your shutters, use our easy online quoting tool to have us calculate a quote for your custom shutter project.