In this series of blog posts, our shutter experts reveal their insights on how to get the perfect shutters based on your personal style.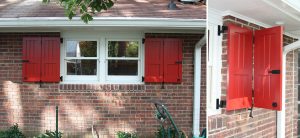 When choosing shutters, many people use the color or material as a way to visualize how their new shutters will look on their home.
But according to our Shutter Expert, Paul, the shape of the windows can be an important factor to consider. "Getting the perfect match for a particular window." says Paul, "can make the difference between an 'ok exterior accessory' to something that really delivers transformational curb appeal."
It's common for homes with vinyl shutters to have the same shutter size on each window but this look can leave the exterior looking unbalanced. More often, a house has a combination of rectangular-shaped windows and ones that are more square-like. Paul advises changing the shutter configuration to match each window. For customers that have windows that more closely resemble rectangles than squares, our design consultants advise them to stick closer to this traditional rule: Shutters should be half the width of the window.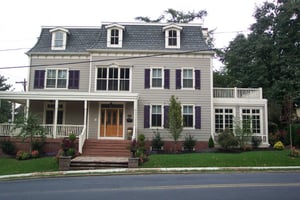 "Customers who want shutters on their double windows will sometimes opt for bi-fold shutters. They are created to be size of the window so the proportions still look balanced. With the proper shutter hardware, the shutters can close over the window and be folded in half when left open," Paul says
"You would be surprised at how many custom window shapes are out there. Not every window has a right angle on top."Paul says. Arches are quite popular and present unique design challenges. Putting shutters that you can find in a retail store on windows with arch top might add a little color to the front, but it definitely won't achieve the same impact as properly sized and shaped shutters. Take a look at windows on homes around town. A little customization goes a long way in making the right impression!"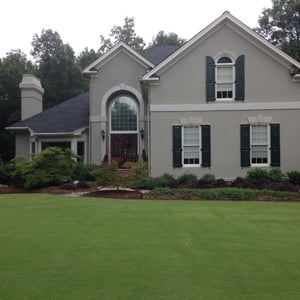 For homeowners with arch top windows, there are plenty of options to make sure the shutters still look as though they would close properly across the window. Homeowners can buy shutters with hand crafted radius tops to achieve the desired look. They are still just as customizable as flat top shutters.
"At Timberlane, we allow homeowners to choose from sunburst louvers, horizontal louvers, shaker radius tops and many more. Just about any style they can imagine is what we can create for them," Paul says.

Some homeowners still like the look of shutters, but the room between their windows and the side of their home doesn't afford them much room for a pair of shutters. Depending on the look of the home, our Shutter Experts may advise an unconventional shutter style: Bermuda.
"It gives the home a fun look for people who want a pop of color or to use shutters to express their personality. We typically recommend it for homes without many front facing windows. It makes an instant impact on the house," Paul says.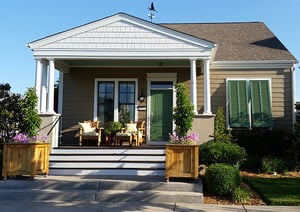 For the best way to make sure the shutters you choose match your windows, talk to one of our Shutter Experts. They'll guide you to the best-looking shutters for your home and help you with measurements. At Timberlane, you will work with the same person from the first call, all the way to when you install your shutters, and ever afterwards, to ensure 100% satisfaction. From premium materials to unlimited customization, Timberlane shutters can help you achieve the look you want.