How Does European Flair Make a Statement in the United States?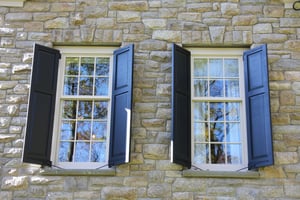 Shutters have become a decorative characteristic on the exteriors of many homes in America, instead of being used for their original functioning purposes. Around the world they are seen as an integral part of the utility of the home, as they provide ventilation and protection on all of the windows.
We are aware of the technological advancements that affect the use of shutters in the United States, but what about the historic homes that are missing their traditional appeal? What about the homes that seem to cry out for properly fitted, functional exterior shutters? What about the homes that deserve European flair? What about your home?
If you are planning to add or replace exterior shutters and love the form and function of a European home, look no further. While Timberlane makes the finest exterior shutters, designers, architects, builders and homeowners have also developed their own ways to express their style and join form with function, adding art and design to utlity.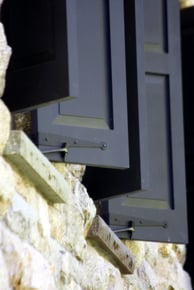 A contractor and an architect that we work very closely with recently worked on two separate projects that both installed their shutters the same way. They chose to have the shutters installed in such a way to highlight not only the functionality of the shutters, but also tie in with the welcoming old world charm of the home. This type of installation is not common on this side of the Atlantic, but we are thrilled that our exterior shutters are making this sort of impact with our extensive selection of hardware.
The hinges that are placed on the inner portion of the shutters and the window are installed in a reverse fashion. This allows there to be a larger offset on the angle of the shutters, so they appear to have a natural opening, as if they are flowing with the breezes, or opening to welcome guests.The hook and staple hardware maintains the open appearance.
This enduring quality is seen all across Europe and we can only hope that it makes its way onto more homes in the United States. What do you think about this type of installation?