Selecting a material is the first step in any home design project, from building an addition to installing decorative accents. Simply put, you want your home to be made of tough stuff that looks great and lasts a long, long time. Why construct your corner of the world from anything less than the very best?
At Timberlane, we've spent 25 years handcrafting custom exterior shutters from the finest materials on the market. In that time, we've encountered a few common misconceptions about PVC shutters. If you have questions about our exclusive EndurianⓇ PVC shutter material, read on to learn the beautiful truth!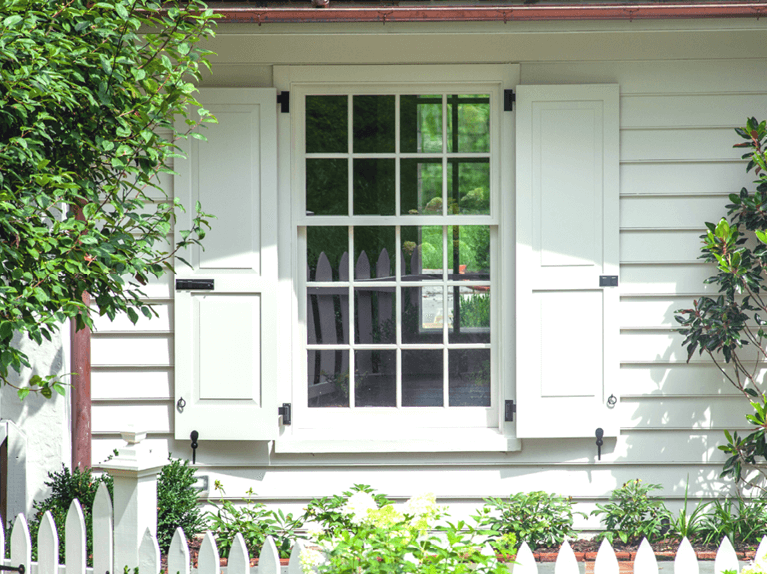 MYTH: PVC Shutters are the Same as Vinyl Shutters
FACT: Not even close! Yes, it's true that PVC — short for polyvinyl chloride — is a type of vinyl. It's a synthetic plastic polymer, to be exact, and it's such a commonly used material in the building industry that people have taken to calling it "vinyl" over the years, just to save time.
However, when it comes to making exterior shutters, PVC far outlasts and outperforms vinyl. It's far more dense than vinyl and also considerably more attractive. At Timberlane, we're so serious about crafting PVC shutters that are both durable and beautiful that we developed a proprietary PVC blend that we call Endurian.
Endurian is a truly incredible, solid PVC shutter material that's sturdy enough to withstand harsh elements and can be milled exactly like our premium wood shutters. Our Endurian shutters can be counted on to beautify your home for decades, and the only maintenance that's required during that time is wiping off dirt and refreshing the paint.
Vinyl shutters are hollow, and flimsy by comparison. They're prone to sagging, warping, cracking and fading. Even with an expected lifespan of 10 to 15 years, you can expect the appearance of vinyl shutters to deteriorate much more rapidly than PVC shutters — which, with proper maintenance, offer everlasting curb appeal.
MYTH: PVC Shutters are the Same as Plantation Shutters
FACT: Not necessarily! It depends on whether you're talking about shutters for the outside of a house or the inside.
Exterior shutters made from PVC are quite different from the interior louvered window coverings commonly referred to as "Plantation shutters." While the latter are made from PVC, in addition to vinyl and wood, Plantation shutters have much different durability requirements than shutters constructed for a home's exterior.
MYTH: PVC Shutters Look "Fake"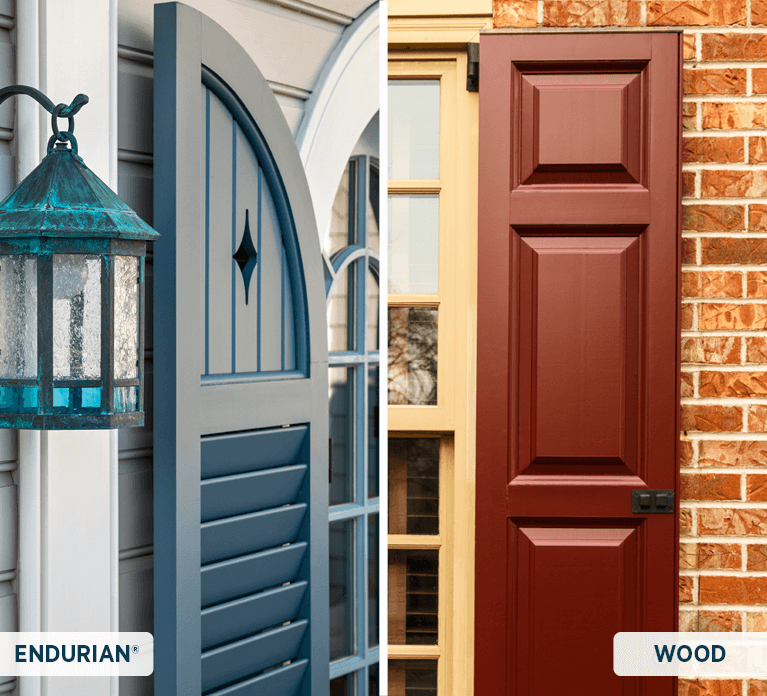 FACT: Not if we can help it! Our exclusive Endurian is the only PVC shutter material on the market that perfectly mimics the look of real wood. We cherish the warmth and charm of premium wood as much as our customers do, so we specifically designed Endurian as a long-lasting, high-performance synthetic material that could be milled exactly like wood by our skilled artisans.
The only difference between our premium wood and Endurian shutters is their projected lifespan and the level of upkeep required to keep the shutters looking their best. As you can see, with proper maintenance, the resulting look for both types of shutters is equally spectacular!
MYTH: PVC Shutters Offer Limited Design Capabilities
FACT: Not to worry! With our Endurian PVC shutter material, we can build almost any exterior shutter design imaginable. Whether you favor a particular shutter size, shutter style, shutter color or personalized shutter cutout, the superior workability of Endurian allows us to bring your vision to life. This versatility sets Endurian shutters apart from other low-maintenance shutter options.
The Truth About Our PVC Shutters
So, to recap, Endurian PVC shutters offer the elevated look of genuine wood for an extended lifespan with minimal upkeep — and they can be customized nearly any way you like. That's a far cry from the standard vinyl shutters you can find at a big box store!
Endurian shutters are a particularly good choice for homeowners living in coastal climates, where sea air can be notoriously harsh on building materials. But wherever a home needs a stunning boost in curb appeal that's guaranteed to endure for decades to come, Endurian PVC shutters just can't be beat!
To learn more about our exclusive Endurian shutters and how they stack up with other premium shutter materials, check out our Product Comparison Chart. To see some Endurian shutters in action, explore our photo gallery.